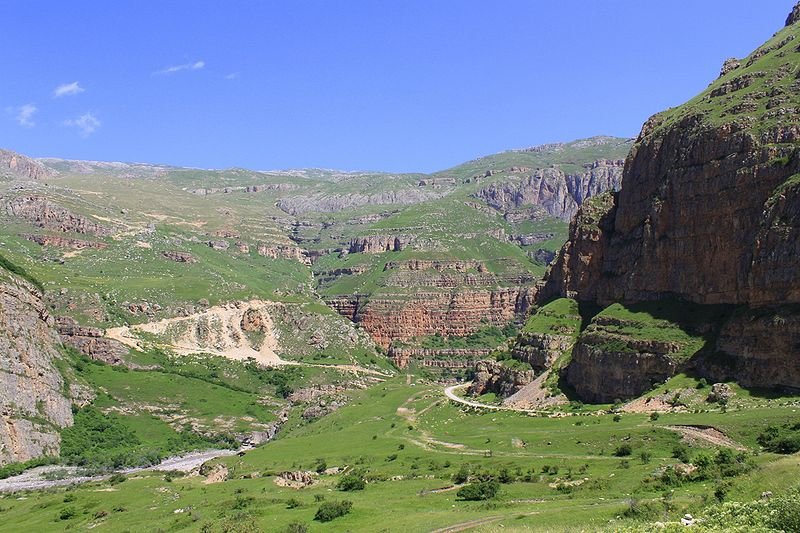 The landscape of Azerbaijan in Quba

http://commons.wikimedia.org/wiki/File:Quba_328.jpg


Gulustan


Places in Azerbaijan on this website
View
Azerbaijan
in a larger map
Azerbaijan
is a country in the Caucasus region of Eurasia. Covering 86,600 sq km (33,436 sq mi), Azerbaijan is bordered by Russia to the north, Georgia to the northwest, Armenia to the west and Iran to the south. It is also bounded by a coastline facing the Caspian Sea to the east. The country has a population of 9 million people (2011 estimate). Its capital and biggest city is Baku.
In addition of Azerbaijan proper, the exclave of Nakhchivan is a landlocked part of Azerbaijan bordered to the north and east by Armenia, to the south and west by Iran, and a short distance to the northwest by Turkey.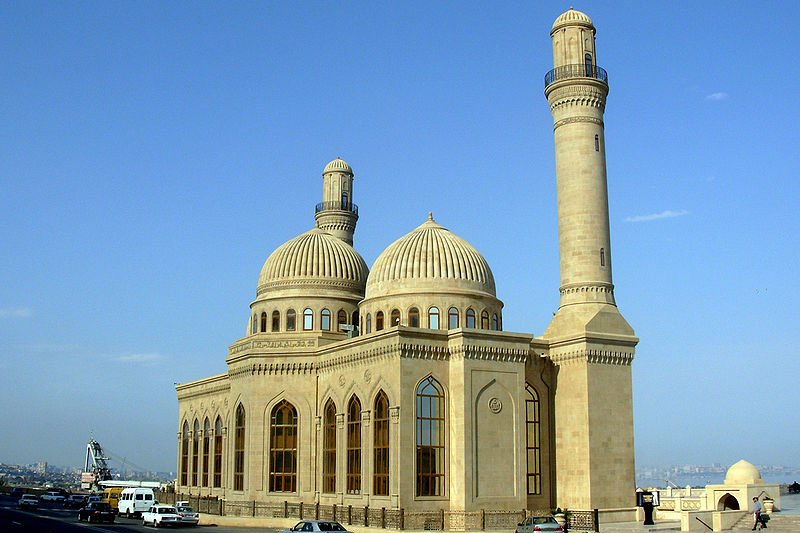 Bibi Heybat Mosque in Baku, Azerbaijan

http://commons.wikimedia.org/wiki/File:Bibi_Heybat_Mosque_Baku_1.jpg


Emin Bashirov


The enclaves of Karki, Yukhary Askipara, Barkhudarly and Sofulu are all surrounded by Armenia, which continues to control them ever since the Nagorno-Karabakh War from 1988 to 1994. On the other hand, the Nagorno-Karabakh region in southwestern Azerbaijan declared independence from Azerbaijan in 1991, but is not diplomatically recognised by any nation.
Azerbaijan is a secular, unitary republic. In 2010 it enjoyed a nominal GDP of $52 billion, a per capital nominal GDP of $5,764, and a per capita purchasing power parity GDP of $9,953. The electricity is 220V 50Hz. The IDD number is 994.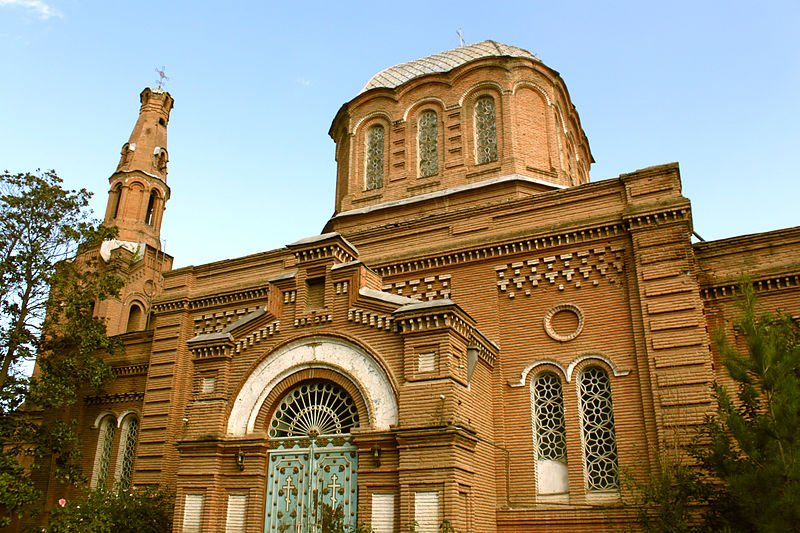 Alexander Nevsky Church in Ganja, Azerbaijan

http://commons.wikimedia.org/wiki/File:Alexander_Nevsky_church_in_Ganja.JPG


Urek Meniashvili


Evidence of human settlement in Azerbaijan goes back to the stone age. It was ruled by different powers, being part of the empire of Alexander the Great and later the Seleucid Empire. The original inhabitants were Caucasian Albanians, who established a kingdom here in the 4th century BC. In the fourth century, King Urnayr made Christianity the state religion.
In AD 667, the Islamic Umayyad Caliphate turned the then Caucasian Albania into a Muslim state. When the power of the Caliphate declined, other local dynasties filled the vacuum, with Turkic Oghuz tribes from Central Asia taking over the land in AD 1030. Over the centuries, the population became Turkic-speaking, and are known as Azeris.
Azerbaijan was ruled by khanates until 1813, when the state was incorporated into the Russian Empire, where it remained until the end of World War I, when it was merged with Armenia and Georgia to form the shortlived Transcaucasian Democratic Federative Republic. That too was dissolved in May 1918, and the Azerbaijan Democratic Republic declared independence. But the freedom only last 23 months until the Bolshevik 11th Soviet Red Army invaded it, and created the Azerbaijan Soviet Socialist Republic on 28 April, 1920.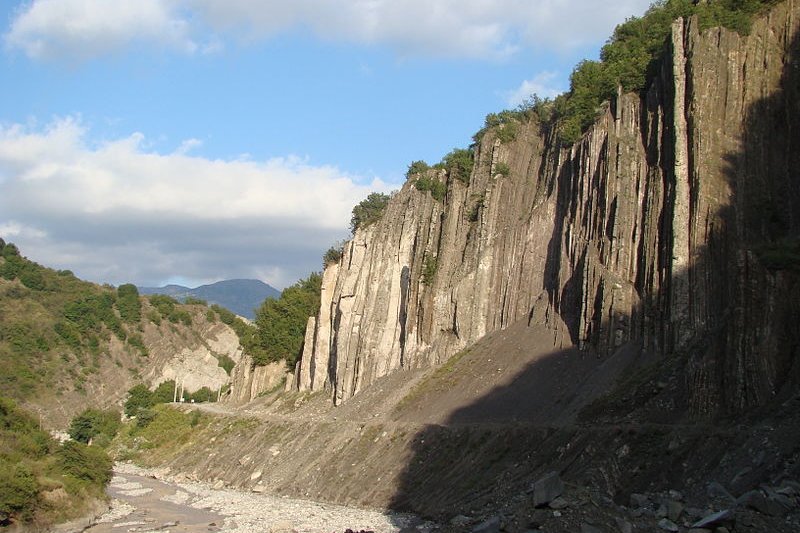 The rocky cliffs of Ismayilli, Azerbaijan

http://commons.wikimedia.org/wiki/File:Lahic_29-30.08_(42).JPG


Wertuose


Azerbaijan finally freed itself from the clutches of Soviet control on 18 October, 1991, just months before the Soviet Union was officially dissolved. The post independence years were mired by the Nagorno-Karabakh War with Armenia, with great lost of lives, the result of which Azerbaijan lost up to 16% of its territory, including Nagorno-Karabakh.
Today Azerbaijan is a country still in repair, as it gradually inches forward in development. The multiple woes of the country includes high unemployment, rampant corruption and bureaucratic inefficiency, issues that will take some time to resolve.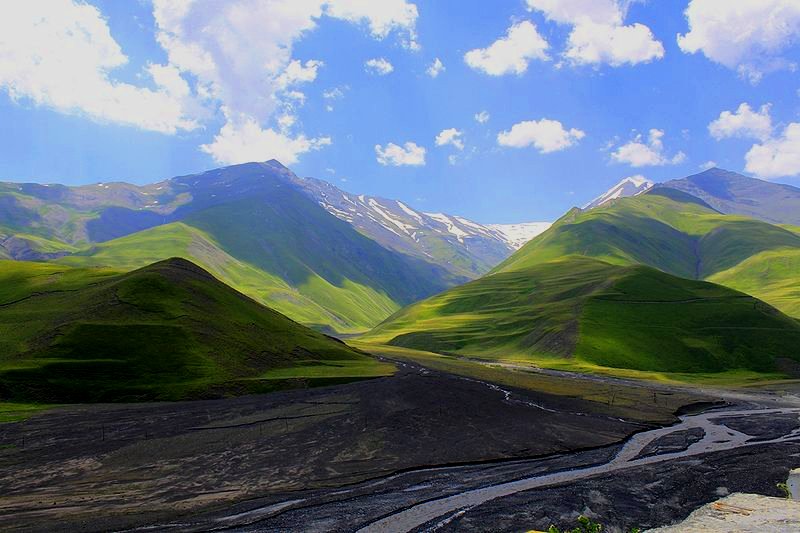 The scenic landscape of Quba, Azerbaijan

http://commons.wikimedia.org/wiki/File:Quba_385.jpg


Gulustan


Major Cities in Azerbaijan
Baku - capital
Ganja
Lankaran
Mingechivir
Naftalan
Nakhichevan City
Sheki
Sumqayit
Xachmaz
Places of Interest in Azerbaijan
Khinalug
Petroglyphs of Gobustan
World Heritage Sites in Azerbaijan
Azerbaijan ratified the World Heritage Convention on 16 December, 1993. As of August 2010, it has two World Heritage Sites, both in the Cultural category. Azerbaijan has also submitted a further ten properties presently on the World Heritage Tentative List.
Sites in Azerbaijan on the World Heritage Tentative List.
Surakhany, Atashgyakh (Fire - worshippers, temple - museum at Surakhany) (1998)
The mausoleum of Nakhinchevan (1998)
Hyrkan State Reservation (1998)
"Binegadi" 4th Period Fauna and Flora Deposit (1998)
"Lok-Batan" Mud Cone (1998)
"Baku Stage" Mountain (1998)
The Caspian Shore Defensive Constructions (2001)
Susha historical and architectural reserve (2001)
Ordubad historical and architectural reserve (2001)
Sheki, the Khan's Palace (2001)
Planning your visit to Azerbaijan
A visa is required for entering Azerbaijan. Note that persons holding passport with evidence of travel to Nagorno-Karabakh are barred from entering Azerbaijan. Citizens of Armenia as well as all persons of Armenian descent are similarly barred from visiting Azerbaijan.
By Plane
Heydar Aliyev International Airport (GYD) in Baku is the main gateway to Azerbaijan. The national carrier Azerbaijan Airlines has regular flights connecting Baku with London, Milan and Paris, among others.
Going somewhere? Look for your hotel room over here!
You can look for and book your hotel room direct from this website. Simply key in your travel date, and you will be shown a list of hotels. Filter the results based on your requirement, everything from five star hotels to homestays and more.
Enjoy a vacation at The Haven Resort Hotel Ipoh, an award-winning all suite resort nestled in the midst of the limestone hills of Ipoh, now with an exclusive 10% discount for readers of this website!
Buy Your Long-Distance Bus Tickets Here!
If you are planning to travel Malaysia and Singapore by bus, you can now purchase your long-distance bus tickets directly from
Bus Online Ticket
, where you get to check the schedule as well as price of tickets from various bus companies.
About me
Hello and welcome! My name is
Timothy Tye
or simply Tim. This is my personal encyclopedia. I created it to compile all the information about places. It represents my body of travel knowledge collected since 2003, and still being updated almost daily.
As a Christian, I write on travel so that
God's Good News
can reach every corner of the world and connect with those needing it. If you wish to ask me anything, feel free to
contact me here
. Thank you for visiting, and have a great day!
Copyright © 2003-2017
Timothy Tye
. All Rights Reserved.