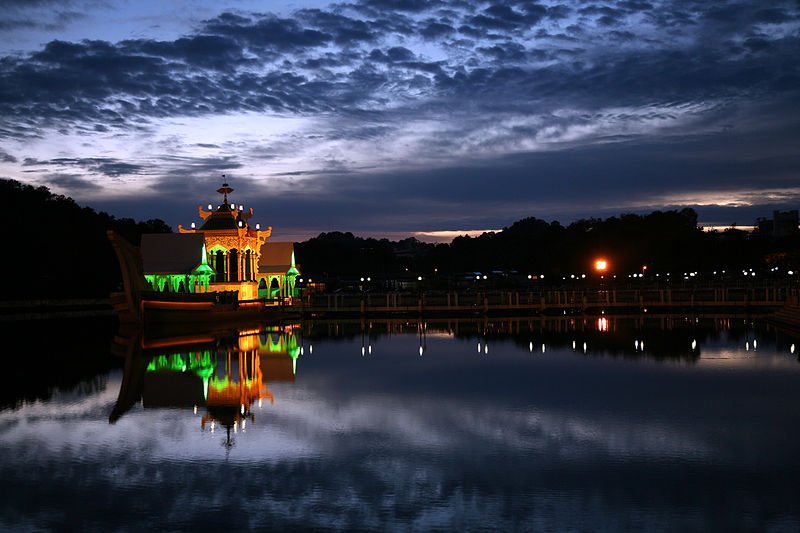 View of the floating pavilion on the man-made lake at Sultan Omar Ali Saifudin Mosque in Bandar Seri Begawan

http://commons.wikimedia.org/wiki/File:Sultan_Omar_Ali_Saifuddin_Mosque_01.jpg


sam garza


Bandar Seri Begawan
is the capital of
Brunei Darussalam
. It has a population of approximately 27,000 (2002 est.)
The history of Bandar Seri Begawan goes back to the 7th century, where there existed a settlement near where the Brunei Museum is located today. It was originally called Bandar Brunei. The word "Bandar" means "harbour" in Persian, but is translated as "town" in Malay (although in Indonesian, it retains the meaning of "harbour"). Begawan is a word to honour Bruneian sultans who have abdicated, and comes from Sanskrit meaning "god". It was suffixed to the capital in honour of the present sultan's late father, Sir Omar Ali Saifuddin.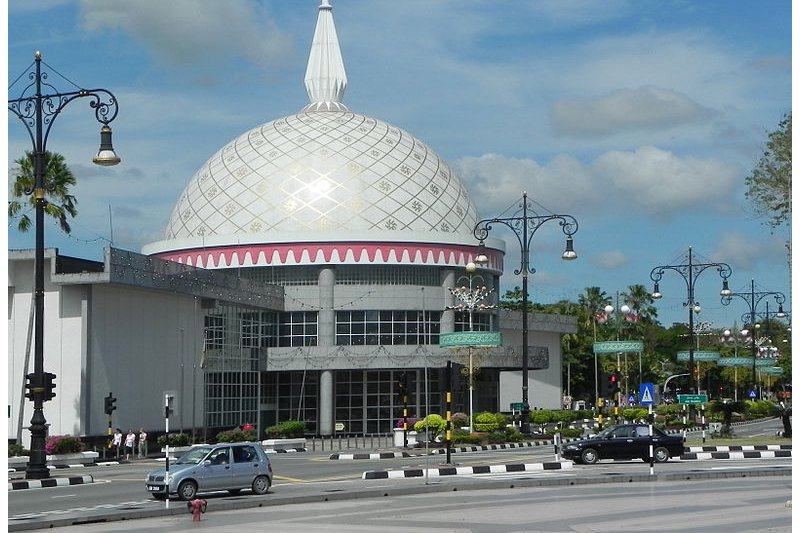 Royal Regalia Museum, Bandar Seri Begawan

http://commons.wikimedia.org/wiki/File:Royal_Regalie_%281%29.JPG


Hajotthu


Travel to Bandar Seri Begawan
By Plane
Brunei International Airport (BWN) is the main gateway to Brunei by air. It is presently served by Royal Brunei Airlines, Malaysia Airlines, AirAsia, Singapore Airlines and SilkAir, connecting it with Kuching, Kota Kinabalu, Kuala Lumpur, Singapore, Bangkok, Auckland, Brisband, Dubai, Ho Chi Minh City, Hong Kong, Jakarta, Jeddah, London, Manila, Perth and Surabaya.
By Road
From Muara and Kuala Lurah, there is a border crossing to Limbang Division of Sarawak. If you are going from Bandar Seri Begawan to Temburong District, you have to go across Sarawak in Malaysia to reenter Brunei. That means, you go through the immigration checkpoint at Kuala Lurah to enter Tedungan in Sarawak, and later you exit Sarawak at Pandaruan to reenter Brunei at Puni.
You can take the coach buses to different parts of Brunei from Bandar Seri Begawan. In addition, the Miri Belait Transportation Company runs buses between Kuala Belait and Miri, Sarawak.
Travel within Bandar Seri Begawan
I have to say that in Bandar Seri Begawan, the public transport infrastructure is rather limited. You may have to opt for getting a taxi or renting a car, if you don't already have someone to drive you around. These are the more practical option than trying to wait for the bus.
Places of Interest in Bandar Seri Begawan
Arts & Handicrafts Centre is located along Jalan Kota Batu in Bandar Seri Begawan, Brunei. Unfortunately, despite the good intentions, what is available here are often the work of students, not the genuine traditional crafts of the tribal people. Also, the items here tend to be a bit overpriced.
Brunei Museum is a tourist attraction in Bandar Seri Begawan, Brunei. It is located about 6.5 km to the east of the city centre. The ground floor exhibits items relating to Islamic art such as ceramics, jewellery, silverwork and weaponry. It is one of the best collections of Islamic treasures in Southeast Asia.

Next to the Islamic Art gallery is the Oil and Gas Gallery, which provides an insight into the wealth of modern Brunei. There are models of different oil rigs and details of the oil extraction process. Upstairs, there's a gallery exhibiting Brunei's cultural heritage, beginning from prehistoric times until 1929. Showcased here are musical instruments, basketware, brassware and Chinese pottery. The natural history gallery exhibits mounted animals including mammals, birds and insects. Getting there: Take the purple buses No. 11 or 39 which pass the museum. The fare is B$1.00.

Contact
Brunei Museum
Tel: 222 6495
Admission Free
Bukit Subok Forest Recreational Park is a forest reserve in Bandar Seri Begawan, Brunei. It occupies a hillside. There are viewing decks where once can catch nice views of the surroundings. The forest reserve was a project managed by the Forestry Department of Brunei. Not far away is Bumbungan Dua Belas, the former residence of British High Commissioners in Brunei.
Bumbungan Dua Belas is a cultural centre in Bandar Seri Begawan, Brunei. It used to be the residence of the British High Commissioner to Brunei. The house now displays photographs showing the involvement of the British in Brunei.
Opening Hours: Mon - Thurs & Sat: 9:00 am - 4:30 pm, Fri: 9:00 am - 11:30 am & 2:30 pm & 4:30 pm
Empire Hotel & Country Club is a resort just outside Bandar Seri Begawan, Brunei. It is a tourist attraction in its own right. Commissioned by Prince Jefri and built at a cost of US$1.1 billion, this is a structure built at gargantuan proportions - the five storey atrium is 80 meters high. There are seven restaurants, a golf course, a beach, a cinema, and everything else that is the product of an unlimited amount of money.
Hassanal Bolkiah National Stadium is located in Bandar Seri Begawan, Brunei. The facilities were built to Olympic proportions. There is a tennis centre, a track-and-field complex, a squash centre and a swimming pool. The complex is open to the public, although not many people come to use the facilities.

To get there, take the purple buses No. 1 or 34.

Address
Sultan Hassanal Bolkiah National Stadium
Jalan Berakas
Tel: 238 0700
Opening Hours:
8:00 am - 12:00 noon & 1:30 pm - 4:30 pm
Hua Ho Department Store operates the largest number of stores in Brunei catering to the local needs.
Istana Nurul Iman is the official residence of Sultan Hassanal Bolkiah in Bandar Seri Begawan, Brunei. To be exact, it is slightout outside the city by about 3.5 km along the Tutong Road.

Istana Nurul Iman is said to be bigger than Vatican Palace. It was built at a cost of US$350 million. Within the palace are 1788 rooms, 200 toilets and a banquet hall that can seat 400 guests. The palace is only open to the public during Hari Raya Aidilfitri.
Jame'Asr Hassanal Bolkiah Mosque is a mosque in Kampung Kiarong outside Bandar Seri Begawan, Brunei. This is the biggest mosque in Brunei and a fine example of Muslim architecture. The Jame'Asr Hassanal Bolkiah Mosque was constructed to celebrate the 25th anniversary of the reign of Sultan Hassanal Bolkiah in 1992. Most of the designs have numerical motifs of significance.
Getting there: Take bus Nos. 1 or 22.
Jerudong Park is a huge amusement park located in Jerudong, a suburb of Bandar Seri Begawan, Brunei. The amusement park is the gift of Sultan Hassanal Bolkiah to the people of Brunei to mark His Majesty's 48th birthday in 1994. In those prosperous years between 1994 and 2000, the public in Brunei get free admission to the amusement park. Sadly, this is no longer so. And not only that, today many of the rides are out of order due to spare parts issue. Still, visitors can wander around trying to imagine how it might have been.
Kampung Ayer is a traditional village on stilts in the heart of Bandar Seri Begawan, Brunei. It offers a glimpse at how the people of Brunei lived before the country became an oil-rich nation. Even today, there are still 30,000 people living in Kampung Ayer, whose name means "water village".
Kampung Ayer is actually composed of 28 waterborne villages stitched together, on either sides of the Brunei River. Visitors are free to wander around and explore it, walking through a a maze of plank walks connecting fishermen's shacks, shops, schools, even clinics and warehouses. As the citizens of Brunei moved to higher, drier ground, many of these shacks are taken over by immigrants who are forming a sizeable squatter community.
Malay Technology Museum is an attraction in Bandar Seri Begawan, Brunei. It is located on the edge of the river next to the Brunei Museum. The museum has three galleries with replicas of Malay lifestyle and crafts, among them are traditional Malay houses. Gallery 1 shows a water village. Gallery 2 showcases handicrafts and fishing implements. Gallery 3 shows the tools used by the tribes to gather food, to hunt and farm.

Malay Technology Museum
Tel: 224 4545
Opening Hours: Sat-Thurs: 9:00 am - 4:30 pm
Fri: 9:00 am - 11:00 am & 2:30 pm - 4:30 pm
Pantai Meragong is a beach outside Bandar Seri Begawan, Brunei. It is about 4 km west of Muara District on the Muara-Tutong Highway. The locals come here for picnicking. There are food stalls here to cater to them. It is more convenient to go there by your own transport.
Pantai Muara is a beach in Bandar Seri Begawan, Brunei. It is located two km from the town centre, and is a popular retreat for the locals during the weekends. The sand here is white and clean, but littered with drift wood. There are food stalls and picnic tables.
Pantai Serasa is a small beach in Bandar Seri Begawan, Brunei. It is located on a short tongue of land jutting out into the sea. The Royal Brunei Yacht Club is located here. There is also a watersports centre here, along with food stalls for the locals.
Pulau Ranggu is an island in the middle of the Brunei River in Bandar Seri Begawan, Brunei. The island is home to a colony of proboscis monkeys. If you wish to view them, go there during the late afternoon. In addition to visiting Pulau Ranggu, you can also include Istana Nurul Iman and Taman Persiaran Damuan into the same itinerary. To get there, hire a boat for B$20-B$30.
Pulau Selirong is a 25 square kilometer island off Brunei Bay. You can visit it by hiring a boat from Muara. The journey will take about one hour. On the island are wooden walkways from where you can admire tha mangrove. There is also an observation tower. It may be advisable to go on a package or in the company of a guide, as there may be venomous snakes in the mangrove. To get there, find out from tour operators in Bandar Seri Begawan for packages there.
The Royal Mausoleum is located about mid way between the city centre and Istana Nurul Iman. This is where the last four sultans of Brunei were laid to rest along with other members of the royal family.
Royal Regalia Museum in Bandar Seri Begawan, Brunei, offers a glimpse at the lifestyle of Brunei's royalty. Beyond the entrance, where visitors are required to leave their shoes, they get a peek at the treasures of a sultan who holds the title of "world's richest monarch". The museum exhibits personal memorabilia of Sultan Hassanal Bolkiah and other members of the royal family, and displays the opulent belongings that range from gleaming furniture, ostentatious gifts to the stunning dragon carriage in the main hall.

Royal Regalia Museum
Tel: 223 8358
Admission Free
Opening Hours:
Sat-Thurs: 8:30 am - 5:00 pm
Fri: 9:00 am - 11:00 am & 2:30 pm - 5:00 pm
St Andrew's Anglican Church is a church in Bandar Seri Begawan, Brunei. It was established some 70 years ago as a place of worship for the Anglicans in Brunei. The present church building is the third to be built, and was consecrated on St Andrew's Day, on 30 November, 1950. The church has ministries in several local languages including Malayalam, Tamil, Chinese and Iban.
Sultan Omar Ali Saifuddien Mosque is one of the biggest landmarks in Bandar Seri Begawan.
Taman Persisiran Damuan is a landscaped park in Bandar Seri Begawan, Brunei. It is located along the banks of the Brunei River, not far from Pulau Ranggu.
The Mall is one of the most popular shopping centres in Bandar Seri Begawan, Brunei. It is also probably the biggest moderate-price shopping mall in Brunei.
Tomb of Sultan Bolkiah is located just outside Bandar Seri Begawan, on the way to the Brunei Museum. It is the tomb of the fifth sultan of Brunei who ruled from 1473 to 1521, during the golden years of Brunei's dominion. The tomb is at Kota Batu, where visitors can get a scenic view across the river. Still, unless you are particularly keen on the history of Brunei royalty, the tomb is just a minor attraction.
Yayasan Sultan Haji Hassanal Bolkiah Complex, or Yayasan SHHB Complex, is the biggest shopping complex in Bandar Seri Begawan, Brunei. It belongs to the Sultan Haji Hassanal Bolkiah Foundation, which was founded on 5 October 1992 in conjunction with the Silver Jubilee of the reign of Sultan Hassanal Bolkiah. The shopping complex has some of the best shops in Bandar Seri Begawan. Located within the complex is the Hua Ho Supermarket, one of the many Hua Ho outlets in Brunei.
Buy Your Long-Distance Bus Tickets Here!
If you are planning to travel Malaysia and Singapore by bus, you can now purchase your long-distance bus tickets directly from
Bus Online Ticket
, where you get to check the schedule as well as price of tickets from various bus companies.
About me
Thank you for visiting
my website
. I started it in 2003, and today it has over twenty thousand pages of information. My name is
Timothy Tye
. You can call me Tim. I have been writing my website full time since 1 November 2007, and I am enjoying every moment of it. I write my website to satisfy my own curiosity, but I am glad if the information is useful to you.
As a Christian, I hope that through this website, I am able to deliver
God's Good News
to those who need it all over the world. If you wish to contact me, please submit the
contact form
. Thanks again, don't forget to
follow me on Facebook
!
Copyright © 2003-2018
Timothy Tye
. All Rights Reserved.