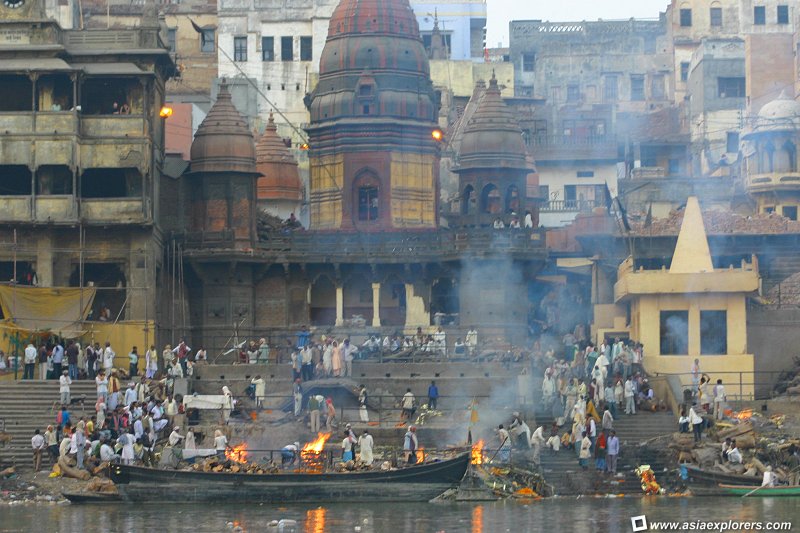 At Manikarnika Ghat, the cremation goes on from dawn till dusk. The fire for the cremation is said to be an eternal flame.
(16 November, 2004)
Manikarnika Ghat
is one of the oldest and most sacred in Varanasi, second only to the
Dashashwamedh Ghat
. For it is here that dead bodies are cremated.
Popular Hindu belief has it that being cremated at Manikarnika Ghat provides an instant escape from the otherwise endless cycle of births and rebirths. There is a well at Manikarnika Ghat called Manikarnika Kund which is believed to have been dug by Vishnu during the time of creation. The name "manikarnika" means "jewelled ear-rings", for it is believed that Shiva dropped his ear-rings into the well.
Cremations in Varanasi is the job of a caste of Indians called Dom. They are at the bottom rung of the caste heirachy, and are considered the untouchables because they handle corpses. Nevertheless, it's a job that someone has to do, as a mark of respect, the leader of the Dom is honoured with the title of
raja
, or king. A proper Ganges cremation using sandalwood can be a costly affair. For those who are not able to afford a Manikarnika cremation, the government has constructed an electric crematorium near
Lali Ghat
further south.
I explored the Manikarnika Ghat when I was in Varanasi. One is not supposed to directly take any photos of cremation in progress, and I avoid any close-up shots out of respect. I saw it from a hired boat as well as on foot - a trip which I got lost thereafter in the labyrinthine alleys, and took an hour or so to retrace my way back.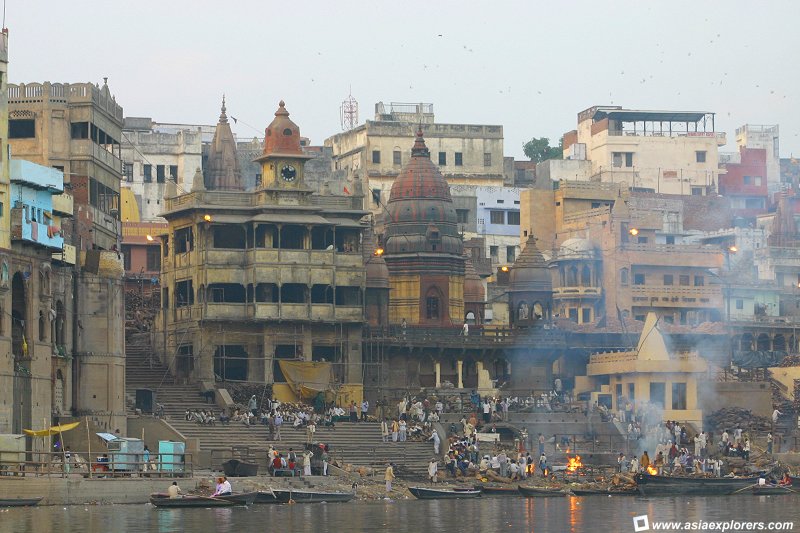 The cremation temple of Manikarnika Ghat, Varanasi.
(16 November, 2004)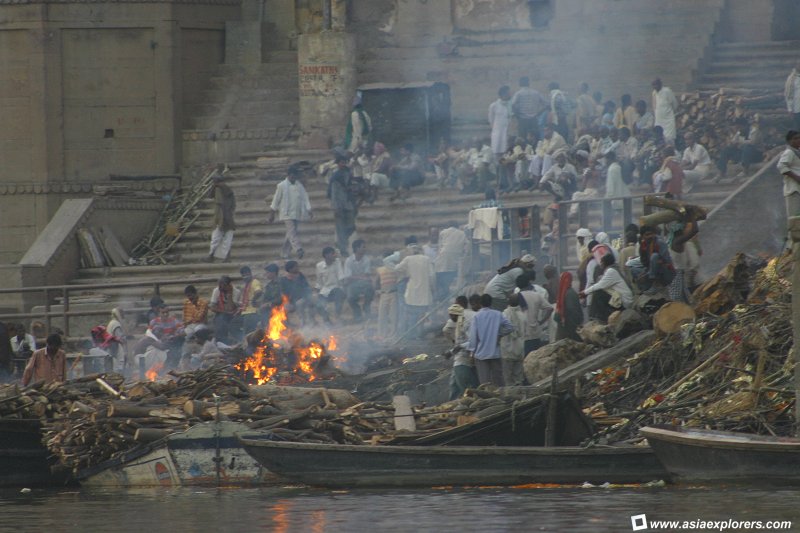 Cremation in progress, Manikarnika Ghat, Varanasi.
(16 November, 2004)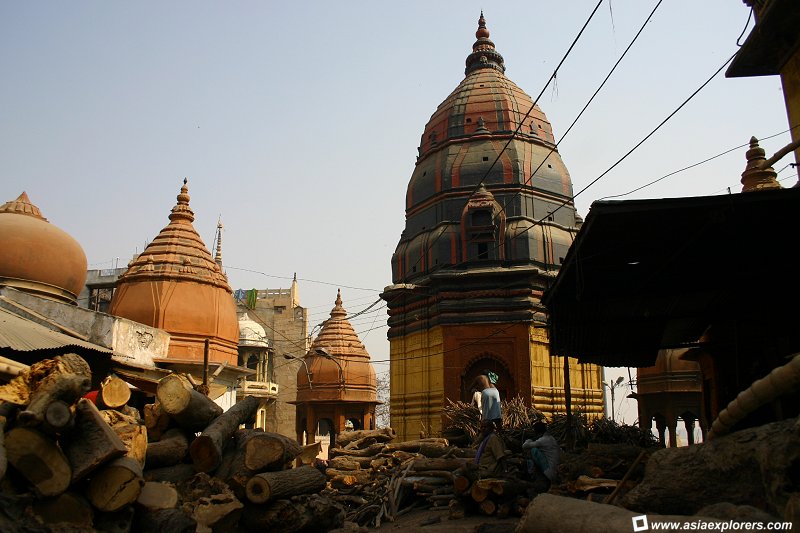 Firewood for cremation at the Manikarnika Ghat.
(16 November, 2004)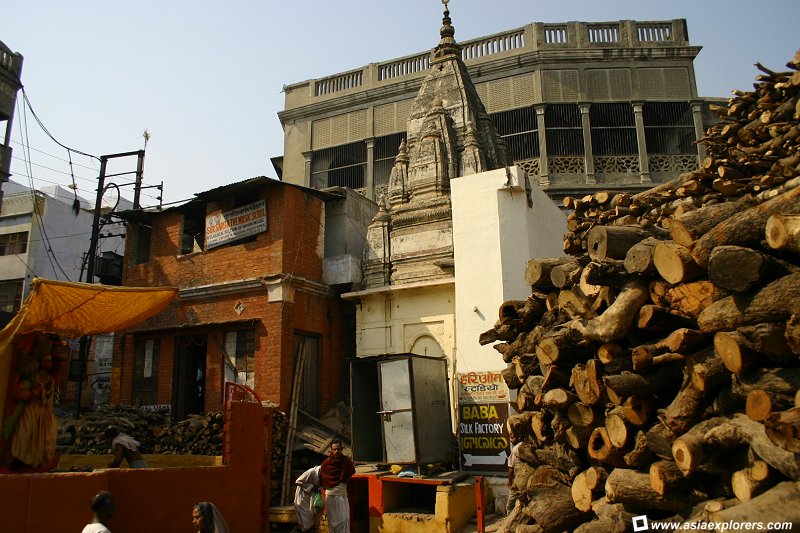 Shrine and idol of Hanuman at Manikarnika Ghat.
(16 November, 2004)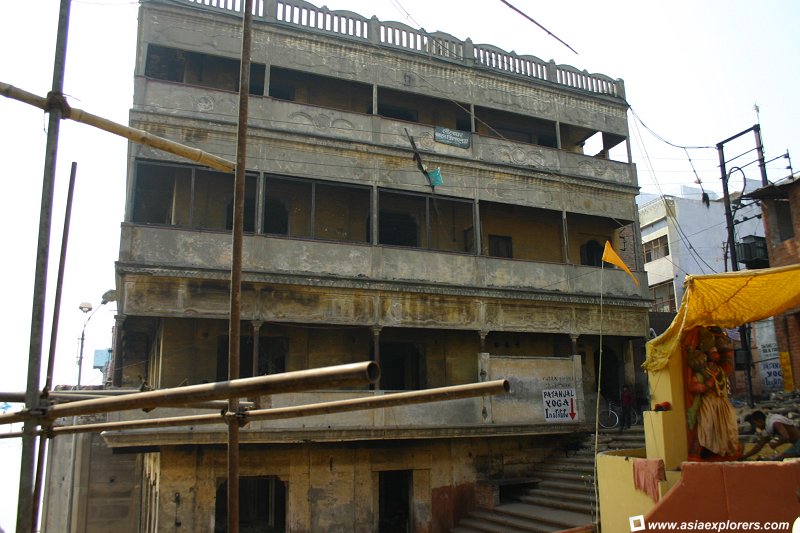 Hospice for those who come to died and be cremated at Manikarnika Ghat.
(16 November, 2004)
[an error occurred while processing this directive]
Enjoy a vacation at The Haven Resort Hotel Ipoh, an award-winning all suite resort nestled in the midst of the limestone hills of Ipoh, now with an exclusive 10% discount for readers of this website!
Buy Your Long-Distance Bus Tickets Here!
If you are planning to travel Malaysia and Singapore by bus, you can now purchase your long-distance bus tickets directly from
Bus Online Ticket
, where you get to check the schedule as well as price of tickets from various bus companies.
About me
Hello and welcome! My name is
Timothy Tye
or simply Tim. This is my personal encyclopedia. I created it to compile all the information about places. It represents my body of travel knowledge collected since 2003, and still being updated almost daily.
As a Christian, I write on travel so that
God's Good News
can reach every corner of the world and connect with those needing it. If you wish to ask me anything, feel free to
contact me here
. Thank you for visiting, and have a great day!
Copyright © 2003-2017
Timothy Tye
. All Rights Reserved.