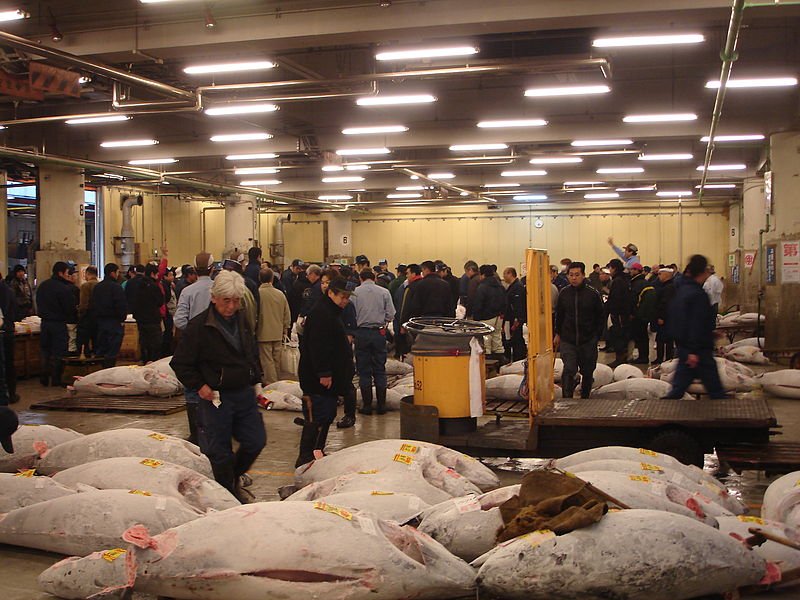 Tsukiji Fish Market, Tokyo

http://commons.wikimedia.org/wiki/File:Tsukiji_fish_market_7.jpg


Humanoid one


The
Tsukiji Fish Market
(築地市場) is the world's largest wholesale fish and seafood market. Officially the
Tokyo Metropolitan Central Wholesale Market
(東京都中央卸売市場), the Tsukiji Fish Market is located in Chuo, on the southern part of central Tokyo facing the Sumida River near Tokyo Bay. The fish market has approximately 900 wholesale fish dealers each operating a small stall. A total of over 60,000 people work at Tsukiji Fish Market, from wholesalers to auctioneers to distributors and retailers.
The Tsukiji Fish Market traces its history back to the early development of Tokyo, to when Shogun Tokugawa Ieyasu established a fish market to provide supplies for Edo Castle. After the royal household had had its pick, the balance supply was then sold near the Nihonbashi bridge at Uogashi, the fish quay that lined the canals of Edo during those days.
The fish market existed near the Nibonhashi bridge until the 1 September 1923 Great Kanto Earthquake, which devastated much of Tokyo, including the Nihonbashi Fish Market. A decision was then taken to relocate the fish market to Tsukiji. The first modern facility at Tsukiji began operating in 1935, with branch markets providing auxiliary support. Today Metropolitan Tokyo is served by three major fish markets including the one at Tsukiji, which handles the lion share of the catch.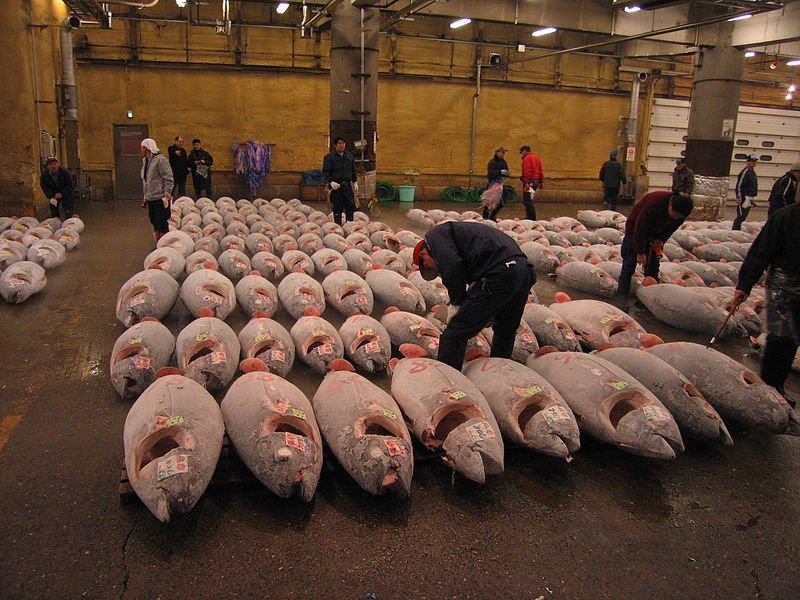 Frozen tuna at Tsukiji Fish Market

http://commons.wikimedia.org/wiki/File:Tsukiji_Fish_market_and_Tuna.JPG


Fisherman


The Tsukiji Fish Market has two sections. The outer market comprise both wholesale as well as retail shops selling Japanese kitchenware and supplies for Japanese kitchens and sushi restaurants. The inner market is where all the wholesale work takes places. This is where the fish are brought in. On any given day, there could be over 400 different types of marine life of all types being traded here. Indeed the market handles over 2000 metric tons of seafood a day.
Tsukiji starts work at 3:00am in the morning when the catch are brought in, not only by ship, but also by trucks from planes all over the world. The most impressive section of the market is the one dealing with the frozen tunas.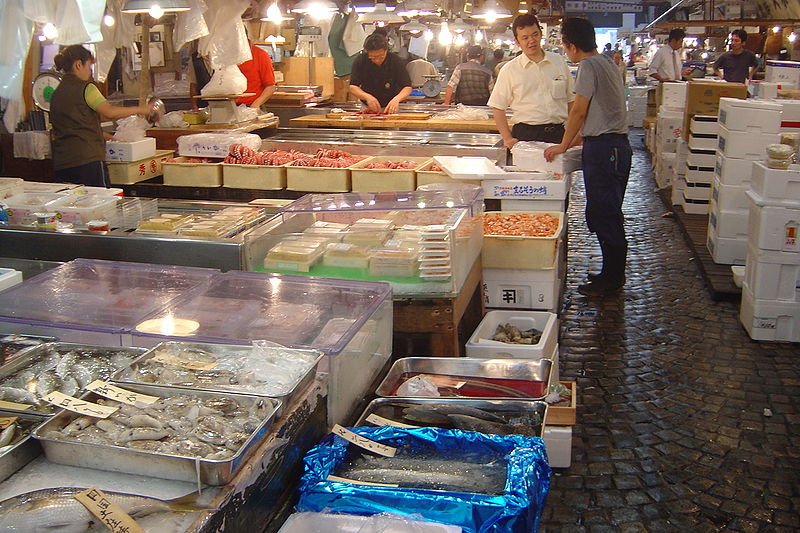 Stalls at Tsukiji Fish Market

http://commons.wikimedia.org/wiki/File:Tokyo_Tsukuji_6_052.jpg


David Monniaux


Auctioning starts at 5:20am in the morning, and only licensed bidders can participate. Tourists intending to visit the market should reach it by 5:00am and watch the proceedings from a designated area. Activities at the market starts to declined by 8:00am, and by 11:00am, many of the wholesale shops have started to call it a day.
Tourist Information
Tsukiji Fish Market
Opening Hours (for tourists): 5:00am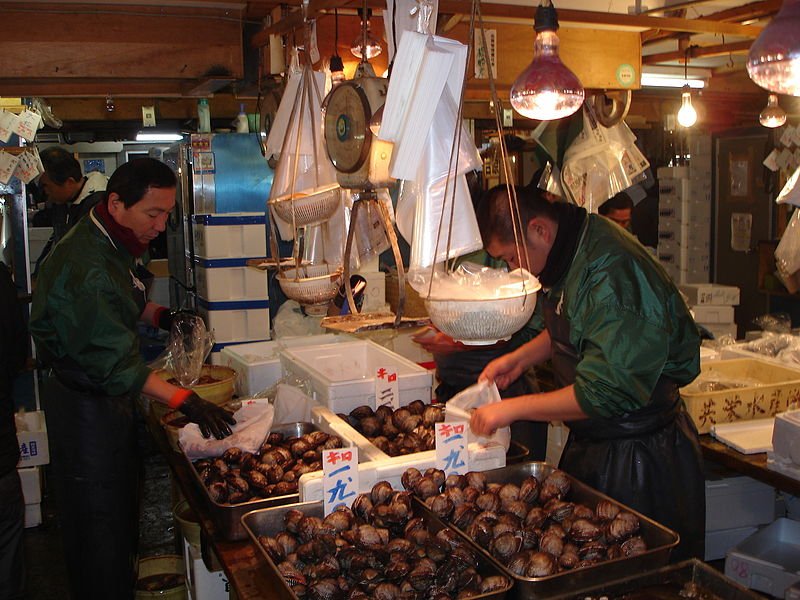 Stall at Tsukiji Fish Market

http://commons.wikimedia.org/wiki/File:Tsukiji_fish_market_21.jpg


Humanoid one


Getting there
Take the Toei Oedo Line (E-16) to the Tsukijishijo Subway Station and enter from there. The market has three entrances A1, A2 and A3. [an error occurred while processing this directive]
Enjoy a vacation at The Haven Resort Hotel Ipoh, an award-winning all suite resort nestled in the midst of the limestone hills of Ipoh, now with an exclusive 10% discount for readers of this website!
Buy Your Long-Distance Bus Tickets Here!
If you are planning to travel Malaysia and Singapore by bus, you can now purchase your long-distance bus tickets directly from
Bus Online Ticket
, where you get to check the schedule as well as price of tickets from various bus companies.
About me
Hello and welcome! My name is
Timothy Tye
or simply Tim. This is my personal encyclopedia. I created it to compile all the information about places. It represents my body of travel knowledge collected since 2003, and still being updated almost daily.
As a Christian, I write on travel so that
God's Good News
can reach every corner of the world and connect with those needing it. If you wish to ask me anything, feel free to
contact me here
. Thank you for visiting, and have a great day!
Copyright © 2003-2017
Timothy Tye
. All Rights Reserved.