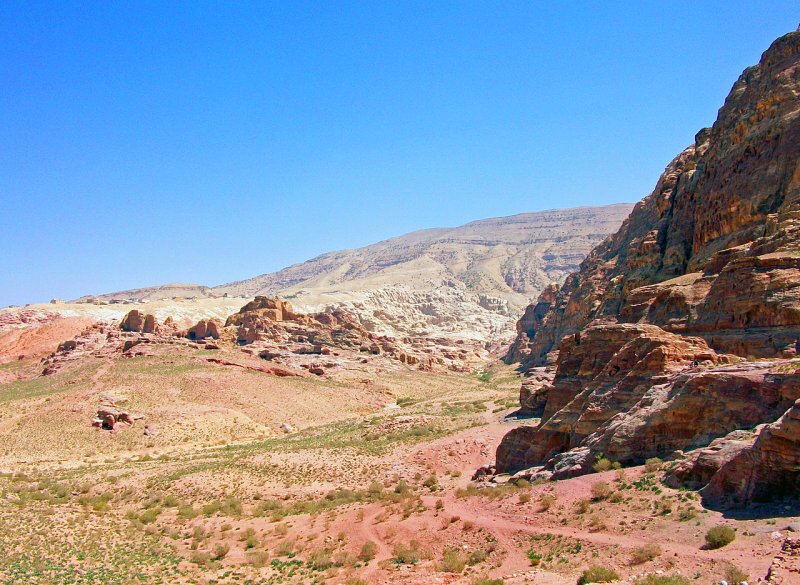 Landscape of the canyon at Wadi Musa in Petra, Jordan

http://commons.wikimedia.org/wiki/Category:Mount_Sodom#mediaviewer/File:Mt_sodom.JPG


אליבאבא


Jordan
(Arabic الأردن), or officially the
Hashmite Kingdom of Jordan
, is a country in the Middle East. It is bordered by Iraq to the east, Saudi Arabia to the southeast, Palestine and Israel to the west, and Syria to the north. The country has an area of 92,300 sq km - slightly smaller than Michigan. It has a population of 6.4 million people. The capital and biggest city is Amman.
Jordan regards itself as a modern Arab state and a constitutional monarchy. The majority of the population are Sunni Muslims. There is also a small percentage of Christians. It is a pro-Western regime with close relations with the United States, a major non-NATO ally, and only one of two Arab nationsl with diplomatic relations with Israel.
Travel Tips to Cities in Jordan
Amman Travel Tips
Capital and largest city in Jordan. One in three Jordanian lives here.
Irbid
Second largest city and metropolitan area in Jordan.
Zarqa
Third biggest city and industrial centre of Jordan.
Madaba
Fifth largest town in Jordan, famous for its Byzantine and Umayyad mosaics.
Aqaba
Ancient coastal town, today an important seaport and beach resort of Jordan.
Tourist Destinations in Jordan
These are in alphabetical order:
Ajloun
Town in northern Jordan with ruins of a 12th century castle and other places of interest.
Dead Sea
Salt lake bordering Jordan, Israel and the West Bank.
Jerash
Site with one of the largest Roman ruins in the Middle East.
Kerak
Site of the ruins of a crusader castle.
Petra
Archaeological city with rock-cut architecture and water conduits.
Salt
Ancient agricultural town with interesting old town
Wadi Rum
Oasis surrounded by beautiful desert landscape.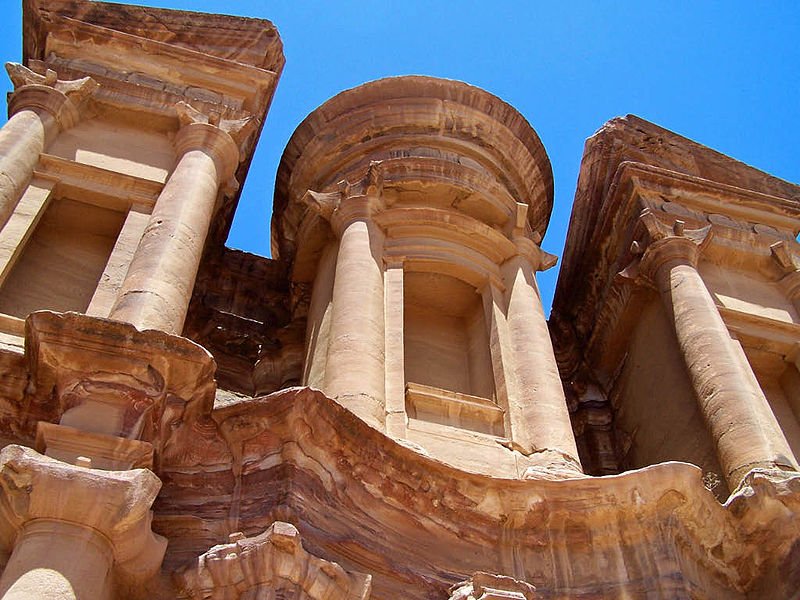 The Monastery, Petra, Jordan

http://commons.wikimedia.org/wiki/File:Monastery_close-up.jpg

Tom Neys

The country is almost completely landlocked, except for a small opening at the Gulf of Aqaba to the Red Sea. The country has been inhabited since antiquity, and today many of its ancient ruins are famous tourist and luxury holiday destinations.
Jordan experiences wet weather from November to April and very dry weather for the rest of the year. The hottest month is August, when temperature soars to 36°C (96.8°F). Winter months are from November to April, when the temperature may dip to an average of 13°C (55.4°F).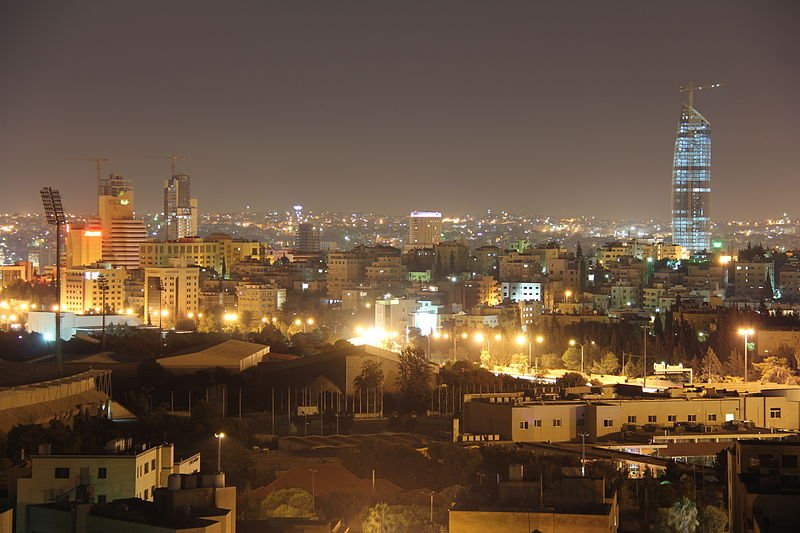 Amman, Jordan, at night

http://commons.wikimedia.org/wiki/File:Amman_as_seen_from_Sport_city.jpg


Freedom's Falcon


Planning your visit to Jordan
Visitors to Jordan from non-Arab countries need a visa, which you can get at most border points, except the crossing from the West Bank at the King Hussein Bridge. Presently the visa price is JD 10 for non-Arabs on single entry.
Airlines flying to Jordan includes the national carrier, Royal Jordanian Airlines, Air France, Lufthansa, Turkish Airlines, Egypt Air, Emirates and Delta Airlines. Budget airlines Sama and Air Arabia only covers destinations in the Middle East, so you will most likely have to fly by full-fledged carriers to reach Jordan.
The main airport for Jordan is the Queen Alia International Airport (AMM), some 32 km (20 miles) to the south of Amman. It was named in memory of Queen Alia, the third wife of King Hussein who died in a helicopter crash in 1977. From the airport, you can take a Royal Jordanian bus to downtown Amman.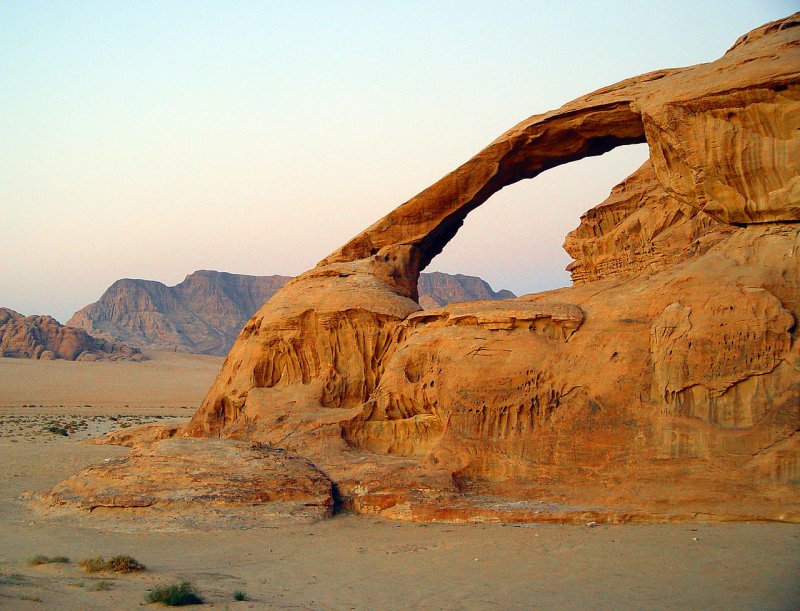 Kharaza Arch, Jordan

http://commons.wikimedia.org/wiki/Category:Geography_of_Jordan#mediaviewer/File:KharazaArch.jpg


Etan J. Tal


Planning your travel within Jordan
Most people fly between Amman and Aqaba. To go other places in Jordan, take the bus services operated by JETT (Jordan Express Tourist Transportation). For public buses, the hub is the Abdali Transport Station in downtown Amman and the Northern bus station. Alternatively, you can take a taxi. The normal practice for tourists is to agree on a price before boarding. If you find a reliable taxi driver, you can negotiate a full-day rate, which should be in the region on JB 20 to JB 25.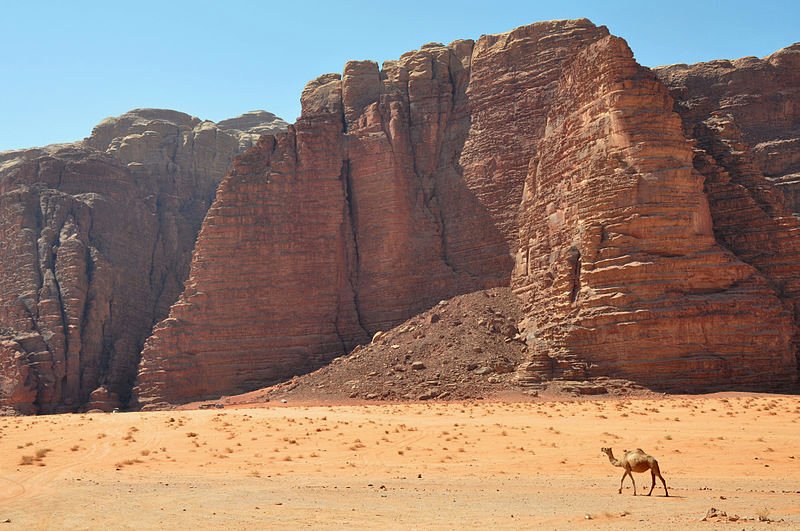 Valley of the Moon, Jordan

http://commons.wikimedia.org/wiki/File:Desert_landscape_and_a_camel_passing_by_(12465261834).jpg


Jorge Láscar


Going somewhere? Look for your hotel room over here!
You can look for and book your hotel room direct from this website. Simply key in your travel date, and you will be shown a list of hotels. Filter the results based on your requirement, everything from five star hotels to homestays and more.
Enjoy a vacation at The Haven Resort Hotel Ipoh, an award-winning all suite resort nestled in the midst of the limestone hills of Ipoh, now with an exclusive 10% discount for readers of this website!
Buy Your Long-Distance Bus Tickets Here!
If you are planning to travel Malaysia and Singapore by bus, you can now purchase your long-distance bus tickets directly from
Bus Online Ticket
, where you get to check the schedule as well as price of tickets from various bus companies.
About me
Hello and welcome! My name is
Timothy Tye
or simply Tim. This is my personal encyclopedia. I created it to compile all the information about places. It represents my body of travel knowledge collected since 2003, and still being updated almost daily.
As a Christian, I write on travel so that
God's Good News
can reach every corner of the world and connect with those needing it. If you wish to ask me anything, feel free to
contact me here
. Thank you for visiting, and have a great day!
Copyright © 2003-2017
Timothy Tye
. All Rights Reserved.