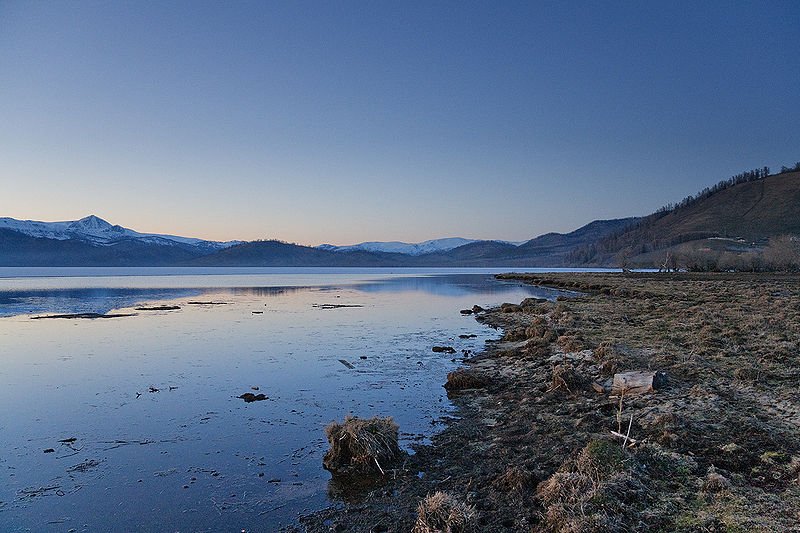 Markakol Lake, East Kazakhstan

http://commons.wikimedia.org/wiki/File:Markakol_2.jpg

Dmitry A. Mottl

Kazakhstan
(Қазақстан) is a transcontinental country straddling Central Asia and Eastern Europe. Without counting its coastline with the Caspian Sea, Kazakhstan is regarded as the world's largest landlocked country. Covering 2,724,900 sq km (1,052,085 sq mi), it is also the ninth largest country in the world and is bigger than the whole of Western Europe.
Due to its large size, Kazakhstan borders many other countries. Clockwise from the north, they are Russia, China and Kyrgyzstan to the southeast, Uzbekistan to the south, and Turkmenistan to the southwest. Kazakhstan has a population of 16.5 million people. Its capital is Astana while its largest city is Almaty.
Travel Tips of Cities in Kazakhstan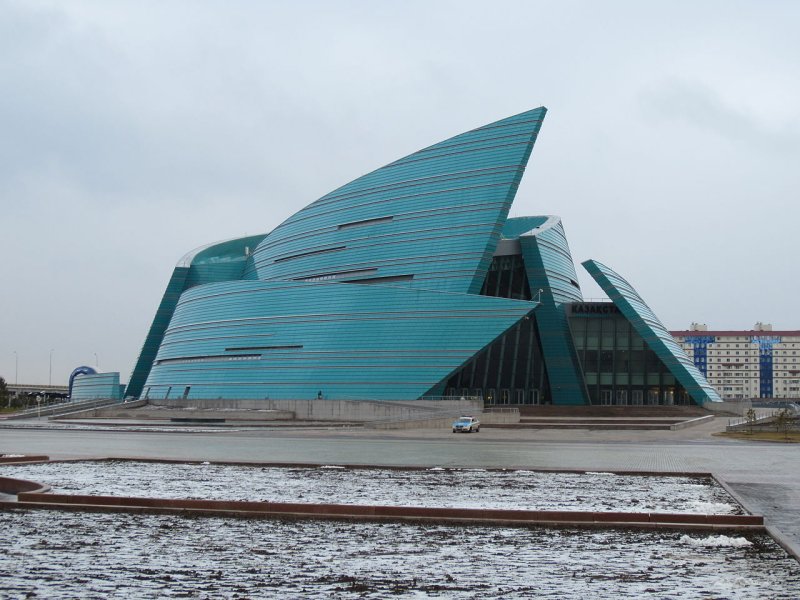 Kazakhstan Central Concert Hall in Astana, Kazakhstan

http://commons.wikimedia.org/wiki/File:Kazakhstan_Central_Concert_Hall.JPG

Elenagiussani

63.1% of the population are ethnic Kazakhs. Ethnic Russians account for 23.7% of the population. The official languages of the country are Kazakh (1st official language) and Russian (2nd official language).
Kazakhstan has two time zone, five hours ahead of Coordinated Universal Time in the west and six hours in the east (UTC+5/6). Traffic is driven on the right here. The electricity is 220V. The phone IDD code is +7.
The official currency of Kazakhstan is the Tenge (KZT). In 2010, Kazakhstan had a nominal GDP of $126.346 billion, and a per capita GDP of $8,107. The GDP at purchasing power parity is $12,044.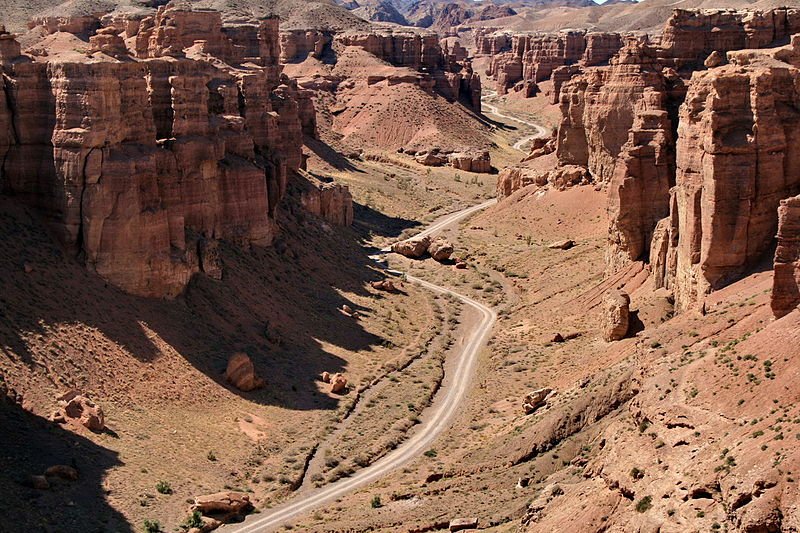 Valley of the Castles, Charyn Canyon, Kazakhstan
Author: © Jonas Satkauskas
http://commons.wikimedia.org/wiki/File:Charin.jpg
Much of Kazakhstan are steppes. It also has snow-capped mountains, deserts, hills, taigas, and rock-canyons. It is a sparsely populated country which was traditionally home of nomadic tribes. Russians began occupying the Kazakh steppes from the 18th century and by the mid-19th century, the whole of Kazakhstan was part of the Russian Empire.
Subsequent to the 1917 Russian Revolution, the borders of Kazakhstan was re-drawn a few times before it emerged in 1936 as the Kazakh Soviet Socialist Republic. When the Soviet Union collapsed, Kazakhstan was the last Soviet republic to declare its independence, doing so only on 16 December, 1991. Today it is a republic headed by a president and a prime minister.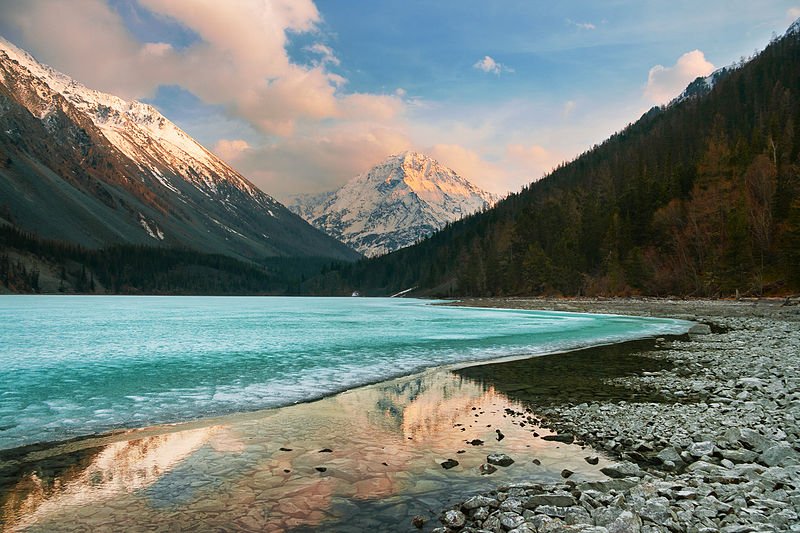 Sunset at Kucherla Lake, Kazakhstan

http://commons.wikimedia.org/wiki/File:Sunset_at_Kucherla_lake.jpg

Dmitry A. Mottl

The Almaty International Airport (ALA) is the largest airport in Kazakhstan. It is located 18 km (11 mi) from downtown Almaty, the biggest city in the country. Following the closure of Air Kazakhstan, Air Astana is now the national carrier.
Going somewhere? Look for your hotel room over here!
You can look for and book your hotel room direct from this website. Simply key in your travel date, and you will be shown a list of hotels. Filter the results based on your requirement, everything from five star hotels to homestays and more.
Enjoy a vacation at The Haven Resort Hotel Ipoh, an award-winning all suite resort nestled in the midst of the limestone hills of Ipoh, now with an exclusive 10% discount for readers of this website!
Buy Your Long-Distance Bus Tickets Here!
If you are planning to travel Malaysia and Singapore by bus, you can now purchase your long-distance bus tickets directly from
Bus Online Ticket
, where you get to check the schedule as well as price of tickets from various bus companies.
About me
Hello and welcome! My name is
Timothy Tye
or simply Tim. This is my personal encyclopedia. I created it to compile all the information about places. It represents my body of travel knowledge collected since 2003, and still being updated almost daily.
As a Christian, I write on travel so that
God's Good News
can reach every corner of the world and connect with those needing it. If you wish to ask me anything, feel free to
contact me here
. Thank you for visiting, and have a great day!
Copyright © 2003-2017
Timothy Tye
. All Rights Reserved.