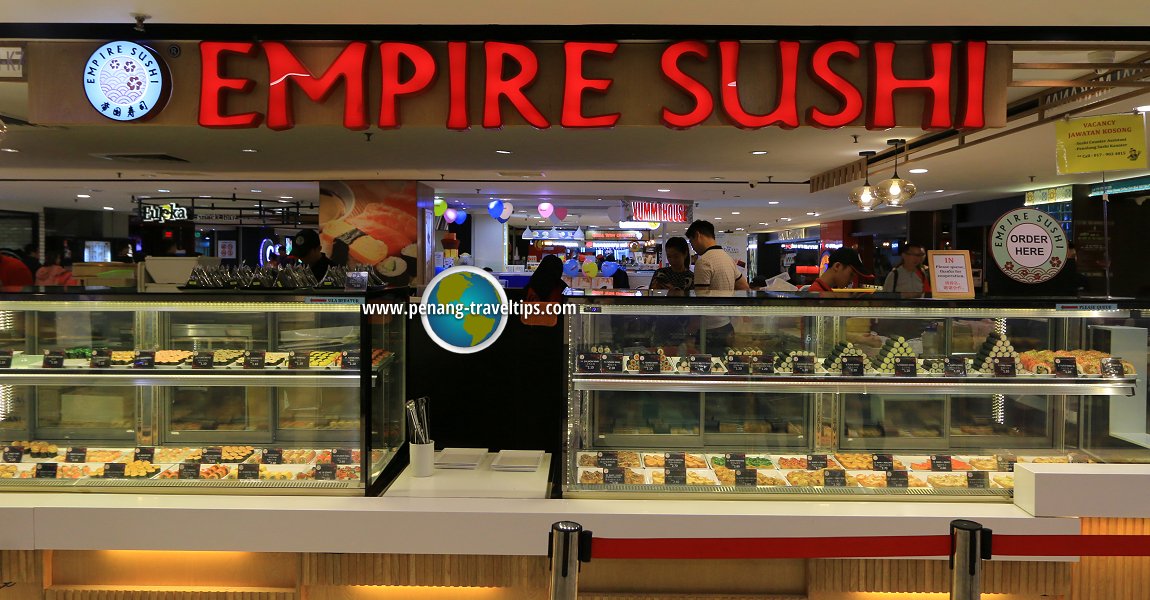 Empire Sushi outlet at Gurney Plaza, Penang
(2 March, 2017)


Empire Sushi
is a chain of quick-service kiosks specialising in various types of sushi. It comes about to support the growing appeal of sushi as an on-the-go fast food. Empire Sushi banks on its ability to provide speedy service to its customers who are accustomed to a speedy lifestyle.
In order to make sushi Muslim-friendly, all outlets of Empire Sushi are free of mirin, alcohol, pork and lard. The sushi are also hand crafted. The types of sushi available include the Temaki, Onigari, California roll and other Western-style sushi, Temari, the Maki, Gunkan, Nigiri and Inari. And though not technically sushi, some outlets also serve Sashimi.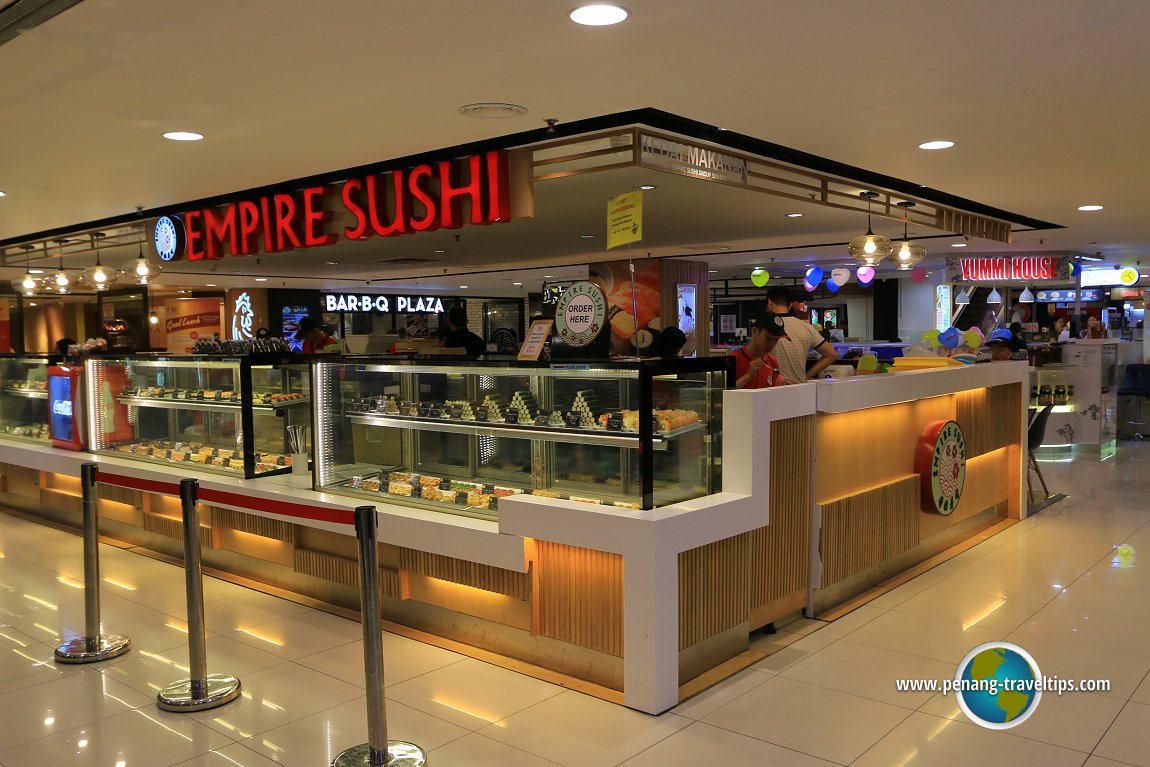 The Empire Sushi outlet at Gurney Plaza, Penang.
(2 March, 2017)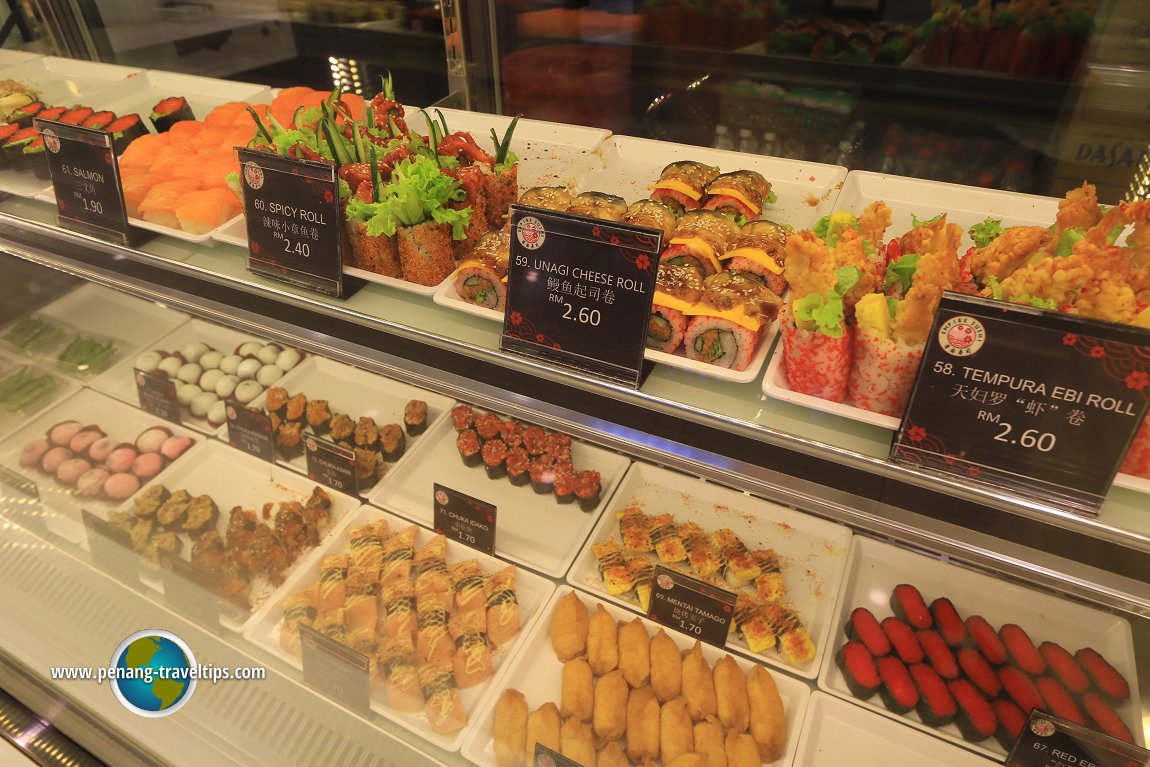 Showcase at Empire Sushi with the various sushi selections.
(2 March, 2017)

Temaki zushi at Empire Sushi.
(2 March, 2017)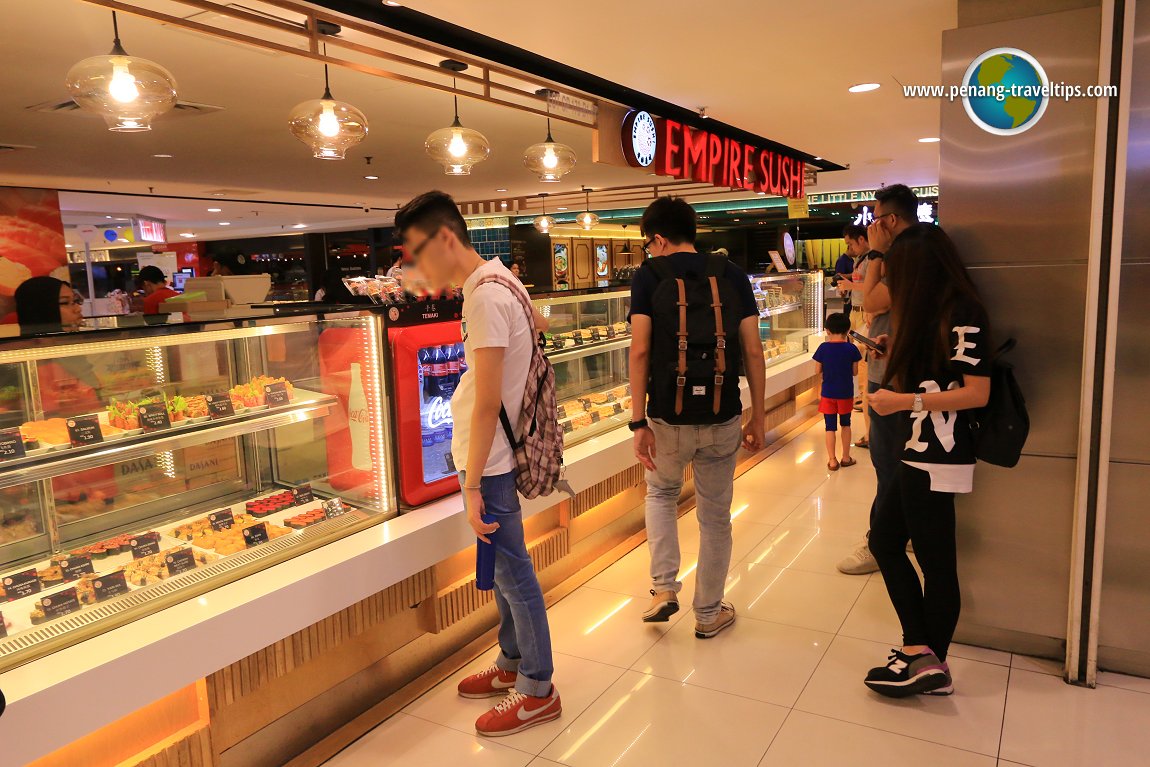 Customers making their selection at Empire Sushi.
(2 March, 2017)

Empire Sushi outlets in Malaysia
List of Empire Sushi locations
Aman Central Mall, Alor Setar
Alor Setar Mall
Amanjaya Mall, Sungai Petani
Central Square, Sungai Petani
Gurney Plaza, Penang
Gurney Paragon Mall, Penang
1st Avenue Mall, Penang
Sunway Carnival Mall, Seberang Jaya, Penang
Setapak Central, Kuala Lumpur
Avenue K Shopping Mall, Kuala Lumpur
Berjaya Times Square, Kuala Lumpur
Sunway Velocity Mall, Kuala Lumpur
IPC Shopping Centre, Mutiara Damansara, Petaling Jaya
Empire Shopping Gallery, Subang Jaya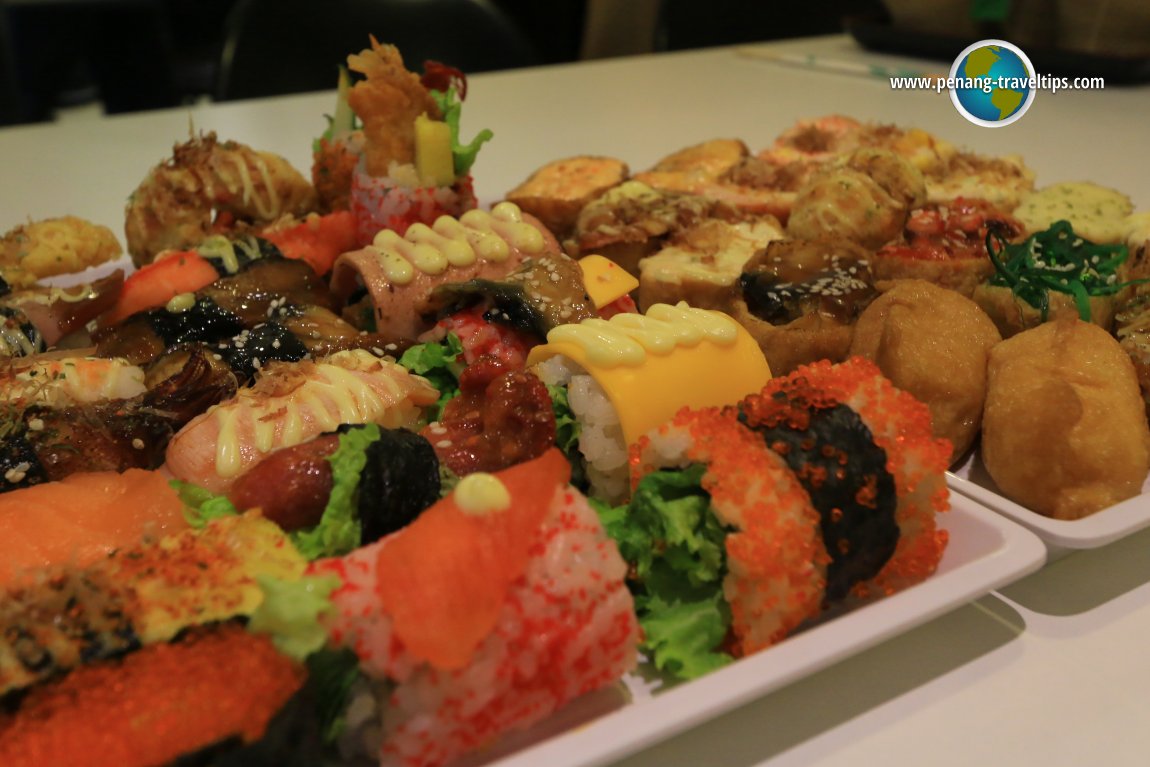 A wide selection of sushi from Empire Sushi
(2 March, 2017)

A review of Empire Sushi
2 March, 2017
I had a chance to review the items from Empire Sushi at a blogger gathering today. We met at the Empire Sushi outlet at Gurney Plaza, and were served a wide selection of sushi. We were given to try a wide selection of their most popular pieces.
What I like about Empire Sushi is that the rice is incredibly moist. I can't say the same for some sushi outlets, where the rice is too dry and tends to fall apart. In addition to that, I also found that the sushi is mostly tasty enough that I do not need to dip them into soysauce or wasabi. I am aware that some people seem to find "dipping into soysauce and wasabi" to be a must for their sushi, but I feel, when the sushi is really fresh and tasty, you ought to enjoy them on their own. That way, you get to taste the ingredients without getting them masked by the strong taste of soysauce and wasabi.
I also like the cups they use for their hot green tea. These are the more modern paper cups, which are ribbed, so that you can easily hold them without burning your fingers. I know more and more outlets are switching to this, more expensive type of paper cups, and I felt it is worth the while.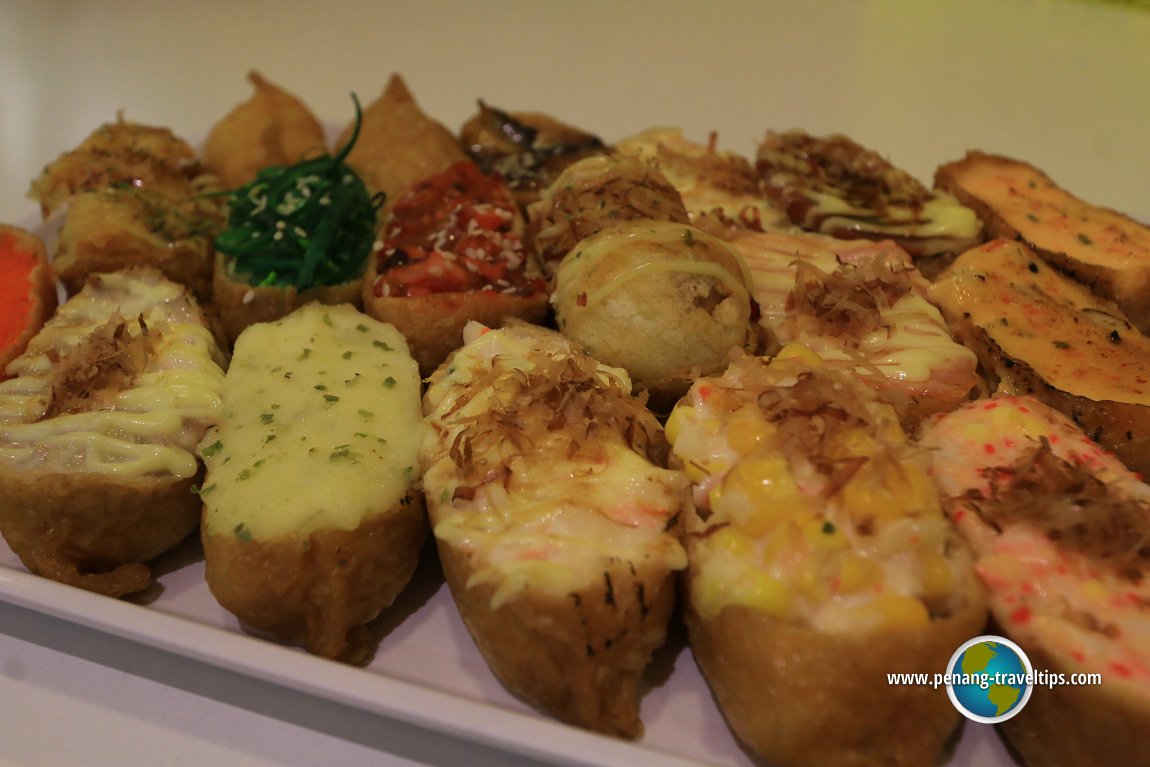 A tray of Inarizushi at Empire Sushi
(2 March, 2017)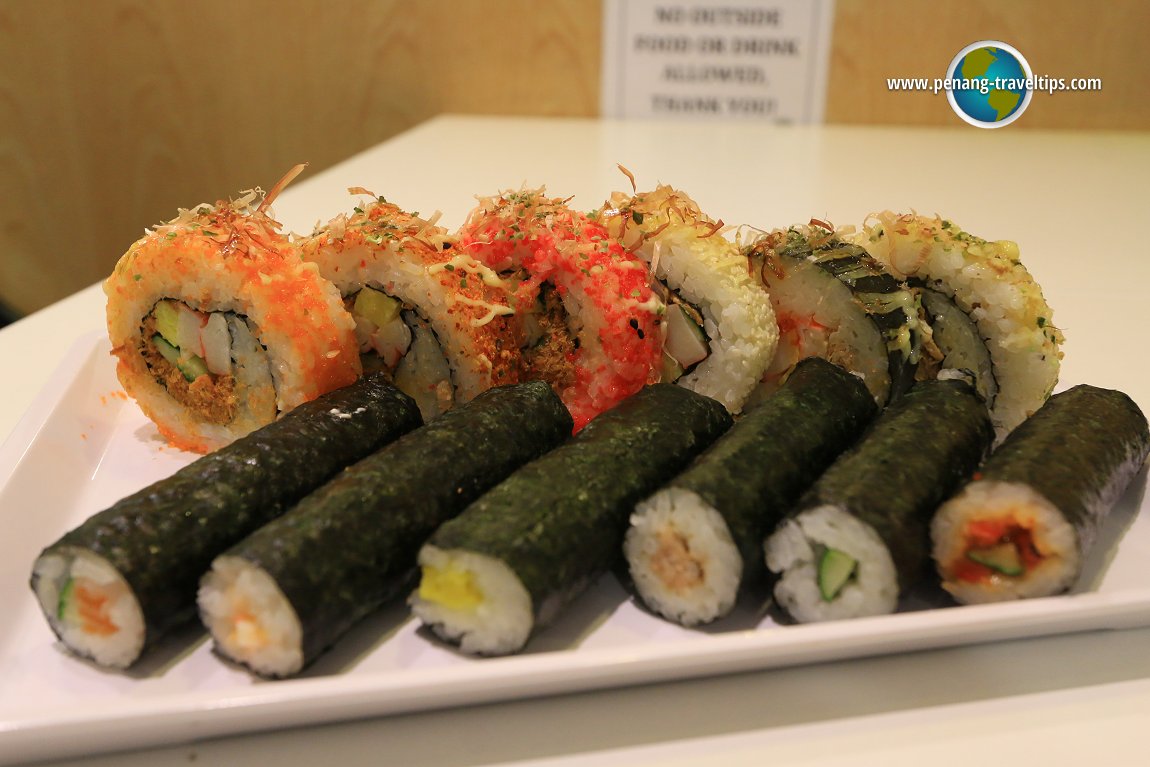 Various roll sushi at Empire Sushi
(2 March, 2017)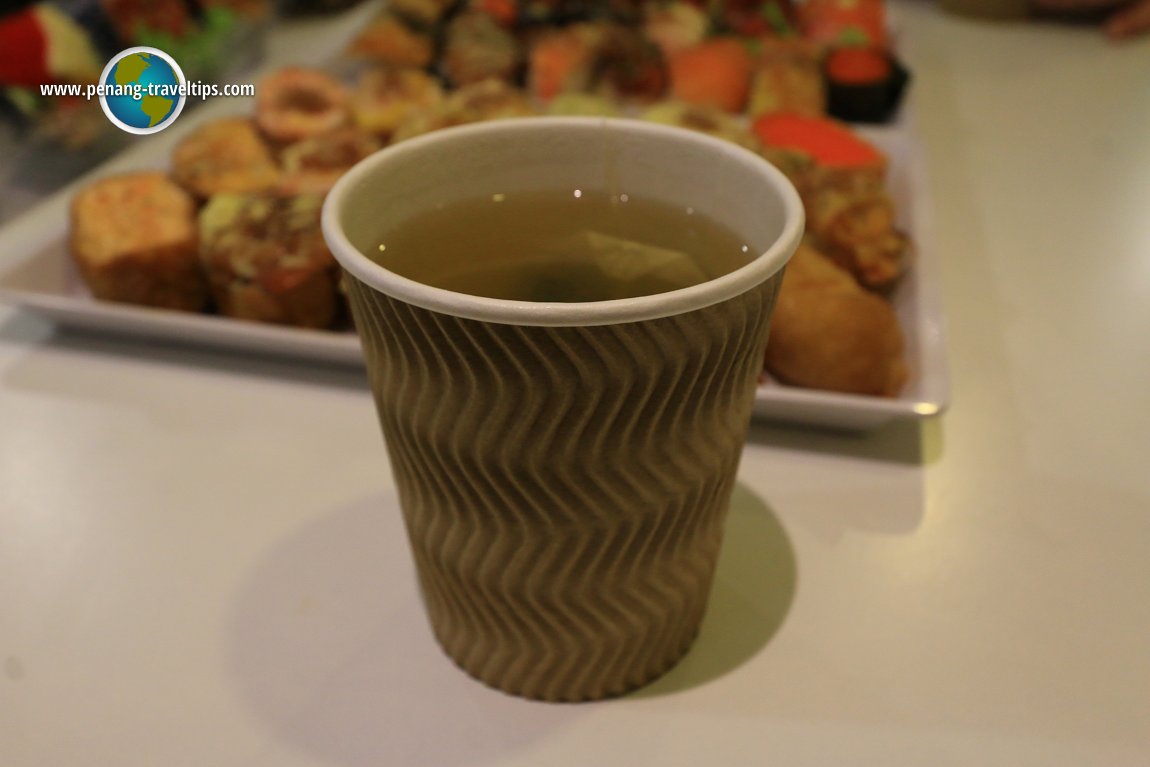 Paper cup for hot green tea, at Empire Sushi
(2 March, 2017)

Enjoy a vacation at The Haven Resort Hotel Ipoh, an award-winning all suite resort nestled in the midst of the limestone hills of Ipoh, now with an exclusive 10% discount for readers of this website!
Buy Your Long-Distance Bus Tickets Here!
If you are planning to travel Malaysia and Singapore by bus, you can now purchase your long-distance bus tickets directly from
Bus Online Ticket
, where you get to check the schedule as well as price of tickets from various bus companies.
About me
Hello and welcome! My name is
Timothy Tye
or simply Tim. This is my personal encyclopedia. I created it to compile all the information about places. It represents my body of travel knowledge collected since 2003, and still being updated almost daily.
As a Christian, I write on travel so that
God's Good News
can reach every corner of the world and connect with those needing it. If you wish to ask me anything, feel free to
contact me here
. Thank you for visiting, and have a great day!
Copyright © 2003-2017
Timothy Tye
. All Rights Reserved.