On this page I want to describe the transportation options available to you while in Malaysia. The good news is that Malaysia has one of the best road systems in the region, with ribbons of expressways radiating out of the capital Kuala Lumpur, located at the heart of the peninsula. The other major towns in Peninsular Malaysia are linked by at least one major expressway. Those on the west coast are most likely linked to the
North-South Expressway
.
Malaysia is a joy to explore by car. I would encourage you to drive, as there is so much more you will get to see, and many of the directions I offer assume that you have your own transport.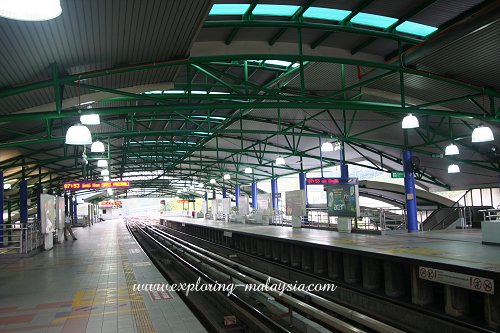 LRT Station in Kuala Lumpur (2 January 2010)


Interstate transportation
Express buses link all the major cities in Malaysia. It is not my foremost choice, as I am not entirely comfortable with the express bus drivers, who I have to say are often subjected to long hours on the road, deprived of adequate rest (regardless what their companies may say). Also, many drive as though they are being chased by demons, hurling down the expressway like a speeding bullet. I do not want to trust my life in their hands, unless I have no other option.
City Transportation
At the moment, Kuala Lumpur is the only city with a rapid transit system comprising two light rail transit lines and one monorail line. They are my choice in exploring Kuala Lumpur. Many of the sights I describe include information on which LRT station to disembark.
The other cities in Malaysia is served by city buses. Penang, which once had a most deplorable bus network, leapfrogged to having one of the best in the country, with the introduction of Rapid Penang buses. Here's the
Rapid Penang Bus Routes
which cover all the major populated areas in Penang.
The public buses in the other cities serve more the commuters than the visitor. I would recommend that you rent a car if you wish to explore outside of Kuala Lumpur and Penang.
Visiting Malaysia? Look for your hotel room over here!
You can look for and book your hotel room direct from this website. Simply key in your travel date, and you will be shown a list of hotels in Malaysia. Filter the results based on your requirement, everything from five star hotels to homestays and more.
Look for hotels different states in Malaysia
Look for a specific type of accommodation in Malaysia
Enjoy a vacation at The Haven Resort Hotel Ipoh, an award-winning all suite resort nestled in the midst of the limestone hills of Ipoh, now with an exclusive 10% discount for readers of this website!
Buy Your Long-Distance Bus Tickets Here!
If you are planning to travel Malaysia and Singapore by bus, you can now purchase your long-distance bus tickets directly from
Bus Online Ticket
, where you get to check the schedule as well as price of tickets from various bus companies.
About me