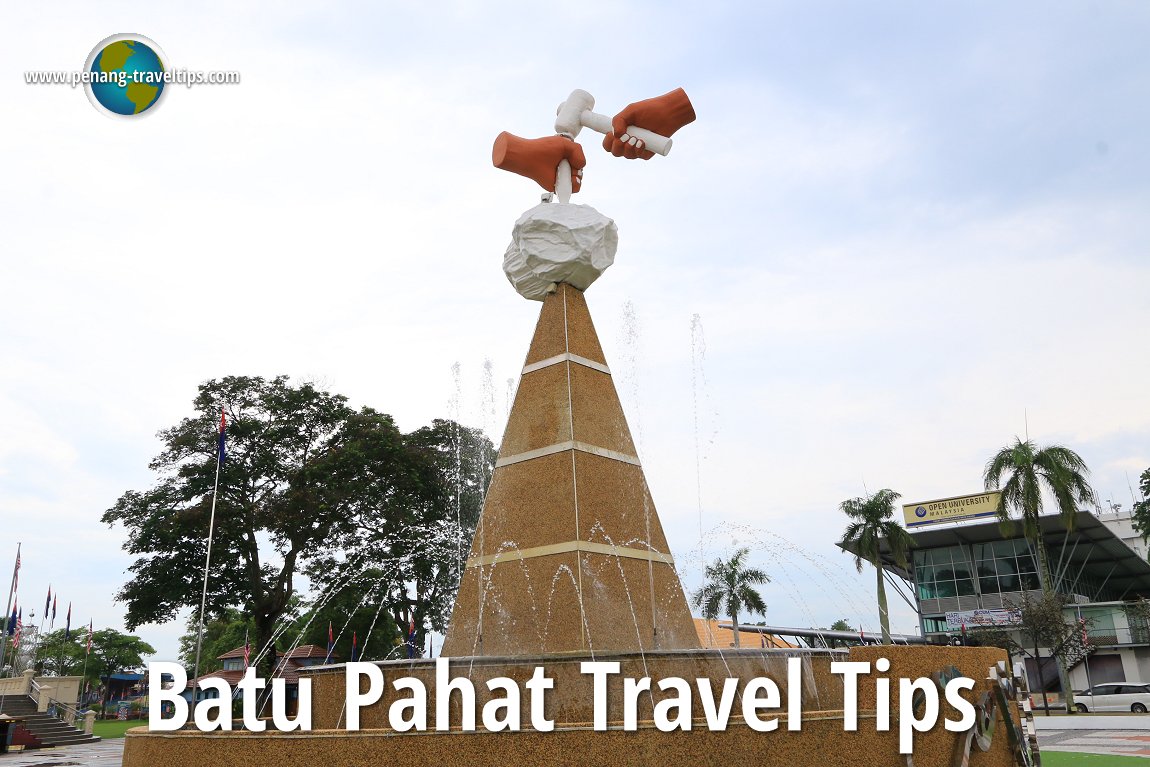 Batu Pahat Monument
(10 September, 2016)

B. Melayu
Batu Pahat
(GPS: 1.84808, 102.93352), also called
Bandar Penggaram
, is the administrative capital of the Batu Pahat District in Johor. Batu Pahat is located to the southeast of
Muar
, to the southwest of
Kluang
, northwest of Pontian and south of
Segamat
. The district of Batu Pahat has a population of over half a million people, and a total area of 1872 sq km. The town develops over the eastern bank of the Batu Pahat River.
Batu Pahat, as we know it today, was founded in 1893 by Dato Bentara Luar, on the orders of Sultan Abu Bakar. However, the area has seen human habitation going back to the 15th century and perhaps earlier. It acquired its name, which means "chiseled rock", from a 15th century legend that tells of Siamese troops chiselling the rocks near the village of Kampung Minyak Beku to create a well. The Siamese were chased out by the Malaccan troops headed by Tun Perak, the Bendahara of Malacca, during the reign of Sultan Mansur Shah (1446-1459). In Kampung Minyak Beku today, you can still see the old well chiselled by the Siamese.
Batu Pahat is known for its salted fish industry, and earned the nickname of Bandar Penggaram, which translates roughly as "makers of salted products".
The district, or
daerah
, of Batu Pahat comprises the several subdistricts, called
mukim
. They are Lubok, Bagan, Peserai, Simpang Kiri, Simpang Kanan, Linau, Tanjung Semberong,
Sri Gading
,
Kampung Minyak Beku
, Kampung Bahru, Sungai Punggor, Sungai Kluang, Chaah Bahru and Sri Medan. There are also 524 gazetted villages, called
kampung
.
The town of Batu Pahat is the second most industrialised in Johor after Johor Bahru. The industries here include plastic, textile, timber, food-processing, porcelain and electronics. It is the biggest textile producing town in the country. The industrial zones in Batu Pahat are at Tongkang Pecah,
Parit Raja
and Sri Gading.
Location of sights in Batu Pahat
Places of interest in Batu Pahat
Batu Pahat Well (GPS: 1.79577, 102.88946)
Dataran Batu Pahat (GPS: 1.84747, 102.93472)
Taman Rekreasi Tasik Y (GPS: 1.84256, 102.93569)
Category of sights in Batu Pahat
Places of Worship in Batu Pahat
Masjid Jamek Sultan Ismail (GPS: 1.85591, 102.94589)
Pu Thor Sze Temple (GPS: 1.8473, 102.93703)
St Henry Catholic Church (GPS: 1.84171, 102.93451)
Major Roads in Batu Pahat
Medical Attention
Hospital Batu Pahat, Jalan Korma, 83000 Batu Pahat, tel: 07 434 1999
Utilities in Batu Pahat
Pos Malaysia tel: 07 432 3431
Tenaga Nasional tel: 07 432 1088
Telekom Malaysia tel: 07 435 9292
Syarikat Air Johor Holding tel: 07 431 7944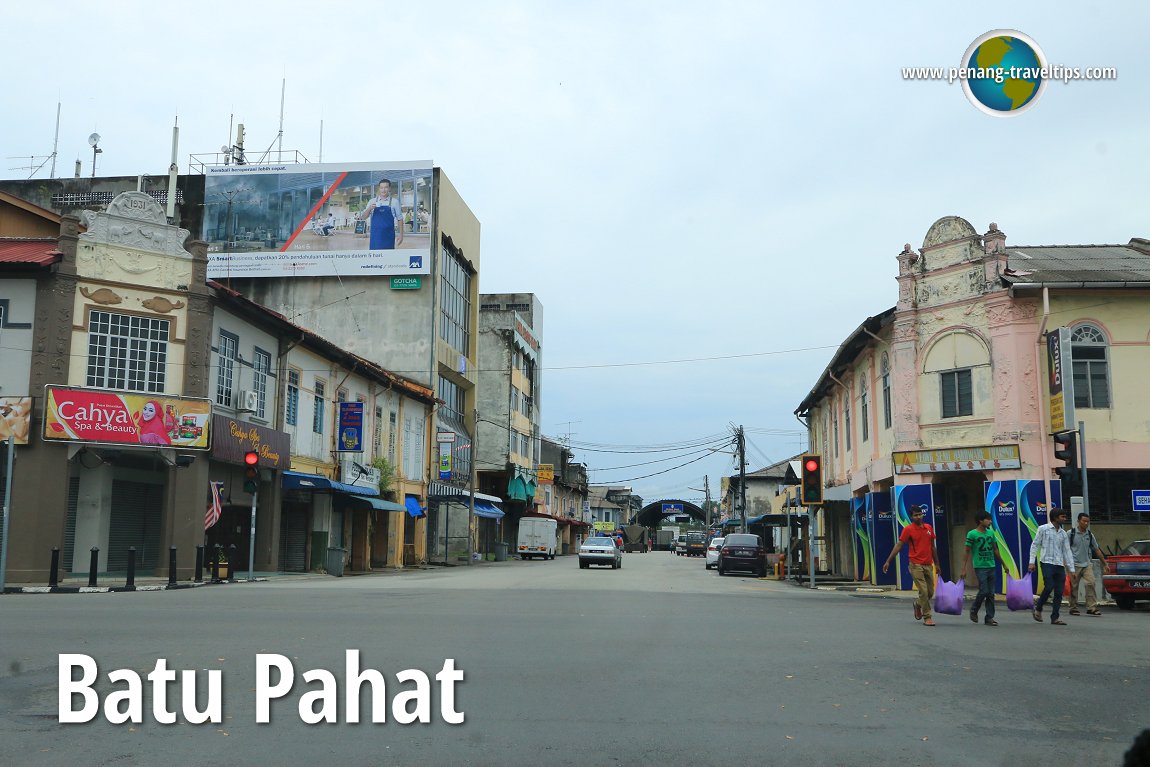 View of the town of Batu Pahat, Johor
(10 September, 2016)


360&deg View of Batu Pahat on Google Maps Street View
Batu Pahat
View of Batu Pahat at the intersection of Jalan Bakau Condong and Jalan Zabedah.
Getting there
Coming from the north, exit the North-South Expressway at Exit 241 (Yong Peng Interchange). From the south, exit the expressway at Exit 244 (Air Hitam Interchange). Take the Batu Pahat - Kluang Road (Route 50) in the direction of Batu Pahat (watch for signages). The road ends at a roundabout at Jalan Rahmat, one of the major roads in Batu Pahat.
Enjoy a vacation at The Haven Resort Hotel Ipoh, an award-winning all suite resort nestled in the midst of the limestone hills of Ipoh, now with an exclusive 10% discount for readers of this website!
Buy Your Long-Distance Bus Tickets Here!
If you are planning to travel Malaysia and Singapore by bus, you can now purchase your long-distance bus tickets directly from
Bus Online Ticket
, where you get to check the schedule as well as price of tickets from various bus companies.
About me
Hello and welcome! My name is
Timothy Tye
or simply Tim. This is my personal encyclopedia. I created it to compile all the information about places. It represents my body of travel knowledge collected since 2003, and still being updated almost daily.
As a Christian, I write on travel so that
God's Good News
can reach every corner of the world and connect with those needing it. If you wish to ask me anything, feel free to
contact me here
. Thank you for visiting, and have a great day!
Copyright © 2003-2017
Timothy Tye
. All Rights Reserved.