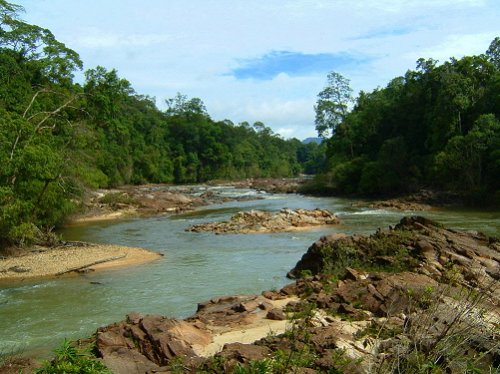 Kuala Jasin, Endau-Rompin National Park

http://en.wikipedia.org/wiki/File:20070429EndauKualaJasin.jpg


Mohd Hafiz Noor Shams



Endau-Rompin National Park
is the second designated national park in Peninsular Malaysia. Straddling the border of Pahang and Johor, this national park holds the distinction of having the world's oldest rainforest. It covers an area of 870 square kilometers, and is the second largest national park in Peninsular Malaysia after
Taman Negara
. There are also volcanic rocks in the national park that dates back 240 million years. The Endau Rompin National Park was named after the two main rivers that flow through the area. Sungai Rompin in
Pahang
flows to Kuala Rompin before emptying into the South China Sea while Sungai Endau reaches its estuary at
Endau
in
Johor
.
Today, there are three entrances to the national park, namely through
Kahang
,
Bekok
and Kuala Rompin.
Getting there
There are three entrances to the Endau-Rompin National Park, but you will need a 4WD vehicle to enter any one of them. Two of the entrances are in Johor, and one is in Pahang. At least one week before embarking on your adventure, you need to notify the Johor National Parks Corporation (tel: 07 223 7471, http://johorparks.com.my) or use a travel agent if entering from Pahang, for which you need an entry permit from the district office of Kuala Rompin - bring along two passport-size photographs and a photocopy of your passport or identity card.
Entering Johor Endau-Rompin Park through Peta
Exit the North-South Expressway at Exit 244, Air Hitam Interchange. Take Route 50 towards Kluang (going in the opposite direction takes you to
Batu Pahat
) and then to Kahang. Follow the signage and travel a further 7 km to reach the main entry point to Endau-Rompin (Peta). From the entry point, it is another 53km to the park headquarters at Kampung Peta.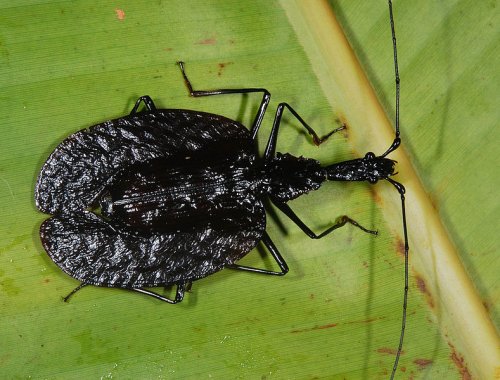 Violin Beetle, Endau-Rompin National Park

http://commons.wikimedia.org/wiki/File:Violin_beetle_Mormolyce_phyllodes.jpg


Dr. Arthur Anker


Entering Johor Endau-Rompin Park through Selai
This entrance was only opened since 2003. Exit the North-South Expressway at Exit 241 or 242, Yong Peng Interchange North/South, then continue on the main trunk road (Route 1), until left turn to Bekok on State Route J150.
Entering Pahang Endau-Rompin Park
From Kuala Rompin, head southwest on State Route C105 through Selendang. The 26 km dirt track takes you to Kuala Kinchin entrance to the national park.
Sights at Endau Rompin National Park
Peta Site
Orang Asli Village
Kuala Jasin
Kuala Marong
Tasik Air Biru
Upeh Guling
Batu Hampar
Janing Barat
Pantai Burung
Selai Site
Kampung Selai Orang Asli Village
Takah Tinggi Waterfall
Takah Pandan Waterfall
Takah Berangin Waterfall
Takah Beringin Waterfall
Kuala Rompin Site, Pahang
Padang Tujuh
Singai Kinchin & Sungai Kemapan
Mahkota Waterfall
Upih Guling Falls
Buaya Sangkut Falls
Kelapa Gading Cave
Enjoy a vacation at The Haven Resort Hotel Ipoh, an award-winning all suite resort nestled in the midst of the limestone hills of Ipoh, now with an exclusive 10% discount for readers of this website!
Buy Your Long-Distance Bus Tickets Here!
If you are planning to travel Malaysia and Singapore by bus, you can now purchase your long-distance bus tickets directly from
Bus Online Ticket
, where you get to check the schedule as well as price of tickets from various bus companies.
About me
Hello and welcome! My name is
Timothy Tye
or simply Tim. This is my personal encyclopedia. I created it to compile all the information about places. It represents my body of travel knowledge collected since 2003, and still being updated almost daily.
As a Christian, I write on travel so that
God's Good News
can reach every corner of the world and connect with those needing it. If you wish to ask me anything, feel free to
contact me here
. Thank you for visiting, and have a great day!
Copyright © 2003-2017
Timothy Tye
. All Rights Reserved.