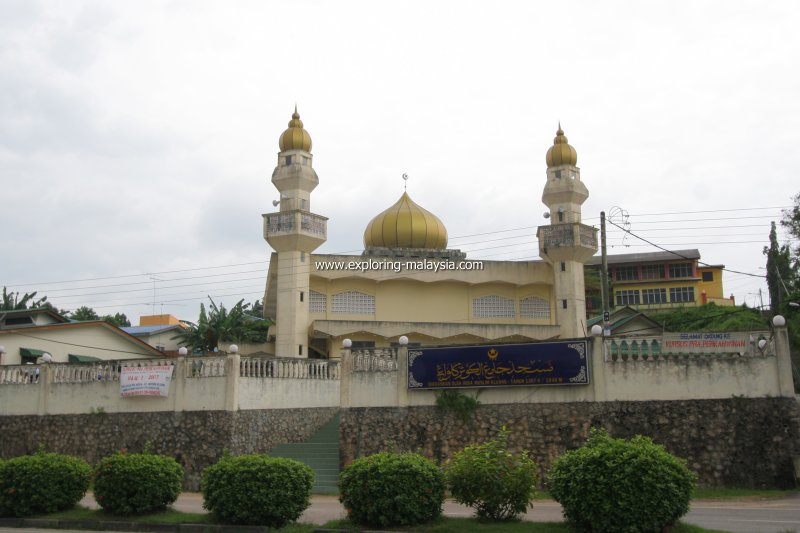 Masjid India Muslim, Kluang
(30 December, 2006)


B. Melayu
Kluang
(GPS: 2.02929, 103.3168) is a town in central Johor. It is located within the
Kluang District
. However, the district capital is at
Simpang Renggam
. The district has a population of a quarter million people, of which about 60% live in Kluang town.
Kluang is very much surrounded by undulating plantation land. Oil palm and rubber are the main commodity crops here. Sungai Mengkibol flows right through Kluang.
Location of sights in Kluang
Places of interest in Kluang
Che Luan Khor Temple, Jalan Jelutong, Kluang
Church of St Louis (GPS: 2.03802, 103.31684) , Jalan Omar, Kluang
Gunung Belumut Recreational Forest
Gunung Lambak Recreational Forest
Gurdwara Sahib Kluang, Jalan Batu Pahat, Kluang
Hong Xian Gong Temple, Jalan Kapur, Kluang
Jalan Lambak Heritage Row (GPS: 2.02725, 103.31909)
Kahang Low Rise Tea Plantation
Kahang Organic Rice Farm
Kluang Coffee Powder Factory
Kluang Indian Muslim Mosque (GPS: 2.03242, 103.32564), Jalan Batu Pahat, Kluang
Kluang Railway Station (GPS: 2.03363, 103.3175)
Legaran Ismail Hassann (GPS: 2.03804, 103.32245)
Little India
Tasik Sembrong (GPS: 1.97372, 103.18913)
UK Farm
Zenxin Organic Park
Streets in Kluang
Jalan Dato' Teoh Siew Khor
Jalan Ismail
Places in Kluang District
360&deg View of Kluang on Google Maps Street View
Orientation
The main road through Kluang is Jalan Batu Pahat. This is the trunk road, also known as Route 50, that goes all the way to
Batu Pahat
, where - ironically - it is known as Jalan Kluang. The roads in town are quite straightforward - Jalan Mersing leads to
Mersing
, while Jalan Kota Tinggi leads to
Kota Tinggi
.
Emergencies Numbers
Police tel: 07 772 2222
Fire Brigade Jalan Haji Manan, 86000 Kluang, tel: 07 772 4444
Transportation in Kluang
Kluang Bus & Taxi Station Jalan Bakawali
Kluang Railway Station Jalan Stesyen
Useful Numbers in Kluang
Kluang Post Offfice Jalan Omar, 86000 Kluang, 07 773 3555
Kluang General Hospital Jalan Hospital, 86000 Kluang, tel: 07 772 3333
Telekom Malaysia tel: 07 771 9191
Hospitals in Kluang
Kluang General Hospital Jalan Hospital, 86000 Kluang, tel: 07 772 3333
Kluang Utama Specialist Centre 1, Susur 1, Jalan Besar, 86000 Kluang, tel: 07 771 8999
History of Kluang
The history of Kluang goes back to 1910, when a decision was made to develop Central Johor for agriculture. The site of Kluang was selected and in 1915, it was made the administrative capital of central Johor. A railway station was built there, and this helped to spur the grown of the town and region.
Kluang is said to have been named after a village called Kampung Kluang, which in turn was named after the fruit bat,
keluang
. The fruit bat has all but disappeared in the Kluang area.
Hotels in Kluang
Anika Hotel 1, 3 & 5 Jalan Dato' Abd. Rauf, 86000 Kluang, tel: 07 772 4977
Merdeka Hotel 30 Jalan Mengkibol, 86000 Kluang, tel: 07 772 4911
Nagaria Inn 3 Jalan Intan 1/1, Taman Intan, 86000 Kluang, tel: 07 773 9999
Prime City Hotel 20 Jalan Bakawali, 86000 Kluang, tel: 07 771 1111
Regal Hotel 42 & 44, Jalan Dato Captain Ahmad, 86000 Kluang, tel: 07 772 4923
How to go to Kluang
Exit the North-South Expressway at Exit 244, Air Hitam Interchange. Take Route 50 towards Kluang (going in the opposite direction takes you to Batu Pahat).
Enjoy a vacation at The Haven Resort Hotel Ipoh, an award-winning all suite resort nestled in the midst of the limestone hills of Ipoh, now with an exclusive 10% discount for readers of this website!
Buy Your Long-Distance Bus Tickets Here!
If you are planning to travel Malaysia and Singapore by bus, you can now purchase your long-distance bus tickets directly from
Bus Online Ticket
, where you get to check the schedule as well as price of tickets from various bus companies.
About me
Hello and welcome! My name is
Timothy Tye
or simply Tim. This is my personal encyclopedia. I created it to compile all the information about places. It represents my body of travel knowledge collected since 2003, and still being updated almost daily.
As a Christian, I write on travel so that
God's Good News
can reach every corner of the world and connect with those needing it. If you wish to ask me anything, feel free to
contact me here
. Thank you for visiting, and have a great day!
Copyright © 2003-2017
Timothy Tye
. All Rights Reserved.