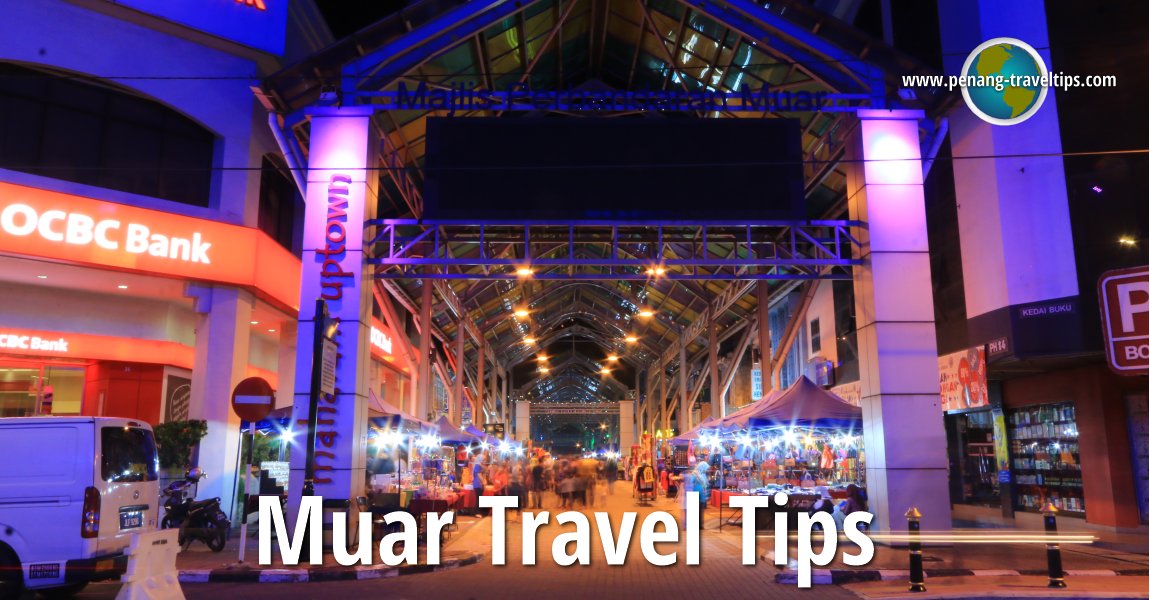 Muar Travel Tips
(11 September, 2016)


B. Melayu
Muar
(GPS: 2.06361, 102.57659) is a town on the west coast of Johor. It is also the name of the district surrounding it. Regarded as a royal town, Muar was declared
Bandar Maharani Bandar Diraja
on 24 November, 2012. Muar is located on the northwestern part of the state. It is by the bank of the Muar River. This somewhat sleepy town has a substantial Chinese population, hence many of the shops in town are Chinese owned. The district of Muar used to cover both Muar Town and Tangkak. But since Tangkak was ungraded to a full district level, called
Ledang District
, the
Muar district
is reduced to only the area south of Muar River.
List of sights in Muar on the map
Hotels in Muar
Sights in Muar
Street Art in Muar
Categories of sights in Muar
Places of eat in Muar
Sights near Muar
History of Muar
Muar is a very old town by Malaysian standard. It is even older than
Malacca
, having been mentioned as a stopover of Parameswara on his route north, prior to founding Malacca. Parameswara is said to have founded a settlement at Pagoh in upper Muar. It is also in Muar that one can find the only remaining tomb of a Malacca sultan, that of Sultan Alauddin Riayat Shah (1477-1488) which escaped demolition by the Portuguese, a fate that befall the other Malacca sultans' tombs. The Portuguese built a fort in Muar, called the Fortaleza de Muar, to repel attacks from the Dutch and the Acehnese.
When the British made Dato' Temenggong Daing Ibrahim the de facto ruler of Johor, the actual ruler, Sultan Ali, ruled over an independent kingdom at Muar called Kesang. Sultan Ali should in fact be ruler over all Johor, but due to his weakness, the Temenggong became instead the de facto ruler. After the death of the Temenggong, the throne of Johor passed to the Temenggong's eldest son, who ascended the throne as Maharaja Abu Bakar and eventually Sultan Abu Bakar.
After the death of Sultan Ali, his eleven-year-old son Tengku Mahmood was chosen as his successor, bypassing the rightful heir, his eldest son Tengku Alam. When Colonel Archibald Anson, the Acting Governor of the Straits Settlements, wanted to put Muar under the control of Maharaja Abu Bakar, Tengku Alam declared war. The conflict came to be known as the Jementeh Civil War. The army of Maharaja Abu Bakar under the leadership of the maharaja's cousin, Ungku Ahmad, an abled tactician, easily defeated Tengku Alam.
As a result of the war, the town of Muar was opened by Maharaja Abu Bakar. It was bestowed the name Bandar Maharani by Maharaja Abu Bakar in 1884. The following year, Maharaja Abu Bakar was proclaimed sultan. He reigned for another ten years until his death in 1895.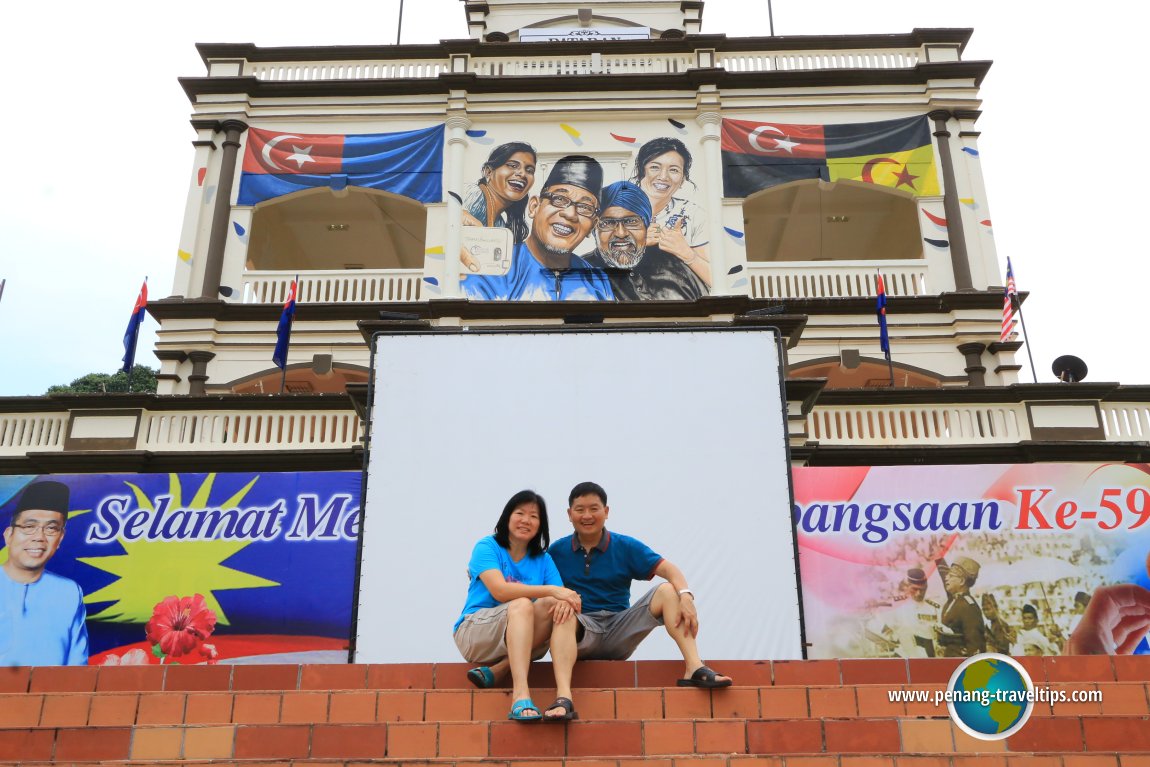 Timothy Tye and Goh Chooi Yoke at the Bangsa Malaysia mural
(11 September, 2016)

360&deg View of Muar on Google Maps Street View
Getting there
You can catch buses from
Johor Bahru
(2 1/2 hours) or
Kuala Lumpur
(2 1/2 hours). If you are driving, you should exit the
North-South Expressway
at Tangkok (Exit 235) if coming from the north, and at Pagoh (Exit 238) if from the south.
You can look for and book your hotel room direct from this website.
Find hotels in the different towns in Johor
, or use the search box below to look for hotels in Johor's capital, Johor Bahru. Filter the results based on your requirement, everything from five star hotels to homestays and more.
Look for hotels in major towns in Johor
Look for a specific type of accommodation in Johor
Enjoy a vacation at The Haven Resort Hotel Ipoh, an award-winning all suite resort nestled in the midst of the limestone hills of Ipoh, now with an exclusive 10% discount for readers of this website!
Buy Your Long-Distance Bus Tickets Here!
If you are planning to travel Malaysia and Singapore by bus, you can now purchase your long-distance bus tickets directly from
Bus Online Ticket
, where you get to check the schedule as well as price of tickets from various bus companies.
About me