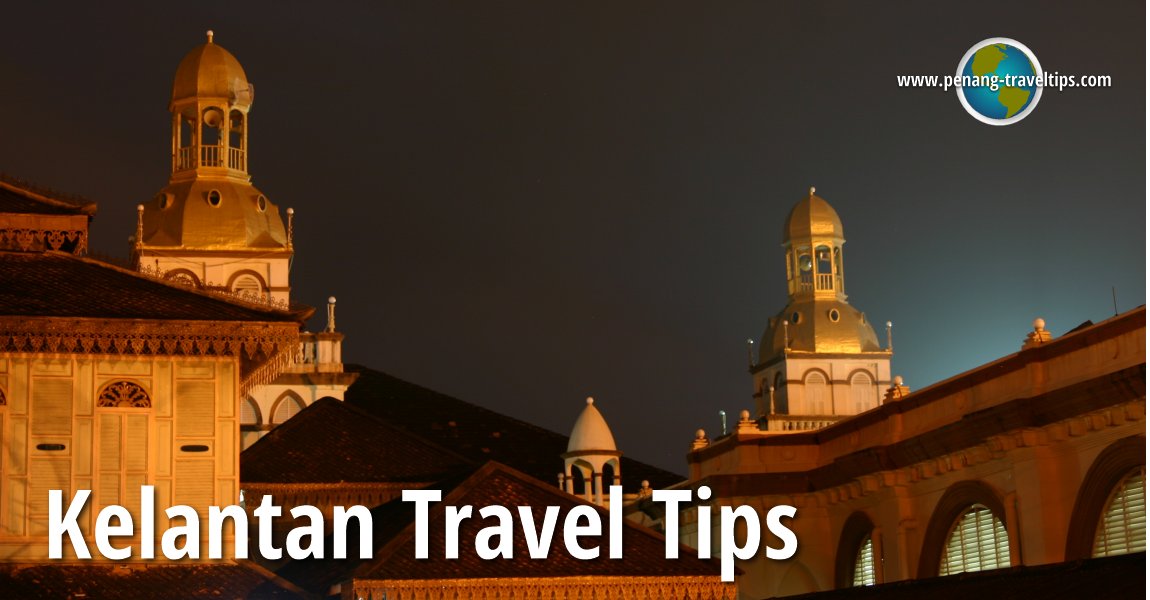 Kelantan Travel Tips
(11 February, 2006)

B. Melayu
Kelantan Travel Tips
provides information you can use for visiting Kelantan. Kelantan is a state on the northeast of West Malaysia. Its official name is Kelantan Darul Naim. The Arabic honorific Darul Naim means "The Blissful Abode". Kelantan is bordered by
Terengganu
and
Pahang
to the south,
Perak
to the west and the
Narathiwat Province
of
Thailand
to the north. The eastern side of Kelantan borders the South China Sea. The state has a size of 14,922 sq km and a population of slightly over two million. Its capital is Kota Bharu, a small city by the banks of the Kelantan River.
This travel guide is created for independent travellers planning to explore Kelantan. As much as possible, I am incorporating GPS coordinates to the towns as well as to specific sights in Kelantan, so you only have to key in the GPS coordinates into your GPS device or smart phone to be navigated to then places that I describe.
Towns and Sights in Kelantan
Major Towns in Kelantan
For a more comprehensive list, go to
Towns in Kelantan
.
Tourist Attractions of Kelantan
Categories of sights in Kelantan
Districts of Kelantan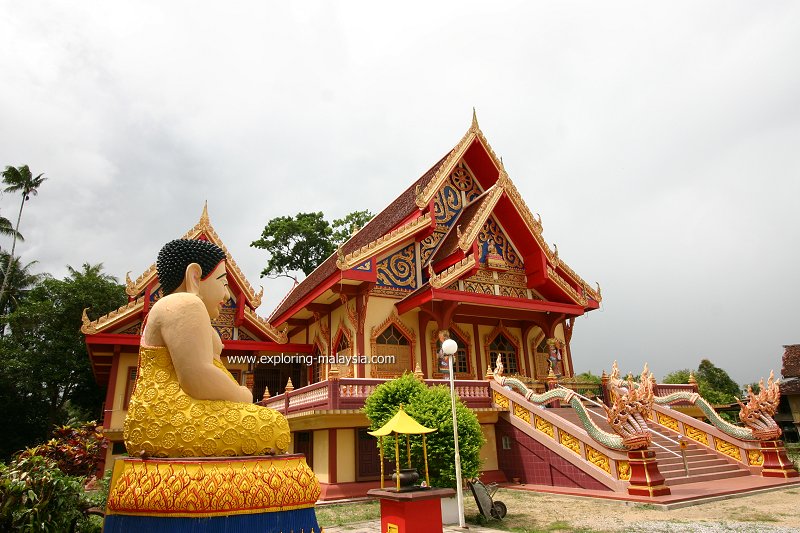 Wat Puchumthat Chanaram, Jong Bakar, Tumpat
(12 February, 2006)

The name Kelantan is said to mean "Land of Lightning". It is a very much agrarian state with paddy fields, fishing villages and sandy beaches. Kelantan is home to some of the most ancient archaeological discoveries in Malaysia, including several prehistoric aboriginal settlements. The economy of Kelantan is dominated by rice, rubber and tobacco cultivation. Fishing along its 96-kilometre coastline is also an important economic activity. Traditional skills in handicraft production such as batik, woodcarving and songket weaving are still practiced, albeit on a small scale. Logging activities are active given the vast remaining area of forest. A few reputable hotels have been established and more modern shopping malls have been opened to cater for urban folks.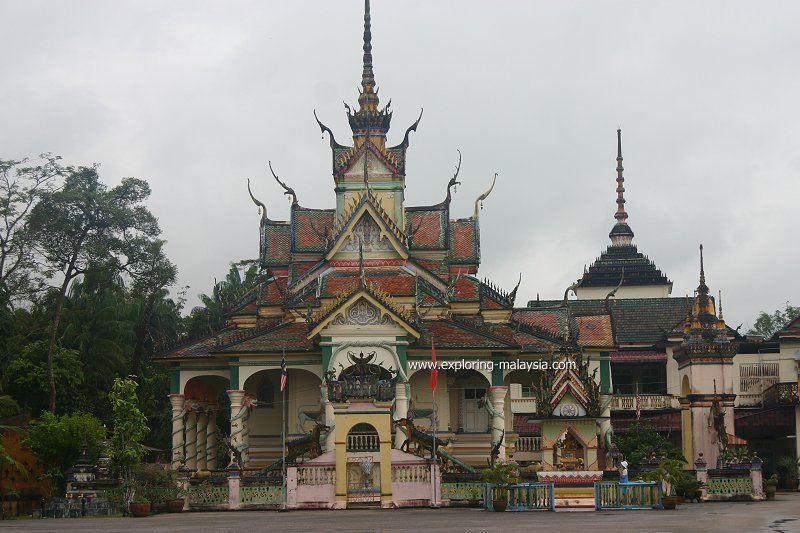 Wat Uttamaram, Tumpat, Kelantan
(13 February 2006)

Kota Bharu, the capital, is the major urban centre, and there are also plans to open up the southern portion of the state under an ambitious multi-million-dollar development project. The main market at the city centre is a top attraction.
Kelantan has a GDP per capita at about RM10000, which is about one-third that of other richer states like
Selangor
and
Penang
. Many Kelantanese are involved in small and medium businesses, enjoying a good unreported income that is not reflected in the GDP calculation.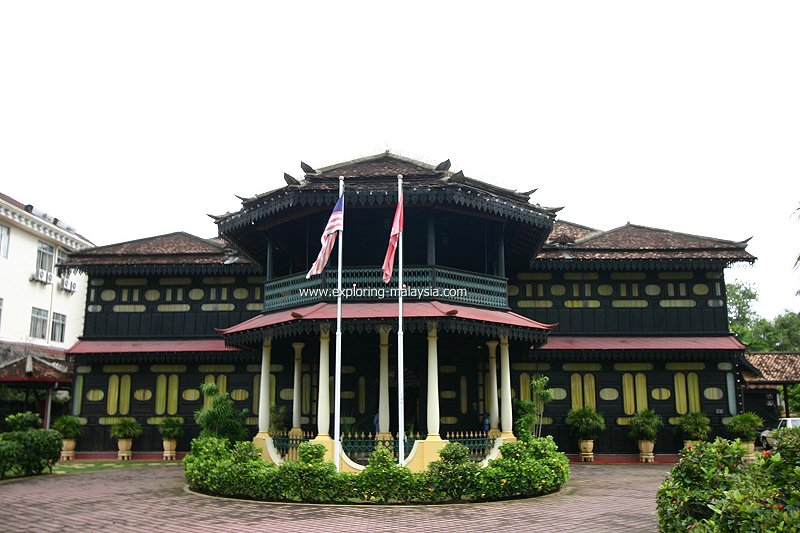 Istana Jahar in Kota Bharu, housing the Kelantan Royal Ceremonies Museum
(12 February 2006)

Kelantan Today
Some people are apprehensive about visiting Kelantan, particularly Kota Bharu, on account of it being such a conservative Muslim state.
Once you come to Kelantan however, you will be surprised to find that there is so much to explore, and that the people of various races live here in better harmony than in some other states without a so-called Muslim fundamentalism. Just head to Tumpat, and you will find a greater density of Buddhist temples than practically anywhere else in the country.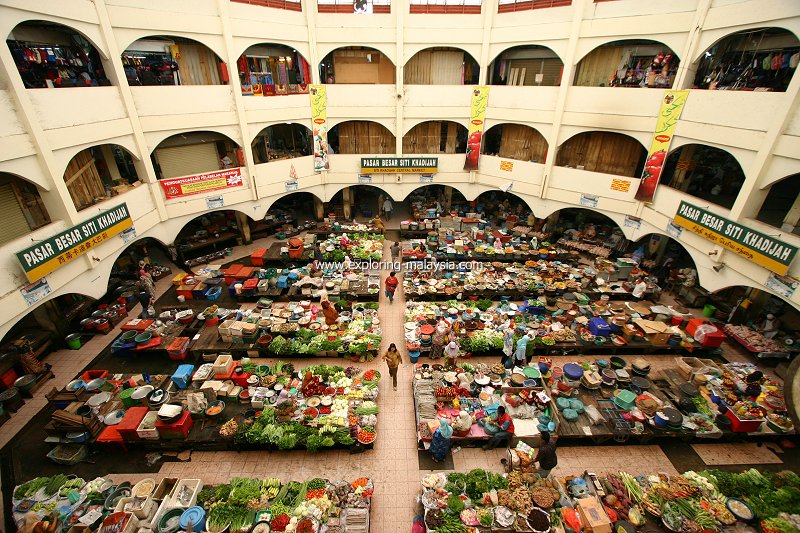 Siti Khadijah Market, Kota Bharu
(12 February 2006)

You can look for and book your hotel room direct from this website.
Find hotels in the different towns in Kelantan
, or use the search box below to look for hotels in Kelantan's capital, Kota Bharu. Filter the results based on your requirement, everything from five star hotels to homestays and more.
Look for hotels in major towns in Kelantan
Look for a specific type of accommodation in Kelantan
Enjoy a vacation at The Haven Resort Hotel Ipoh, an award-winning all suite resort nestled in the midst of the limestone hills of Ipoh, now with an exclusive 10% discount for readers of this website!
Buy Your Long-Distance Bus Tickets Here!
If you are planning to travel Malaysia and Singapore by bus, you can now purchase your long-distance bus tickets directly from
Bus Online Ticket
, where you get to check the schedule as well as price of tickets from various bus companies.
About me