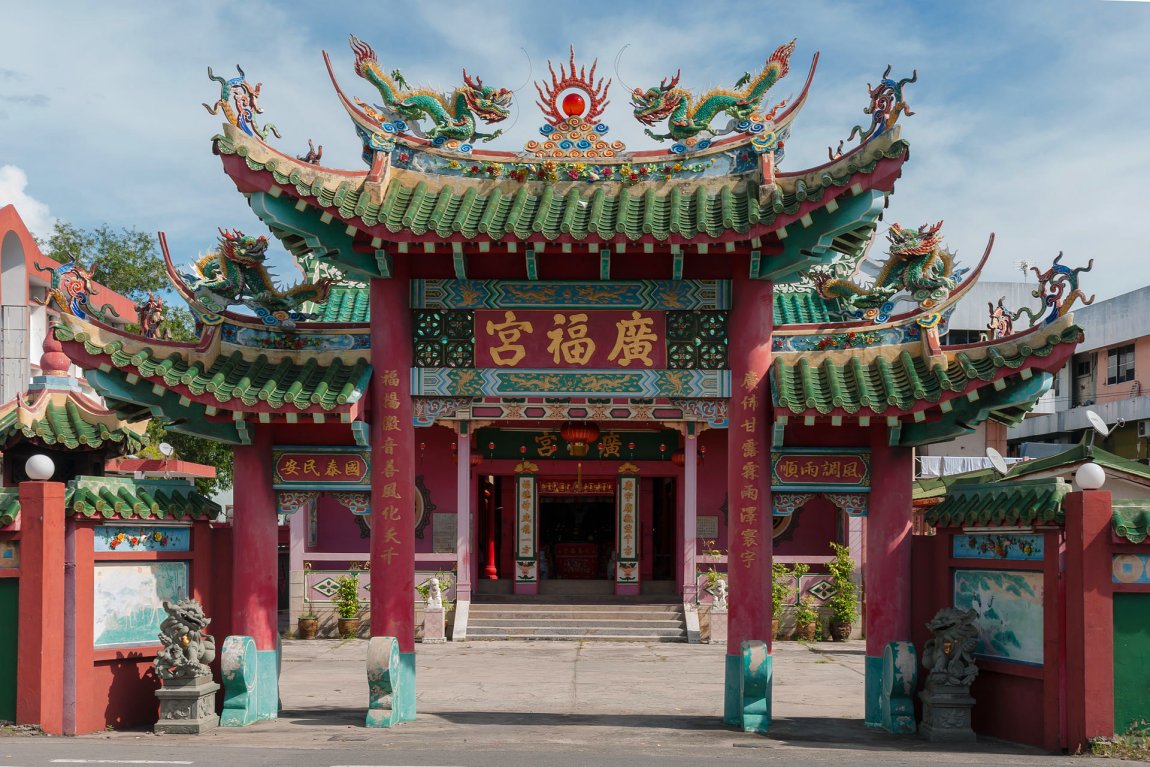 Kwang Fook Kong Temple, Labuan

https://commons.wikimedia.org/wiki/Category:Kwang_Fook_Kong_Temple_Labuan#/media/File:Labuan_Malaysia_Kwang-Fook-Kong-Temple-02.jpg


CEphoto, Uwe Aranas



B. Melayu
Labuan Travel Tips
provides you information you can use for visiting the Federal Territory of Labuan, an island 8 km off the coast of Borneo. It is one of the three
Federal Territories of Malaysia
.
The Labuan Federal Territory comprises the main island, Labuan, which is 75 sq km, and six other smaller islands namely Pulau Burung, Pulau Daat, Pulau Kuraman, Pulau Papan, Pulau Rusukan Kecil, and Pulau Rusukan Besar. Together, they have a combined total area of 92 sq km.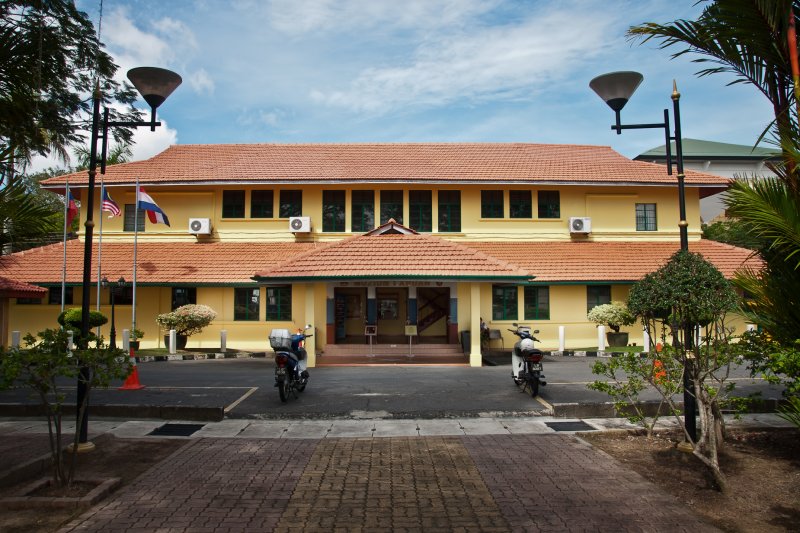 Muzium Labuan

http://commons.wikimedia.org/wiki/Category:Labuan#mediaviewer/File:Labuan_MuziumLabuan.jpg


Uwe Aranas


The islands of Labuan are adjacent to the Malaysian state of
Sabah
and the independent state of
Brunei Darussalam
, on the northern edge of Brunei Bay facing the South China Sea. Labuan Island is mainly flat and undulating and the highest point is only 85 metres. Over 70% of the island is still covered with vegetation. The main town is Bandar Labuan, formerly known as Victoria. It is a port town facing Brunei Bay.
Labuan was historically a part of the Brunei Sultanate. In the 1840's the previously-uninhabited Labuan was proposed as a base for British operations against piracy in the South China Sea. The Sultan of Brunei ceded Labuan to Britain in 1846, and the island became a Crown Colony in 1848. The first White Rajah of Sarawak, James Brooke was appointed first commander-in-chief and Governor of the territory. In 1849 the Eastern Archipelago Company became the first of many companies trying to exploit its coal deposits and establish it as a coaling station for the
China
trade. It later became a station for the submarine cable between
Singapore
and
Hong Kong
.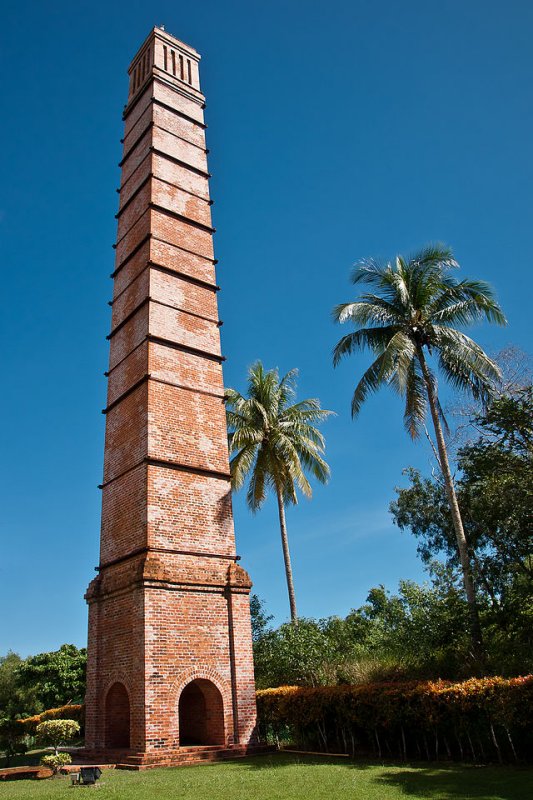 Labuan Chimney, Colliery Fields, Labuan

http://commons.wikimedia.org/wiki/Category:Labuan_Chimney#mediaviewer/File:Labuan-Chimney.jpg


Uwe Aranas


Labuan was made a part of North Borneo on 1 January 1890, and on 30 October 1906, it became part of the Straits Settlements.
During World War II, Labuan was occupied by Japan from December 1941 to June 1945 and governed as part of the Northern Borneo military unit by the Japanese 37th Army. Labuan was renamed Maida Island after Marquis Toshinari Maeda, the first commander of Japanese forces in northern Borneo. The island was retaken by Australian forces in Operation Oboe Six, in June 1945. Labuan assumed its former name and was under British military administration, along with the rest of the Straits Settlements. It was then joined to British North Borneo on 15 July 1946, and in turn became a part of Malaysia within the state of Sabah in 1963.
Labuan was ceded to the federal government by Sabah in 1984. It became the second federal territory of Malaysia. In 1990, Labuan was made an international offshore financial centre and a free trade zone. It is the only offshore financial centre in Malaysia.
Getting there
Labuan is connected to Kuala Lumpur with daily flights by Malaysia Airlines and AirAsia. It is also linked to Miri with three flights per day on MASWings, a wholy owned subsidiary of Malaysia Airlines that took over the operations of FlyAsianXpress.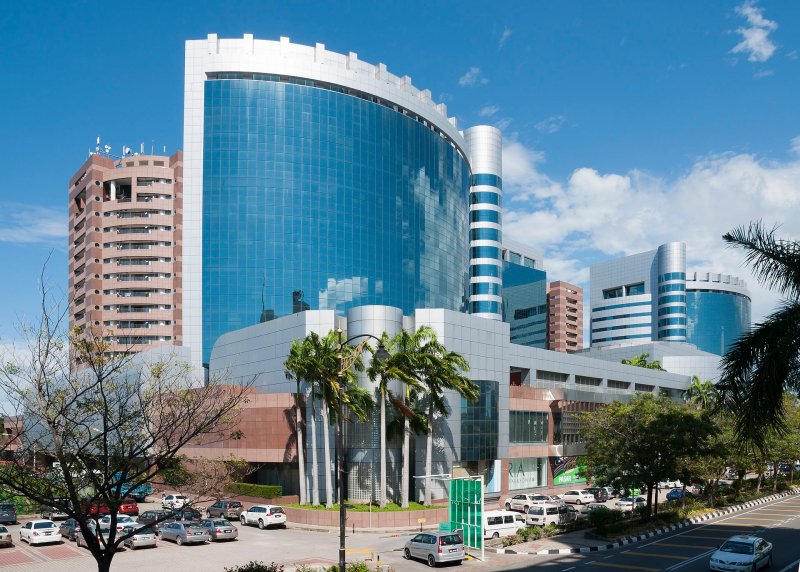 Labuan Financial Park

http://commons.wikimedia.org/wiki/Category:Labuan_Financial_Park#mediaviewer/File:Labuan_Malaysia_Financial-Park-Complex-01.jpg


Uwe Aranas


You can look for and book your hotel room direct from this website.
Find hotels in the different towns in Labuan
, or use the search box below to look for hotels there. Filter the results based on your requirement, everything from five star hotels to homestays and more.
Enjoy a vacation at The Haven Resort Hotel Ipoh, an award-winning all suite resort nestled in the midst of the limestone hills of Ipoh, now with an exclusive 10% discount for readers of this website!
Buy Your Long-Distance Bus Tickets Here!
If you are planning to travel Malaysia and Singapore by bus, you can now purchase your long-distance bus tickets directly from
Bus Online Ticket
, where you get to check the schedule as well as price of tickets from various bus companies.
About me
Hello and welcome! My name is
Timothy Tye
or simply Tim. This is my personal encyclopedia. I created it to compile all the information about places. It represents my body of travel knowledge collected since 2003, and still being updated almost daily.
As a Christian, I write on travel so that
God's Good News
can reach every corner of the world and connect with those needing it. If you wish to ask me anything, feel free to
contact me here
. Thank you for visiting, and have a great day!
Copyright © 2003-2017
Timothy Tye
. All Rights Reserved.