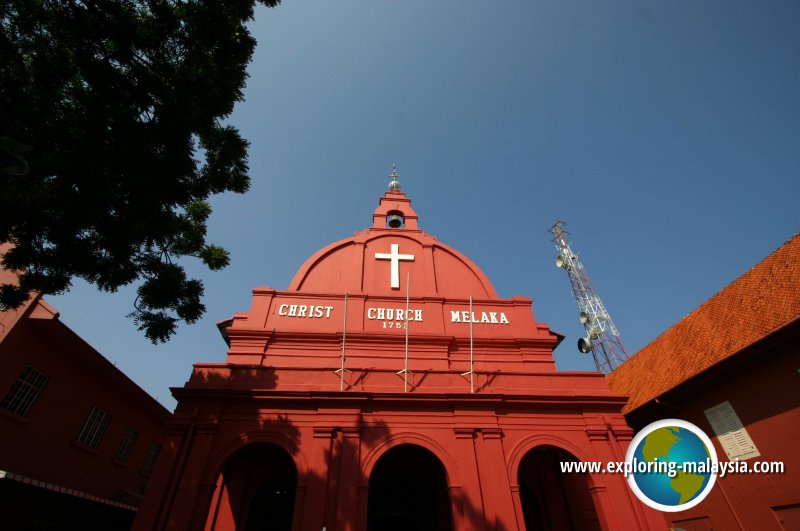 Front view of Christ Church in Melaka
(9 July, 2005)

Christ Church
(GPS: 2.19436, 102.24949) is the oldest Protestant church in Malaysia. It was built in 1753 as the Dutch Reformed Church (
Gereformeerde Kerk
). On 25 August, 1838 it was consecrated by Bishop Daniel Wilson of Calcutta as an Anglican church.
Christ Church is a legacy of the Dutch Government in Malacca in the 17th century. Its bricks were specially brought in from Zeeland in Holland. Its porch and vestry were added a hundred years later. Unlike popular perception, the church, as are the other buildings around the
Dutch Square
, also called the Dutch Square, were not painted the maroon you see today. Instead they were faced with bricks.
When the authorities discovered the the brick façade leaks, they covered it with plaster and painted it white. Later, in the 1920s, the British changed the colour to a bright salmon red. The present local authorities darkened the colour further, so now we have the buildings in a maroon colour.

Christ Church was built to commemorate a century of Dutch rule in Malacca. Construction began in 1741, and completed in 1753. It follows an extremely simple design, which is a quintessential church of Dutch architecture - rectangular, with massive walls, red granith plinths and Dutch roof tiles. It is perfectly proportion to the ratio of 2:1, 27 metres long by 13 metres wide. There are no aisles or chancel. However, it has beautifully hand-carved pews, and the massive 15-metre long timber beams supporting its roof were cut from a single tree.
Life must have been rough in the early days of the Dutch settlement, with diseases rampant. This is seen from the plaques on the wall of Christ Church, put there in memory of those who died of the various epidemics. Another plaque, a wooden one, most likely installed there by the British. It sits at the rear of the western wall to remember those who died in World War II.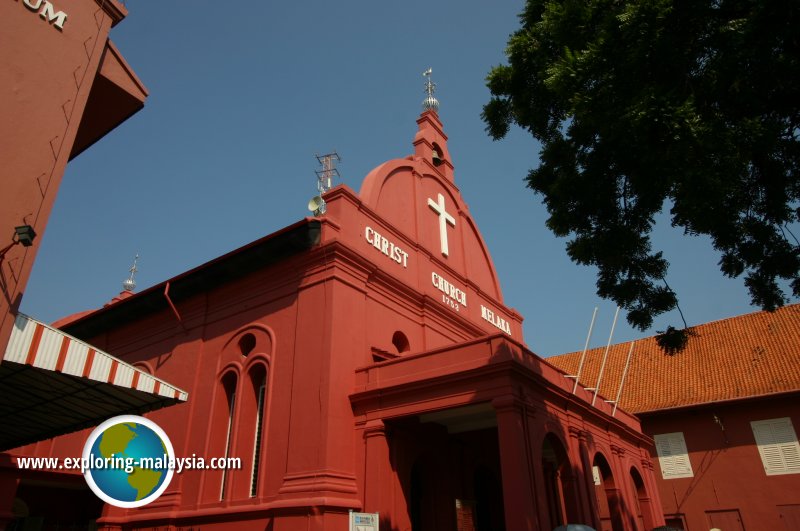 Front view of Christ Church in Melaka
(9 July, 2005)

Encased into the floor of the church are tombstones. Some are written in Portuguese and a few in Armenian. Some historians believe that these originally came from St. Paul's Church up on the hill. Who put them here is debateable. They could have been placed here by the Dutch when they occupied Melaka in 1641. However, it is unlikely that the highly religious Dutch would have placed Catholic tombstones inside their Protestant church. Another possibility is that they were installed there much later, by the British.
When the British took over Malacca, they converted Christ Church for Anglican worship and added the weathercock and bell tower. Fortunately, they leave the old Dutch tombstones that were laid in the floor where they are, and they remain to this day reminding visitors of the Dutch legacy in Malacca.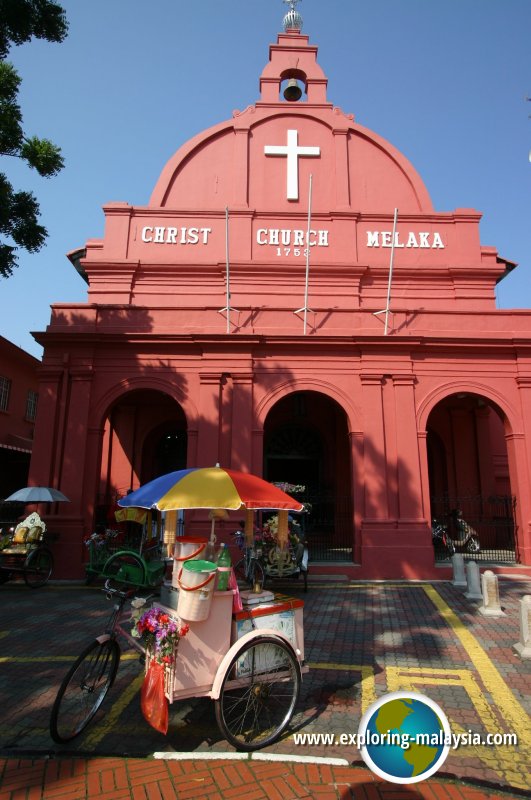 An ice-cream trishaw parked in front of Christ Church
(9 July, 2005)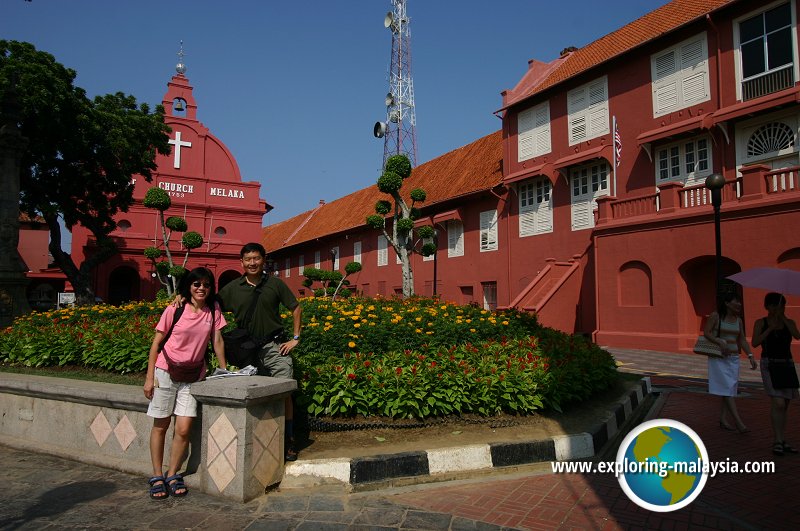 My wife and I in front of Christ Church
(9 July, 2005)

Enjoy a vacation at The Haven Resort Hotel Ipoh, an award-winning all suite resort nestled in the midst of the limestone hills of Ipoh, now with an exclusive 10% discount for readers of this website!
Buy Your Long-Distance Bus Tickets Here!
If you are planning to travel Malaysia and Singapore by bus, you can now purchase your long-distance bus tickets directly from
Bus Online Ticket
, where you get to check the schedule as well as price of tickets from various bus companies.
About me
Hello and welcome! My name is
Timothy Tye
or simply Tim. This is my personal encyclopedia. I created it to compile all the information about places. It represents my body of travel knowledge collected since 2003, and still being updated almost daily.
As a Christian, I write on travel so that
God's Good News
can reach every corner of the world and connect with those needing it. If you wish to ask me anything, feel free to
contact me here
. Thank you for visiting, and have a great day!
Copyright © 2003-2017
Timothy Tye
. All Rights Reserved.