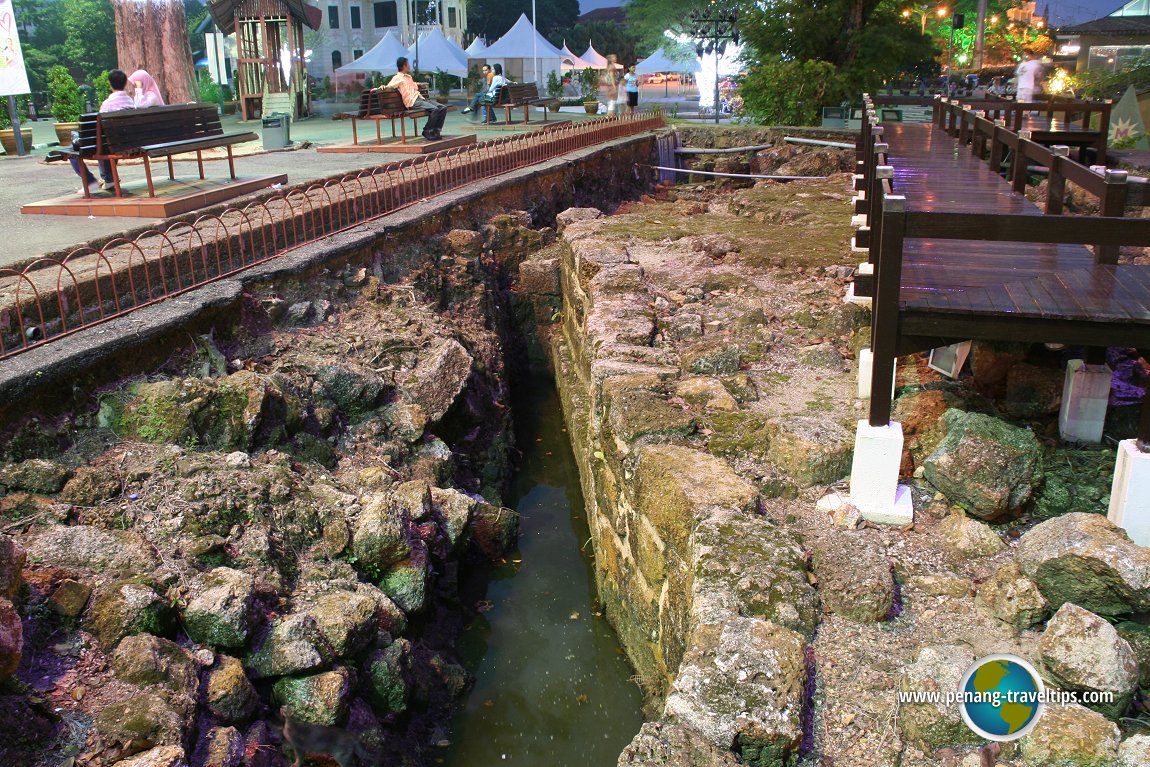 Remains of Santiago Bastion within Fortaleza de malaca
(19 July, 2009)

Fortaleza de Malaca
(GPS: 2.19187, 102.25028) is the name of the Portuguese fort in Malacca. The name simply translate as Malacca Fort. This is the fortress that was first built by the Portuguese in the early 16th century, and from which
Jalan Kota
(translated from
Fort Road
) derives its name.
Immediately after they defeated the Malays, the Portuguese put up a makeshift citadel to defend their newly acquired territory. That citadel was called A Famosa. According to local historians, A Famosa was located near the bend of Jalan Kota under the car park beside
Stadthuys
. Improved historical documentation of Malacca history now requires us to differentiate A Famosa from
Porta de Santiago
, which history books of the past decades have erroneously called A Famosa. But now we know better, as the name applies to a different structure.
According to documentation from the
History & Ethnography Museum
, after defeating Sultan Mahmud, Alfonso de Albuquerque built a small fortress to withstand any counter attack by Sultan Mahmud, who had fled to Johor, and had erected blocades in Batu Hampar, Bertam and Taboh, Naning, in his effort to regain Malacca. To build his fortress, Albuquerque demolished the
Sultanate Palace
as well as the mosque and used the stones from these two structures to build his fortress, along with a five-storey watch tower on
Bukit Melaka
. This was the original A Famosa. It was located between Bukit Melaka and the
Malacca River
. Its construction made use of forced labour, including captured Malay soldiers and 1,500 slaves.
A Portuguese in 16th century Malacca, Manuel Godinho Eredia, wrote that within the wall of the fortress was a Castle together with five Churches and two hospitals.
2
.
Map of Gates and Bastions on Fortaleza de Malaca
List of Bastions and Gates within Fortaleza de Malaca
A Famosa was only a small fortress and was unable to completely cement the Portuguese's grip on Malacca. The Portuguese settlement continued to receive assault from various Malay warriors, including Hang Nadim, and in 1551, the Sultan of Johor, Alauddin Riayat Shah, who was the son of Sultan Mahmud Shah. Realising the vulnerability of A Famosa, the Portuguese decided to build a more robust structure to fortify their position in Malacca.
That large fortification came to be known as
Fortaleza de Malaca
, or
Malaca Fort
, which would encircle the hill. To built it, the Portuguese plundered Malay graves, demolished mosques and other buildings for their stones. It had four towers, or bastions, and walls that were 2.4 metres thick. The bastions, or towers, were called Baluarte San Pedro, Baluerte de las Virgenes, Baluerte Madre de Dios and Baluerte Santo Domingo. By 1583, Malacca had become a fortified city protected by seventy canons aimed in all directions.
The fortress was so well built that it helped the Portuguese ward off all forms of attacks. In order to capture Malacca, the Dutch with help of Johor in early June 1640 laid siege around the fortress. This was after two failed attempts in 1606 and 1608. They had expected an immediate surrender, but the Portuguese within the Fortaleza held on for five months. Trapped inside, its citizen, were forced to eati cats and rats, and there was a case of a women eating her dead infant.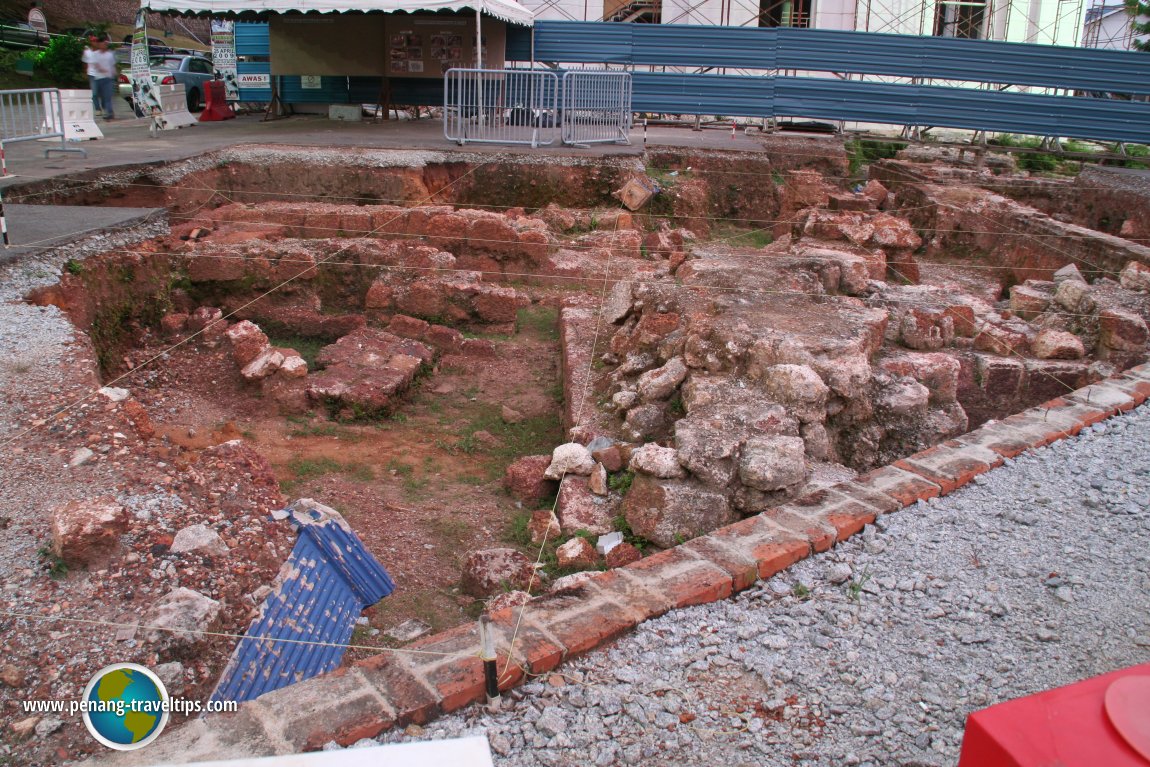 Fredrick Hendrick Bastion excavation
(19 July, 2009)

The seige finally came to an end on 14 January, 1641. At 10:00 am that morning, the Portuguese raised the white flag to signal their surrender. With that, the Dutch under the leadership of Commander Minne Willenson Kaartekoe, who had set camp at Kampung Keling, entered the fort via the Santo Domingo Gate, to meet the Portuguese Governor, Dom Manuel de Souza Countinho, to discuss terms of surrender.
Relenting to pleas of the Catholic priests, the Dutch allowed Portuguese commoners to leave, taking their valuables with them. However the soldiers were detained and deported to Batavia. The Dutch seige on Malacca caused the death of some 7,000 people. After the seige was over, and the Dutch took over the town, some 10,000 people left Malacca, and only some 3,000 stayed behind. The casualty on the Dutch side was 1,500 soldiers and three captains. In addition, some 200 Eurasians of Portuguese descent also died from the war and the malaria epidemic.
Upon capturing the fortress, the Dutch repaired and renovated it, and placed their coat of arms above the gates. This can still be seen today at Porta de Fredrick Hendrick, the remaining gate, with the inscription "Anno 1670". The Dutch administrators had plans to strengthen the Portuguese fort along the banks of the
Malacca River
right to its mouth, and also build a fort on top of
Bukit China
and Bukit Senjuang. In fact, work started on the fort on Bukit China, but had to be abandoned when senior Dutch officials in Batavia refused to support the project.
Monogram of the Dutch East India Company (Vereenigde Oost-Indische Compagnie)
(19 July, 2009)

Eventually the Dutch decided to consolidate their might around
St Paul's Hill
. The Dutch fort was to encircle the hill, and was to be bigger than the earlier fort built by the Portuguese. A new bastion (probably the
Middelsburgh Bastion
) was built in 1660. A moat was also dug to connect the Malacca River to the fort's northern point. This moat leads out into the sea, which at that time was near
Porta de Santiago
. Completed in 1670, the moat created an island out of St Paul's Hill and its surroundings.
When Napoleon's army invaded Holland in 1795, Prince William of Orange fled to London, where he commanded all Dutch settlements to admit British troops, to prevent them from falling into the hands of the French. As a result, the British was able to enter Malacca without fighting for it.
Upon receiving Malacca, the British was not keen to keep it, nor do they want to spare their troops to defend Malacca. Leaving such a formidable fortress without proper defence would be a liability, if it falls into the wrong hands. So they were not keen for Malacca to return to Dutch hands with such a strong fortress. They wanted to wipe Malacca off the map, and transfer its population to Penang. As for the fort, they considered it a liability, and wanted to have it demolished.
Governor William Farquhar
, who was Resident of Malacca from 1803 until 1818, was given the task to demolish the fortress. At first he ordered convict labourers to dismantle the fortress stone by stone, with pickaxes and crowbars. When the walls - some parts of it reaching 4.5 metres thick - seem too formidable, he decided on a more explosive plan. He planted boxes of gunpowder around the foot of the fortress. When the gunpowder exploded, it sent pieces of the fort, some as big as boulders careening into the sky and dropping into the sea.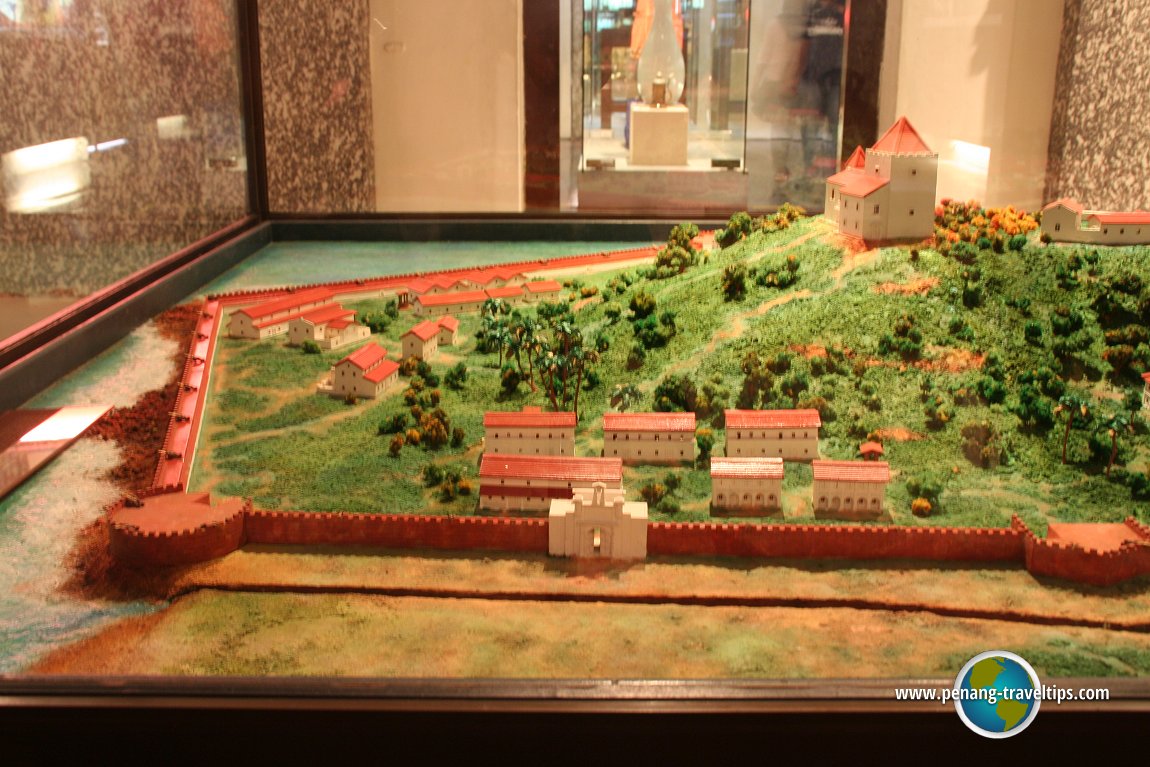 Model of the Malacca Fort showing the ramparts, bastions and gates, with the town within the walled enclosure.
(19 July, 2009)

The demolition was already in an advanced stage when a young British civil servant in Penang arrived in Malacca on sick leave. He was Thomas Stamford Raffles. Upon learning about the demolition, he wrote a report persuading his superiors to keep the fort. According to Raffles, keeping Malacca carries more prestige in the eyes of the natives, than holding on to a new settlement like Penang. He argued that, considering they already have a cleared piece of valuable property, namely Malacca, why should they give it up unless forced.
His argument help saved the remaining piece of the fortress, which is the Porta de Fredrick Hendrick, or Gate of St James.
The British remained in Malacca until 1818. With the end of the Napoleonic wars, they returned it to the Dutch. It remained in Dutch hands for another seven years, until the 1824 London agreement, when they swap it for Bencoolen in Sumatra.
Getting there
The remains of Fortaleza de Malaca is an archaeological site across Jalan Kota from
Bastion House
.
Resources
1. History & Ethnography Museum, Malacca.
2.
The Straits Times Annual
(1959), page 41.
Featured Videos on Malacca Travel Tips
Buy Your Long-Distance Bus Tickets Here!
If you are planning to travel Malaysia and Singapore by bus, you can now purchase your long-distance bus tickets directly from
Bus Online Ticket
, where you get to check the schedule as well as price of tickets from various bus companies.
About me
Thank you for visiting
my website
. I started it in 2003, and today it has over twenty thousand pages of information. My name is
Timothy Tye
. You can call me Tim. I have been writing my website full time since 1 November 2007, and I am enjoying every moment of it. I write my website to satisfy my own curiosity, but I am glad if the information is useful to you.
As a Christian, I hope that through this website, I am able to deliver
God's Good News
to those who need it all over the world. If you wish to contact me, please submit the
contact form
. Thanks again, don't forget to
follow me on Facebook
!
Copyright © 2003-2018
Timothy Tye
. All Rights Reserved.