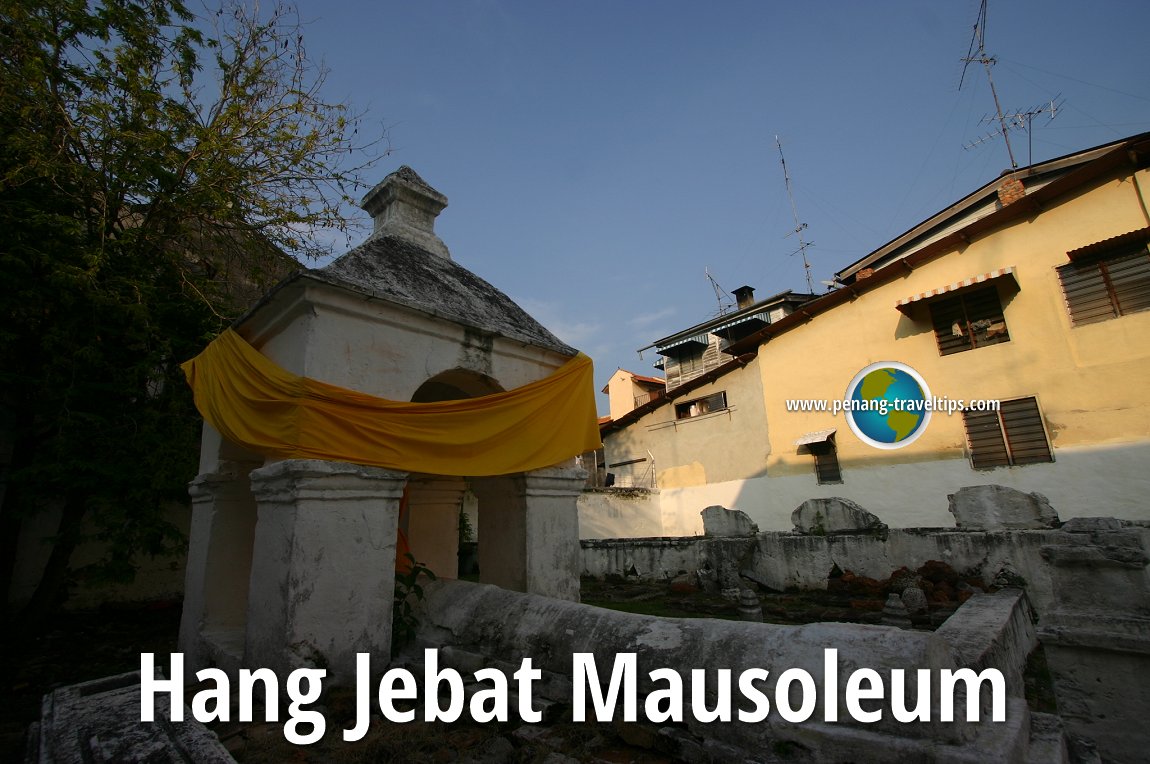 The mausoleum of Hang Jebat in Malacca
(9 July, 2005)

Hang Jebat's Mausoleum
(GPS: 2.19656, 102.24865), or
Makam Hang Jebat
, is an old grave along Jalan Kampung Kuli in Malacca. It is claimed to be that of a famous Malay warrior from the age of the Malacca Sultanate. Hang Jebat is remembered as the champion of justice who died a tragic death, in the hands of a friend he supported. That, was according to one popular version of the
Malay Annals
(
Sejarah Melayu
). He was one of the five great warriors during the time of the Malacca Sultanate, particularly during the reign of Sultan Mansur Shah (1456-1477), the other four being Hang Tuah, Hang Jebat, Hang Lekiu and Hang Lekir.
Hang Jebat Mausoleum

Hang Jebat Mausoleum is on the map of Malacca
When they were young boys who grew up, they learned the martial arts of silat. The sultan was so impressed with their skills that he offered them positioned in his court. Their lives took a turn when they saved the life of the Bendahara (equivalent to today's Prime Minister) of Malacca, Tun Perak. Hang Tuah was the Sultan's favourite, and he bestowed of him many gifts. One of them was the keris Taming Sari, said to possess supernatural powers.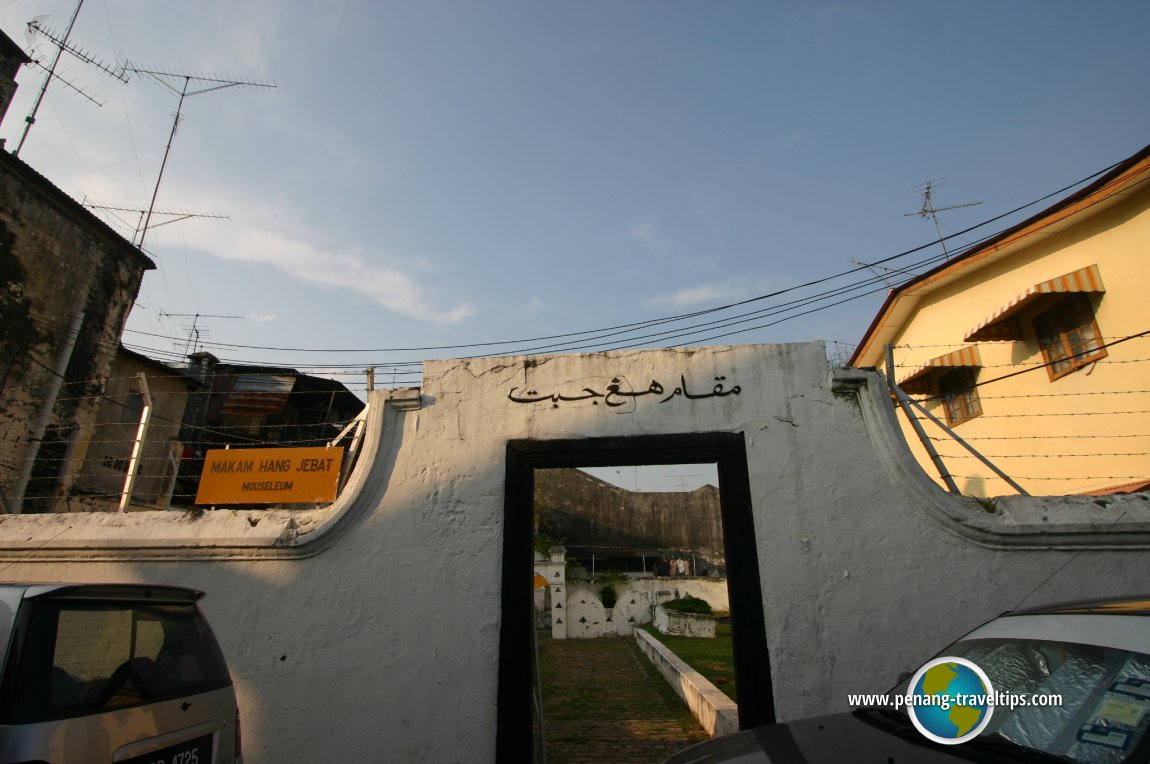 Entrance to Hang Jebat's Mausoleum
(9 July, 2005)

The sultan's favouritism incurred the jealousy of courtiers, and the plotted his downfall. When Hang Tuah's four warrior friends were not in court, they hatched a rumour that Hang Tuah had seduced the Sultan's favourite consort. When the rumour reached the Sultan, he was so angry that he ordered Hang Tuah to be executed on sight.
The wise Bendahara Tun Perak knew that Hang Tuah had been framed, and he quickly took Hang Tuah into hiding. The Sultan is then told that Hang Tuah had been executed. When the four friends returned, they were grievous over the sad news.
Hang Jebat was so beside himself over the injustice that he ran amok in the palace, killing everyone in his path. He was determined to hunt down the Sultan and kill him, Fearing for his life, the sultan sought his warriors to put down Hang Jebat, but none of them could defeat him. Then the sultan learned the truth, that Hang Tuah was actually still alive. When Hang Tuah was brought to the Sultan, he quickly issued a pardon, and beseeched him to kill Jebat.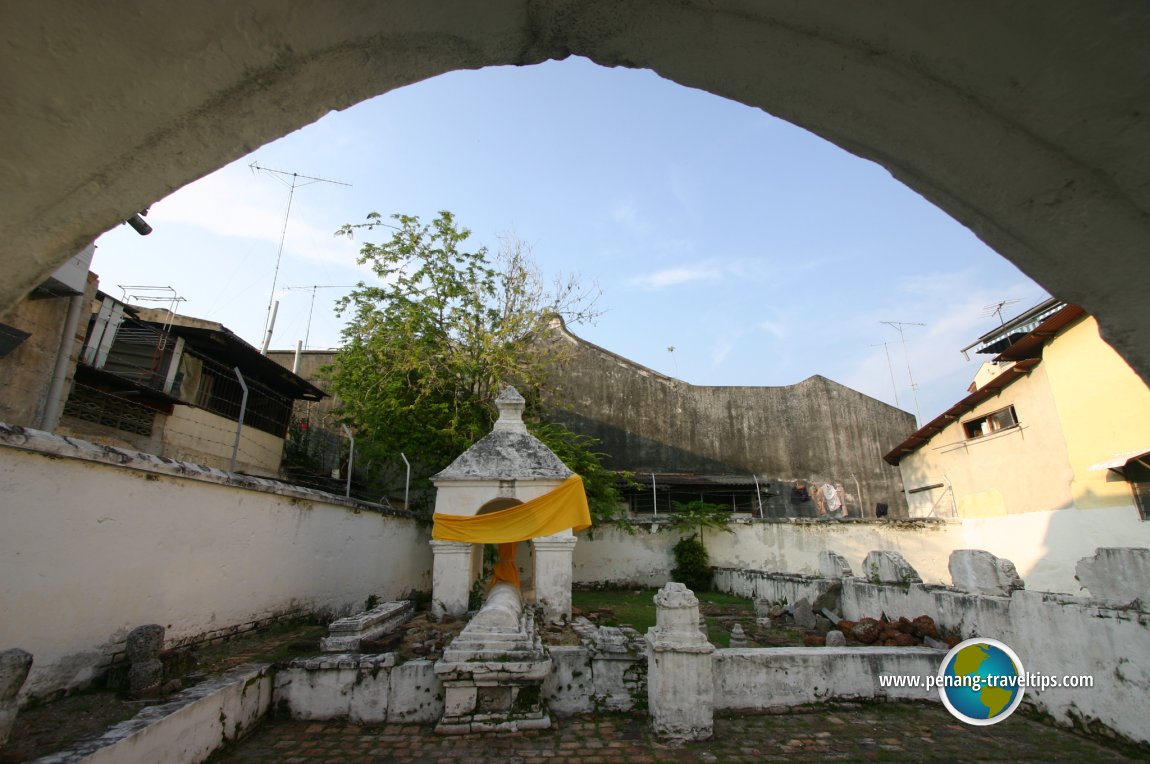 Makam Hang Jebat
(9 July, 2005)

Hang Tuah was torn between his love for his friend and his loyalty to his sultan. However, he was also ingrained with the belief that the sultan deserves absolute loyalty. Hang Tuah tried to make Hang Jebat surrender, but Jebat was beyond reasoning and want nothing but the death of the Sultan. So in the ensuing duel, Hang Tuah dealt a fatal blow on his friend with the Taming Sari.
Hang Kasturi's Mausoleum is located along, interestingly, Jalan Hang Jebat (formerly Jonker Street), whereas Hang Jebat's Mausoleum is located at Jalan Kampung Kuli, within a stone's throw from Jalan Hang Jebat. Although the mausoleums were claimed to belong to these warriors, no factual evidence has been put forth to verify this.
Enjoy a vacation at The Haven Resort Hotel Ipoh, an award-winning all suite resort nestled in the midst of the limestone hills of Ipoh, now with an exclusive 10% discount for readers of this website!
Buy Your Long-Distance Bus Tickets Here!
If you are planning to travel Malaysia and Singapore by bus, you can now purchase your long-distance bus tickets directly from
Bus Online Ticket
, where you get to check the schedule as well as price of tickets from various bus companies.
About me
Hello and welcome! My name is
Timothy Tye
or simply Tim. This is my personal encyclopedia. I created it to compile all the information about places. It represents my body of travel knowledge collected since 2003, and still being updated almost daily.
As a Christian, I write on travel so that
God's Good News
can reach every corner of the world and connect with those needing it. If you wish to ask me anything, feel free to
contact me here
. Thank you for visiting, and have a great day!
Copyright © 2003-2017
Timothy Tye
. All Rights Reserved.