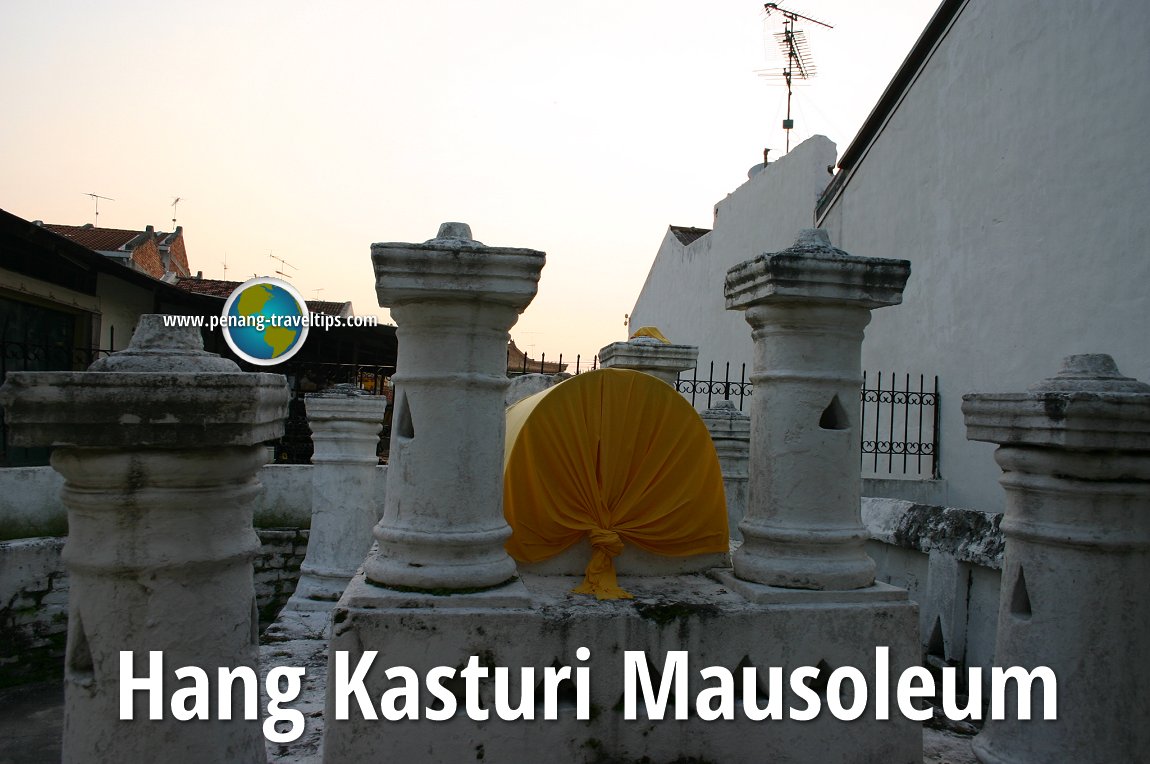 Hang Kasturi Mausoleum
(10 July, 2005)

Hang Kasturi's Mausoleum
(GPS: 2.1972, 102.24613) or
Makam Hang Kasturi
is an old Malay grave along Jalan Hang Jebat in Malacca. Located beside the small Chinese temple
Theah Teik Keong
, the tomb is claimed to be that of Malay warrior Hang Kasturi. Hang Kasturi is one of the five great warriors during the time of the Malacca Sultanate, particularly during the reign of Sultan Mansur Shah (1456-1477), the other four being Hang Tuah, Hang Jebat, Hang Lekiu and Hang Lekir. As young men, they studied silat under the same silat master. The title "Hang" is bestowed by the sultan for the highest ranking Malay warriors.
According to a version of the Malay Annals (Sejarah Melayu), Hang Kasturi is said to have gained notoriety for having an affair or having outraged the modesty of one of the Sultan's concubines, and Hang Tuah was sent to kill him. Unfortunately in a different version (as the Malay Annals were initially handed down by mouth, there are now many different written versions in existence), it was Hang Tuah, another Malay warrior, who was accused of having an affair with the palace ladies.
Hang Kasturi Mausoleum
In one popular version, Hang Tuah so offended the Sultan that he order Tuah to be executed. However, the Bendahara Tun Perak (similar to prime minister) took him into hiding. Later, courtiers discovered that Hang Kasturi was having an affair with one of the sultan's concubines. They surrounded the palace but no one dared to enter to capture Kasturi. When the sultan was told that Hang Tuah was still alive, he ordered Hang Tuah to kill his best friend to prove his loyalty. During the fight, Hang Tuah embedded his kris in the palace wall three times, but Kasturi allowed him to remove it. But when the same thing happened to Kasturi, Tuah stabbed him to death. The sultan later rewarded Hang Tuah the title of
laksamana
, for his loyalty.
Hang Kasturi's Mausoleum is located along, interestingly, Jalan Hang Jebat (formerly Jonker Street), whereas Hang Jebat's Mausoleum is located at Lorong Tukang Kuli, within a stone's throw from Jalan Hang Kasturi. Although the mausoleums were claimed to belong to these warriors, no factual evidence has been put forth to verify this.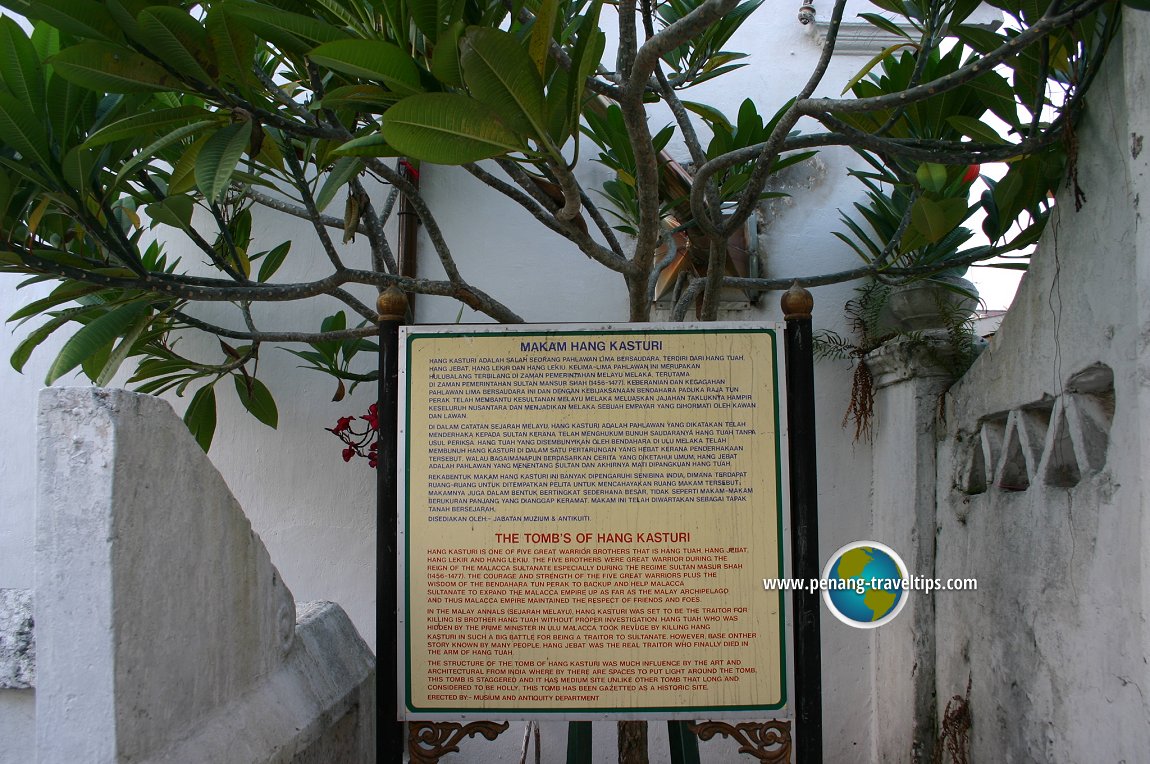 Interpretive board at Makam Hang Kasturi
(10 July, 2005)

Hang Kasturi Mausoleum is on the map of Jalan Hang Jebat
Enjoy a vacation at The Haven Resort Hotel Ipoh, an award-winning all suite resort nestled in the midst of the limestone hills of Ipoh, now with an exclusive 10% discount for readers of this website!
Buy Your Long-Distance Bus Tickets Here!
If you are planning to travel Malaysia and Singapore by bus, you can now purchase your long-distance bus tickets directly from
Bus Online Ticket
, where you get to check the schedule as well as price of tickets from various bus companies.
About me
Hello and welcome! My name is
Timothy Tye
or simply Tim. This is my personal encyclopedia. I created it to compile all the information about places. It represents my body of travel knowledge collected since 2003, and still being updated almost daily.
As a Christian, I write on travel so that
God's Good News
can reach every corner of the world and connect with those needing it. If you wish to ask me anything, feel free to
contact me here
. Thank you for visiting, and have a great day!
Copyright © 2003-2017
Timothy Tye
. All Rights Reserved.