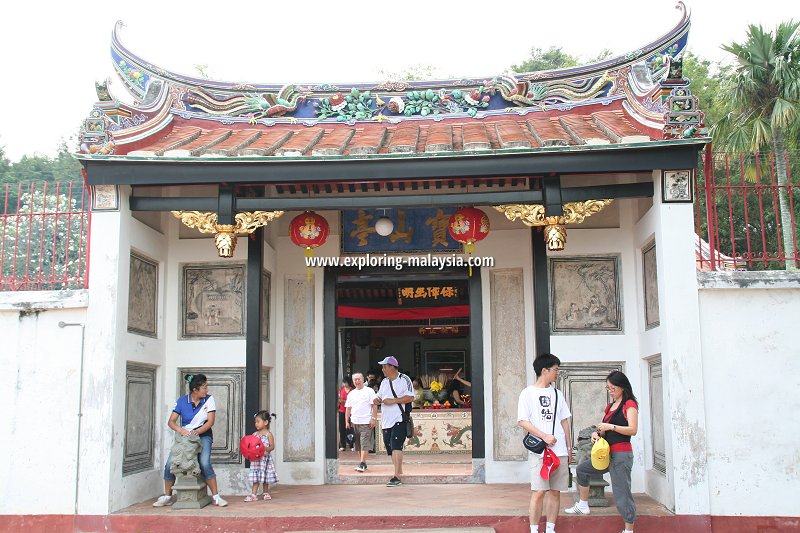 Poh San Teng Temple
(2 May 2009)

Poh San Teng Temple
(GPS: 2.196, 102.25541) is the temple at the foot of
Bukit China
in Malacca. According to local historian Josephine Chua, it was built in 1795 by her ancestor Kapitan Chua Su Cheong, in the same year he was elected Kapitan (leader of the local Chinese community) by the Dutch Government.
An inscription on a stela commemorating the founding of the temple reads: "Bukit Cina is the place where early traders from China were buried. Many Chinese traders came to this country with high expectations of success. Sadly, some died before fulfilling their dreams. Without a family with them, there was no one to pray for their souls. As such, the Chinese Kapitans initiated prayers on their behalf. However, these were always hampered by strong winds and heavy rainfalls because there was no proper shelter. So in 1795, after Chua Su Cheong had been appointed the Chinese Kapitan, he looked into this problem faced by the community and initiated the building of a temple at the foot of Bukit Cina, to ensure that the prayers for those buried in Bukit Cina would not be interrupted."
The name of the temple, Poh San Teng, is inscribed on a 1795 tablet during its founding and is also above the front door of the temple. Moreover, the main deity is "Fu De Zheng Shen" or "Tua Pek Kong". It is the tradition of the Chinese in China as well as Malaysia to dedicate graveyard temples to Tua Pek Kong."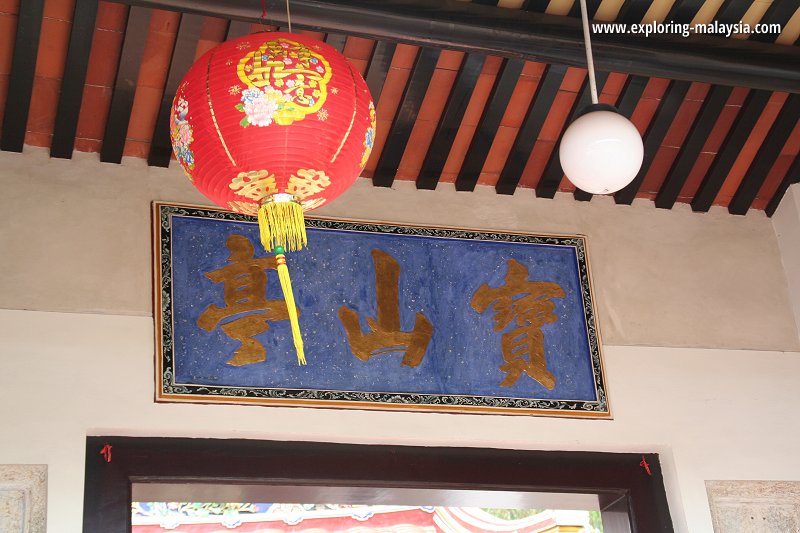 Poh San Teng Temple
(2 May 2009)

It is often incorrectly assumed that this temple is dedicated to Admiral Cheng Ho (Zheng He), the Ming-dynasty navigator. Many publications therefore erroneously called it the Sam Poh Kong Temple, after the illustrious admiral. In fact, there is no evidence of Zheng He's involvement in the history of the temple. How then did it came to be known by so many as Sam Poh Kong Temple?
The Hill on which Poh San Teng temple was built was written as San Bao Shan on a tablet in the temple.
San Bao Shan
translates as "Three Gems hill". There is a possibility that the name was shortened to San Bao Temple, and in the ensuing transliteration from Chinese to English confused the meaning.
An image of the deified Admiral Zheng He, known locally as Sam Poh Kong (after the name he acquired while under the service to the Prince of Yan) was added to the Poh San Teng Temple by its caretaker in 1960.
2
Within the premises of the temple is the famous well,
Perigi Rajah
. subject to many legends and stories.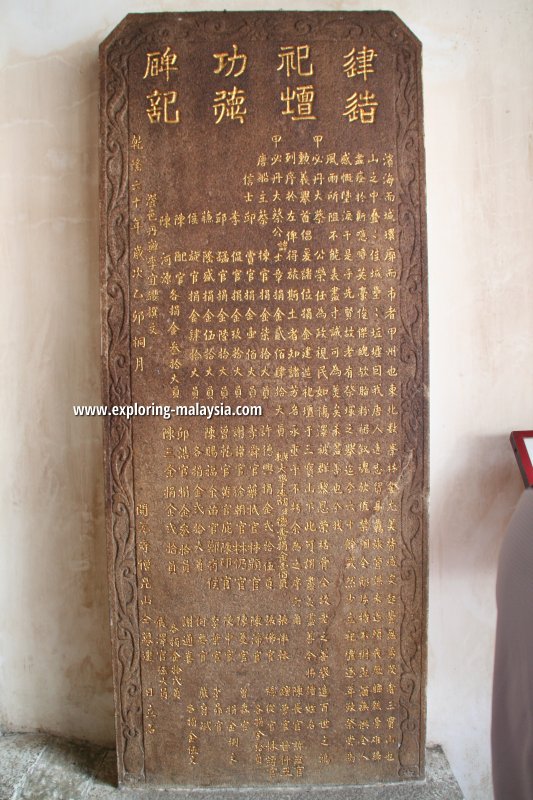 Founding stelae inside Poh San Teng Temple
(2 May 2009)

Acknowledgement
1. Thank you to Josephine Chua for her invaluable advise in preparing the information for this webpage.
2.
Chronology about Bukit China and Poh San Teng
(12 October, 2016)
You can look for and book your hotel room direct from this website. Use this link to
find hotels in Malacca
, or use the search box below. You can filter the results based on your requirement, everything from five star hotels to homestays and more.
Featured Videos on Malacca Travel Tips
Enjoy a vacation at The Haven Resort Hotel Ipoh, an award-winning all suite resort nestled in the midst of the limestone hills of Ipoh, now with an exclusive 10% discount for readers of this website!
Buy Your Long-Distance Bus Tickets Here!
If you are planning to travel Malaysia and Singapore by bus, you can now purchase your long-distance bus tickets directly from
Bus Online Ticket
, where you get to check the schedule as well as price of tickets from various bus companies.
About me
Hello and welcome! My name is
Timothy Tye
or simply Tim. This is my personal encyclopedia. I created it to compile all the information about places. It represents my body of travel knowledge collected since 2003, and still being updated almost daily.
As a Christian, I write on travel so that
God's Good News
can reach every corner of the world and connect with those needing it. If you wish to ask me anything, feel free to
contact me here
. Thank you for visiting, and have a great day!
Copyright © 2003-2017
Timothy Tye
. All Rights Reserved.