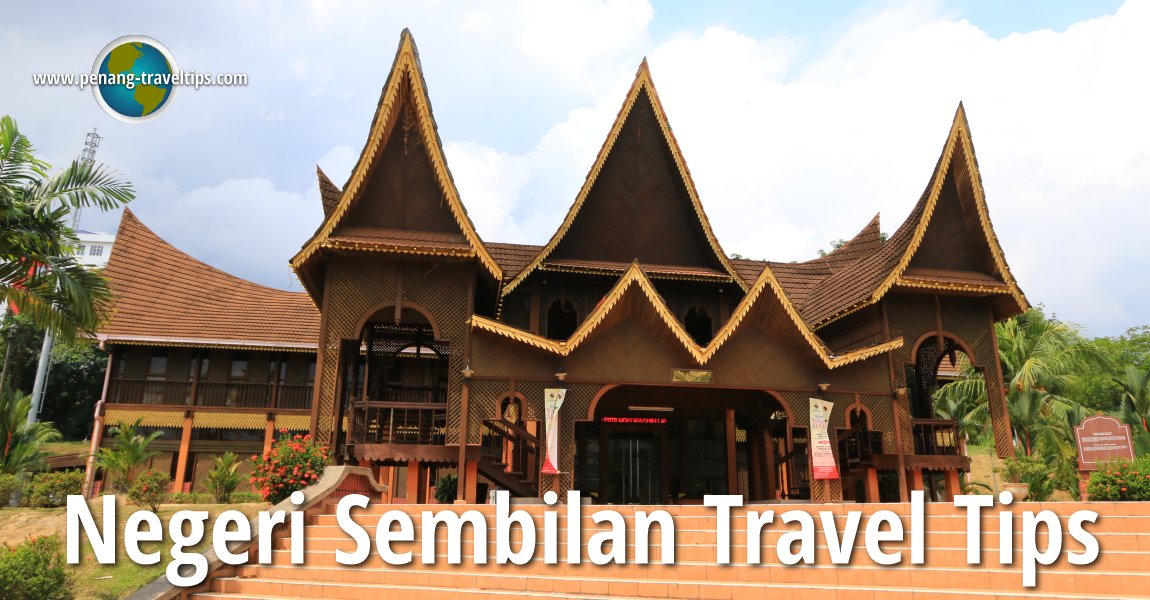 Negeri Sembilan Travel Tips
(6 July, 2016)

B. Melayu
Negeri Sembilan Travel Tips
is your guide to visit, discover and enjoy Negeri Sembilan Darul Khusus (Chinese: 森美蘭; Pinyin: Sēnměilán; Tamil: நெகிரி செம்பிலான்; Romanised Tamil: Nekiri cempilāṉ), a state in the central part of Peninsular Malaysia. It has a size of 6645 sq km and a population of slightly over one million people (2007 est.) The capital is Seremban. Negeri Sembilan shares a border with
Selangor
,
Pahang
,
Johor
and
Malacca
. The state is also written as Negeri Sembilan, and the official name often includes an Arabic honorific, Negeri Sembilan Darul Khusus, meaning "Negeri Sembilan, Exceptional Abode".
Negeri Sembilan Travel Destination
Map of Sights in Negeri Sembilan
List of sights in Negeri Sembilan
Categories of sights in Negeri Sembilan
About Negeri Sembilan
The name Negeri Sembilan means "nine states". It refers to the original nine states or districts established by the Minangkabau people who settled there from West Sumatra, Indonesia. Today, Negeri Sembilan is composed of six districts and the state capital, Seremban. Of these, four of the bigger ones namely Sungai Ujong, Jelebu, Johol and Rembau are ruled by hereditary chiefs called Undang, who undertake to select an overall ruler of Negeri Sembilan, known as the Yang di-Pertuan Besar. The system of choosing a ruler resembles the election of the Malaysian king, or Yang di-Pertuan Agong, except that the Yang di-Pertuan Besar of Negeri Sembilan holds office for life.
Districts of Negeri Sembilan

History of Negeri Sembilan
The Minangkabaus settled in Negeri Sembilan in the 15th century, at the time of the Malacca Sultanate, and were given protection by it. After Malacca fell to the Portuguese, the area came under the protection of the Sultanate of Johor, which was established by the son of Sultan Mahmud Shah, the last sultan of Malacca.
To look after the interest of the Minangkabaus, the ruler of Minangkabau in Sumatra, Sultan Abdul Jalil, sent his near relative, Raja Melewar, to be ruler. After defeating another rival to the throne, Raja Khatib, Raja Melewar was granted the title of Yang di-Pertuan Besar Negeri Sembilan, which means "He who is lord over the rulers of the Nine States", by the Sultan of Johor, in 1773.
A series of succession disputes ensued following the death of Raja Melewar. The British eventually intervened in 1873, resulting in the district of Sungai Ujong falling under the control of a British Resident. This was followed by Jelebu in 1886 and the rest of Negeri Sembilan in 1895. The first British Resident was Martin Lister, who was assassinated in office in his effort to quash violence between the Chinese secret societies.
The number of states within Negeri Sembilan has fluctuated throughout history. Among the former states include Naning in Malacca, Kelang in Selangor and Segamat in Johor. The present ones are Jelai, Jelebu, Johol, Rembau, Sungai Ujong and Tampin. Within a different composition, Negeri Sembilan is also divided into seven administrative districts, which are Jelebu, Jempol, Kuala Pilah, Port Dickson, Rembau, Seremban and Tampin.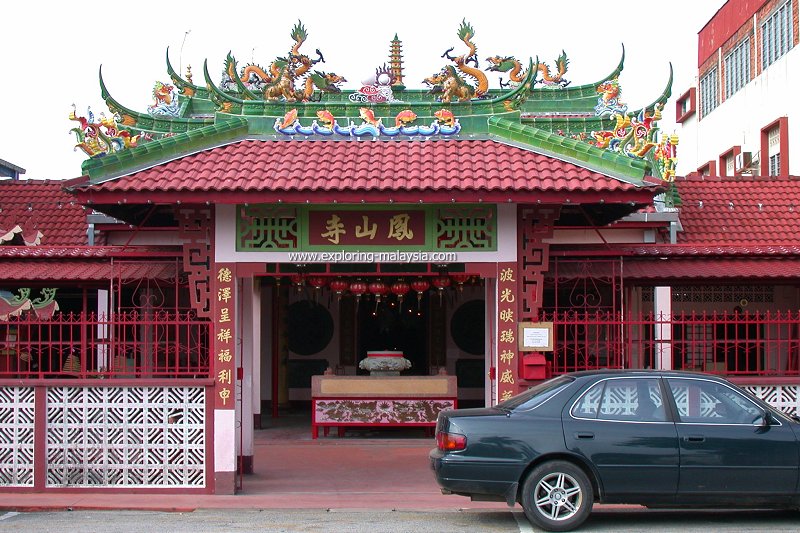 Hong San Si Temple, Port Dickson
(29 December 2006)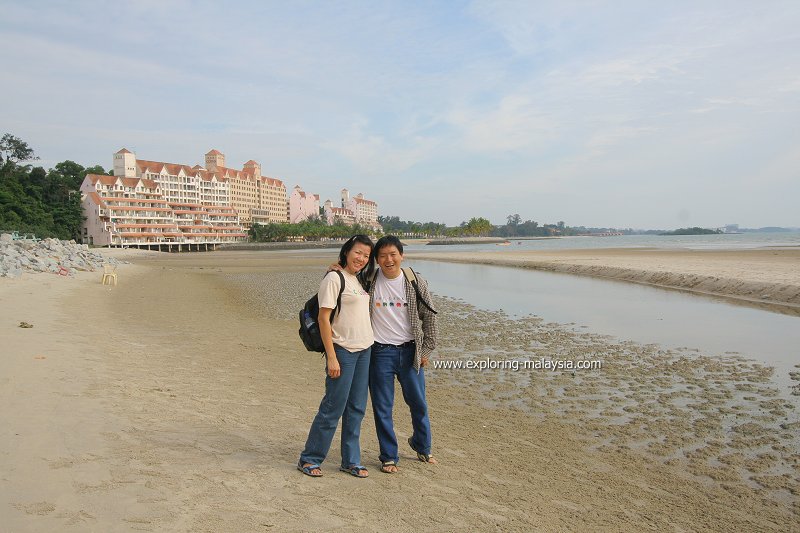 Tim and Chooi Yoke in Port Dickson
(29 December, 2006)

Going to Negeri Sembilan
Negeri Sembilan can easily be reached by road. The
North-South Expressway
cuts though the state.
The following are the exits to different parts of Negeri Sembilan:
Exit 215: Nilai Interchange
Exit 218: Seremban Interchange
Exit 219A: Port Dickson Interchange
Exit 220: Senawang Interchange
Exit 223: Pedas Linggi Interchange
You can look for and book your hotel room direct from this website.
Find hotels in the different towns in Negeri Sembilan
, or use the search box below to look for hotels in Negeri Sembilan's capital, Seremban. Filter the results based on your requirement, everything from five star hotels to homestays and more.
Look for hotels in major towns in Negeri Sembilan
Look for a specific type of accommodation in Negeri Sembilan
Enjoy a vacation at The Haven Resort Hotel Ipoh, an award-winning all suite resort nestled in the midst of the limestone hills of Ipoh, now with an exclusive 10% discount for readers of this website!
Buy Your Long-Distance Bus Tickets Here!
If you are planning to travel Malaysia and Singapore by bus, you can now purchase your long-distance bus tickets directly from
Bus Online Ticket
, where you get to check the schedule as well as price of tickets from various bus companies.
About me
Hello and welcome! My name is
Timothy Tye
or simply Tim. This is my personal encyclopedia. I created it to compile all the information about places. It represents my body of travel knowledge collected since 2003, and still being updated almost daily.
As a Christian, I write on travel so that
God's Good News
can reach every corner of the world and connect with those needing it. If you wish to ask me anything, feel free to
contact me here
. Thank you for visiting, and have a great day!
Copyright © 2003-2017
Timothy Tye
. All Rights Reserved.