Pahang Travel Tips
(31 December, 2006)

B. Melayu
Pahang Travel Tips
provides you useful information for planning your visit to Pahang Darul Makmur, the largest state in Peninsular Malaysia, and the third largest in Malaysia. Pahang has a total area of 35,964 sq km and a population of about 1.4 million people. It is located on the east coast of the peninsula, although several of its highland towns are accessible from the west coast.
Pahang shares a border with
Kelantan
to the north,
Terengganu
to the northeast, Johor to the south,
Negeri Sembilan
to the southwest, and
Selangor
and
Perak
to the west. It shares borders with more states than any other state in Malaysia. Pahang has a stretch of coastline on the east facing the South China Sea. Much of the central part of Pahang is still undeveloped and forested. Most of the towns are located along the fringes, along the eastern coast as well as on the Main Range on the west part of the state.
Location of towns in Pahang on the map
Towns in Pahang
Major Hill Resorts in Pahang
Categories of sights in Pahang
Map of the Places of Interest in Pahang
Other places of interest in Pahang
Cameron Highlands (GPS: 4.47212, 101.38014)
Fraser's Hill (GPS: 3.71186, 101.73654)
Genting Highlands (GPS: 3.42377, 101.79204)
Gunung Senyum (GPS: 3.70681, 102.43375)
Gunung Tapis Park
Kenong Rimba Park
Kota Gelanggi (GPS: 3.91846, 102.59504)
Krau Wildlife Reserve
Kuala Gandah Elephant Sanctuary (GPS: 3.59229, 102.14501)
Pulau Tioman (GPS: 2.79024, 104.16984)
Rompin & Lanjut Beach
Taman Negara (GPS: 4.38309, 102.40173)
Tasik Bera (GPS: 3.81666, 102.41666)
Tasik Chini (GPS: 3.43054, 102.91045)
Teluk Cempedak (GPS: 3.8126, 103.372)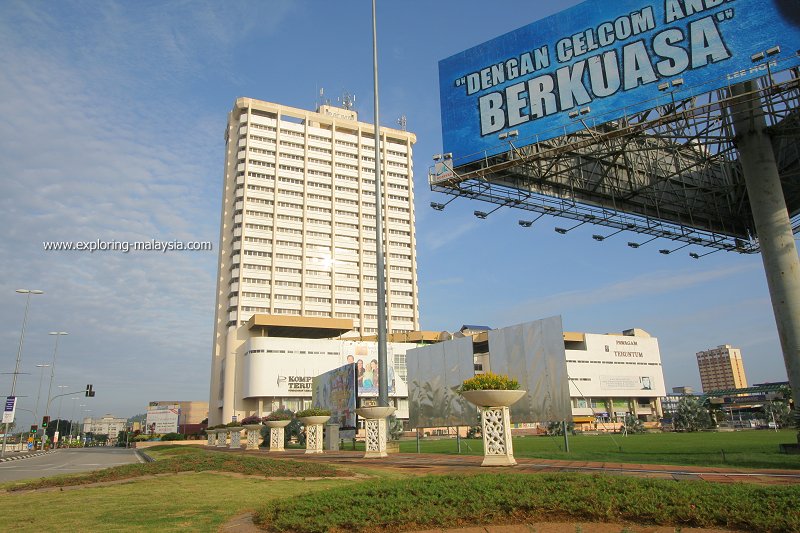 Kuantan (31 December 2006)

The capital and largest city in Pahang is Kuantan. The city is on the east coast facing the South China Sea. Pahang is a sultanate, meaning it is ruled by a sultan. The official residence of the Sultan of Pahang is in the town of Pekan, to the south of Kuantan.
Pahang has been ruled over by differing regional powers over the ages. It was controlled by the Srivijaya empire in the 8th and 9th century, followed by the Siamese and then by the Malacca Sultanate and the Acehnese. The present ruling family of the Pahang sultanate traces their family history to the Johor sultanate, which ruled Pahang since at least the 16th century. The Sultans of Pahang are descended from the son of the Bendahara of Johor of the 19th century. The civil war fought by the two sons of the Bendara for control of Pahang in 1853 to 1863 provided the British an excuse to plant a British Resident there as administrator and de facto ruler.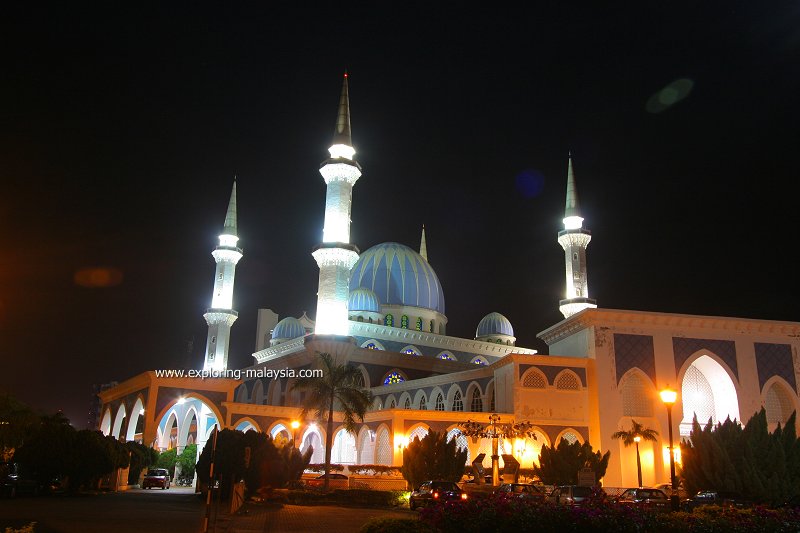 Sultan Ahmad Shah Mosque, Kuantan (30 December 2006)

Getting there
Considering most of the main towns of Pahang are on the east coast, the most practical way to visit them is to take a flight from Kuala Lumpur to Kuantan. To visit Pahang's hill stations such as Cameron Highlands and Fraser's Hill, the usual way is to go by road from the west coast.
By Plane
Malaysia Airlines has regular services between Kuala Lumpur International Airport (KUL) and Kuantan's Sultan Haji Ahmad Shah Airport (KUA). Low cost carrier Firefly has services connecting KUA with Subang Airport (SZB) in Kuala Lumpur.
By Road
Kuantan can be reached from the west coast via the Karak Highway (E8) and the East Coast Expressway (E8). There are regular bus services from most major cities to Terminal Makmur in Kuantan.
Districts of Pahang
Bera District
Bentong District
Cameron Highlands District
Jerantut District
Kuantan District
Lipis District
Maran District
Pekan District
Raub District
Rompin District
Temerloh District
You can look for and book your hotel room direct from this website.
Find hotels in the different towns in Pahang
, or use the search box below to look for hotels in Pahang's capital, Kuantan. Filter the results based on your requirement, everything from five star hotels to homestays and more.
Enjoy a vacation at The Haven Resort Hotel Ipoh, an award-winning all suite resort nestled in the midst of the limestone hills of Ipoh, now with an exclusive 10% discount for readers of this website!
Buy Your Long-Distance Bus Tickets Here!
If you are planning to travel Malaysia and Singapore by bus, you can now purchase your long-distance bus tickets directly from
Bus Online Ticket
, where you get to check the schedule as well as price of tickets from various bus companies.
About me
Hello and welcome! My name is
Timothy Tye
or simply Tim. This is my personal encyclopedia. I created it to compile all the information about places. It represents my body of travel knowledge collected since 2003, and still being updated almost daily.
As a Christian, I write on travel so that
God's Good News
can reach every corner of the world and connect with those needing it. If you wish to ask me anything, feel free to
contact me here
. Thank you for visiting, and have a great day!
Copyright © 2003-2017
Timothy Tye
. All Rights Reserved.