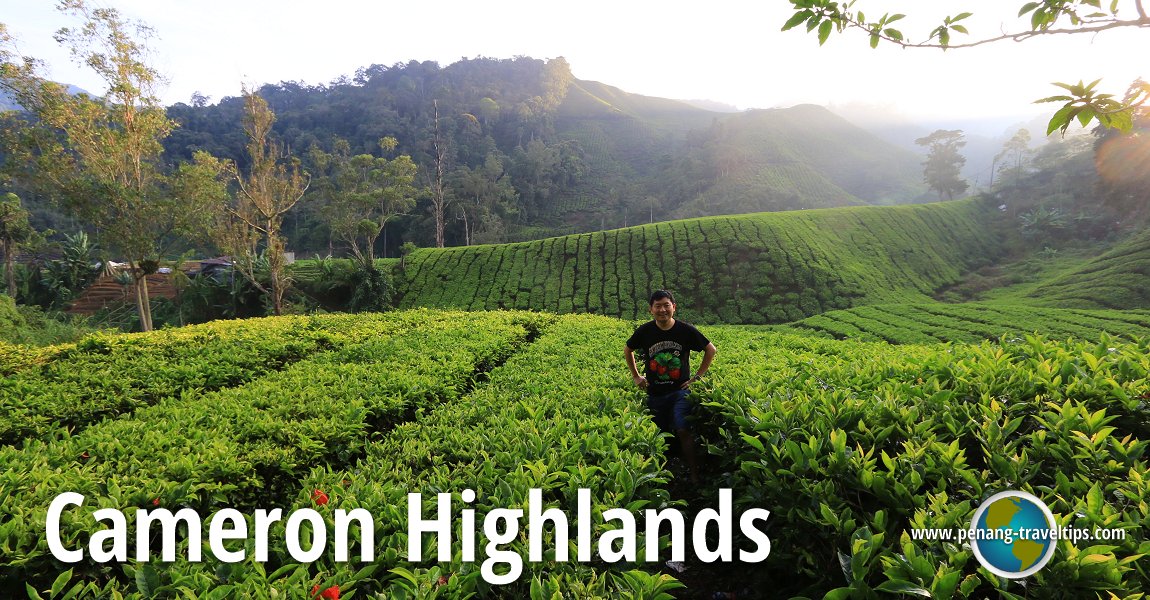 Cameron Highlands
(3 May, 2016)


Cameron Highlands
(GPS: 4.47212, 101.38014) in
Pahang
is the biggest highland retreat in Malaysia. It is located about 20 km east of
Ipoh
and about 150km north of
Kuala Lumpur
. Although located in Pahang, Cameron Highlands is more easily accessed from
Perak
. Cameron Highlands has an average height of 5000 ft (1,500 m) above sea level, and enjoys a cool climate. Temperatures in Cameron Highlands is usually no higher than 25°C but rarely falls below 10°C year round.
Location of major sights in Cameron Highlands on the map
Main Towns in Cameron Highlands
The following are the towns and agricultural settlements in Cameron Highlands.
Attractions of Cameron Highlands
Categories of sights in Cameron Highlands
Cameron Highlands was named after William Cameron, the government surveyor who explored it in 1885 and cleared the jungle for development. The average height of Cameron Highlands is 1524m, with the highest point, Gunung Brinchang, standing at slightly over 2000m. The mountain, topped by a transmission station, is accessible by car. There are three towns in Cameron Highlands, namely Ringlet, Tanah Rata and Brinchang.
Cameron Highlands is probably the only place in Malaysia to see tea plantations and strawberry farms. Tea cultivation was introduced to Cameron in 1929 by John Archibald Russell, who established the giant Boh Tea company. In its wake are the strawberry farms, flower nurseries, butterfly farms and golf courses. Recently, as Malaysians develop a penchant for hiking, trails are established to explore Gunung Brianchiang and Gunung Irau, as well as into the mossy forest.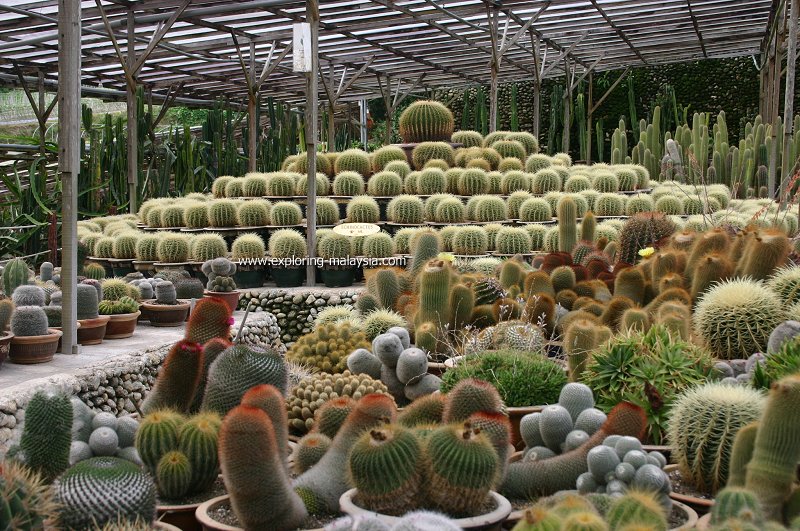 Cactus Valley, Cameron Highlands
(24 April 2004)

This may sound surprising to you, but until recently, my only visit to Cameron Highlands before this was as an infant. I was too young to remember that but for the photographs. Although a trip to Cameron is considered "no big deal", it some how eluded me all these years until April 2004.
On this trip, we took the new road to Cameron, staying at a guest house in Brinchang, a scruffy settlement anchored to the side of the mountain range. At night, the square in the middle of town is turned into a pasar malam. From our base in Brinchang, we visited the flower nurseries and strawberry farms. We drove to the Boh Tea plantations. Boh has two huge plantations, one in Brinchang and another further down in Tanah Rata, while another company, Bharat operates the third in Cameron. In my opinion, the most beautiful is the Boh Estate at Sungai Palas. With my powerful telephoto lens, I can pick out tea-pickers in the undulating sea of tea bushes, an truly marvellous sight.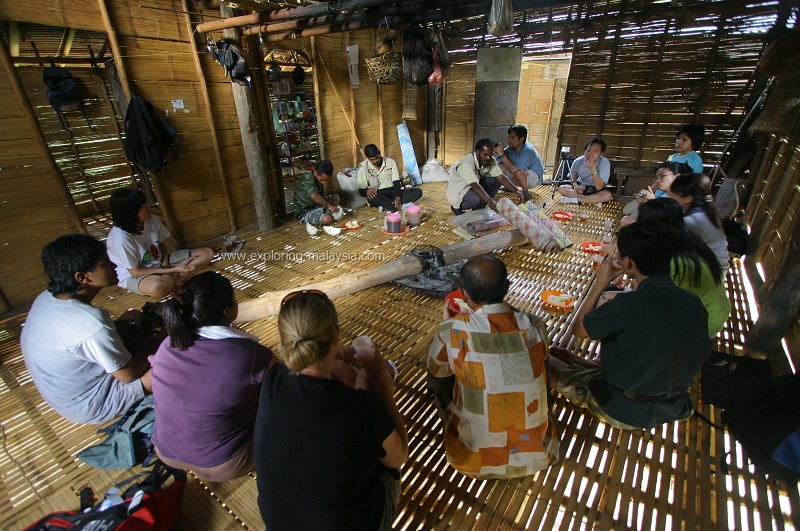 Inside an orang asli hut
(16 September, 2005)

The girls in the group had a ball at the flower nurseries and strawberry farm. And they had the chance to do what girls do: shop. With flowers and tea and strawberries and honey, Cameron Highlands offers everything to satisfy jaded urban visitors like us. I persuaded the girls to make the trip to Gunung Brinchang (Mount Brinchang) as well as to visit the mossy forest. We engaged the services of Suresh, a knowledgeable ecology guide to help us better understand the workings of the mossy forest. He explained to us the different forest plants, such as the jungle bell (Didymocarpus), the Kacip Fatimah (Labisia) which is said to have medicinal value for womenfolk, and the White Star (Argostamma), a poisonous plant with lovely white flowers.
Suresh also explained to us why there are no mosquitoes on top of Gunung Brinchang. It all has to do with the ecology. Or to be precise, the chain of life, and how the existence or non-existence of one life affects another. If we had more time - and inclination - we could also trek to Gunung Irau nearby. We could see it from the top of Gunung Brinchang, and on that clear day, could see all the way to Ipoh.
In the mossy forest of Cameron Highlands
(2 April, 2004)

To complete our sightseeing, we visited the Old Smokehouse near Brinchang and the Tudor-style Lakehouse near Ringlet. These luxurious English inns, with their ivy-covered stone walls, fire place, and timber frames, offer us a glimpse of the moneyed lifestyle. And as for me, for now, it remains no more than a glimpse.
The panoramic view in Cameron Highlands is certainly breathtaking, as seen from the photograph above, taken in the morning at the Sg. Palas Boh Tea Plantation, on our way to Mount Brinchang.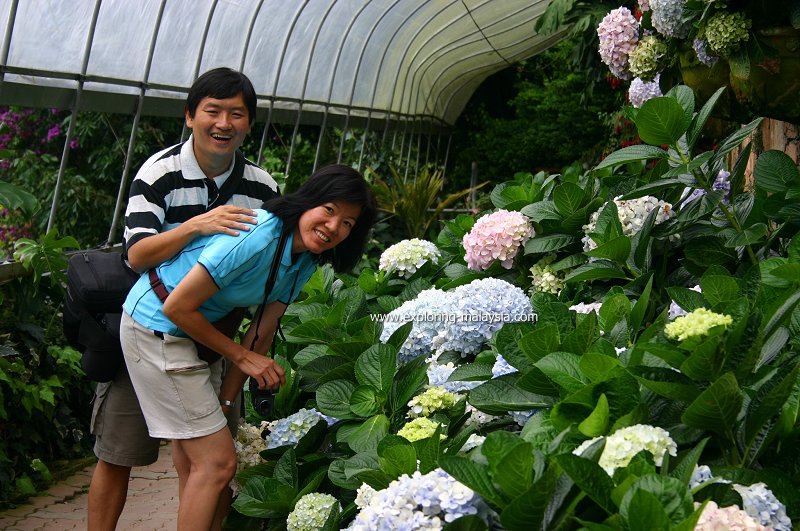 Tim and Chooi Yoke with the hydrangeas in Cameron Highlands
(7 May, 2005)

Visiting Cameron Highlands
If you are coming from the south, such as from Kuala Lumpur, exit the North-South Expressway at Tapah (Exit 132) and follow directional sign to Cameron Highlands, 60 km in the northeast direction. Along the way, you will pass by the Lata Iskandar waterfalls. If you are coming from the north, ie from Penang, exit the North-South Expressway at Simpang Pulai (Exit 135) and take the new road to Cameron Highlands.
Buy Your Long-Distance Bus Tickets Here!
If you are planning to travel Malaysia and Singapore by bus, you can now purchase your long-distance bus tickets directly from
Bus Online Ticket
, where you get to check the schedule as well as price of tickets from various bus companies.
About me