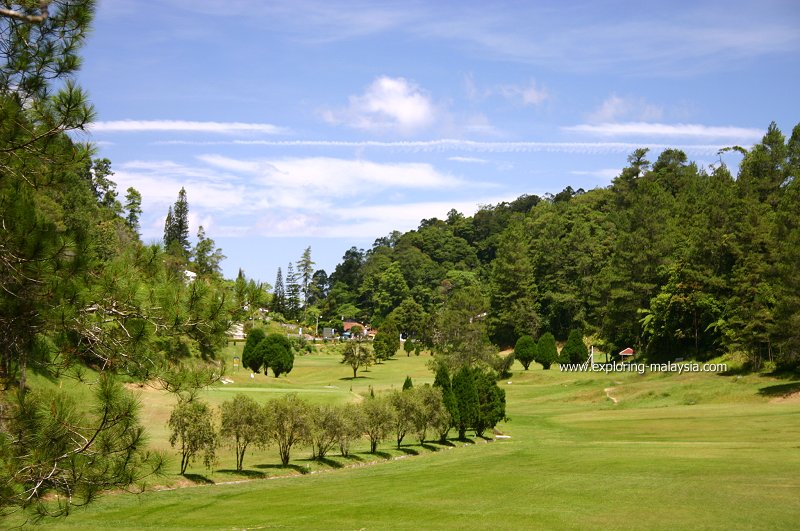 Fraser's Hill
(18 July 2004)


Fraser's Hill
(GPS: 3.71186, 101.73655) is one of the quieter hill retreats in Malaysia. It is located in
Pahang
, just across the border from
Selangor
, along the main range. It has one thing in common with two other Malaysian hill stations, namely
Maxwell Hill
and
Cameron Highlands
. Like Maxwell Hill of Taiping, it was named after a Mat Salleh, but unlike W.E. Maxwell, it was not named after a government officer. Instead it was named after a missing person!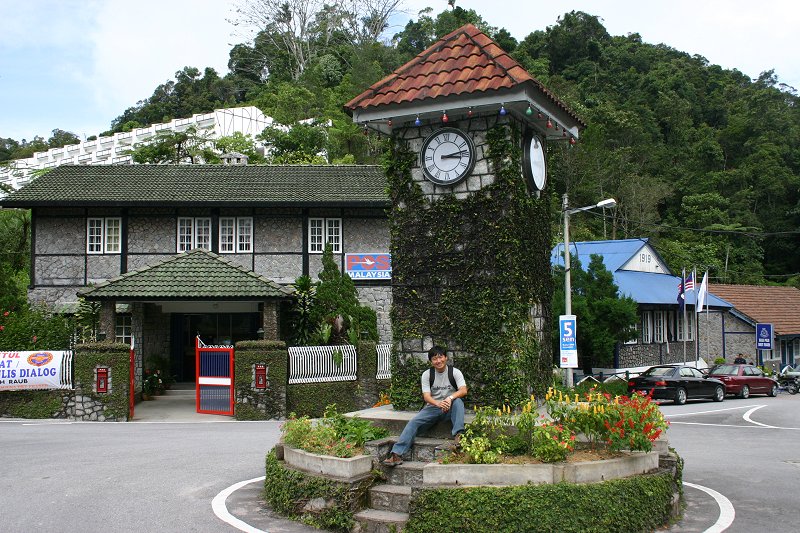 Tim at the landmark clocktower of Fraser's Hill
(17 July 2004)

Scotsman Louis James Fraser, having travelled down to Australia at the height of the gold rush, arrived in Malaya at the tail end of the 19th century, hoping to prospect for gold in Ulu Tras. Gold he did not find much, but tin ore he found in rich abundance. So he brought in Chinese miners up into the hills to extract the tin and bring it down to the town of Raub. To keep them entertained, he built the prototype of Genting Highlands in the hills - a gambling den.
Similar to Jim Thompson in Cameron Highlands, Fraser one day mysteriously went missing, some time around 1910. When the British noticed that there was strangely no activity coming from Fraser, they sent C.J. Ferguson-Davie, the Bishop of Singapore, up the hills to look for him. Ferguson-Davie never found Fraser.
Fraser's mining camp was deserted. However, Ferguson-Davie realised that the abandoned camp site was located in a very appealing spot for a hill retreat. The air was cool and inviting, and provided much comfort from the stickiness of the lowlands. Moreover, with World War I raging in Europe, the colonial officers were unable to return to their homeland, and yearned for a place that they can put together to resemble home.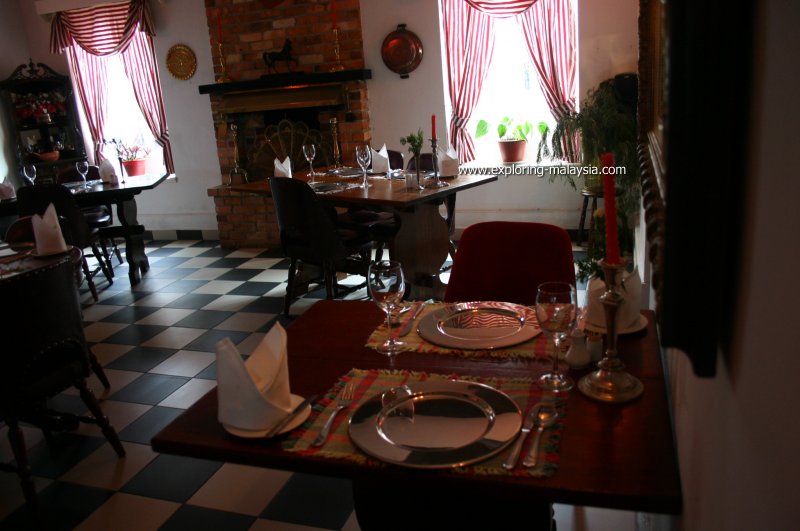 The restaurant at The Smokehouse Tavern, Fraser's Hill
(17 July 2004)

Upon his return, Ferguson-Davie submitted a report to the government, naming the hill an ideal location to build a highland retreat. Work started in 1919 to build a road linking it to the Gap, and three years later, the new hillstation by the name of Fraser's Hill was opened.
Fraser's Hill was designed to resemble an English village, complete with dainty cottages and Tudor-style homes. It was a place to sip tea by the fireplace. By 1927, there were 9 government bungalows for the British offers, 4 houses built by the Red Cross for ex-servicemen, 3 private homes, a country club, a golf course, and a post office. The Red Cross also set up a convalescent home from injured soldiers here. This home is now converted into the luxurious Ye Olde Smokehouse.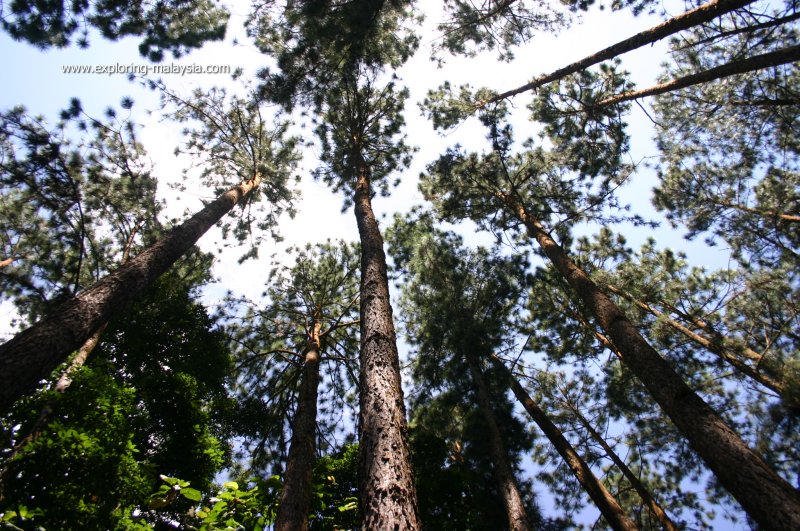 Forest canopy, Fraser's Hill
(18 July, 2004)

Today, Fraser's Hill is a popular retreat from company outings. Throngs of visitors invade its public parks to enjoy the cool air, away from the bustle of the city, and away from the noisier Genting Highlands. Of late it is also becoming a popular haven for bird watchers. Over 270 species of local and migratory birds have been recorded seen here. The Malaysian Nature Society, in conjunction with the Fraser's Hill Development Corporation, organises an annual International Bird Race, where individual teams race against time to sight, identify and record the most number of birds. For those looking for a serene getaway, Fraser's Hill continues to exudes its simple charm.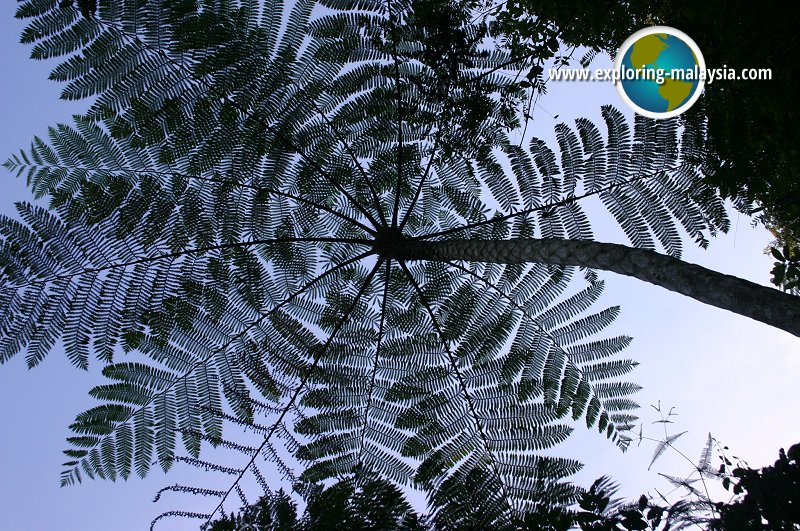 Giant fern, Fraser's Hill
(17 July, 2004)


Fraser's Hill Tourist Attraction
Getting there
Fraser's Hill is located in the state of Pahang, and like Cameron Highlands, is approached from the west, in this case from Selangor. Visitors from north approaching on the North South Expressway (E1) should take Exit 121 at Tanjung Malim, and continue south along the Old Trunk Road (aka Highway 1) to Kuala Kubu Bahru. Visitors from Kuala Lumpur should take the Old Trunk Road north to Kuala Kubu Bahru. From Kuala Kubu Bahru, take Route 55 for 40 km, passing the Sungai Selangor Dam, until reaching the town of Gap. From there, the route has a controlled single-way traffic flow between 7am and 7pm daily.
Fraser's Hill is on the map of Pahang
Enjoy a vacation at The Haven Resort Hotel Ipoh, an award-winning all suite resort nestled in the midst of the limestone hills of Ipoh, now with an exclusive 10% discount for readers of this website!
Buy Your Long-Distance Bus Tickets Here!
If you are planning to travel Malaysia and Singapore by bus, you can now purchase your long-distance bus tickets directly from
Bus Online Ticket
, where you get to check the schedule as well as price of tickets from various bus companies.
About me
Hello and welcome! My name is
Timothy Tye
or simply Tim. This is my personal encyclopedia. I created it to compile all the information about places. It represents my body of travel knowledge collected since 2003, and still being updated almost daily.
As a Christian, I write on travel so that
God's Good News
can reach every corner of the world and connect with those needing it. If you wish to ask me anything, feel free to
contact me here
. Thank you for visiting, and have a great day!
Copyright © 2003-2017
Timothy Tye
. All Rights Reserved.