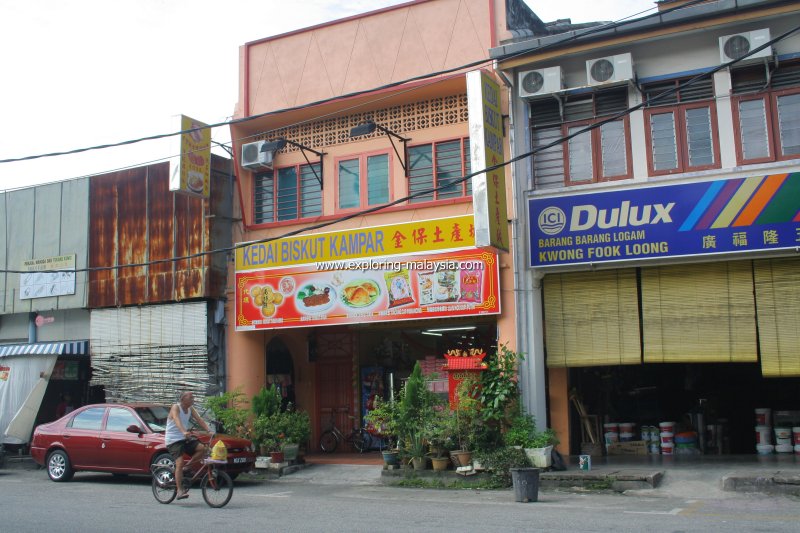 Chicken biscuit shop, Kampar
(28 December, 2006)


Kampar
(GPS: 4.30567, 101.15215) is a town in Perak, Malaysia. Located south of
Simpang Pulai
, it has a population of 68,000 people, the majority of which are Chinese. There are also Malays and Indians staying there, in addition to a sizable Punjabi community.
Kampar was founded in 1887 as a tin-mining town. It was originally called Membang Di Awan. On 13 March 1894, Membang Di Awan was renamed Kampar. This was confirmed by E.W. Birch, the then Secretary to the Government.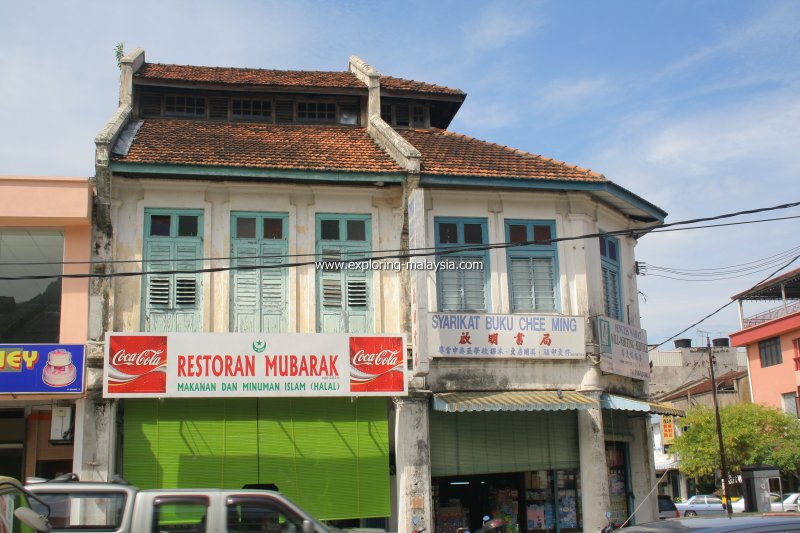 Pre-war shophouses in Kampar
(28 December, 2006)

There are a few theories to this name Kampar. Due to its rich tin reserve, Kampar is believed to have been named after the Cantonese words "kam pou", which means "precious gold". On the other hand, there is also another theory that Kampar was named after the river Kampar which flows through the town.
The river was named by settlers from Riau Province, Sumatra, after the Kampar regency there. This is where the first Sultan of Perak, Sultan Mudzaffar Shah, was based before he becoming the Sultan in Perak. As the Kampar River has already been around before Kampar town was established, it is more likely that the town was named after the river than the other way around, and that the Cantonese name is simply a transliteration of the name Kampar.
Kampar on Google Maps Street View
View Larger Map

As with many of the tin-mining towns in Perak, Kampar's fortune followed the ups and downs of the tin mining industry. The town prospered at the turn of the 20th century when tin prices were high. It began to stagnate and decline after World War I. By the 1980's, with the last of Kampar's tin mines having closed down, the town itself was pretty much dead. It was only recently that the town became to be revived, driven partly by the arrival of the new Universiti Tunku Abdul Rahman (UTAR) campus and the opening of the Tesco hypermarket in September 2008.
The construction of the
North-South Expressway
bypassed Kampar, hastening its economic decline. Perhaps on the positive side, it also helped preserve Kampar's pre-war houses until such time when the population becomes more appreciative of its heritage architecture.
While people might not generally be interested in the shophouse architecture, many certainly know Kampar as a place to get good food. There is plenty to choose from. Among these, perhaps the most famous are the Kampar Chicken Biscuit, the Roti Ayam and the Kampar Fish Ball Noodles.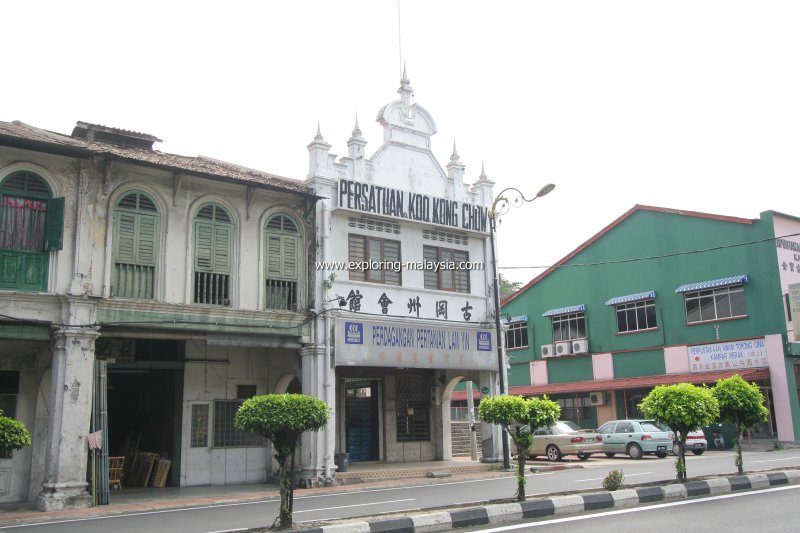 Persatuan Koo Kong Chow, Kampar
(28 December, 2006)

The Kampar Chicken Biscuit is so famous that it is now available throughout Perak, and even in
Penang
. It came from a recipe brought from China three generations ago. From the one recipe, there are now two companies producing the chicken biscuits - they are both produced by brothers who separated over irreconcilable differences; they created CB chicken biscuit brand and the May Moon chicken biscuit brand respectively.
The Roti Ayam or Min Pau Kai is a Kampar innovation of chicken within bread. There is a choice of two types of chicken filling, one done in curry and another in herbal soup.
The Kampar Fish Ball Noodles is called Lor Shee Fun in Cantonese. Literally, it means "Mice Noodles" because the noodles resemble mouse tails. The specialty of this dish is its deep-fried fish balls, called chau yuen, which makes the stall selling it stand out.
Getting there
Exit the North-South Expressway at Exit 132, the Tapah Interchange. Head towards Tapah town, and then take Federal Route 1 northbound past Tapah town to reach Kampar. If you are coming from the north, take Exit 135 at Simpang Pulai.
Kampar is on the map of Perak
Perak, so much to explore and discover!
To continue exploring Perak, select another destination from the map below!
Enjoy a vacation at The Haven Resort Hotel Ipoh, an award-winning all suite resort nestled in the midst of the limestone hills of Ipoh, now with an exclusive 10% discount for readers of this website!
Buy Your Long-Distance Bus Tickets Here!
If you are planning to travel Malaysia and Singapore by bus, you can now purchase your long-distance bus tickets directly from
Bus Online Ticket
, where you get to check the schedule as well as price of tickets from various bus companies.
About me
Hello and welcome! My name is
Timothy Tye
or simply Tim. This is my personal encyclopedia. I created it to compile all the information about places. It represents my body of travel knowledge collected since 2003, and still being updated almost daily.
As a Christian, I write on travel so that
God's Good News
can reach every corner of the world and connect with those needing it. If you wish to ask me anything, feel free to
contact me here
. Thank you for visiting, and have a great day!
Copyright © 2003-2017
Timothy Tye
. All Rights Reserved.