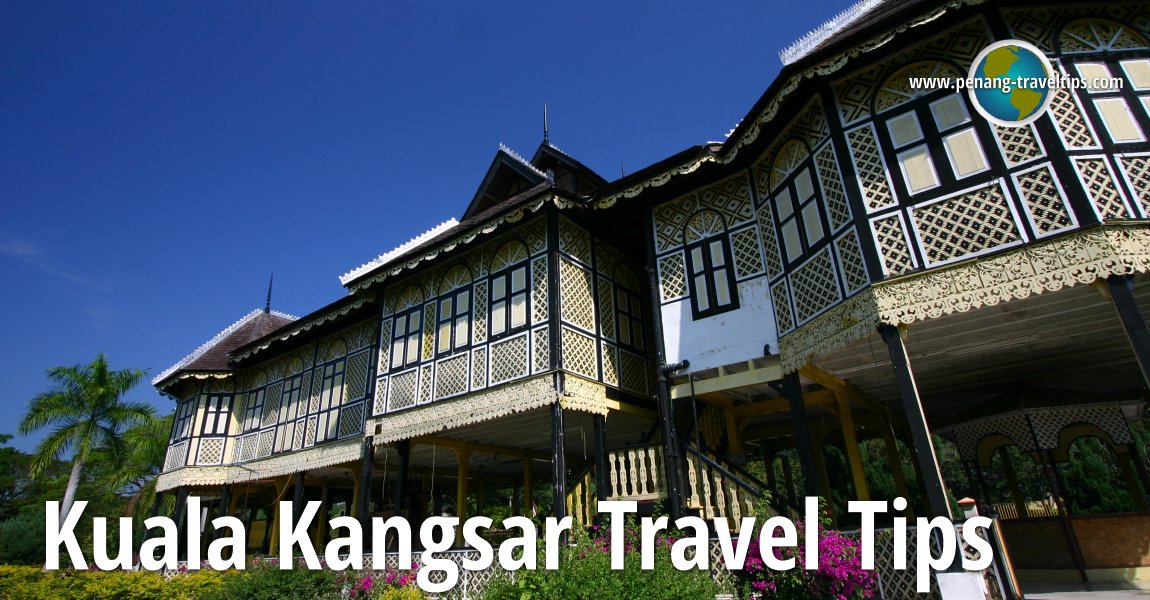 Kuala Kangsar Travel Tips
(31 January, 2006)

B. Melayu
Kuala Kangsar
(GPS: 4.77352, 100.94169) is the Royal Town of the Sultanate of
Perak, Malaysia
. As a tourist destination, it is best known as the site of
Ubudiah Mosque
, arguably one of the most beautiful mosques in the country. Kuala Kangsar is located where the
Perak River
makes a sharp bend. Located on the western bank of the Perak River, at the confluence with the Kangsar River, Kuala Kangsar is a beautifully preserved town that is worth exploring, especially for heritage enthusiasts. Within Kuala Kangsar are some of the most charming palaces and mosques in Malaysia.
Location of places of interest in Kuala Kangsar on the map
Places of Interest in Kuala Kangsar
Categories of sights in Kuala Kangsar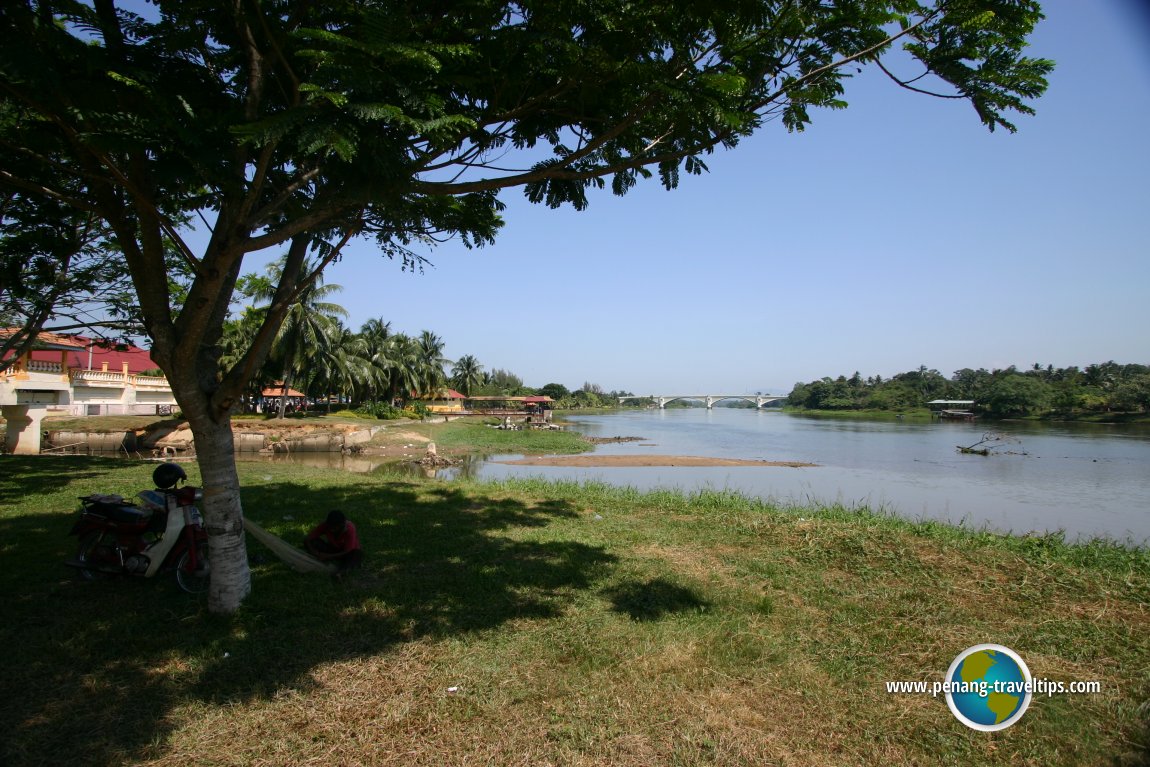 Confluence of Sungai Kangsar with Sungai Perak
(31 January, 2006)

Kuala Kangsar on Google Maps Street View
The famed Ubudiah Mosque in Kuala Kangsar

Getting there Kuala Kangsar
By Car
The most practical way to reach Kuala Kangsar is by car. Exit the North-South Expressway (E1) at Exit 143.
By Train
The
KTM Electric Train Service
makes a stop at
Kuala Kangsar Railway Station
at 12:05 pm from
Kuala Lumpur
, and at 6:40 pm from
Butterworth
.
Nearby towns and villages to Kuala Kangsar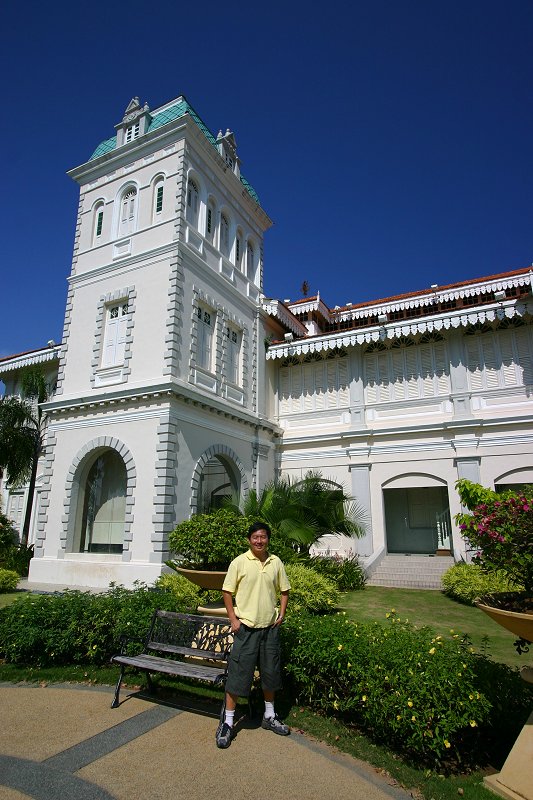 Tim at Istana Ulu, Kuala Kangsar
(31 January, 2006)

History of Kuala Kangsar
The name Kuala Kangsar is believed to have come from "Kuala Karong-Sa", which means "99 tributaries", referring to the tributaries that empty into the
Perak River
. Along the bend of the river, Sultan Yusuf Sharifuddin Mudzaffar Shah (1877-1887) erected his palace, Istana Sri Sayong. This was a strange decision, as the palace was exposed to enemy invasion as well as the unpredictable river.
Even though an invasion did not materialize, its vulnerability to the elements proved to be its undoing when, the Big Flood or Air Bah of 1926 almost swept it away. Only then was a decision made to move the palace to higher ground. The site chosen was a gentle knoll close-by, on which today stands the present residence of the Sultan of Perak, the Istana Iskandariah, a fine piece of Art-Deco architecture.
The royal quarters, which include Istana Iskandariah, Istana Ulu, the Ubudiah Mosque and Istana Kenangan, all stand on one side of Kuala Kangsar, on a knoll called Bukit Chandan away from the rest of town, and separated by a large park along the riverbank called Dataran Sungai Perak.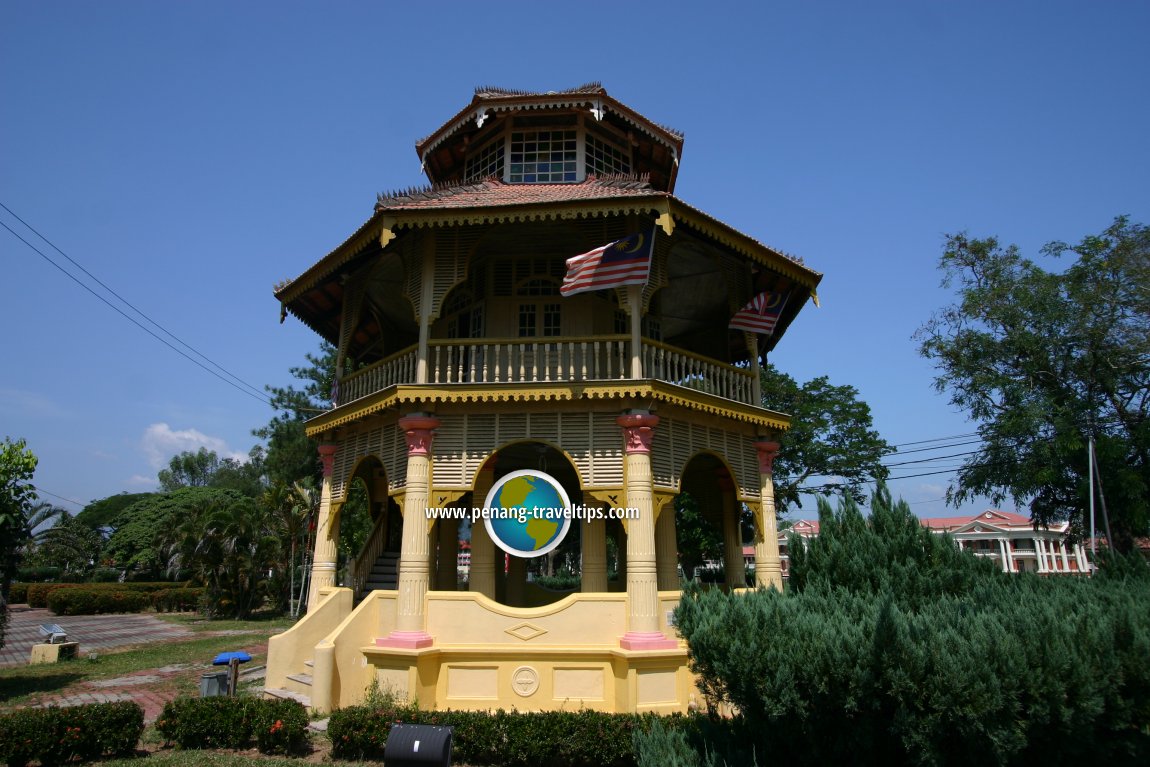 Pavilion Square Tower, Kuala Kangsar
(31 January 2006)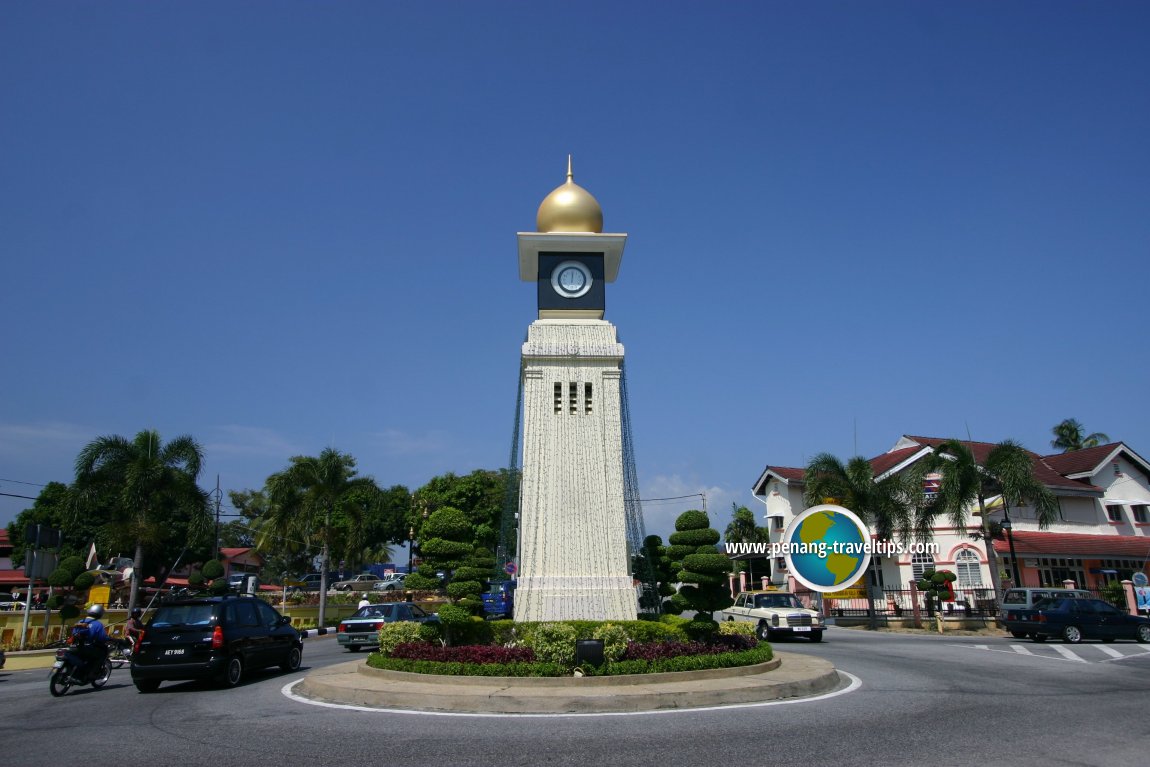 Kuala Kangsar Clock Tower, Kuala Kangsar
(31 January 2006)

Chronology of Kuala Kangsar Architectural Heritage
The following are dates associated with the major landmarks in Kuala Kangsar:
1877 - First Rubber Tree in Malaya was planted.
1903 - Istana Ulu was built.
1905 - Kuala Kangsar Malay College opened.
1917 - Ubudiah Mosque was built.
1926 - Istana Iskandariah and Istana Kenangan were built.
1930 - Pavilion Square Tower was built.
Near to Kuala Kangsar, across the Perak River, is the village of
Sayong
which is famous for its water gourds.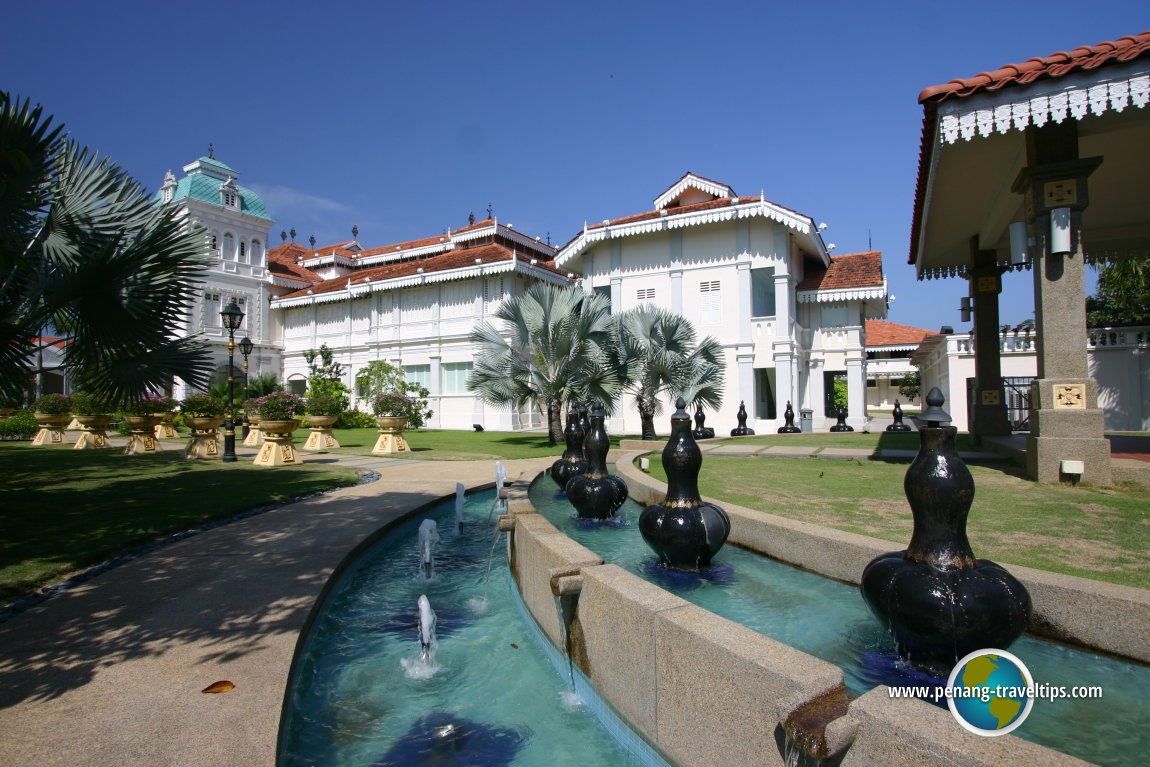 Labu Sayong fountain at Istana Ulu, Kuala Kangsar
(31 January, 2006)

Kuala Kangsar is on the map of Perak
Buy Your Long-Distance Bus Tickets Here!
If you are planning to travel Malaysia and Singapore by bus, you can now purchase your long-distance bus tickets directly from
Bus Online Ticket
, where you get to check the schedule as well as price of tickets from various bus companies.
About me