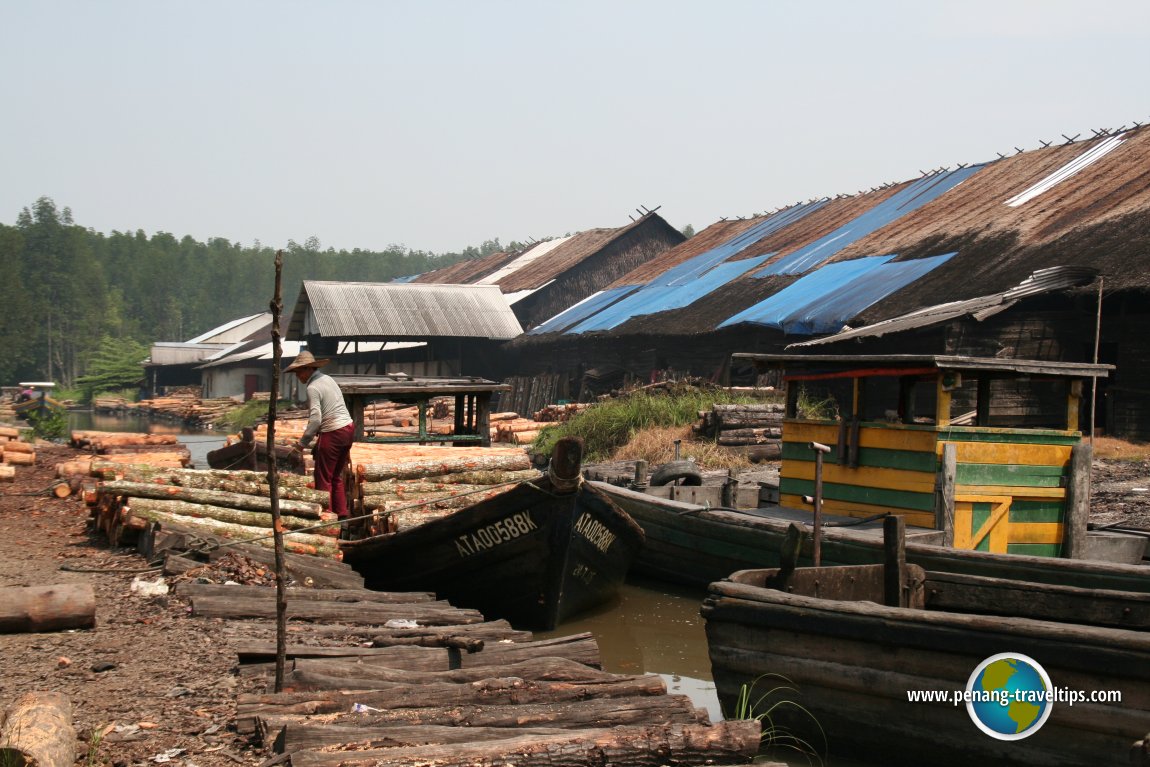 Mangrove lumber arriving by boat at the Kuala Sepetang Charcoal Factory
(1 July, 2007)


Kuala Sepetang Charcoal Factory
(GPS: 4.83908, 100.6369) is a charcoal-making factory in
Kuala Sepetang, Perak
. It is located on the south side of Jalan Taiping-Kuala Sepetang (Federal Route 74), about 900 meters from heart of Kuala Sepetang. Its location is ideal, being surrounded by one of the largest tracts of mangrove forest in the country. Located between Sungai Kapal Changkok and the main road, the factory can receive freshly cut mangrove wood by boat from one end, and ship out finished charcoal by lorry on the other.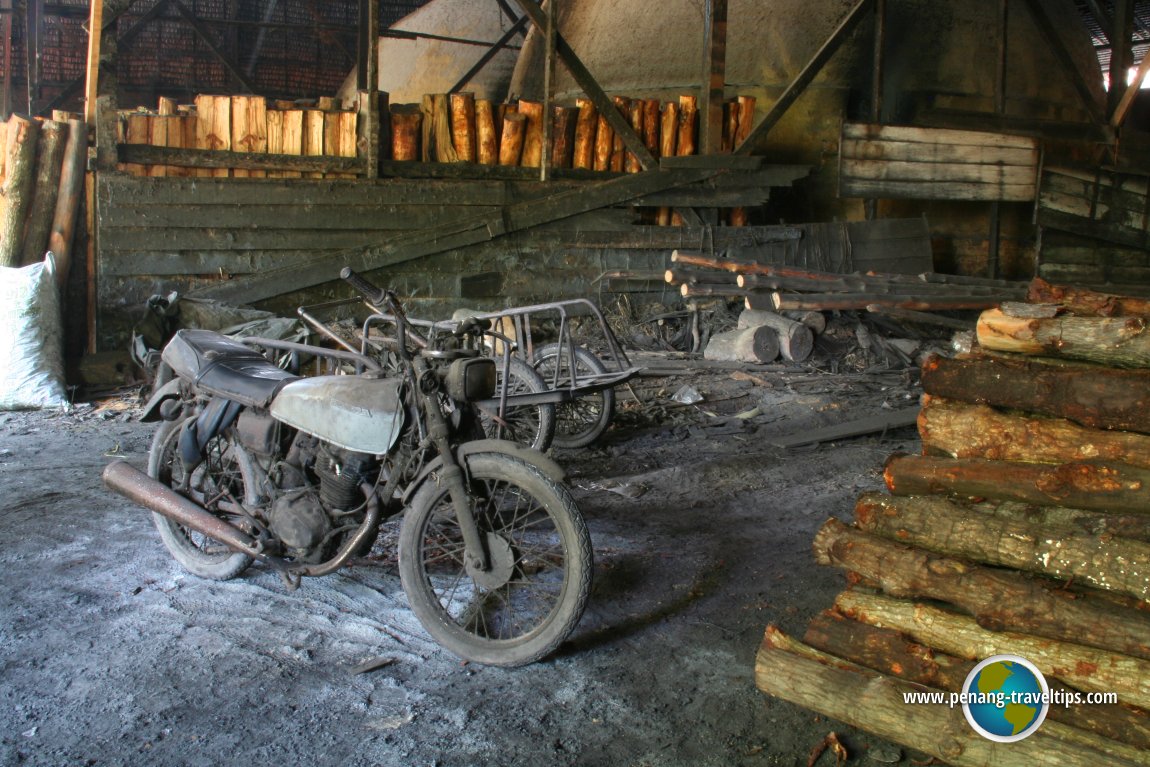 Everything appears covered in soot at the Kuala Sepetang Charcoal Factory.
(1 July, 2007)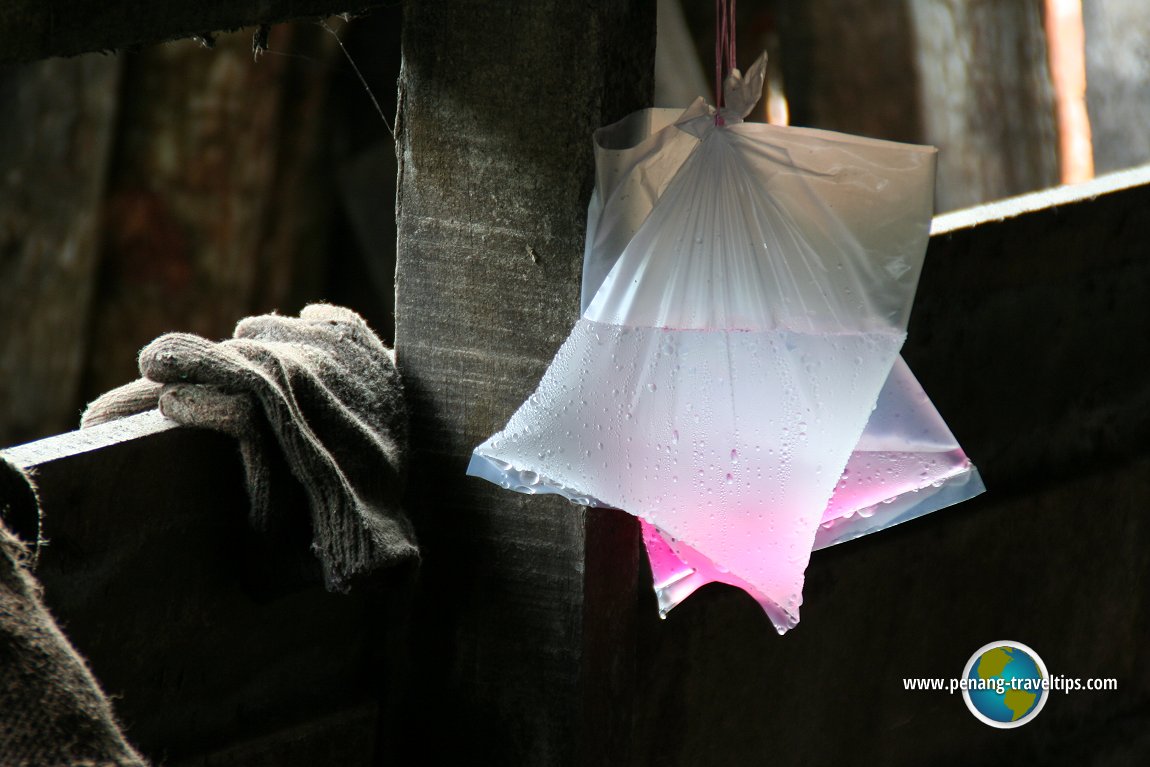 Something to cool down the workmen.
(1 July, 2007)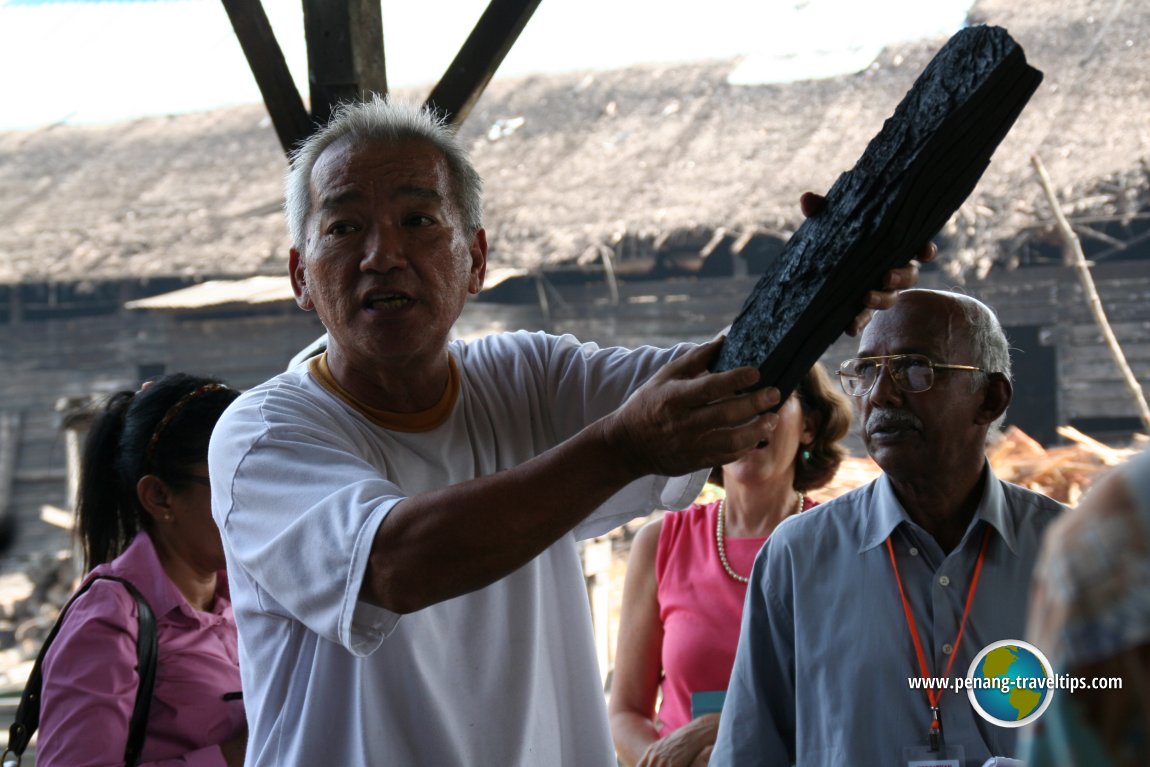 Mr Chuah explaining the process of making charcoal to visitors
(1 July, 2007)

The Kuala Sepetang Charcoal Factory is run by the jovial Mr Chuah (phone: 012 573 9563), who has turned the factory into a popular tourist destination, receiving numerous tour coaches during weekends, as streams of tourist come here to listen to Mr Chuah providing explanation in English and Mandarin on charcoal making, and the various uses of charcoal, which extends from cooking to filtration and cosmetics.
Only two types of mangrove trees are suitable for making charcoal. They are the Bakau Minyak (
Rhizophora apiculata
) and the Bakau Kurap (
Rhizophora mucronata
).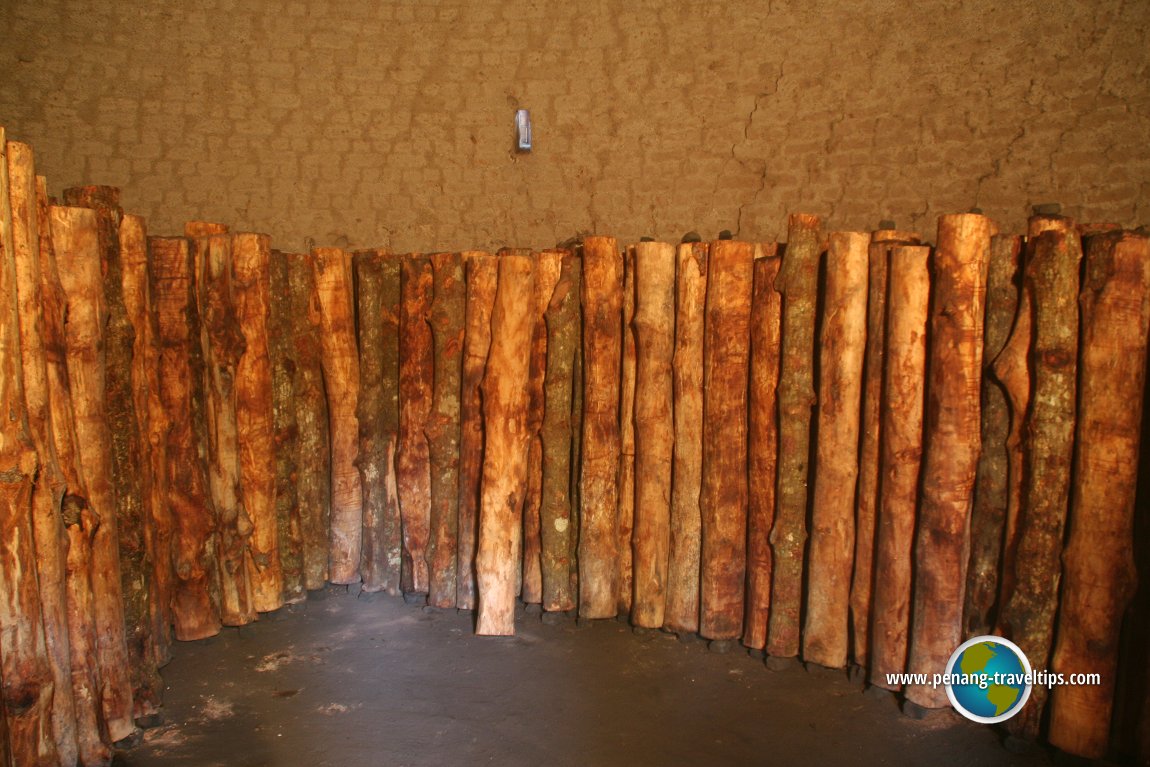 Wood stacked vertically inside the kiln in preparation for the first round of firing.
(1 July, 2007)

Wooden logs undergo a three-stage process to transform into charcoal. They are the Major Firing, the Minor Firing and the Cooling. In this first stage, the logs are stacked vertically inside the kiln and a big fire is made to burn the wood continuously for 5 to 7 days. That continues into the second stage, where the fire is reduced, and the wood is burned for another 7 to 10 days. The exact duration of this firing is dependent on the amount of moisture in the wood. A workman with expertise will be able to determine when to stop the firing by simply judging the smell and colour of fumes emitting from kiln.
Once this second firing is deemed completed, all openings of the kiln are sealed off, so that no air could enter it. The kiln is then allowed to cool down on its own, from between 10 to 13 days. And then the wood would have turned into charcoal and can be removed from the kiln. Therefore the entire process of making charcoal takes about a month. There are numerous kilns at the Kuala Sepetang Charcoal Factory. Each can produce about 10 tonnes of charcoal for each round. A highlight of a visit to the Kuala Sepetang Charcoal Factory is seeing those giant beehive-like kilns used for smoking wood into charcoal. If you are lucky, you may even have a chance to enter a kiln that is in between use.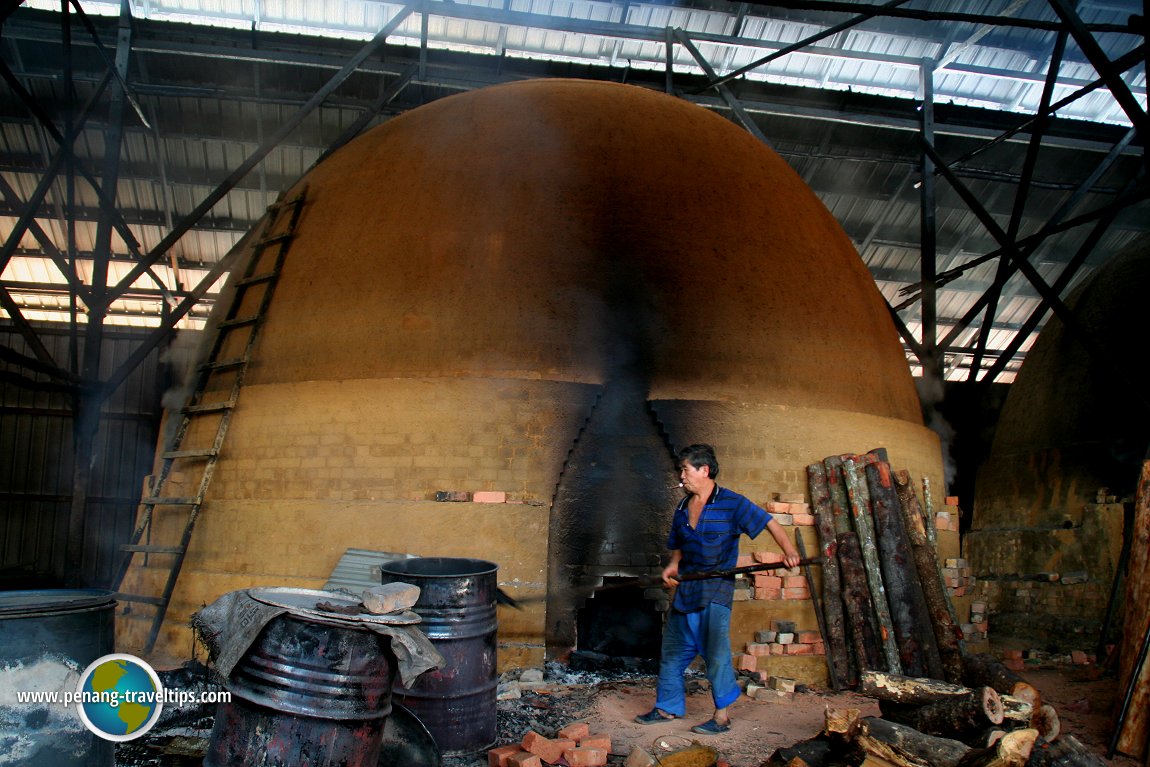 Workman managing the firing of a charcoal kiln
(1 July, 2007)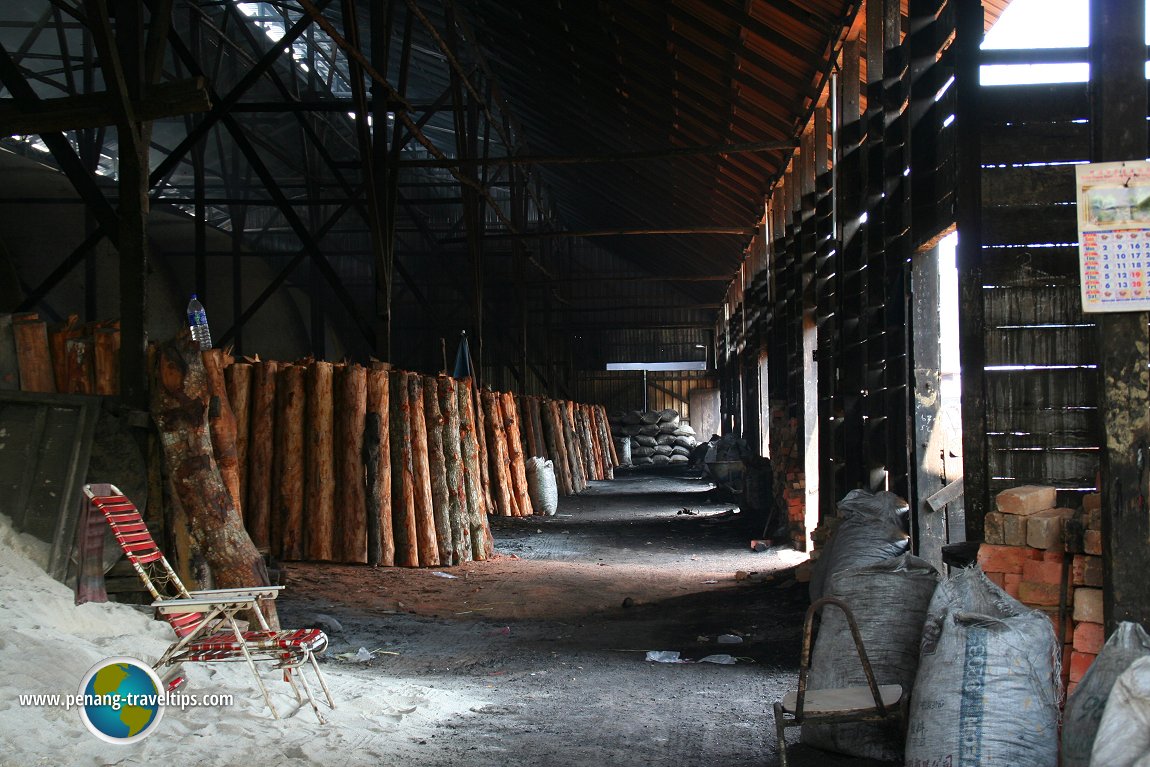 View inside the Kuala Sepetang Charcoal Factory
(1 July, 2007)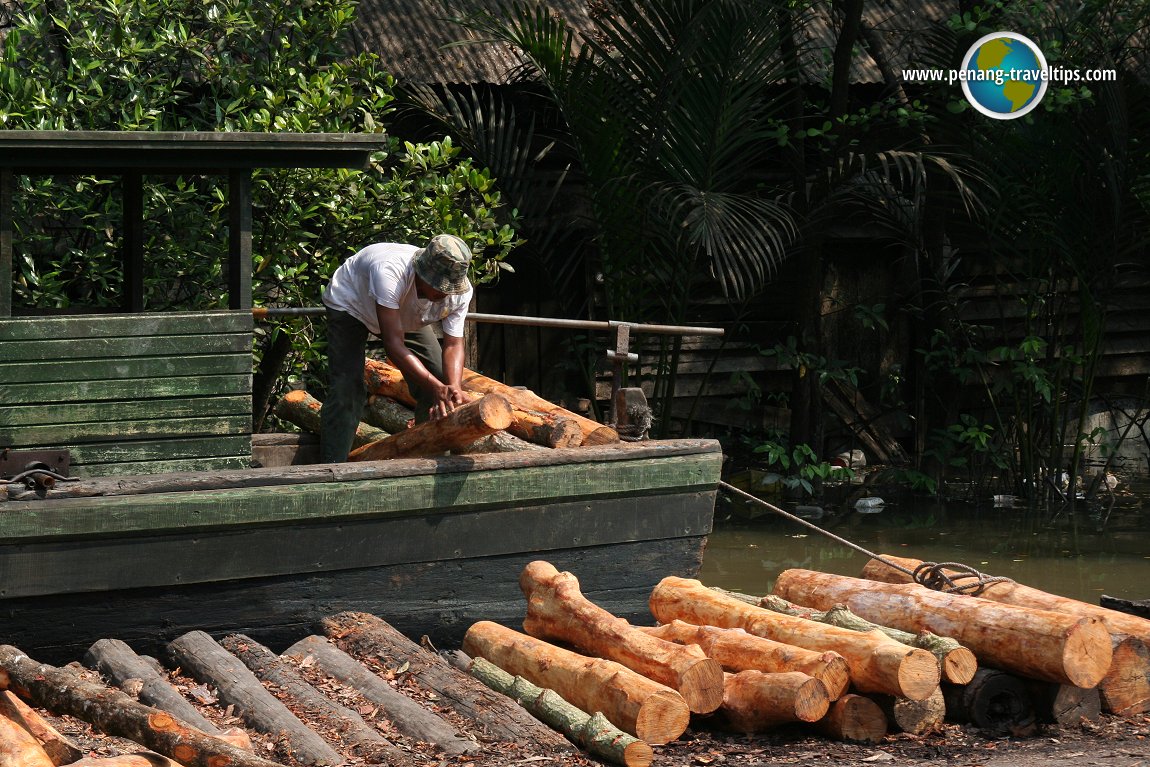 Workman downloading logs from boat to the Kuala Sepetang Charcoal Factory
(1 July, 2007)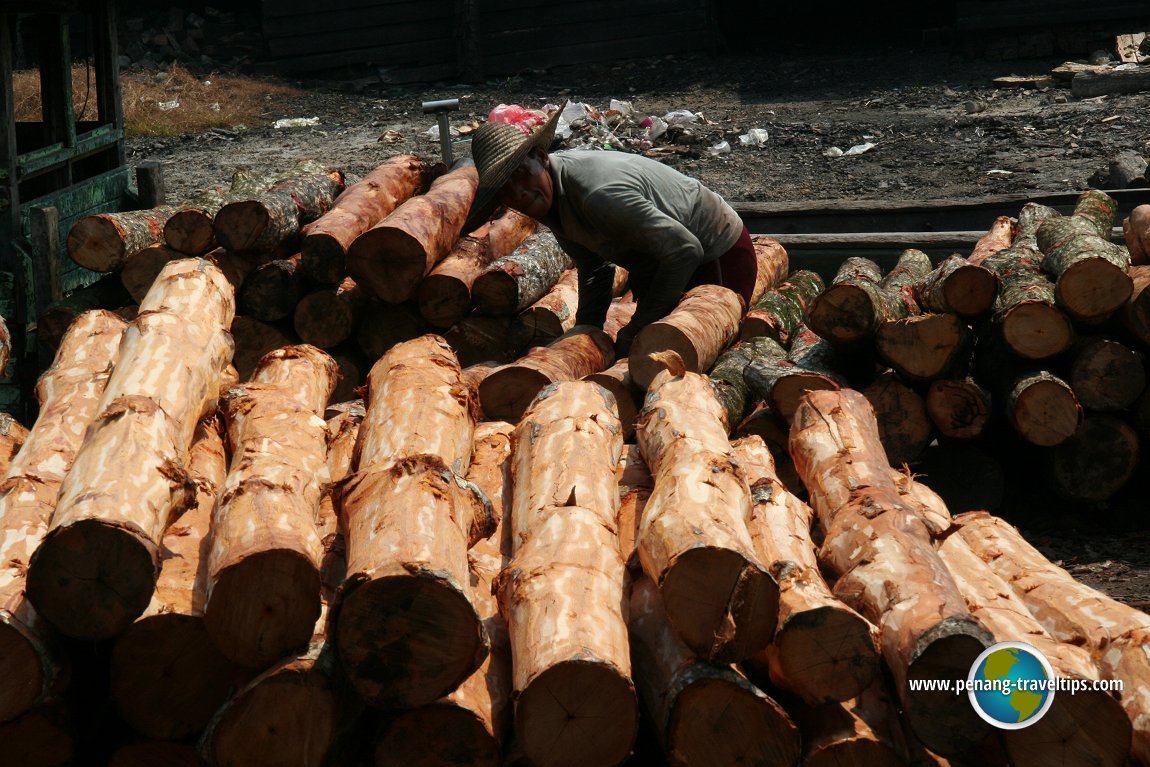 Logs at Kuala Sepetang Charcoal Factory are stacked together
(1 July, 2007)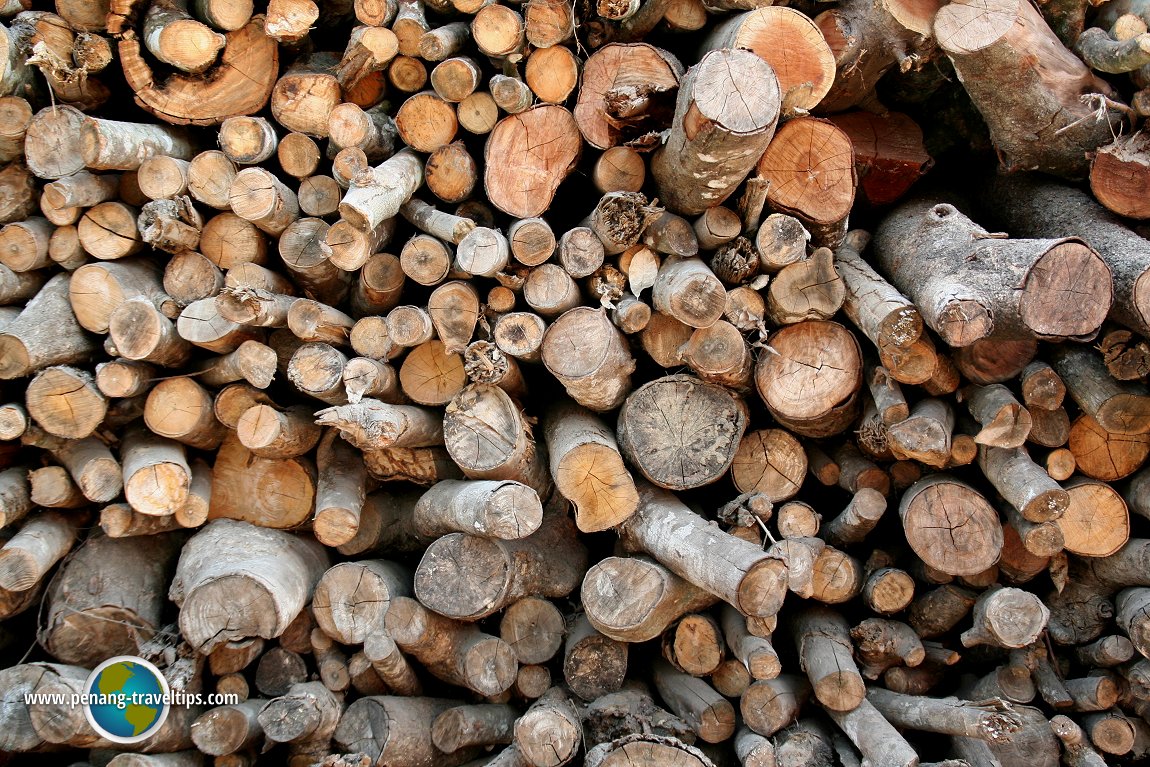 Stacks of logs at the Kuala Sepetang Charcoal Factory
(1 July, 2007)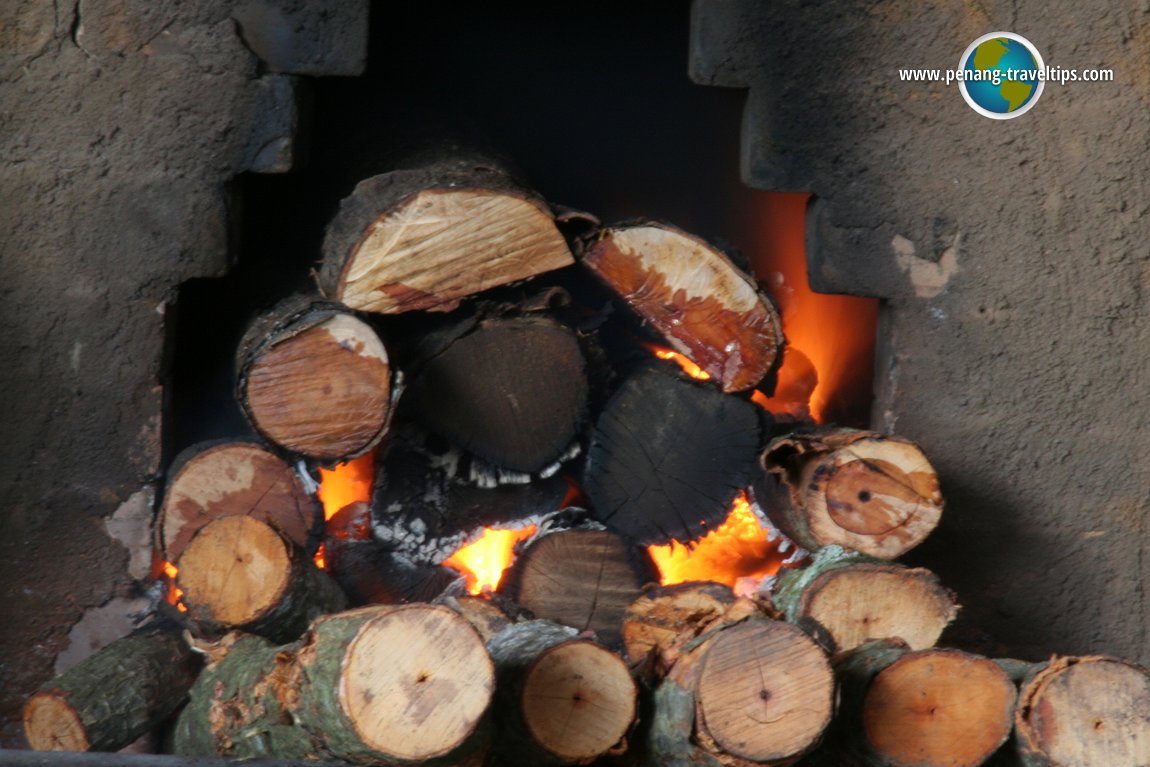 Wood being fired to heat up the kiln for the smoking process
(1 July, 2007)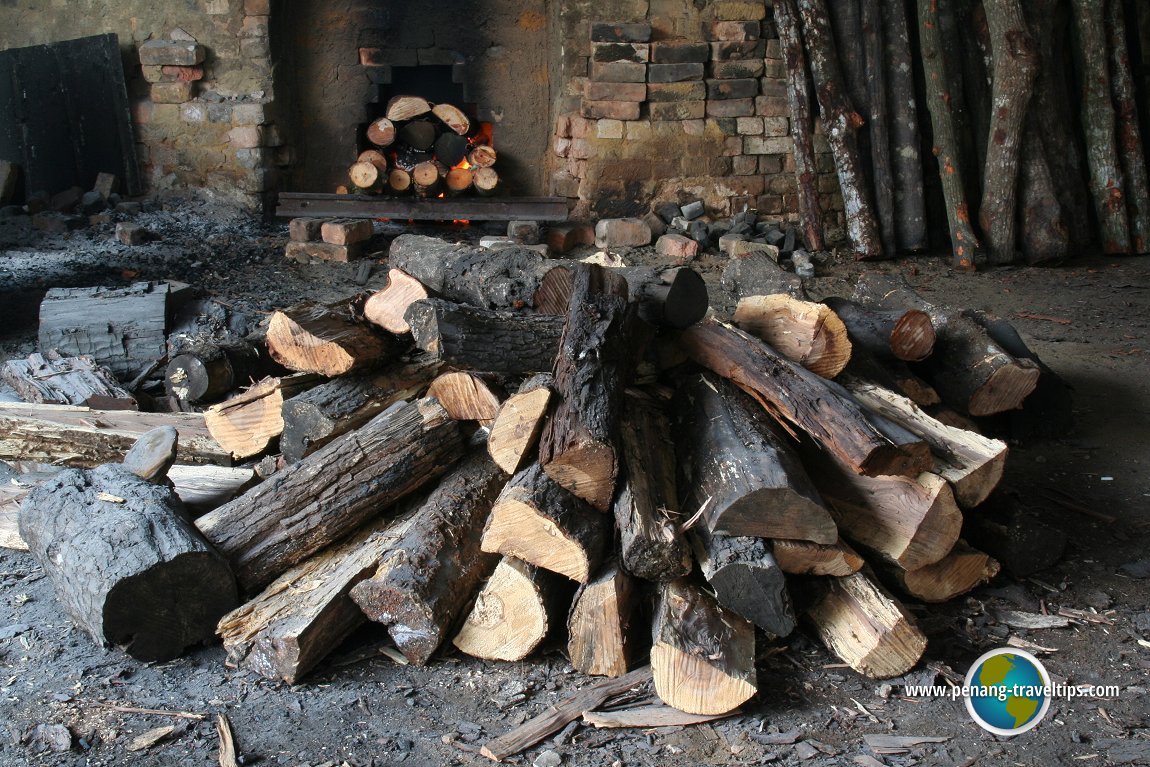 Firewood being made ready for smoking the kilns
(1 July, 2007)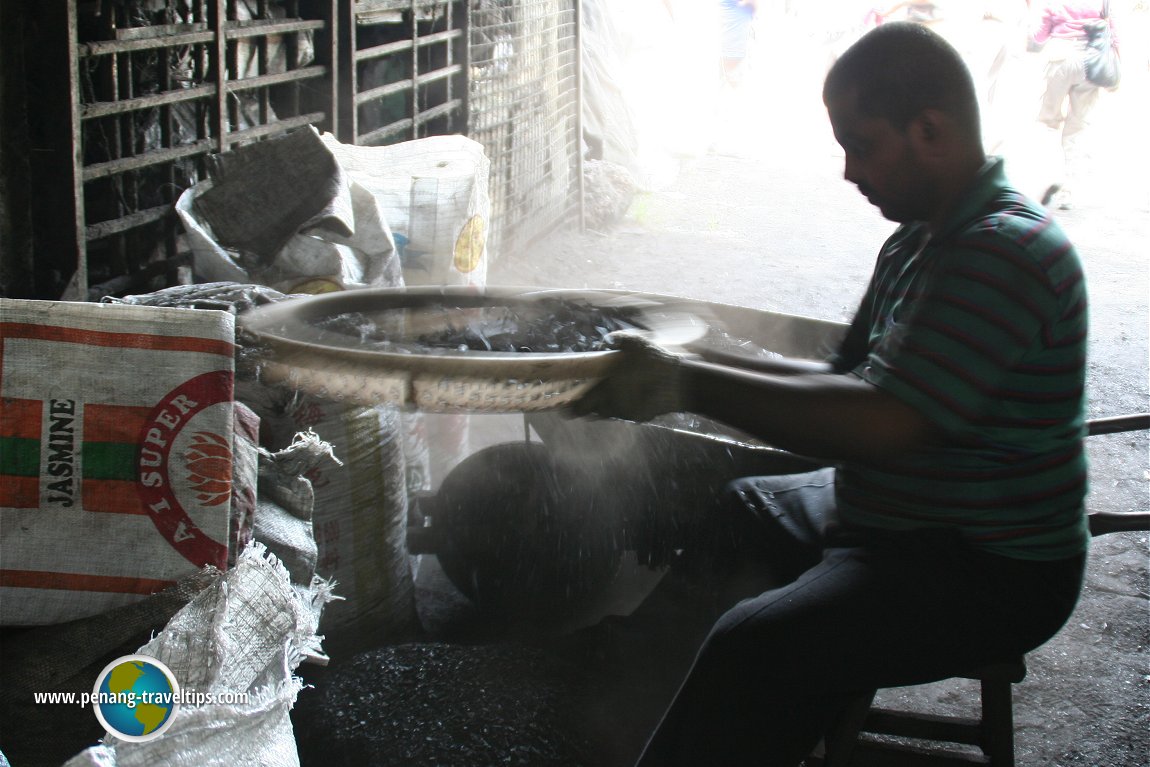 Workman sieving small pieces of charcoal so that different size pieces can be used for different purposes.
(1 July, 2007)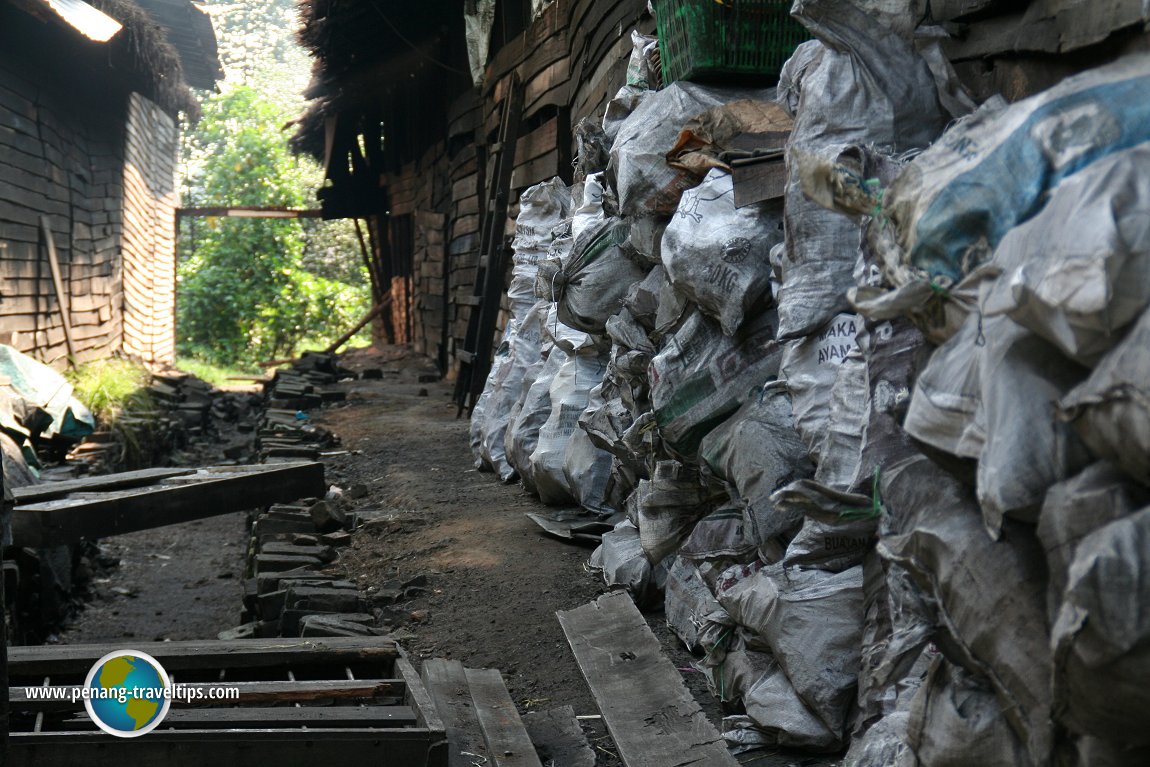 Stacks of charcoal ready to be shipped out.
(1 July, 2007)

360&deg View of Kuala Sepetang Charcoal Factory on Google Maps Street View
Kuala Sepetang Charcoal Factory
Kuala Sepetang Charcoal Factory is on the map of Kuala Sepetang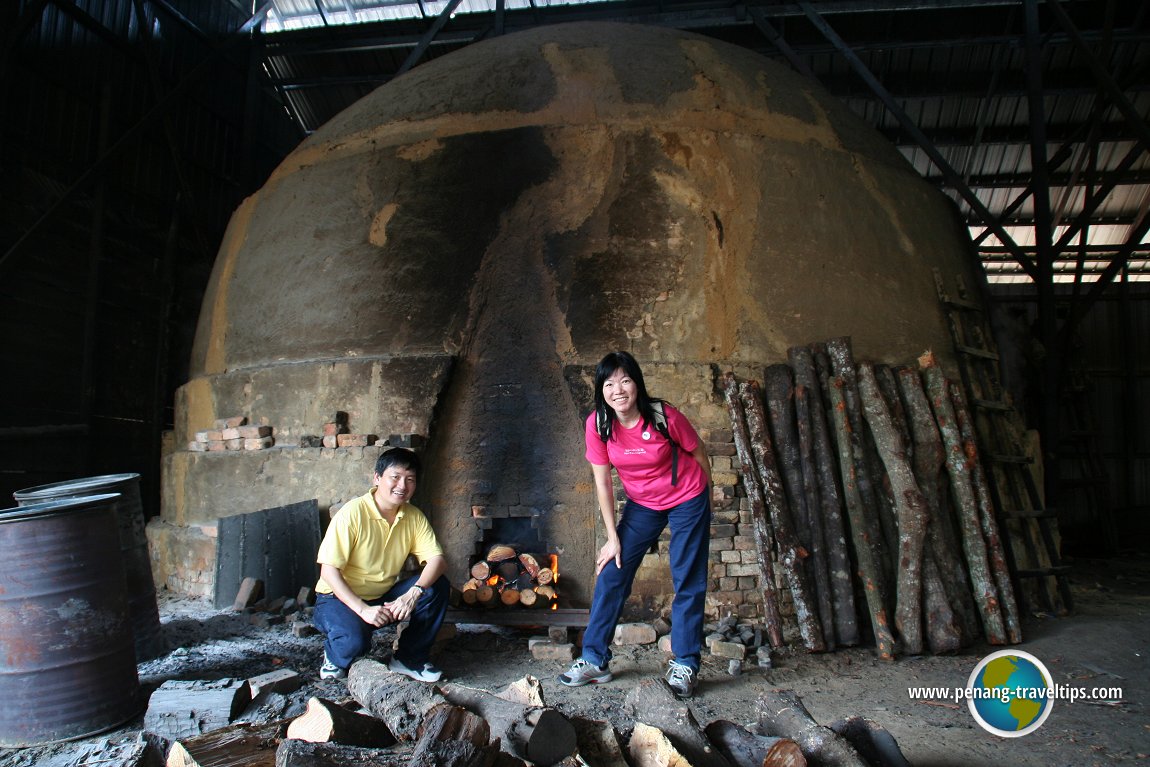 My wife and I with a charcoal kiln at the Kuala Sepetang Charcoal Factory
(1 July, 2007)

You can look for and book your hotel room direct from this website.
Find hotels in the different towns in Perak
, or use the search box below to look for hotels in Perak's capital, Ipoh. Filter the results based on your requirement, everything from five star hotels to homestays and more.
Enjoy a vacation at The Haven Resort Hotel Ipoh, an award-winning all suite resort nestled in the midst of the limestone hills of Ipoh, now with an exclusive 10% discount for readers of this website!
Buy Your Long-Distance Bus Tickets Here!
If you are planning to travel Malaysia and Singapore by bus, you can now purchase your long-distance bus tickets directly from
Bus Online Ticket
, where you get to check the schedule as well as price of tickets from various bus companies.
About me
Hello and welcome! My name is
Timothy Tye
or simply Tim. This is my personal encyclopedia. I created it to compile all the information about places. It represents my body of travel knowledge collected since 2003, and still being updated almost daily.
As a Christian, I write on travel so that
God's Good News
can reach every corner of the world and connect with those needing it. If you wish to ask me anything, feel free to
contact me here
. Thank you for visiting, and have a great day!
Copyright © 2003-2017
Timothy Tye
. All Rights Reserved.