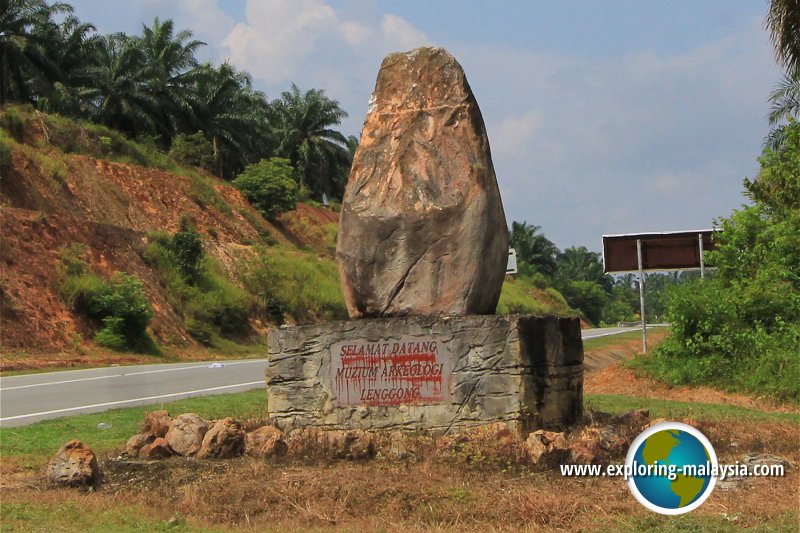 Stone signage enroute to the archaeological museum in Lenggong, Perak
(6 September, 2015)


Lenggong
(GPS: 5.10667, 100.96469) is a small town in
Hulu Perak
, Malaysia. It is located about 100km north of Ipoh on the Kuala Kangsar-Grik (aka Gerik) road, a highway completed in 2006 to link Kuala Kangsar and Grik. Located beside the Perak River, it is the site of Peninsular Malaysia's most important discovery, the prehistoric skeleton of the 11,000-year-old Perak Man, and West Malaysia only Paleolithic sites.
The Perak Man is one of the most complete prehistoric skeletons found in Southeast Asia. It is also the only prehistoric skeleton in the world with congenital deformity known as
Brchymesophalangia Type A2
. The skeleton was found buried in a foetal position. He had both legs folded towards the chest. He is a male with a height of 157 cm, and is estimated to be in his 50s
1
. The funerary items found with his remains included stone tools and numerous riverine shells. The person is a male aged about forty to forty-five, and is about 154 cm in height.
Location of the places of interest in Lenggong
Places of interest in Lenggong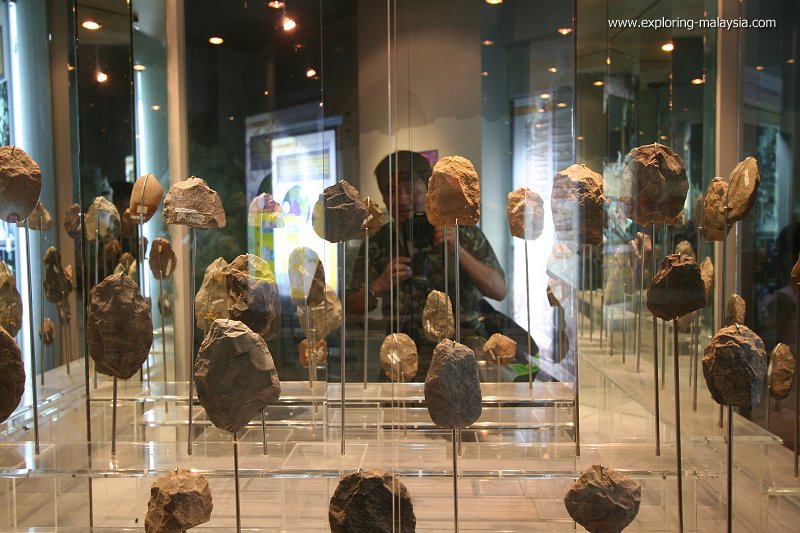 Flints at the Lenggong Archaeological Museum
(4 February, 2006)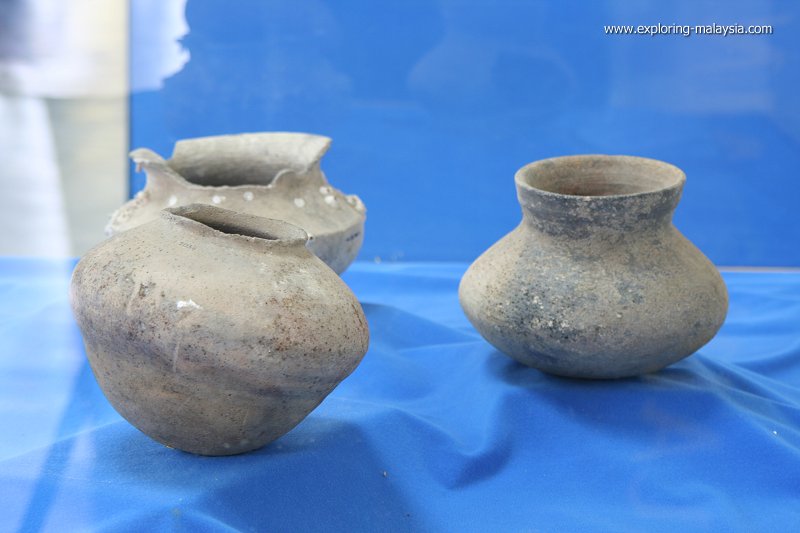 Earthenware at the Lenggong Archaeological Museum
(4 February, 2006)

The archaeological sites in Lenggong includes Bukit Jawa, Kota Tampan, Gua Gunung Runtuh and Gua Harimau. In 2012, the
Archaeological Heritage of the Lenggong Valley
was inscribed by UNESCO as a cultural heritage site under criterias (iii) and (iv). It is regarded as one of the longest records of the presence of early man within a single locality. According to paleontologists, the Lenggong area bears evidence of a semi-sedentary population from the Paleolithic, Neolithic and Metal ages.
The town is located beside Tasik Raban, a freshwater lake. As a result of its proximity to fresh water, Lenggong is popular for its freshwater fish dishes.
Lenggong was inscribed as World Heritage Site during the 36th session of the World Heritage Committee meeting in Saint Petersburg, Russia, on 2 July, 2012 under the title "Archaeological Heritage of the Lenggong Valley".
Getting there
Lenggong is located on Route 76 which links
Kuala Kangsar
with
Baling
. To reach it from the North-South Expressway (E1), exit the highway at the Kuala Kangsar Interchange (Exit 143). From there take Route 76 in the direction of Baling.
Getting around
Distances are far at Lenggong. It is recommended that you have your own transport, such as a car or even a four-wheel drive vehicle.
Lenggong is on the map of Perak
References
Perak, so much to explore and discover!
To continue exploring Perak, select another destination from the map below!
Enjoy a vacation at The Haven Resort Hotel Ipoh, an award-winning all suite resort nestled in the midst of the limestone hills of Ipoh, now with an exclusive 10% discount for readers of this website!
Buy Your Long-Distance Bus Tickets Here!
If you are planning to travel Malaysia and Singapore by bus, you can now purchase your long-distance bus tickets directly from
Bus Online Ticket
, where you get to check the schedule as well as price of tickets from various bus companies.
About me
Hello and welcome! My name is
Timothy Tye
or simply Tim. This is my personal encyclopedia. I created it to compile all the information about places. It represents my body of travel knowledge collected since 2003, and still being updated almost daily.
As a Christian, I write on travel so that
God's Good News
can reach every corner of the world and connect with those needing it. If you wish to ask me anything, feel free to
contact me here
. Thank you for visiting, and have a great day!
Copyright © 2003-2017
Timothy Tye
. All Rights Reserved.