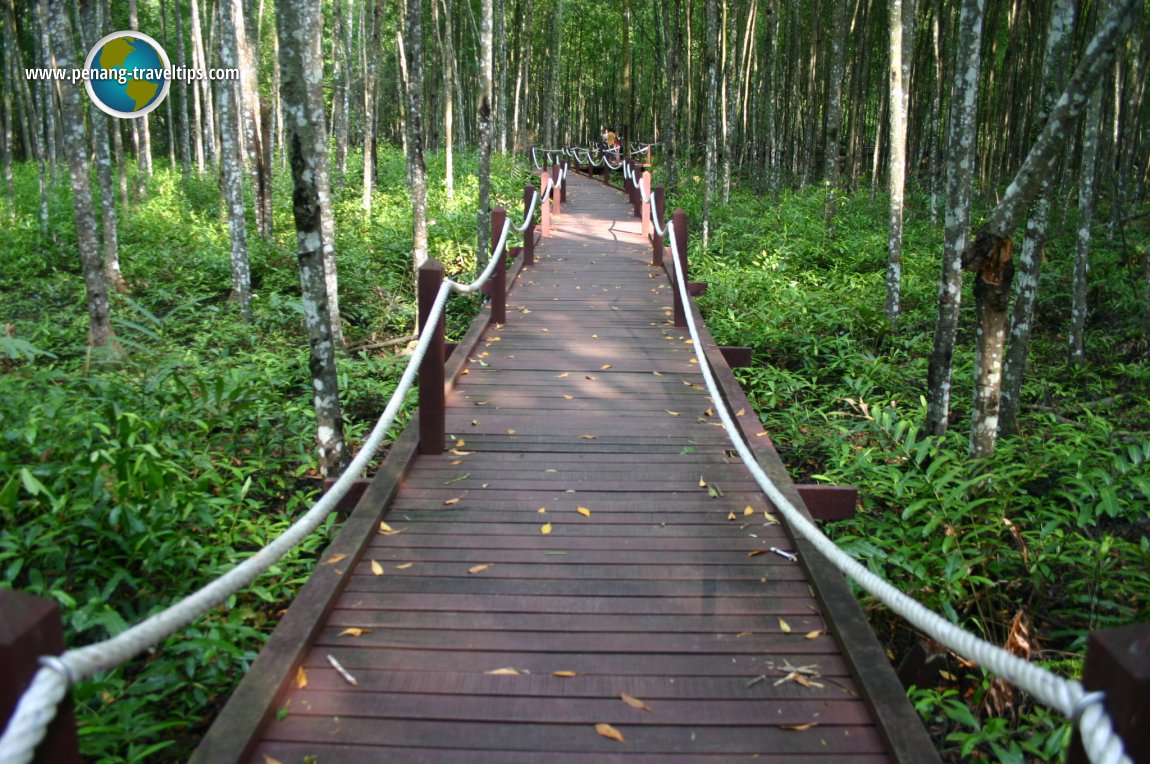 Matang Mangrove Forest Reserve
(16 April, 2005)


The
Matang Mangrove Forest Reserve
(GPS: 4.83984, 100.63498) is the largest mangrove forest reserve in Malaysia. It forms a crescent strip along the northern coast of Perak state, stretching 51.5km from
Kuala Gula
to the north to
Bagan Panchor
to the south, with a maximum width of 13km. Covering an area of more than 40,000 hectares, the Matang Mangrove Forest Reserve is one of the best managed tract of mangrove forest in the world.
The Matang Mangrove Forest Reserve is the oldest in the country. Matang was gazetted a permanent forest reserve way back in 1906. 80% of the forest is still used for the production of mangrove woods including
Bakau minyak
and
Bakau kurap
, on a sustainable yield basis. The Matang forest is watered through the daily flooding brought in by the tide. Major rivers that flow through the Matang forest include Sungai Gula, Sungai Kelumpang, Sungai Selinsing, Sungai Sangga Besar, Sungai Sepetang, Sungai Jaha, Sungai Terung and Sungai Jarum Mas. The estuaries within the Matang forest range in width from 2 to 4 km. They include Kuala Gula-Kuala Kelumpang, Kuala Selinsing-Kuala Sangga Besar, Kuala Larut-Kuala Jaha, Kuala Trong and Kuala Jarum Mas.
The Matang Mangrove Forest is an important site for coastal migratory waterbirds as well as a portion of migrant forest birds. According to the Malaysian Nature Society, as many as 43,000 to 85,000 birds may be using the forest during migration. According to the Department of Wildlife and National Parks in 1995, species of birds in the Matang mangrove forest number 75. The 255 hectare Pulau Kelumpang and 129.4 hectare Pulau Terong support a viable breeding population of the Milky Stork, which is endangered, and approximately 50% of the Lesser Adjutant in Malaysia.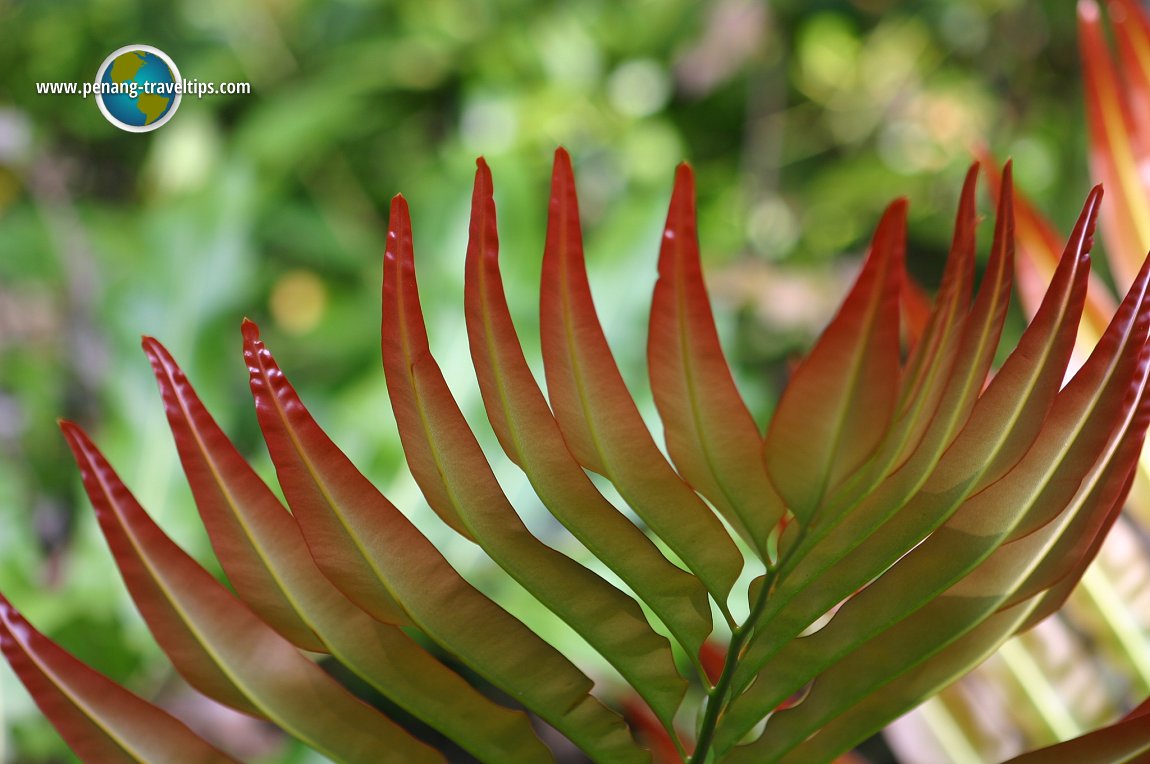 Acrostichum aureum, also known as Pakis Bakau Gergasi, can grow to 3-4 metres in height.
(16 April, 2005)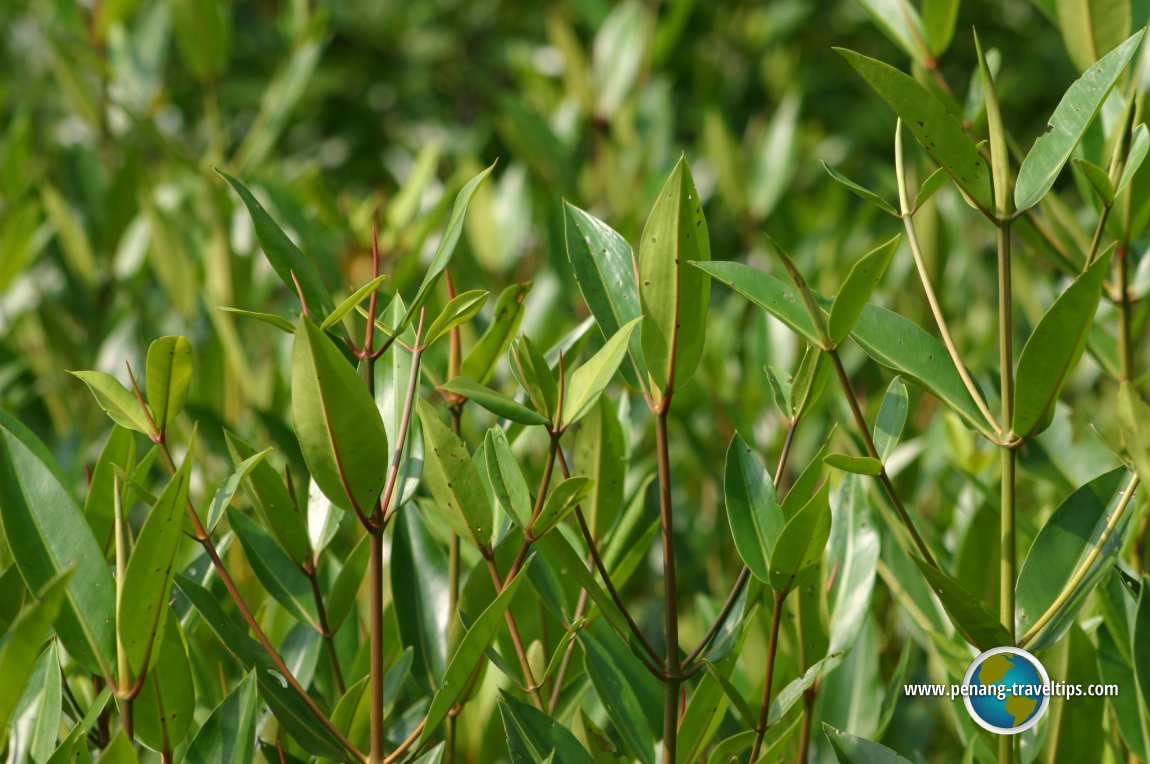 New shoots appearing at the Matang Mangrove Forest Reserve
(16 April, 2005)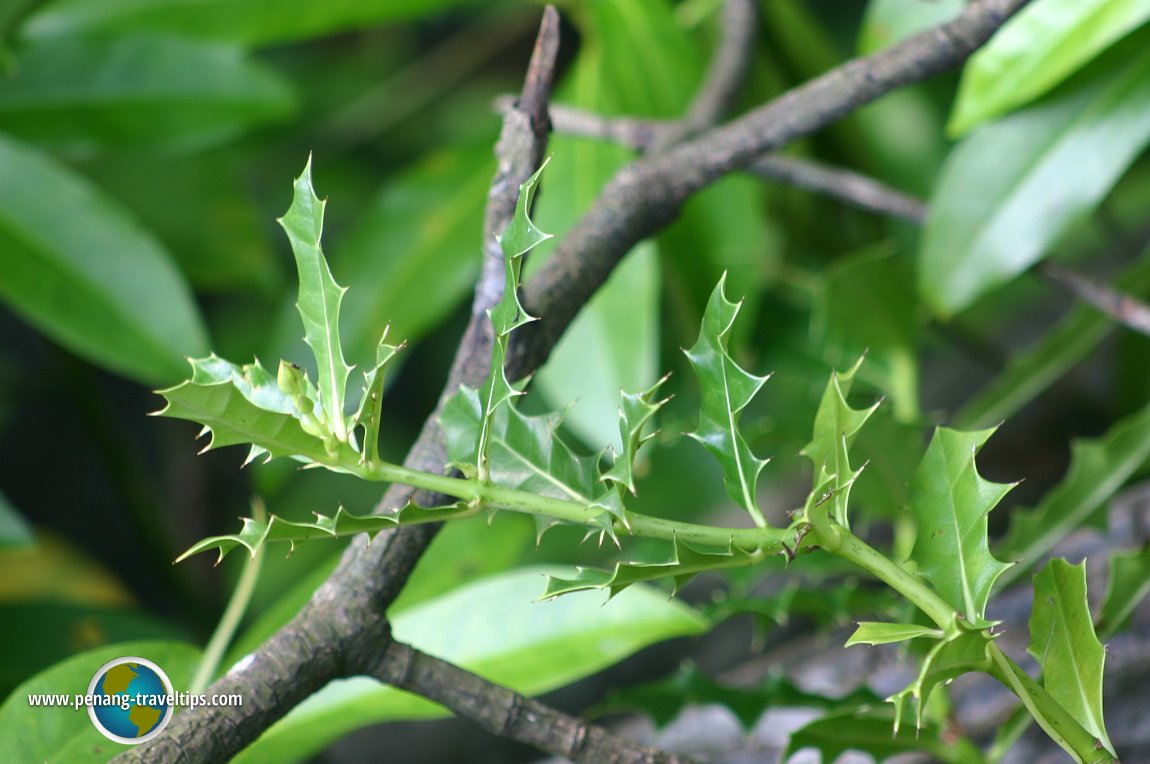 Mangrove shrub looking like Christmas holly.
(16 April, 2005)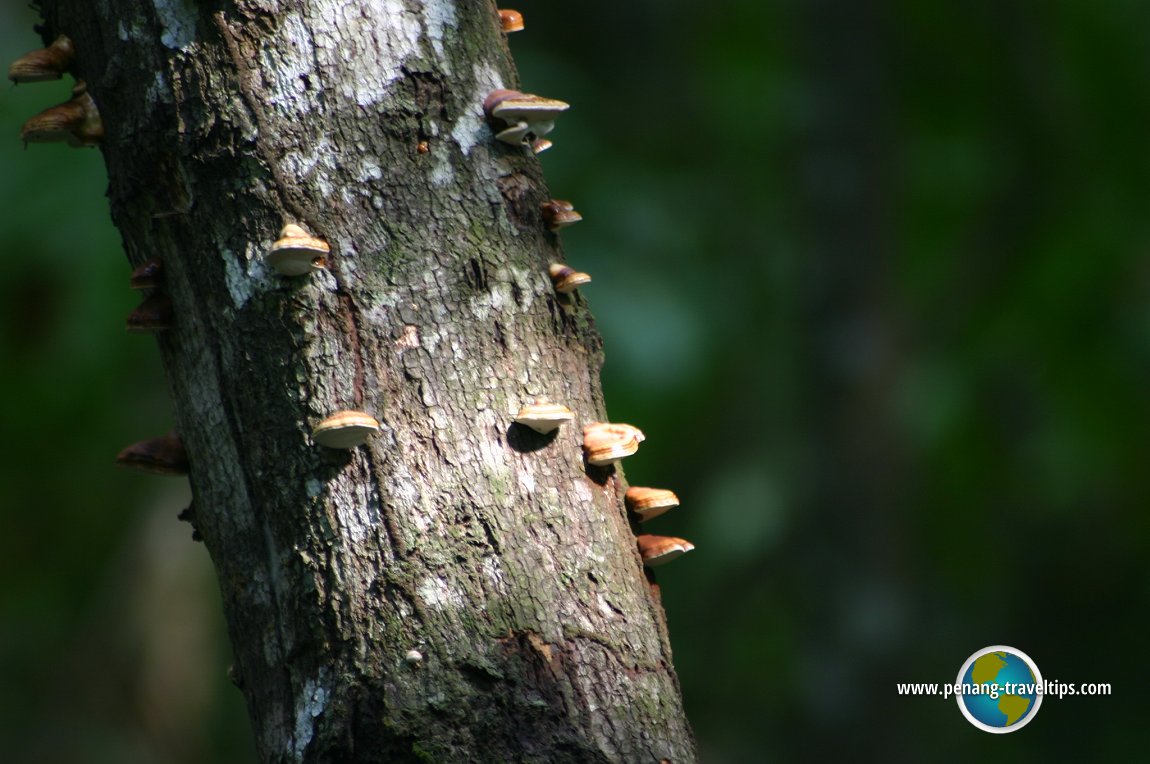 Fungus growing on a tree trunk.
(16 April, 2005)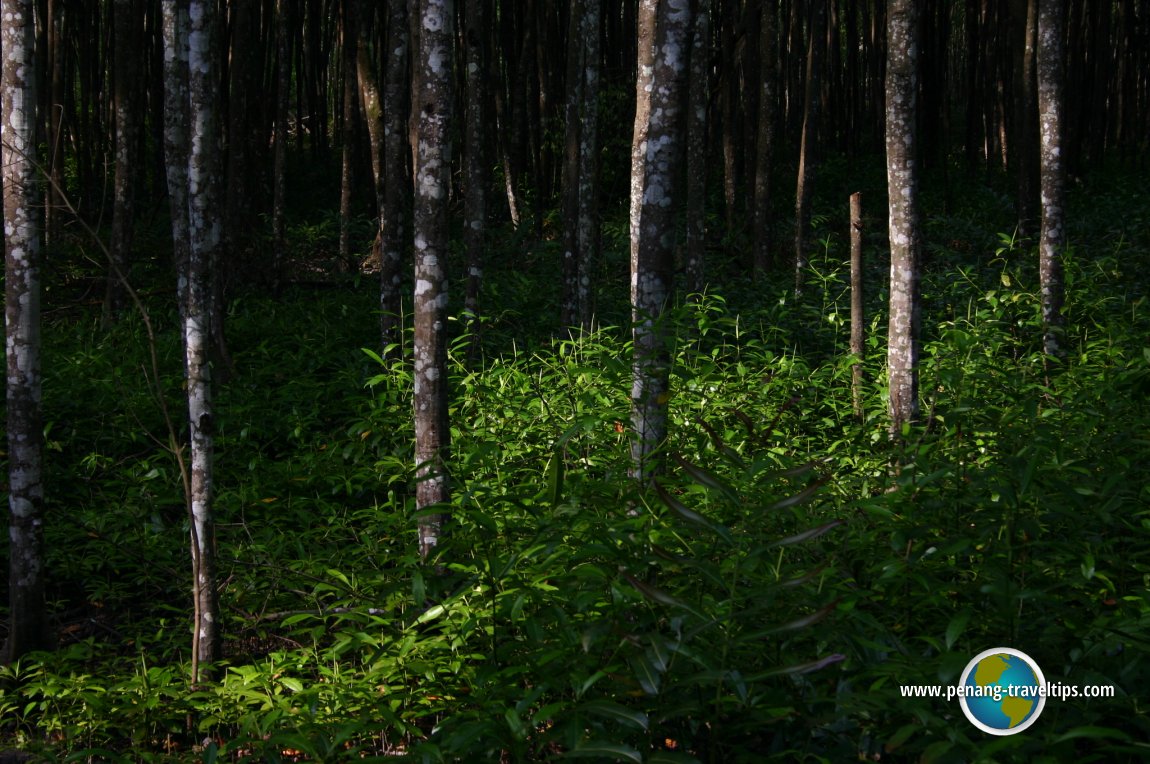 Sunlight falling on the undergrowth at the Matang Mangrove Forest Reserve.
(16 April, 2005)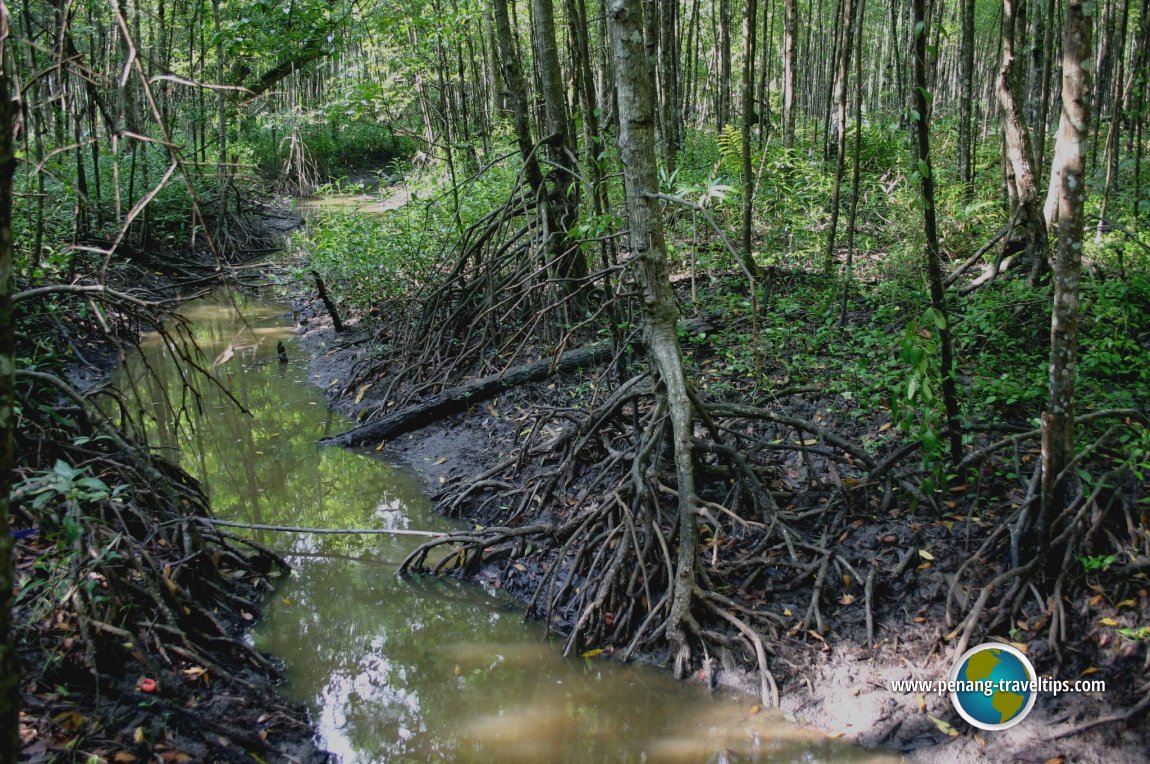 Aerial roots of mangrove trees in the forest.
(16 April, 2005)

How to go to the Matang Mangrove Forest Reserve
The Matang Mangrove Forest Reserve is located in the Larut Matang District, in Perak, Malaysia. To get there, exit the North-South Expressway at Exit 146 Changkat Jering for members coming from Kuala Lumpur, and Exit 148 Kamunting/Taiping for members coming from Penang. Take the road towards Kuala Sepetang (Port Weld). Ask for directions if necessary. The Matang Mangrove Forest Reserve is about 2 km from the
pekan
of Kuala Sepetang.
Matang Mangrove Forest Reserve is on the map of Matang
Perak, so much to explore and discover!
To continue exploring Perak, select another destination from the map below!
Enjoy a vacation at The Haven Resort Hotel Ipoh, an award-winning all suite resort nestled in the midst of the limestone hills of Ipoh, now with an exclusive 10% discount for readers of this website!
Buy Your Long-Distance Bus Tickets Here!
If you are planning to travel Malaysia and Singapore by bus, you can now purchase your long-distance bus tickets directly from
Bus Online Ticket
, where you get to check the schedule as well as price of tickets from various bus companies.
About me
Hello and welcome! My name is
Timothy Tye
or simply Tim. This is my personal encyclopedia. I created it to compile all the information about places. It represents my body of travel knowledge collected since 2003, and still being updated almost daily.
As a Christian, I write on travel so that
God's Good News
can reach every corner of the world and connect with those needing it. If you wish to ask me anything, feel free to
contact me here
. Thank you for visiting, and have a great day!
Copyright © 2003-2017
Timothy Tye
. All Rights Reserved.