Gua Kelam, at Kaki Bukit, Perlis.
(30 April, 2005)

Gua Kelam
, which in local dialect means dark cave, is a 370m mining tunnel in Kaki Bukit, Perlis. It is part of the limestone cave system in northern Perlis. Gua Kelam was enlarged in 1935 by the British to transport tin ore.
According to history, tin was discovered here when a Malay man by the name of Nayan started mining it at Sungai Pelarit, near here. Later on, he sold his operations to the Kong Fatt Mining Company. The tray system was used to mine for tin. As reach the tin, the miners dug pits as deep as 200 meters. Downpours often caused floods that trap and drowned many miners.
Arrival at Gua Kelam.
Entrance to Gua Kelam.
Today, Gua Kelam gets a breath of new life as one of Perlis's tourist attractions. It is located at the village of Kaki Bukit, meaning foot of the hill. Kaki Bukit used to be a tin-mining outpost.
Gua Kelam is entered through the cave entrance at Kaki Bukit. There is an entrance fee of RM1 for adults and RM0.50 for children to enter the cave. The walkway is generally well kept, though taking photographs in the dark proves to be quite a challenge, as the walkway vibrates with every step - I had to wait till the walkway is empty of visitors before setting up my tripod to take the shots. On the other side of the cave is a recreational park, which some call the Gua Kelam Recreational Park, some call Kaki Bukit Recreational Park, and come call
Wang Tangga Recreational Park
.
There is a subterranean stream that flows below the walkway. As you reach the end of the tunnel, you'd see bright sunlight coming in from the mouth of the tunnel to make sparkles on the stream. The tunnel opens into the valley of
Wang Tangga
.
How to go to Gua Kelam, Kaki Bukit
Gua Kelam, Kaki Bukit, is located on the northernmost part of Malaysia, in Wang Kelian State Park. From Kangar, take Route 7 northwards. On the way, you will pass by the
Timah Tasoh Dam
. Eventually you arrive at a T-junction with one fork leading to Padang Besar while the other leads to Wang Kelian. Go in the direction of Wang Kelian, looking out for roadsign pointing to Gua Kelam and eventually you will arrive there.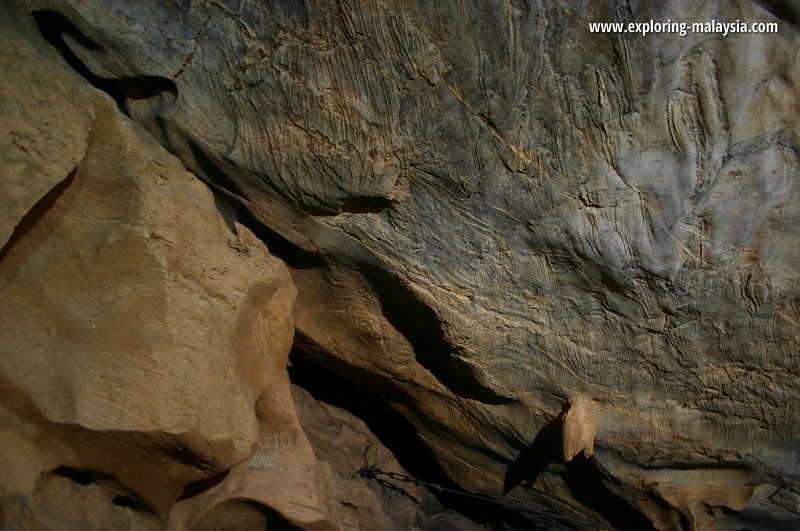 Texture of the cave wall of Gua Kelam.
(30 April, 2005)

Gua Kelam illuminated.
(30 April, 2005)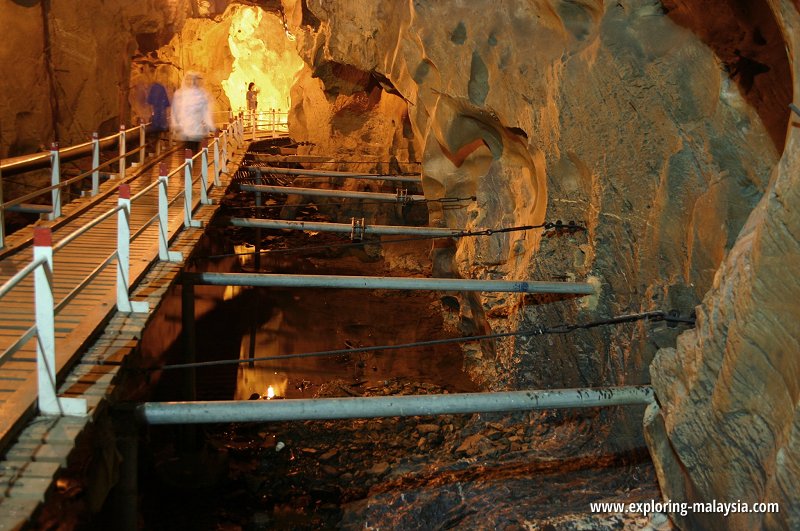 Support beams hold the walkway in place.
(30 April, 2005)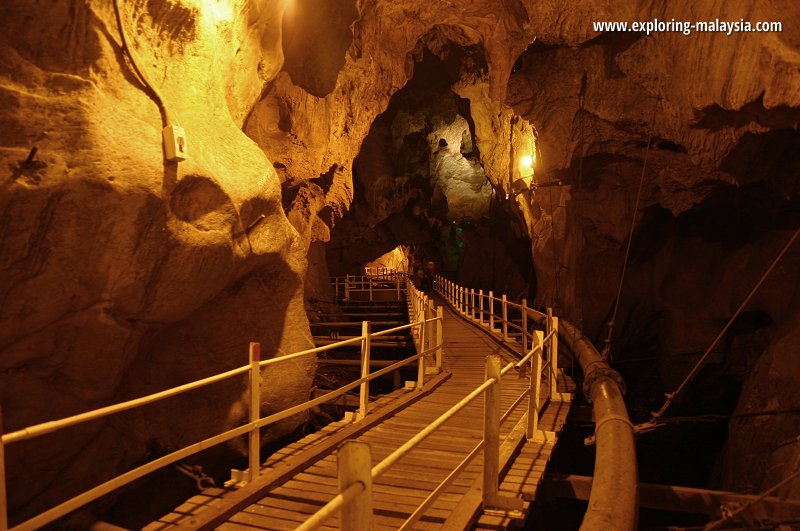 The walkway zigzags through Gua Kelam.
(30 April, 2005)

Scale-like rock formation within Gua Kelam.
(30 April, 2005)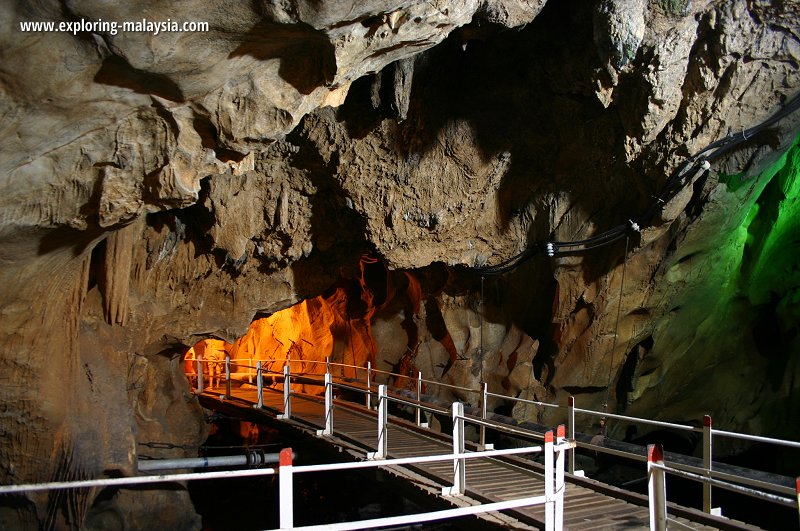 Rocky ceiling of Gua Kelam.
(30 April, 2005)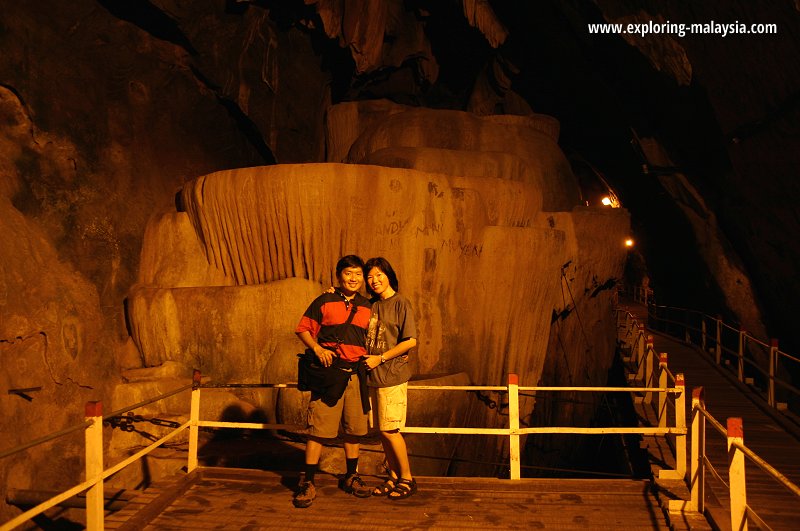 Tim and Chooi Yoke in Gua Kelam.
(30 April, 2005)

Location of Gua Kelam on map
You can look for and book your hotel room direct from this website.
Find hotels in the different towns in Perlis
, or use the search box below to look for hotels in Perak's capital, Kangar. Filter the results based on your requirement, everything from five star hotels to homestays and more.
Enjoy a vacation at The Haven Resort Hotel Ipoh, an award-winning all suite resort nestled in the midst of the limestone hills of Ipoh, now with an exclusive 10% discount for readers of this website!
Buy Your Long-Distance Bus Tickets Here!
If you are planning to travel Malaysia and Singapore by bus, you can now purchase your long-distance bus tickets directly from
Bus Online Ticket
, where you get to check the schedule as well as price of tickets from various bus companies.
About me
Hello and welcome! My name is
Timothy Tye
or simply Tim. This is my personal encyclopedia. I created it to compile all the information about places. It represents my body of travel knowledge collected since 2003, and still being updated almost daily.
As a Christian, I write on travel so that
God's Good News
can reach every corner of the world and connect with those needing it. If you wish to ask me anything, feel free to
contact me here
. Thank you for visiting, and have a great day!
Copyright © 2003-2017
Timothy Tye
. All Rights Reserved.