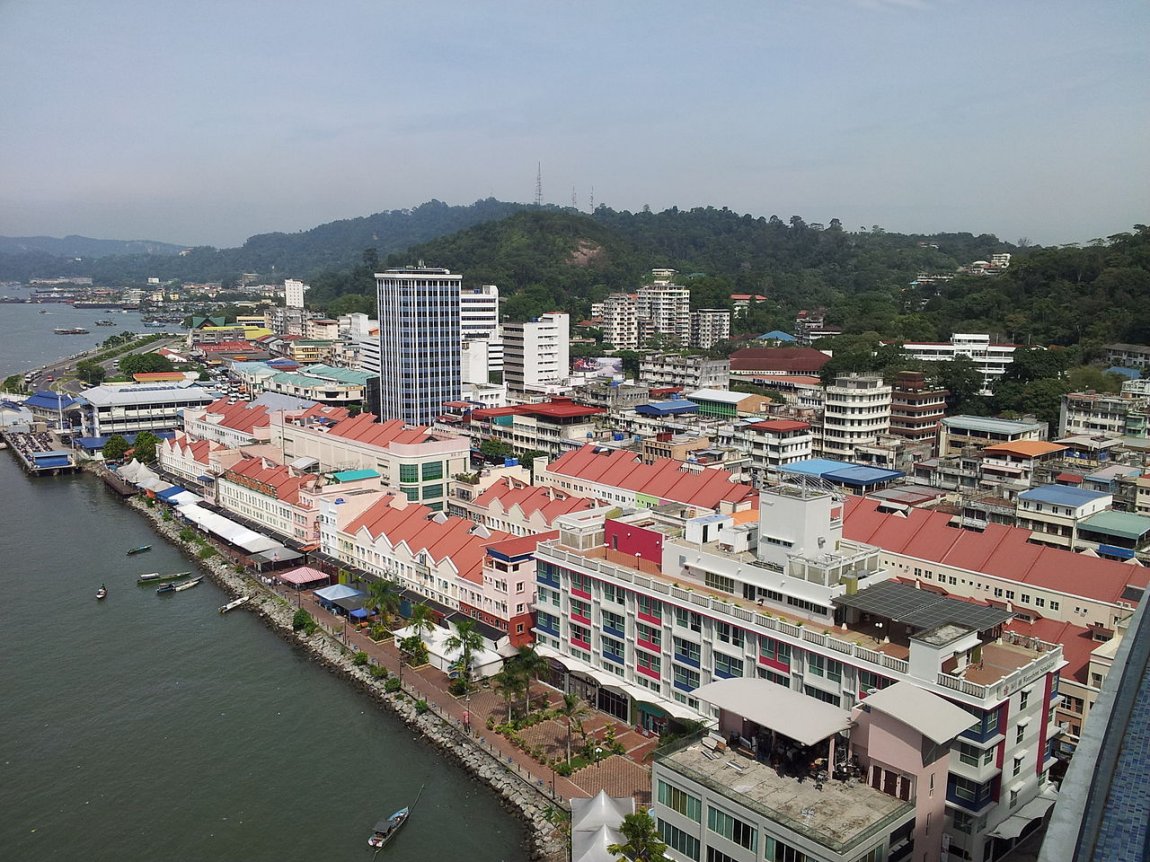 Sandakan, Sabah

https://commons.wikimedia.org/wiki/Category:Panoramic_and_aerial_views_of_Sandakan#/media/File:Sandakan_1.jpg


Atlasmotor



Sandakan
(GPS: 5.83944, 118.11717) is a major town in
Sabah
. It is located on the north-eastern coast of Sabah, and is the administrative capital of the Sandakan Division. This moderate size town was the capital of Sabah between 1883 and 1945, when the state was known as British North Borneo. Today it is the second largest city in Sabah.
Location of sights in Sandakan
Sights in Sandakan
Categories of sights in Sandakan
History of Sandakan
Until 1870, the east coast of Sabah was part of the Sultanate of Sulu. William Clarke Cowie, a gun smuggler from Scotland, was granted rights by the Sultan of Sulu to establlish a trading base there. It was Cowie who gave the place the name Sandakan. It means "the place that was pawned" in the Tausug language of the Sulu people.
In 1878, a German settlement was also established there by Baron von Overbeck. However, the settlement was destroyed by fire the year after, and was never rebuilt. Instead a new British Resident to North Borneo, William Burges Pryer, established a new settlement, called Elopura, at Buli Sim Sim. Both Elopura and Buli Sim Sim remains to this day as place names in Sandakan.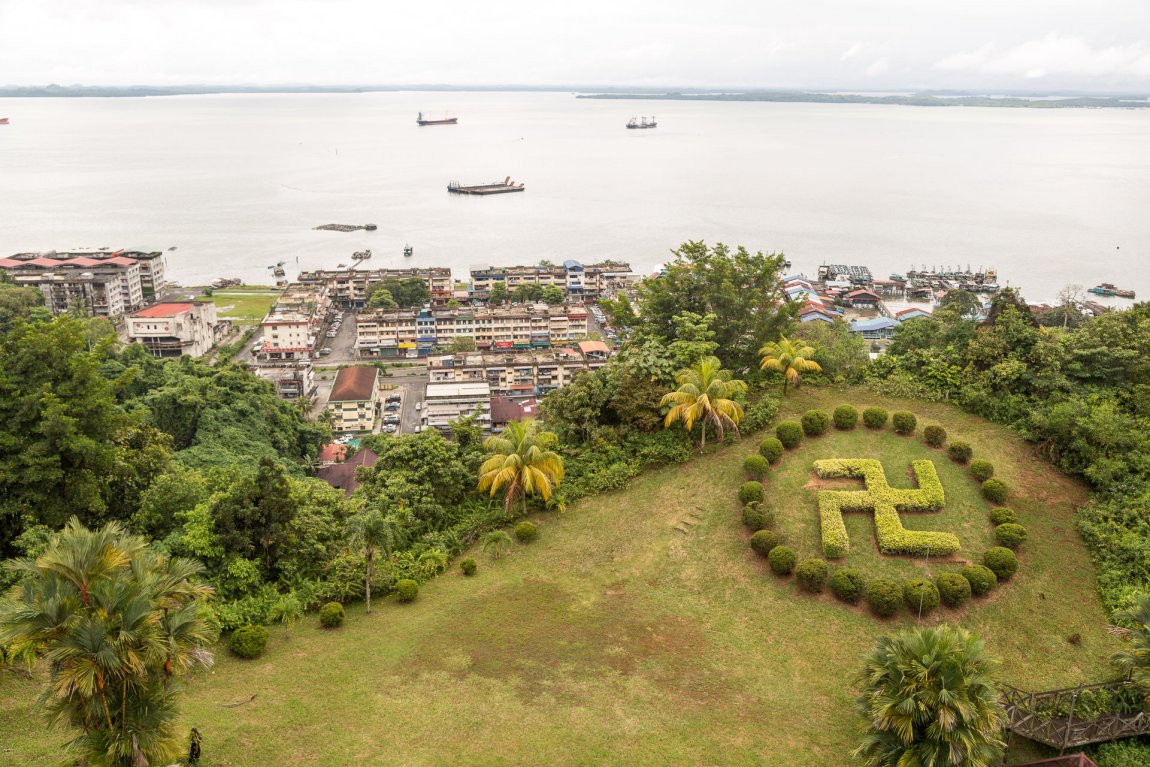 Sandakan as seen from Puu Jih Shih Temple

https://commons.wikimedia.org/wiki/Category:Puu_Jih_Shih_Temple#/media/File:Sandakan_Sabah_PuuJihShihTemple-17.jpg


CEphoto, Uwe Aranas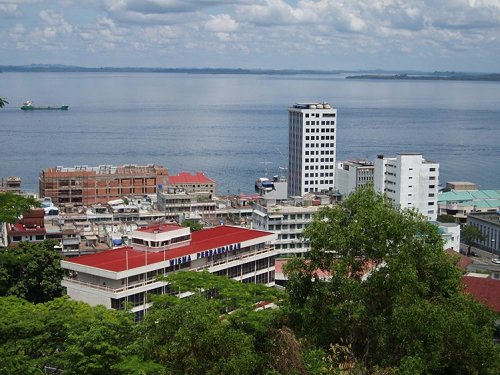 Sandakan

http://commons.wikimedia.org/wiki/File:Sandakan_from_The_English_Tea_House.jpg


Tony Jones


The main activity in Sandakan, especially in the mid-1930s, was timber. It brought prosperity to the boom town and allowed it to replace Kudat as the capital. Following the liberation from Japanese Occupation in 1945, the capital was shifted once again, to Jesselton, which was subsequently renamed
Kota Kinabalu
.
Sandakan is today the second most important seaport in Sabah after Kota Kinabalu, exporting substantial quantities of commodities including palm oil, tobacco, cocoa, coffee, manila hemp and sago. The timber industry has taken a backseat over the commodities. The
Pan Borneo Highway
passes through Sandakan, connecting it with the the other major towns of Sabah, as well as with Sarawak and Brunei.
Getting there
By Plane
Sandakan Airport (SDK) has regular flights by Malaysia Airlines to
Kota Kinabalu
and by AirAsia to Kuala Lumpur.
By Road
There are regular bus services connecting Sandakan with Kota Kinabalu's North Bus Terminal in Inanam. The journey takes about six hours, and the fare is about RM60. By the way, the bus passes the junction to
Sepilok Orang Utan Rehabilitation Centre
on its way to Sandakan. You can ask to be dropped off at the Sepilok bus stop, from where you can get a taxi to the santuary, which is 4 km down the road. Taxis are often waiting at that bus stop. It will cost you about RM5 for the ride.
What to do in Sandakan
Perhaps the only must-see sight while in Sandakan is a visit to the
Sepilok Orang Utan Rehabilitation Centre
. Other than that, you can walk around the town, explore the waterfront.
You can expect more activities within 2-3 hours from Sandakan. There are numerous national parks and mangrove swamps to explore, caves for spelunking, and river cruises to take. Check out the tourist attractions near Sandakan that I have listed out below.
Buy Your Long-Distance Bus Tickets Here!
If you are planning to travel Malaysia and Singapore by bus, you can now purchase your long-distance bus tickets directly from
Bus Online Ticket
, where you get to check the schedule as well as price of tickets from various bus companies.
About me