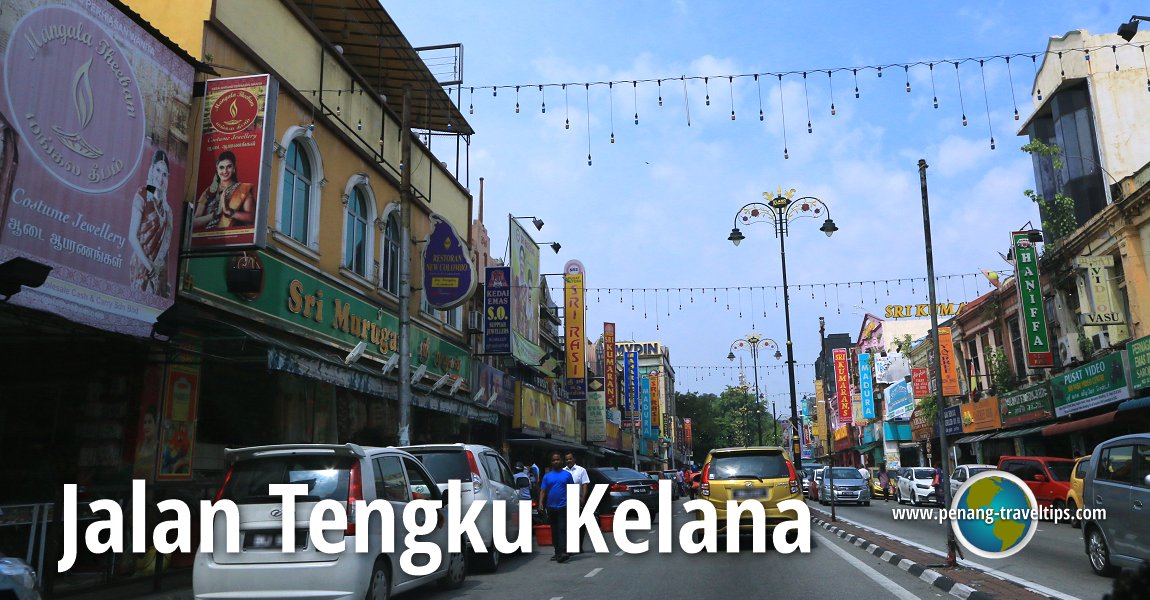 Jalan Tengku Kelana, Klang
(6 July, 2016)

Jalan Tengku Kelana
is one of the main roads in
Klang, Selangor
. It connects the Klang Town Roundabout (Bulatan Simpang Lima) in the south to Jalan Batu Tiga in the north, cutting right through Klang's Little India, and linking much of the important sights in a string.
Location of sights along Jalan Tengku Kelana on the map
Hotels along Jalan Tengku Kelana
Sights along Jalan Tengku Kelana
Government Buildings on Jalan Tengku Kelana
About Jalan Tengku Kelana
According to my research
1
, Jalan Tengku Kelana was named after
Musa Ghiatuddin Riayat Shah
(1893-1955)), the eldest son of
Sultan Alaeddin Sulaiman Shah
(1898-1938). His birthname was Tengku Muda Eddin. He became the Tengku Mahkota, or heir apparent, in 1903, and Raja Muda, or Crown Prince of Selangor, in 1920. However, he was not well liked by the British administrators, in particular the British Resident Theodore Samuel Adams (1885-1961), who was in office from 1935-1937.
Adams regarded Tengku Muda Eddin as a spendthrift, and had him bypassed for the throne of the throne of Selangor, in favour of his younger half-brother Tengku Badar. This despite the petition of his father Sultan Sulaiman to the Secretary of State for the Colonies in his favour. The throne of Selangor eventually passed to
Tengku Alam Shah
, who was third in line behind Tengku Muda Eddin and Tengku Badar Shah. With the installation of Alam Shah (as Sultan Hisamuddin of Selangor), Tengku Muda Eddin was given the title of Tengku Kelana Jaya Putera, a title usually reserved for the heir-apparent of the Yang di-Pertuan Muda, or Under-King, of the court of Johor and Riau, of which the court of Selangor descended.
Tengku Kelana got his chance to become the Sultan of Selangor (with the regnal name of Sultan Musa Ghiatuddin Riayat Shah) during the Japanese Occupation, when his brother Sultan Hisamuddin was removed for making speeches supporting the British war efforts. Stripped of the throne, Sultan Hisamuddin refused to work with the Japanese, and even declined the allowance given to him and his children. He eventually was returned to the throne when the Japanese was defeated, and the British returned.
Being removed from the throne of Selangor, Sultan Musa exiled to Cocos Keeling Islands, where he became ill. He died within months of returning to Malaya. Jalan Tengku Kelana in Klang was named after him, as is
Kelana Jaya in Selangor
.
References
1.
Musa Ghiatuddin Riayat Shah of Selangor, Wikipedia
Buy Your Long-Distance Bus Tickets Here!
If you are planning to travel Malaysia and Singapore by bus, you can now purchase your long-distance bus tickets directly from
Bus Online Ticket
, where you get to check the schedule as well as price of tickets from various bus companies.
About me