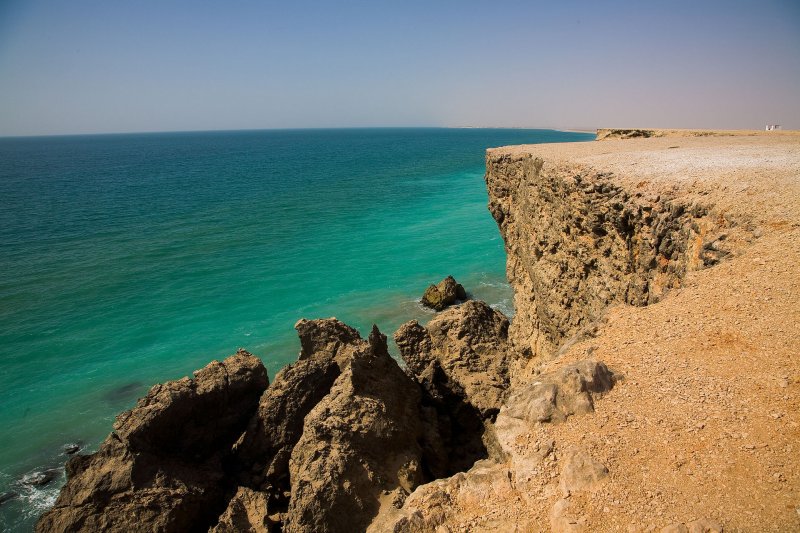 Oman east coast

http://commons.wikimedia.org/wiki/Category:Coasts_of_Oman#mediaviewer/File:Oman_east_coast_(1).jpg


Andries Oudshoorn


Oman
(Arabic: سلطنة عمان) is a small sultanate on the southeastern part of the Arabian Peninsula. It borders on the United Arab Emirates to the northwest, Saudi Arabia to the west and Yemen to the southwest. It has a coastline facing the Arabian Sea to the southeast and the Gulf of Oman to the northeast. Also belonging to Oman are the enclaves of Madha and the Musandam Peninsula which are both surrounded by the United Arab Emirates. Within Madha is an exclave of the United Arab Emirates known as Nahwa, which belongs to the Emirate of Sharjah.
Oman covers 309,550 sq km (119,498 sq mi) and has a population of 2.85 million people (2011 estimate). Its capital and largest city is Muscat. The official language of Oman is Arabic. It is four hours ahead of Coordinated Universal Time (UTC+4). Traffic here drives on the right. The electricity is 240V/50Hz using USA and UK plugs. The phone IDD code is +968.
Major Cities in Oman
Muscat - capital
Bahla
Buraimi
Ibra
Matrah
Nizwa
Salalah
Sohar
Sur
Places of Interest in Oman
Hajar Mountains
Madha
Masirah island
Musandam Peninsula
Wahiba Sands
World Heritage Sites in Oman
Bahla Fort
Archaeological Sites of Bat, Al-Khutm and Al-Ayn
Arabian Oryx Sanctuary (Delisted 2007)
Land of Frankincense
Aflaj Irrigation Systems of Oman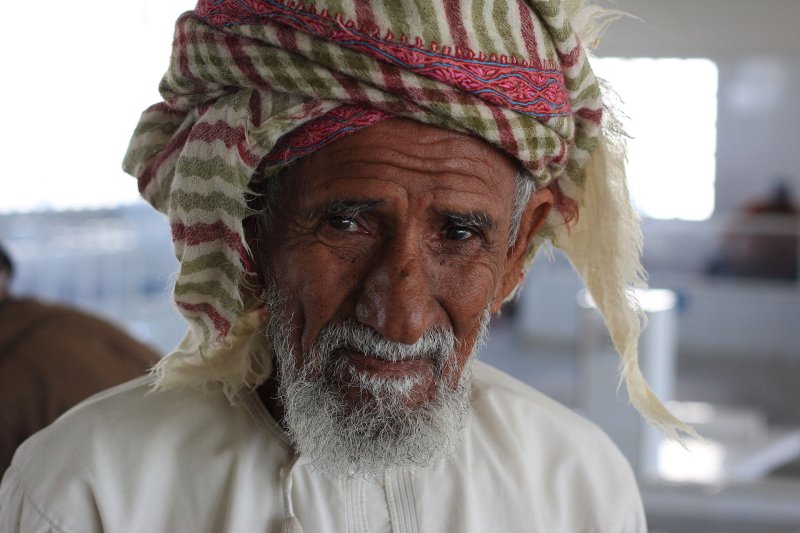 An elderly gentleman at the fish souk in Muscat

http://commons.wikimedia.org/wiki/Category:Muscat#mediaviewer/File:Fish_Souk,_Quriyat,_Muscat,_Oman_(4324883412).jpg


yeowatzup


Oman had an estimated nominal GDP of $53.395 billion, or a per capita nominal GDP of $18,013. Its per capita GDP at purchasing power parity stood at $25,109. Petroleum forms the bulk of Oman's income, providing its people with a high standard of living. However Oman's oil reserves are limited. It ranks 28th in the world in terms of natural gas reserves.
As with much of the Arabian peninsula, Oman expereinces a desert climate. It is extremely hot and dry for the most parts of the year. Even in January, the average temperature is between 17°C to 27°C (63°F-81°F) while in June, it goes up to between 31°C and 40°C (88°F-104°F).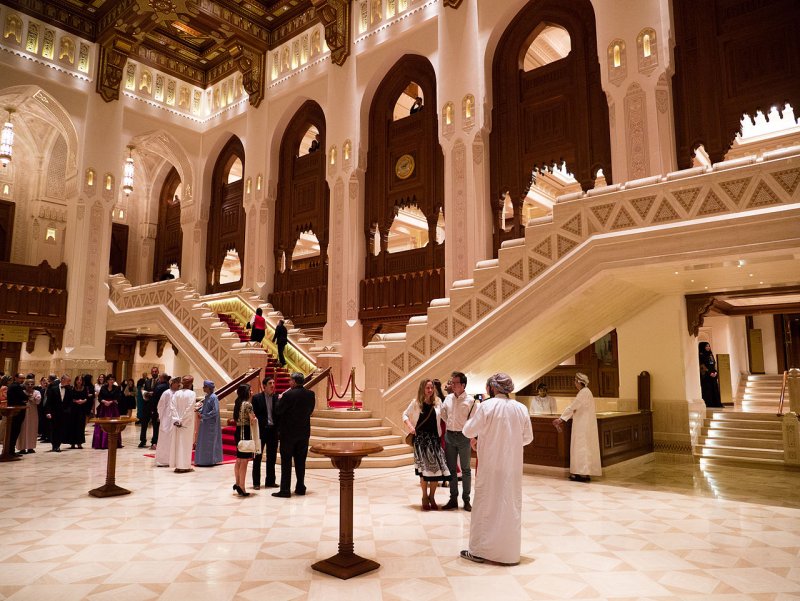 Royal Opera House, Muscat

http://commons.wikimedia.org/wiki/Category:Royal_Opera_House_Muscat#mediaviewer/File:Royal_Opera_House_Muscat_2.jpg


Juozas Salna


Apart from a 140-year period of Portuguese colonialisation, Oman has always been an independent country. Islam was introduced here during the 7th century AD. Today most of the locals are Muslims of the Ibadhi denomination, which is distinct from the Sunni and Shia denominations of Islam.
The Portuguese occupied Muscat from 1508 to 1648, when they were ousted by local tribes, and were themselves ejected in 1741 by a Yemeni tribe. From then on, began a succession of sultans that ruled the kingdom until today. The hereditary sultan, Qaboos bin Said Al Said is the present head of state of Oman.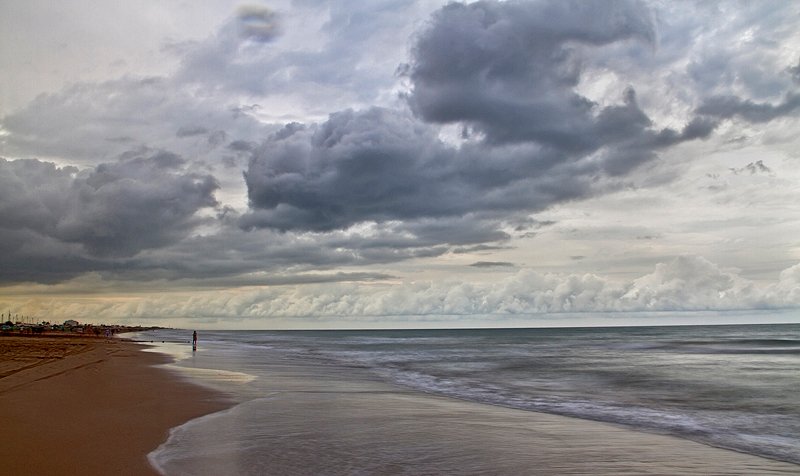 Seeb Beach, Muscat

http://commons.wikimedia.org/wiki/Category:Beaches_of_Oman#mediaviewer/File:SEEBbch.jpg


Shenmuelll


Planning your trip to Oman
At time of writing (April 2011), Oman appears to be undergoing some political turmoil with demonstrations taking place in the city of Sur. Intending visitors are cautioned to stay away from demonstrations for their personal safety.


The Seeb International Airport (MCT) in Muscat serves as the gateway to Oman. The airport has flights connecting it to cities in the Middle East, Asia and Europe, with the most frequent flights between it and Dubai.
Going somewhere? Look for your hotel room over here!
You can look for and book your hotel room direct from this website. Simply key in your travel date, and you will be shown a list of hotels. Filter the results based on your requirement, everything from five star hotels to homestays and more.
Enjoy a vacation at The Haven Resort Hotel Ipoh, an award-winning all suite resort nestled in the midst of the limestone hills of Ipoh, now with an exclusive 10% discount for readers of this website!
Buy Your Long-Distance Bus Tickets Here!
If you are planning to travel Malaysia and Singapore by bus, you can now purchase your long-distance bus tickets directly from
Bus Online Ticket
, where you get to check the schedule as well as price of tickets from various bus companies.
About me
Hello and welcome! My name is
Timothy Tye
or simply Tim. This is my personal encyclopedia. I created it to compile all the information about places. It represents my body of travel knowledge collected since 2003, and still being updated almost daily.
As a Christian, I write on travel so that
God's Good News
can reach every corner of the world and connect with those needing it. If you wish to ask me anything, feel free to
contact me here
. Thank you for visiting, and have a great day!
Copyright © 2003-2017
Timothy Tye
. All Rights Reserved.