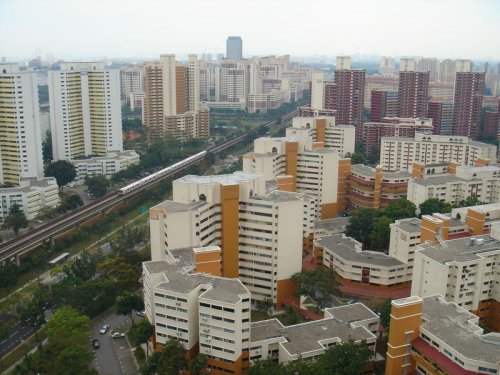 Bukit Batok

http://commons.wikimedia.org/wiki/File:BukitBatok.JPG" target="_blank" rel="nofollow">mailer_diablo

Bukit Batok
(GPS: 1.35902, 103.76367) is a township in central western
Singapore
. It is bounded by Bukit Batok Road to the west and the
Pan Island Expressway (PIE)
to the south. Surrounding Bukit Batok is
Choa Chu Kang
in the northwest,
Bukit Panjang
in the northeast,
Bukit Timah
in the southeast, Clementi to the south, Jurong East to the southwest and Tengah to the west.
There are several versions as to how Bukit Batok got its name, particularly the word "batok". The most straightforward explanation is that the word "batok" means "cough" in Malay, and opened the speculation that the cold hill air of the hill leads to coughs and colds. Another version is that the word "batok" means "coconut" in Javanese. Yet another explanation is that the word "batok" is a corruption of the word "batu".
Map of Bukit Batok
Sights in Bukit Batok
Amenities in Bukit Batok
Schools in the area includes Bukit View Primary School, Dazhong Primary School, Hong Kah Primary School, Keming Primary School, Lianhua Primary School, Princess Elizabeth Primary Schoool, St Anthony's Primary School, Bukit Batok Secondary School, Bukit View Secondary School, Dunearn Secondary School, Hillgrove Secondary School, Swiss Cottage Secondary School, Yusof Ishak Secondary School, Millennia Institute (formerly Jurong Institute and Outram Institute), ITE College West, and the Singapore Hotel and Tourism Education Centre (SHATEC).
Places of worship in Bukit Batok include Abundant Life Baptist Church, Ar-Raudhah Mosque, Bukit Batok Presbyterian Church, Church of St Mary of the Angels, Grace Assembly of God, Guilin Combined Temple, Hock Tong Temple, Hoon Lam Tua Peh Kong Temple, Jesus Lives Church, Ling Hong Tong Temple, Sattha Puchaniyam Buddhist Temple, See Tien Foh Combined Temple, Tong Tien Kung Temple, Wu Lui Sien Sze Temple, and Zu-Lin Temple.
Retail and commercial premises at Bukit Batok include West Mall, at 1 Bukit Batok Central Link. Sports facilities include Bukit Batok Swimming Complex, Bukit Batok Town Park and Bukit Batok Nature Park.
Getting there
Bukit Batok MRT Station
(NS2) on the
North South Line
.
You can look for and book your hotel room direct from this website. Click this link to
find hotels in Singapore
, or use the search box below. You can filter the results based on your requirement, everything from five star hotels to homestays and more.
Look for a specific type of accommodation in Singapore
Planning Areas of Singapore
"Planning Areas" are the de facto districts of Singapore. This map shows you all the planning areas of the island nation. Click on them to get to know each area.
Explore Singapore made easy with MRT
This comprehensive map of the Singapore Mass Rapid Transit shows you every station in the network, so that you can easily plan your journeys and change trains accordingly. As with the bus and LRT, you are charged a fare according to the distance travelled.
Enjoy a vacation at The Haven Resort Hotel Ipoh, an award-winning all suite resort nestled in the midst of the limestone hills of Ipoh, now with an exclusive 10% discount for readers of this website!
Buy Your Long-Distance Bus Tickets Here!
If you are planning to travel Malaysia and Singapore by bus, you can now purchase your long-distance bus tickets directly from
Bus Online Ticket
, where you get to check the schedule as well as price of tickets from various bus companies.
About me