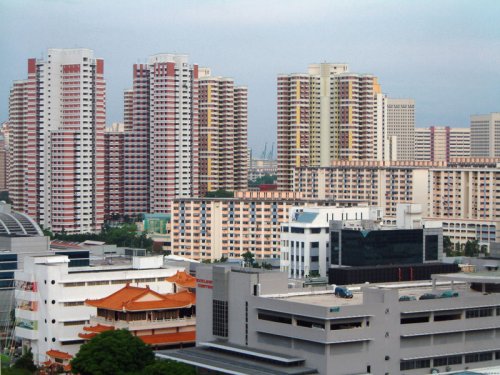 Bukit Merah

http://commons.wikimedia.org/wiki/File:Redhill_town.jpg" target="_blank" rel="nofollow">Calvin Teo


Bukit Merah
(GPS: 1.2819, 103.82391) is a place on the southern part of
Singapore
. It takes its name after the hill there. Bukit Merah means "red hill" in Malay. This is due to the laterite earth in the area. However, there is a Malay legend associated with the hill. In the old times, there was a fishing village in Singapore that was often attacked by swordfish.
One day, a young boy proposed to the ruler that a palisade of banana trunks be built as defense against the swordfish attack. When the palisade was erected, the attacking swordfish were stuck in the banana trunks, saving the village. The villagers paraded the boy as a local hero. However, this stirred the jealousy of the ruler, who ordered that the boy be killed. His blood was said to turn the soil red.
Bukit Merah is bordered by
River Valley
in the north,
Singapore River
in the northeast,
Outram
in the east,
Downtown Core
and Downtown Central in the southeast, and
Queenstown
in the west.
Map of Bukit Merah
Sights in Bukit Merah
Amenities in Bukit Merah
Schools in Bukit Merah include Bukit Merah Secondary School, Gan Eng Seng Primary School and Henderson Secondary School. Places of worship here include Jamiyah Ar-rabitah Mosque, Kwan Yam Theng Buddhist Temple and Zhen Ren Gong Temple. Public facilities include Bukit Merah Swimming Complex and Bukit Merah Community Library. Retail premises include the IKEA store at neighboring Alexandria.
Getting there
Redhill MRT Station
(EW18) on the
East West Line
and Bukit Merah Bus Interchange.
You can look for and book your hotel room direct from this website. Click this link to
find hotels in Singapore
, or use the search box below. You can filter the results based on your requirement, everything from five star hotels to homestays and more.
Look for a specific type of accommodation in Singapore
Planning Areas of Singapore
"Planning Areas" are the de facto districts of Singapore. This map shows you all the planning areas of the island nation. Click on them to get to know each area.
Explore Singapore made easy with MRT
This comprehensive map of the Singapore Mass Rapid Transit shows you every station in the network, so that you can easily plan your journeys and change trains accordingly. As with the bus and LRT, you are charged a fare according to the distance travelled.
Enjoy a vacation at The Haven Resort Hotel Ipoh, an award-winning all suite resort nestled in the midst of the limestone hills of Ipoh, now with an exclusive 10% discount for readers of this website!
Buy Your Long-Distance Bus Tickets Here!
If you are planning to travel Malaysia and Singapore by bus, you can now purchase your long-distance bus tickets directly from
Bus Online Ticket
, where you get to check the schedule as well as price of tickets from various bus companies.
About me