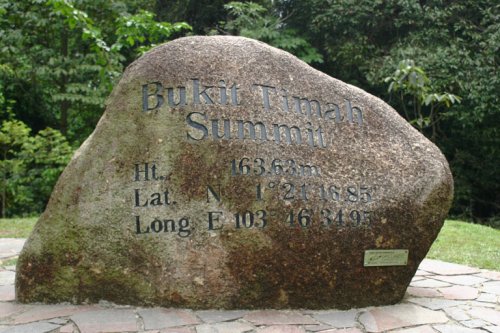 Stone marking the summit of Bukit Timah

http://commons.wikimedia.org/wiki/File:Bukit_Timah.jpg


Ch bristol

Bukit Timah
(GPS: 1.32941, 103.80207) is the name of a hill as well as urban planning area in Central Singapore. The name Bukit Timah means "tin hill" in Malay. The name has been in use since the 19th century. It first appeared in the Franklin and Jackson map of 1828. There is a possibility that Bukit Timah was misnamed. According to historians, the original name of the hill was Bukit Temak, in reference to the temak trees. It was somehow corrupted to Bukit Timah, although no tin was found there.
Bukit Timah was known in Hokkien as "Bae1 Chia3 Lor33 Boey4"

which means "End of Horse Carriage Way". In Tamil, it is known as
Eyam Malai
(literal translation of "tin hill"). Bukit Timah Road was known in Hokkien as Teik1 Kha3 Kang3a1 Kni2

, meaning "Bamboo Grove Riverside".
Bukit Timah Road is the longest road in Singapore, not counting the expressways. It is 25 km in length and was laid out as far back as 1845. During that time, the road ran through heavily forested area where tigers still roamed. It was reported in 1860 that 200 people working in the gambier and pepper plantations bordering the forest in Bukit Timah were killed by tigers.
Within the Bukit Timah area is the Bukit Timah Nature Reserve, a major forested area at the heart of Singapore. It is a short distance from the residential neighbourhoods of Bukit Timah.
Schools in Bukit Timah include Anglo-Chinese School, Hwa Chong Institution, Methodist Girls' School, Nanyang Primary School, Nanyang Girls' High School, National Junior College, Pei Hwa Presbyterian Primary School, Raffles Girls' Primary School, Saint Joseph's Institution, and Singapore Chinese Girls' School.
Places of worship in Bukit Timah include Al-Huda Mosque, Bee Low See Temple, Bukit Timah Evangelical Free Church, Catholic Church of St Ignatius, Covenant Evangelical Free Church, Glory Presbyterian Church, Poh Tai Kok Temple, St John Chapel and St James Church. Retail premises include Bukit Timah Plaza, Bukit Timah Shopping Centre, Beauty World Centre.
Map of Bukit Timah
Sights in Bukit Timah
Getting there
Use the
Bukit Timah Expressway
(BKE) and
Pan Island Expressway
(PIE) to reach Bukit Timah. At present, it is not reached by the MRT. Nearest MRT station is the
Bukit Batok MRT Station
(NS2) on the
North South Line
.
You can look for and book your hotel room direct from this website. Click this link to
find hotels in Singapore
, or use the search box below. You can filter the results based on your requirement, everything from five star hotels to homestays and more.
Look for a specific type of accommodation in Singapore
Planning Areas of Singapore
"Planning Areas" are the de facto districts of Singapore. This map shows you all the planning areas of the island nation. Click on them to get to know each area.
Explore Singapore made easy with MRT
This comprehensive map of the Singapore Mass Rapid Transit shows you every station in the network, so that you can easily plan your journeys and change trains accordingly. As with the bus and LRT, you are charged a fare according to the distance travelled.
Enjoy a vacation at The Haven Resort Hotel Ipoh, an award-winning all suite resort nestled in the midst of the limestone hills of Ipoh, now with an exclusive 10% discount for readers of this website!
Buy Your Long-Distance Bus Tickets Here!
If you are planning to travel Malaysia and Singapore by bus, you can now purchase your long-distance bus tickets directly from
Bus Online Ticket
, where you get to check the schedule as well as price of tickets from various bus companies.
About me