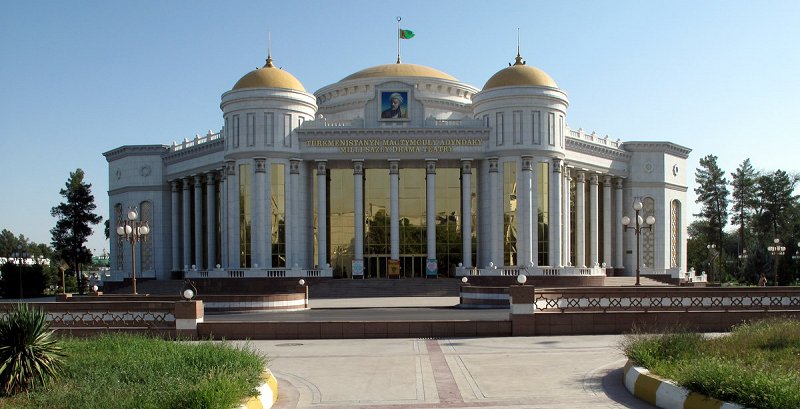 Magtymguly Turkmen National Music and Drama Theatre, Ashgabat

http://commons.wikimedia.org/wiki/Category:Buildings_in_A%C5%9Fgabat#mediaviewer/File:Ashgabat_(3892535894).jpg


Peretz Partensky


Turkmenistan
is a vast, sparsely population country in Central Asia. It covers 488,100 sq km (188,456 sq mi), about the size of Spain, but has a population of 5.1 million people. The capital and largest city is Ashgabat.
Formerly a constituent state of the Soviet Union, Turkmenistan became an independent nation in 1991. It is bordered by Kazakhstan to the northwest, Uzbekistan to the north, Afghanistan to the southeast, and Iran to the south. It has a coastline facing the Caspian Sea to the west.
Turkmenistan is five hours ahead of Coordinated Universal Time (UTC+5). Traffic is driven on the right here. The phone IDD code is +993. The official currency is the Turkmen new manat (TMT).
Travel Tips of Major Cities in Turkmenistan
Places of Interest in Turkmenistan
Altin Depe
Anau
Darvaza Flaming Crater
Gonur Depe
Jeitun
Kow Ata Underground Sulfur Lake
Merv
Namazga Depe
Nissa
World Heritage Sites in Turkmenistan
State Historical and Cultural Park "Ancient Merv" (1999)
Kunya-Urgench (2005)
Parthian Fortresses of Nisa (2007)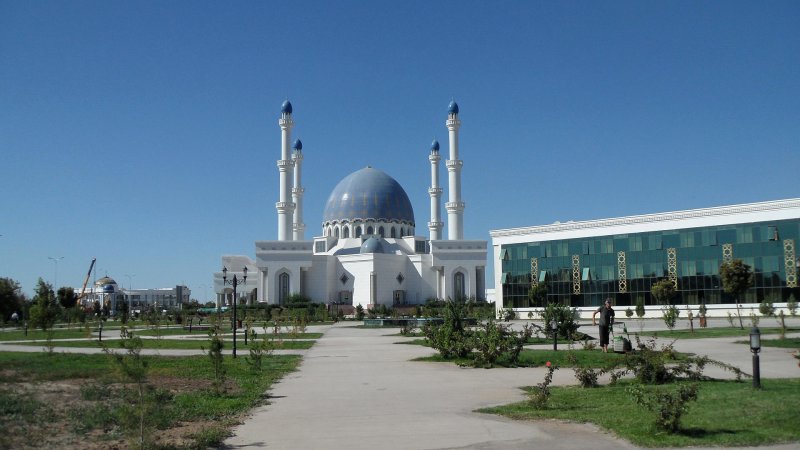 Gurbanhuly Hajy Mosque in Mary, Turkmenistan

http://commons.wikimedia.org/wiki/Category:Gurbanhuly_Hajy_Mosque#mediaviewer/File:TurkmenistanMaryMosque.jpg


Hergit


Turkmenistan is, on paper, a presidential republic, which is another way of saying that it is a dictatorship. It was ruled by President for Life Saparmurat Niyazov until his sudden death on 21 December, 2006. Since then, the government has been taken over by Gurbanguly Berdymukhammedov, who became president on 11 February, 2007.
Turkmenistan is a totalitarian state that is similar in composition to North Korea. It's a land where the ruler creates a personality cult around himself, where his face and statues line city streets. Opposition in any form is responded with severe punishment. Since President for Life abrupted died, his successor has begun moving the country out of the extremes of leader worship, though subtly replacing it with his own.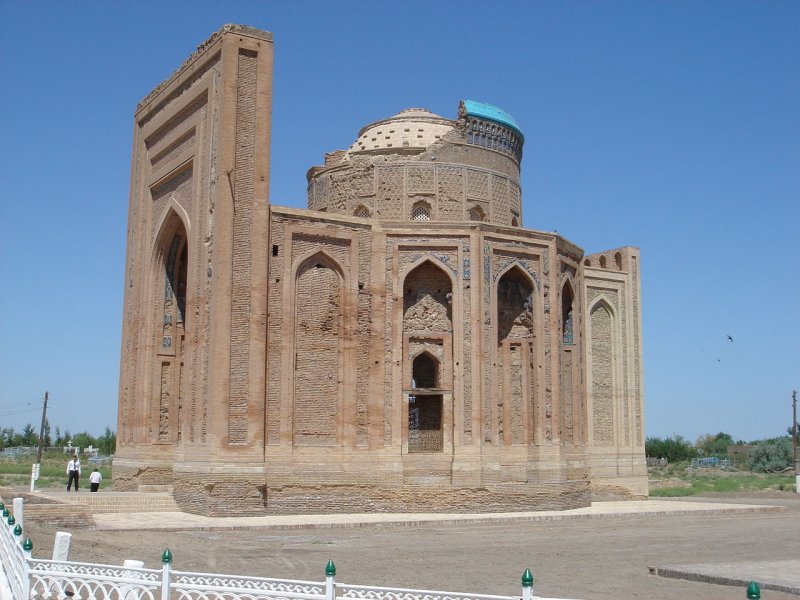 Turabek Khanum Mausoleum

http://commons.wikimedia.org/wiki/Category:Turabek_Khanum_Mausoleum#mediaviewer/File:Turabek_Khanum,_from_the_south.JPG


Tim Williams


Planning your trip to Turkmenistan
Turkmenistan Airlines operate flights between Ashgabat with London. Lufthansa also flies there from Frankfurt.
Visitors to Turkmenistan should get a visa prior to arriving. You should also get vaccinations against diphteria, hepatitis A and B, measles, mumps, polio, rubella, tetanus, and varicella. Foreign visitors have to fill a registration card costing $12 which includes the departure card. The departure card must be presented when leaving the country.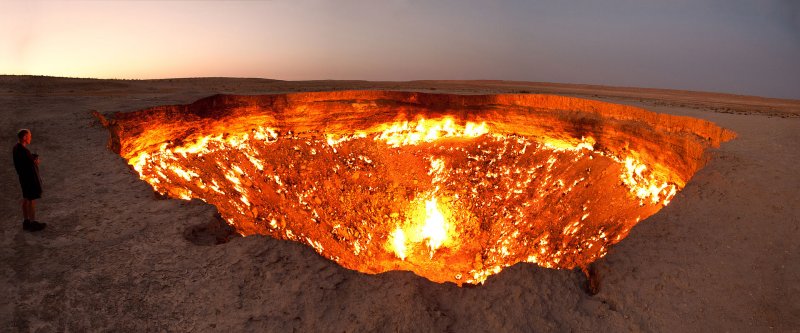 Darvaza Flaming Crater, a burning natural gas field in Derweze, Turkmenistan

http://commons.wikimedia.org/wiki/Category:Derweze_gas_fire#mediaviewer/File:Darvasa_gas_crater_panorama_crop.jpg


Tormod Sandtorv


Going somewhere? Look for your hotel room over here!
You can look for and book your hotel room direct from this website. Simply key in your travel date, and you will be shown a list of hotels. Filter the results based on your requirement, everything from five star hotels to homestays and more.
Enjoy a vacation at The Haven Resort Hotel Ipoh, an award-winning all suite resort nestled in the midst of the limestone hills of Ipoh, now with an exclusive 10% discount for readers of this website!
Buy Your Long-Distance Bus Tickets Here!
If you are planning to travel Malaysia and Singapore by bus, you can now purchase your long-distance bus tickets directly from
Bus Online Ticket
, where you get to check the schedule as well as price of tickets from various bus companies.
About me
Hello and welcome! My name is
Timothy Tye
or simply Tim. This is my personal encyclopedia. I created it to compile all the information about places. It represents my body of travel knowledge collected since 2003, and still being updated almost daily.
As a Christian, I write on travel so that
God's Good News
can reach every corner of the world and connect with those needing it. If you wish to ask me anything, feel free to
contact me here
. Thank you for visiting, and have a great day!
Copyright © 2003-2017
Timothy Tye
. All Rights Reserved.