This year, we decided to go on holiday in Langkawi between 7 and 11 of September, 2018. We chose this date because Monday, 10 September, was a replacement holiday for my wife, while 11 September was also another public holiday.
We were privileged to have been sponsored accommodation by
Bon Ton Resort
and
Temple Tree at Bon Ton
.
Friday, 7 September, 2018
We booked AirAsia flight AK6248 which departed Penang on 7 Sept 2018 at 1:45pm, and arrived in Langkawi within 20 minutes. The flight was so short that we didn't even have chance to eat the on-board meal, which we brought with us to enjoy at the resort.
Our holiday had a rocky start. One for thing, it rained heavily in Penang that morning, and even when we were at the airport, we could see that the rain continued to pour down. On arriving at
Langkawi International Airport
, we discovered that the wheel of one of our luggage bags were broken. Luckily we had travel insurance with AirAsia, but had to spend some time making a report over the matter.
We decided to rent a car for the first two days. This is because I wanted to explore Langkawi on my own, and having my own wheels would facilitate that.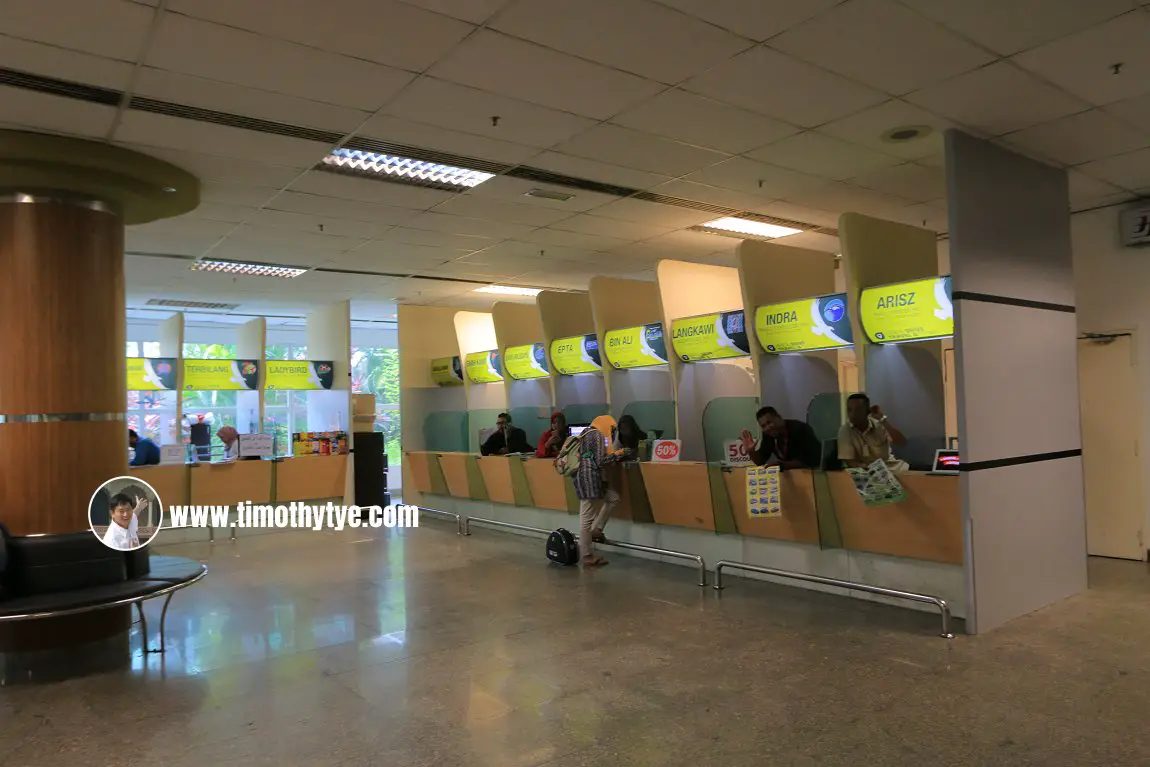 Car rental kiosks at Langkawi International Airport
(7 September, 2018)

The car rental kiosks are all lined up on two sides of the Arrival Hall of the airport. As they are no longer allowed to approach the arriving passengers, the car rental kiosk attendants have to call out for customers from behind their kiosks. This is quite a contrast to
Penang International Airport
, where most of the kiosk attendants appear so laid back.
We rented a Perodua Axia - possibly the smallest available car - from Awana Idaman Limo & Tours Sdn Bhd. It was a completely random choice. (I did consider renting a car online, but decided to leave it till we arrive). Another company had quoted us RM150 for the two days, and say that for the same price, I could get a bigger car. But I am not keen on big cars - they consume more fuel. I managed to get the Axia on auto gear for RM130. I don't really care whether that's a good price or not, I am just happy to get a small, easy to drive car for my Langkawi holiday.
The services provided by Awana Idaman was nice and friendly (in fact, all the car rental attendants were quite friendly.) Before making off with the car, we first took photographs of it, front, back and interior, and noted down and existing scratches.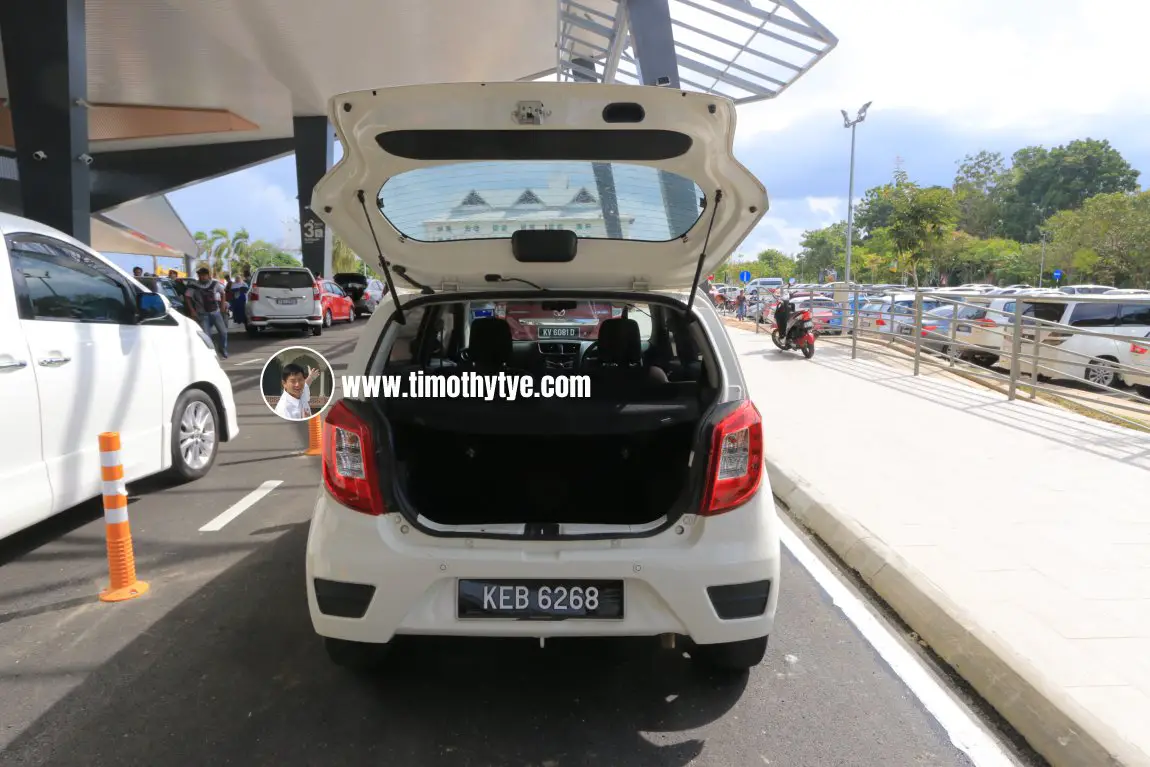 The Perodua Axia we rented from Awana Idaman
(7 September, 2018)

From the airport, we went to look re-fuel. Before this trip, I had done my homework to identify all the
petrol stations in Langkawi
, complete with Google Maps, so I easily used it to navigate to the one nearest, which is the Petronas at Padang Matsirat (GPS: 6.35097, 99.73572,

on the map below).
The petrol station is near to the
Field of Burnt Rice
, so we headed there for a visit as well. I had actually notice the entrance to that site when we visited the
Padang Matsirat Night Market
last year.
There isn't really much to see today of the Field of Burnt Rice, as it is now a verdant grass plot. To show us what to expect, a plate of the burnt rice has been collected and exhibited. To learn more of the history of this site,
follow my link
.
After the short visit, we checked in at our hotel, Bon Ton Resort. The gorgeous resort is a boutique hotel comprising a cluster of kampong stilt houses that have been restored and relocated to this site. Each kampong house is today a guest villa.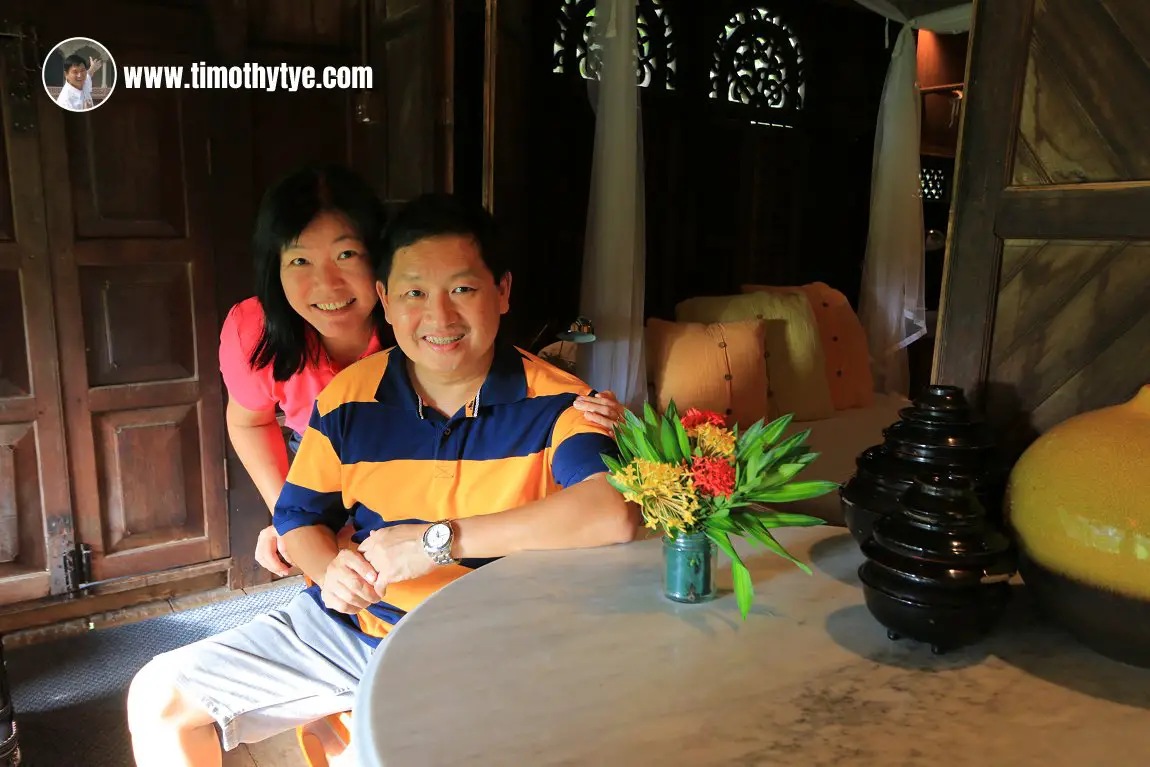 Black Coral villa, Bon Ton Resort, Langkawi
(10 September, 2018)

The villas at Bon Ton Resort are luxuriously furnished. The villa we occupied is called
Black Coral
. There are antiques all over the place, but there are also signs that even in this luxurious surroundings, we have to keep nature at bay - nothing more pronounced than the presence of mosquito nets and various forms of electric mosquito repellents. There is also an indoor shower and an outdoor bathtub, which is set in an enclosed courtyard. I couldn't help wondering whether the wooden flooring of the kampong house would withstand the daily showering.
That evening, I wondered around the resort to take photographs of the different villas. They are so beautiful at night.
The swimming pool at Bon Ton Resort at night
(7 September, 2018)

Saturday, 8 September, 2018
Breakfast at Bon Ton Resort and Temple Tree at Bon Ton is nothing like any other hotels we have stayed at. The breakfast is brought to us the night before and placed in the fridge for us to partake the next morning.
The available fare per person include two slides of bread, one piece of homemade cake, yoghurt, a box of milk, a bottle of fruit juice, a small bottle of jam, butter and some fruits. It is nice, but I am not accustomed to breakfast without any form of meat, so later that day, I went to the nearest 24-hour store and bought a can of spicy tuna to go with my bread.
Today we took the car to explore Langkawi on our own. From Bon Ton Resort, we drove past Pantai Cenang, and continued to Resorts World Langkawi. This was formerly Awana Porto Malai, and would be the site for us to take the sunset cruise the next day.
From Resorts World Langkawi, we continued to Kota Mahsuri. This is the complex that has been developed around
Mahsuri's Mausoleum
. The last time I visited this place was in 2005, thirteen years ago. Needless to say, a lot has changed since then. Entrance fee was RM12.00, but there's quite a lot to see inside, in addition to the grave itself.
Our next stop was
Makam Purba
. This is an ancient grave which I have heard of, but am curious to visit in person. Arriving along the road to the site, we kept on missing it. Turns out there was a signboard for Makam Purba, but it has been so weathered that we overlooked the sign.
Makam Purba would not appear to casual tourists. Only those who are serious about history might find it fascinating. I am one such person, and am happy that I get to add another ancient grave to sites I have visited and documented.
From Makam Purba, we visited
Thean Hou Temple
. This newly completed Chinese temple is the largest in Langkawi. During my short visit, I saw that they are still putting finishing touches to the building.
From Thean Hou Temple, we headed for
Langkawi Wildlife Park
. It is on the north eastern side of Langkawi. On our way there, we made a detour to view
Wat Koh Wanaram
, the biggest Thai Buddhist temple in Langkawi.
We enjoyed out visit to Langkawi Wildlife Park. There are aviaries where the birds get to roam freely.
From Langkawi Wildlife Park, we continued to
Galeria Perdana
. This is the gallery showcasing the various gifts what were received by Prime Minister Tun Dr Mahathir Mohamed when he was the 4th prime minister of Malaysia. (At time of writing, Tun Dr Mahathir is once again Malaysia's prime minister for the second time round.)
We spent close to two and a half hours at Galeria Perdana, as there was so much to see. Even though we visited it before, during our 2005 trip, it was still enjoyable to go through all the treasures.
We were quite tired after we finished Galeria Perdana, so we headed back to Bon Ton Resort to rest and freshen up. That evening, we were treated to dinner at
Gallo Nero Italian Restaurant
in Padang Matsirat. It was a lovely meal of Italian specialities, which I shall describe separately.
Sunday, 9 September, 2018
That morning, a tour company had sponsored us an island hopping tour. We were told to wait for our pick up which would come between 9:00am and 9:15am. When no pick up appeared, we called up the tour coordinator's number. The person Mr Fariz, was surprised, because there was no arrangement for us. This is strange, because we already have an email from the tour company saying our trip is confirmed. Learning that they have missed us out, the tour operator tried to get us to go at a different time. Unfortunately, we already have scheduled other sponsored activities with other operators, so it was not possible for us to reschedule. Moreover, it began to rain heavily again at that time, so we decided to cancel the trip.
After the rain stop, we took a Grab ride to Pantai Cenang and as compensation to ourselves, visited Underwater World Langkawi. It was so crowded but fun anyway.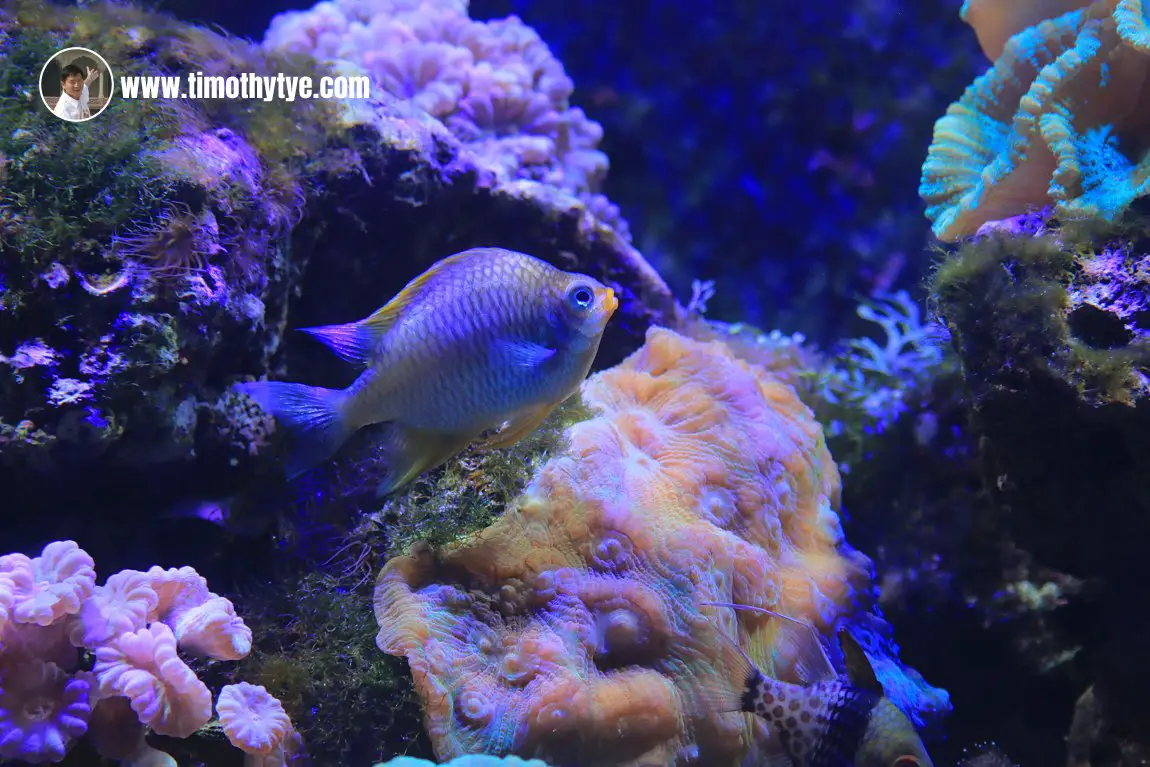 Fish swimming among the corals at Underwater World Langkawi
(9 September, 2018)

Lunch was at a Chinese coffee shop at Pantai Cenang. I ordered wan than mee and wan than soup, while my wife had fried rice. The food was nothing to shout about, but it appeared to be the only Chinese coffee shop we could find in the area, so the place was crowded with diners.
After two days staying at Bon Ton Resort, we move to Temple Tree at Bon Ton. This is the adjacent resort by the same owner. It comprises 8 heritage buildings that have been collected from different parts of the country, and reassembled here.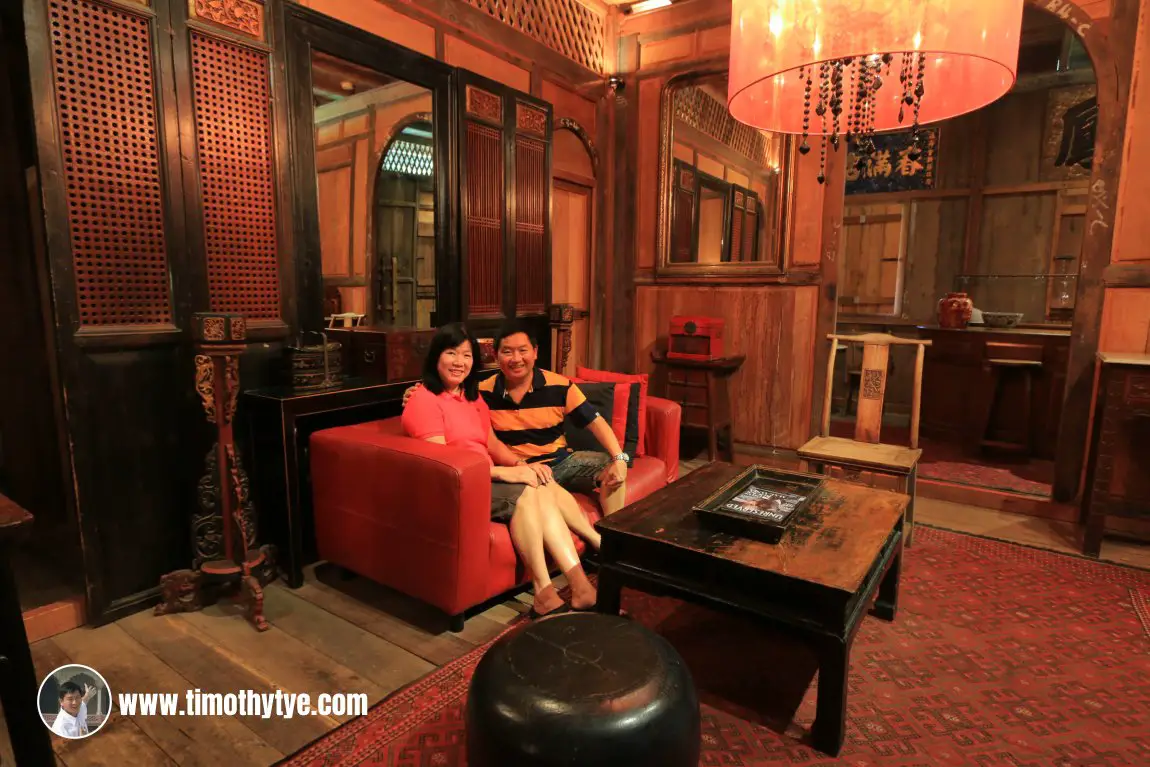 Rustic charm of Chinese 1, our villa at Temple Tree At Bon Ton, Langkawi
(10 September, 2018)

We have stayed at Temple Tree at Bon Ton before, last year, when we occupied Colonial 3, which is at the back portion of
Colonial House
. This time, we were given Chinese 1, which is on the ground floor of
Chinese House
. It is once again another gorgeous villa that brings luxurious comfort into a rustic farmhouse.
On Sunday evening, we went on a
sunset cruise, by Tropical Charters Langkawi
. The cruise took us out to sea. From Resorts World Langkawi, it cruised around the area surrounded by the Langkawi main island,
Pulau Dayang Bunting
and
Pulau Singa Besar
. Dinner was buffet style on board.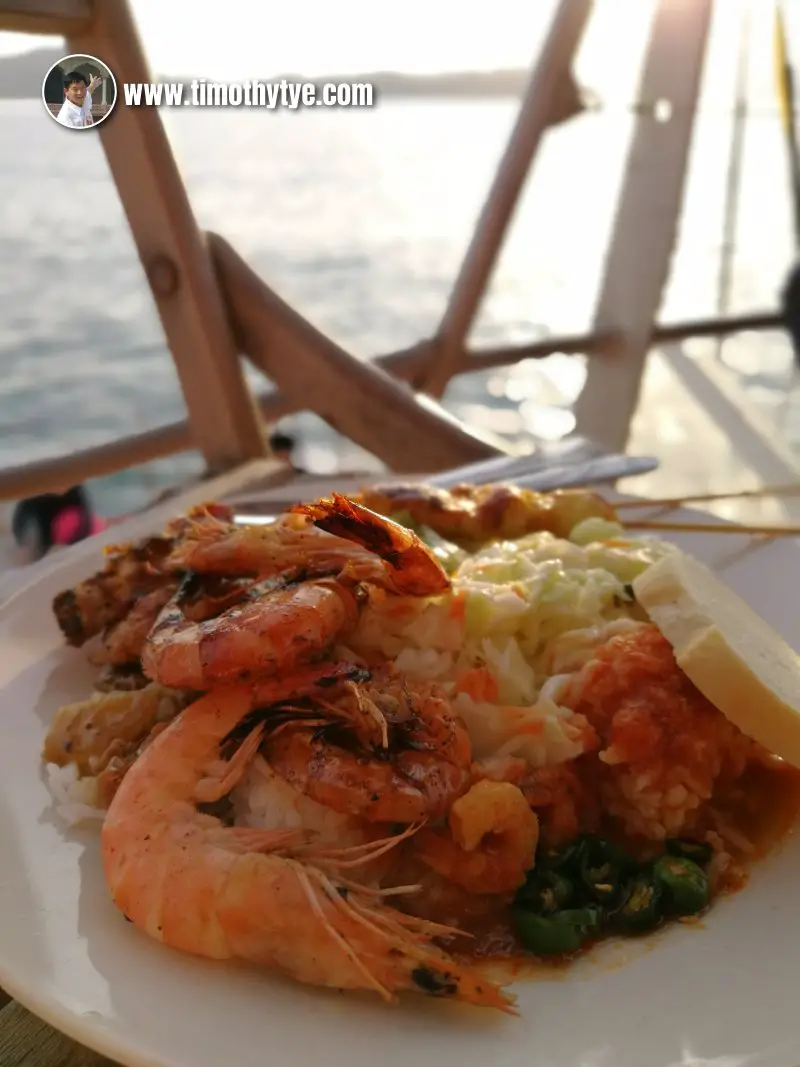 Dinner while enjoying the sunset cruise
(9 September, 2018)

Monday, 10 September, 2018
It's our fourth day in Langkawi, and today, we are going to explore the Kilim Geoforest Park. It is one of three geoforest parks in Langkawi, along with Machincang Cambrian Geoforest Park and the Dayang Bunting Marble Geoforest Park which were together inscribed by UNESCO the first geoparks in Southeast Asia, under the name
Langkawi UNESCO Global Geopark
in 2015.
We were picked up from Temple Tree At Bon Ton at 9:40am sharp. We were the first to enter the van, which continued to a few other hotels in Pantai Cenang and Pantai Tengah to collect passengers, before we headed off to Kilim Geoforest Park.
Today's tour was sponsored by Dev's Adventure Tours. During the planning stages, they sent me a video where one of the past guests described it as one of the best nature tours. Yeah right, I told myself, let me experienced it first. Well, after I have experienced it, I was blown away. It was superb.
Our tour was very well organised. When a couple of guests were late, they apologized for the inconvenience. As soon as rain fell, they provided all of us with disposable rain coats. But the most valued asset of this tour company is its human touch, and that came in the form of our guide, the friendly Chiro, who was a reservoir of knowledge about the mangroves of Kilim Geoforest Park. While he provided continuous interpretation of the ecology, the boat captain deftly brought our boat through the labyrinthine mangroves, and out into the open sea.
Our first stop was at Gua Kelawar, or bat cave. Chiro taught us about the ecology, about the bats, the monkeys, the stalagtites and stalagmites. I try to record as much as I can on video, which I hope to add to my write-up soon.
Then we continued our boat trip into the mangrove forest. There were times when the rain came down in heavy showers, but it somehow just added to the general atmosphere, making this a highlight of our trip. We were so glad when the sky finally cleared and the sun came out.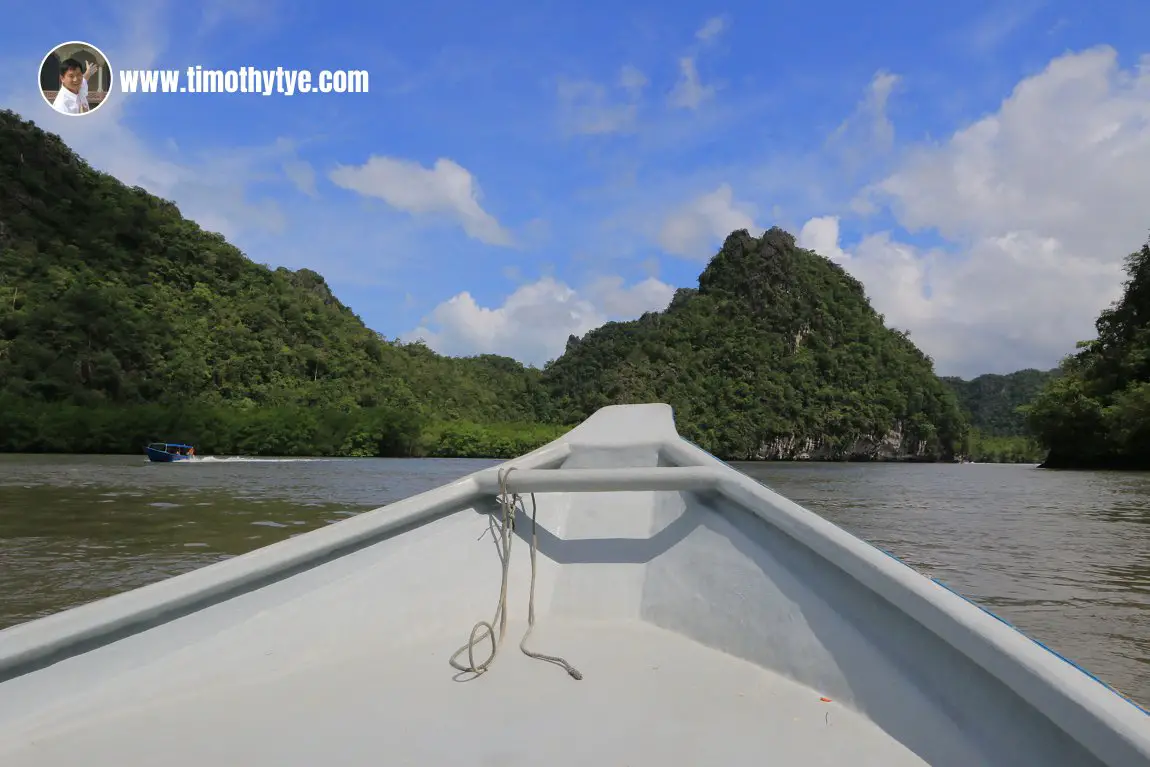 Our boat trip in the Kilim Geoforest Park
(10 September, 2018)

At various points, Chiro would stop the boat when he spotted wildlife. This could be anything from a mangrove pit viper to a monitor lizard or a kingfisher. And then, there's sightings of the reddish brown eagle, the symbol of Langkawi. According to Chiro, the reddish brown eagle is not a true eagle, but rather a Brahminy kite. For reason, he called it a fake eagle. But on top of that, there is also the true eagle, and Chiro helped us differentiate between the two.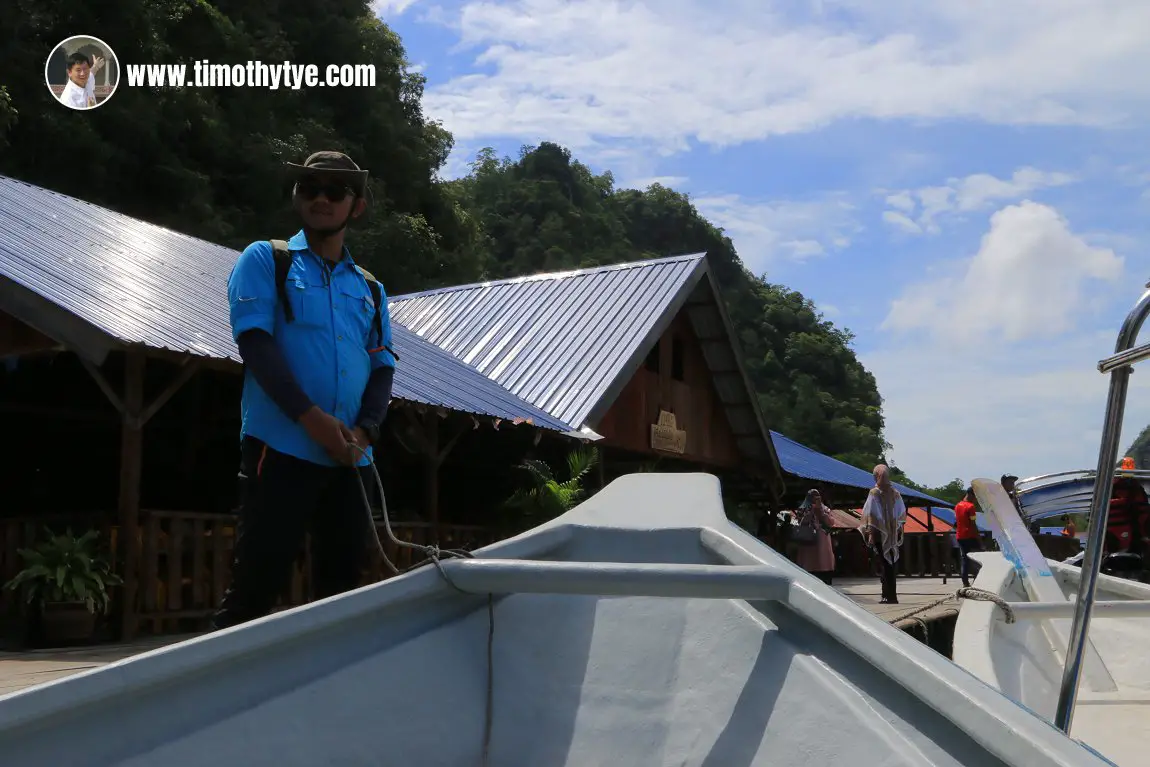 Chiro bringing our boat to the pier at Amin Restaurant in Kilim Geoforest Park
(10 September, 2018)

Lunch was at a floating restaurant in Kilim Geoforest Park. By the time we returned to the jetty, it was already 3:45pm. Instead of going straight home, we asked the driver to drop us at Oriental Village, and we took the cable car up to visit the other geoforest park, the Machincang Cambrian Geoforest Park. The cable car ride now cost RM40 per adult, for Malaysians. The last time we were up here was in 2005, and we enjoyed it has much as we had before.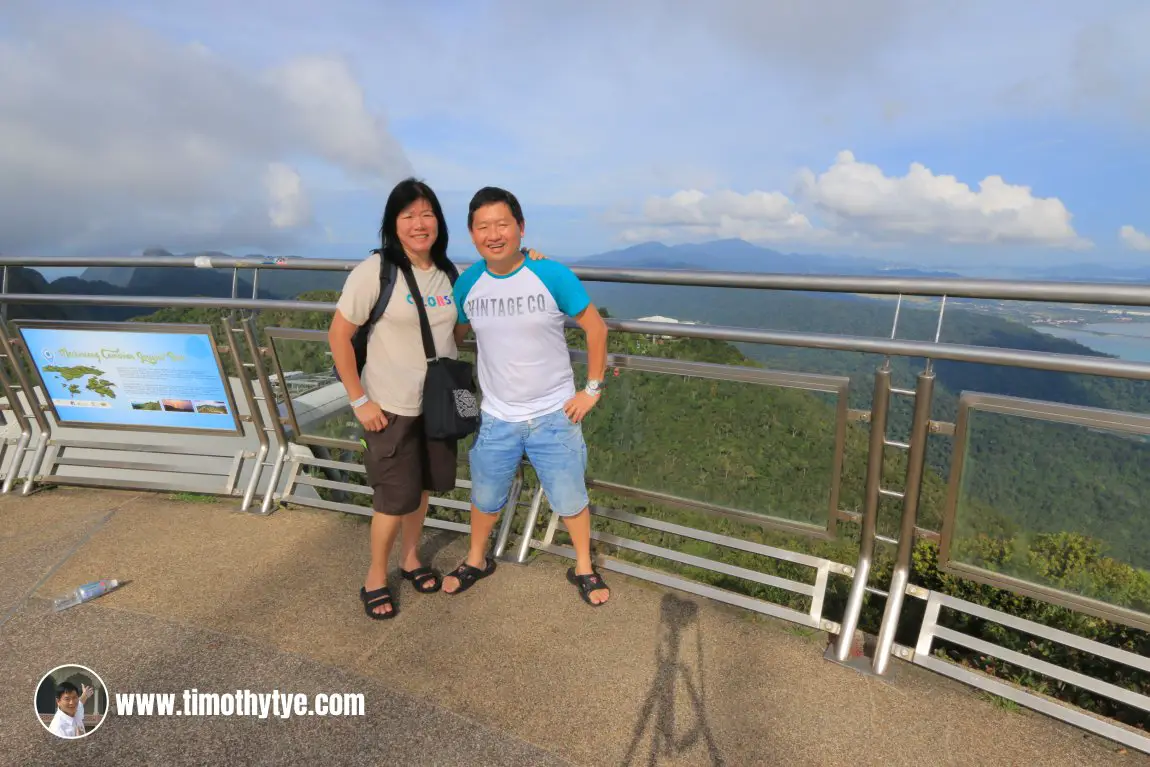 Here we are, standing at the top of Gunung Machincang
(10 September, 2018)

When we got back to Oriental Village, it was already 6:40pm. Suddenly we found that the Grab driver that I called refused to accept my call, but we soon discovered why. From the initial stated charge of RM24, the fee hiked to RM31 and later even to RM40 due to demand. Unwilling to give in to this fee hike, we decided to walk towards Telaga Harbour. As we walked down the road, a taxi van stopped for us. He asked for just RM30 to take us to Pantai Cenang, and we gladly accepted.
The journey to Pantai Cenang was a long one, and was well worth paying the RM30. The taxi driver was a very friendly guy who was off for the day, and he happened to be going the same way we were. En route to Pantai Cenang, he even stopped the taxi van for me to take some photos of the sunset. But an even more glorious sunset was waiting for us when we arrived at Pantai Cenang.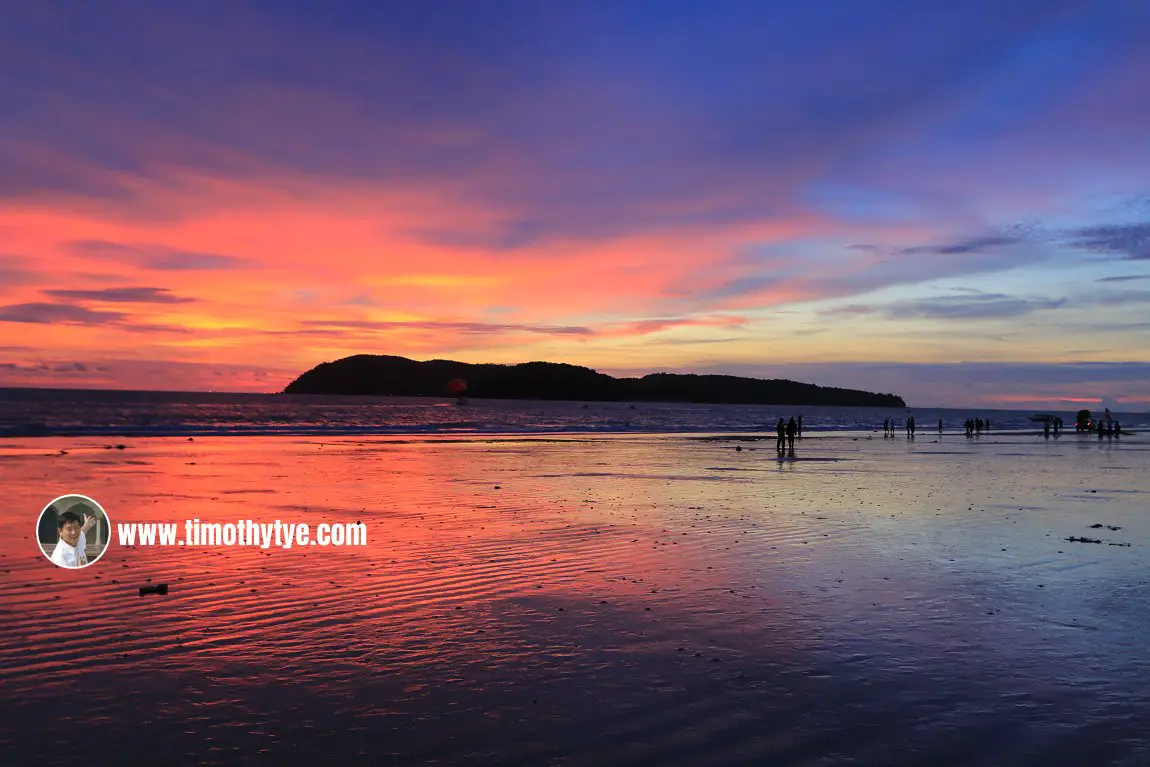 Sunset at Pantai Cenang, Langkawi
(10 September, 2018)

We quickly made our way to the beach, which was now low tide, and has turned into an expansive stretch of sandy shore. There, before us, in the Andaman Sea, was one of the most glorious sunsets I have ever seen. Needless to say, I took lots of photos of it.
Tuesday, 11 September, 2018
Our final day was spent enjoying Temple Tree At Bon Ton, before we called a Grab to take us back to the airport.
About Timothy Tye
Welcome to my website,
Discover with Timothy Tye
. I started it in 2003 to freely share information about places. Today it has close to thirty thousand pages. I have been writing this website full time since 1 November 2007, and continue to do so as a means to satisfy my curiosity about the world around me. I am happy if the information I have assembled is useful to you. Please
follow me on Facebook
!
As a Christian, I hope that through this website, I am able to deliver
God's Good News
to those who need it all over the world. If you wish to contact me, please submit the
contact form
. Thanks again, don't forget to
follow me on Facebook
!
Malaysia Travel Tips!
My
Malaysia Travel Tips
has useful information on every state in Malaysia (
Johor
,
Kedah
,
Kelantan
,
Malacca
,
Negeri Sembilan
,
Pahang
,
Penang
,
Perak
,
Perlis
,
Sabah
,
Sarawak
,
Selangor
,
Terengganu
) and every major city and destination (
Kuala Lumpur
,
Johor Bahru
,
Ipoh
,
Langkawi
,
Cameron Highlands
,
Kota Kinabalu
,
Kuching
,
Alor Setar
,
Seremban
,
Petaling Jaya
,
Putrajaya
,
Kota Bharu
,
Kuala Terengganu
,
Taiping
) and hundreds of smaller towns.
Singapore Travel Tips!
In addition to covering Malaysia, I have created the travel tips for Singapore. Please visit my
Singapore Travel Tips
for browse through the pages there.
Hosting
This website is hosted on
Bluehost
, one of the biggest web hosting companies in the world.
Copyright © 2003-2019
Timothy Tye
. All Rights Reserved.