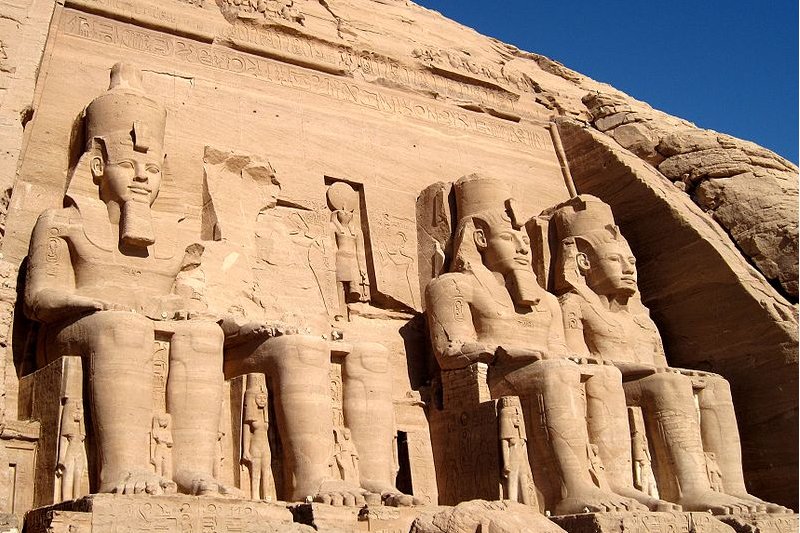 Abu Simbel Temple, Egypt

https://commons.wikimedia.org/wiki/File:Gro%C3%9Fer_Tempel_(Abu_Simbel)_06.jpg


Olaf Tausch


Egypt
is a country on the northeast corner of the African continent. It is bordered by Libya to the west, Sudan to the south, and Israel to the northeast. The country is also bounded by the Mediterranean Sea to the north and the Red Sea to the East.
The
River Nile
flows through Egypt, creating a ribbon of habitable land in an otherwise barren desert landscape. Due to the monumental artifacts of its ancient civilisation, Egypt is today one of the biggest tourist destinations of the world. Less spectacular perhaps, but not less important, is Eqypt's medieval heritage represented by the many ancient churches, monasteries and mosques of Coptic Christianity and Islamic origin, that can be found and visited all thorough Egypt.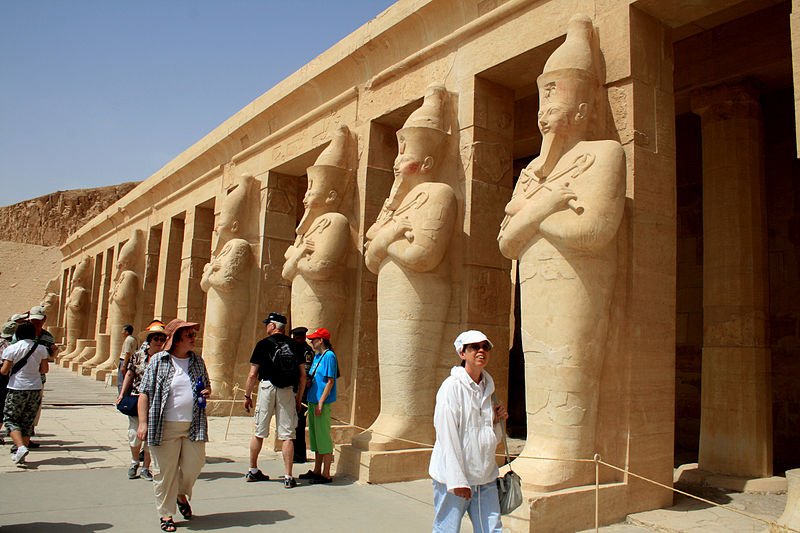 Tourists visiting the Mortuary Temple of Hatshepsut in Luxor, Egypt

https://commons.wikimedia.org/wiki/File:Temple_of_Hatshepsut_6.jpg


Karelj


With a population approaching 80 million people, Egypt is the most populous country in Africa and the Middle East. With a country of 1,010,000 square kilometers (390,000 sq miles), most of its population is concentrated along the banks of the River Nile, within an area of just 40,000 square kilometers (15,000 square miles). The capital of Egypt, Cairo, has a population of 6.8 million people. It is the largest city in Africa and one of the most densely populated cities of the world.
Egypt is a major tourist destination drawing visitors from around the world to admire the ruins of its ancient civilization. The most famous include the Pyramids of Giza, the Great Sphinx, the city of Luxor, the Temple of Karnak, the Valley of the Kings and the Temple of Abu Simbel. The city of Cairo, with its Islamic and Coptic Christian heritage, is also becoming more and more well-known to tourists.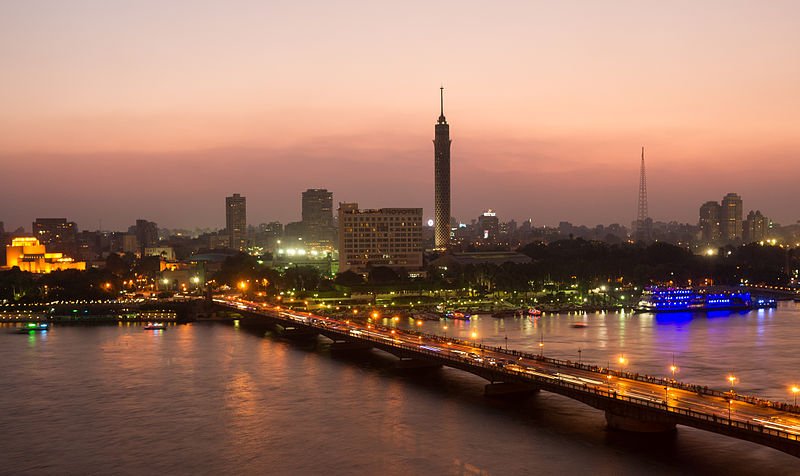 View of Cairo, Egypt, at dusk

https://commons.wikimedia.org/wiki/File:Late_evening_in_Cairo.jpg


Frank Schulenburg


When to visit Egypt
Definitely not during summer, June to August, when it is unbearably hot during the day. December to February is the best time to visit, when the temperature becomes more pleasant.
What to wear in Egypt
Lightweight cotton clothes, long sleeves, hat and scarf are all useful items to wear, along with a good pair of sunglasses. Apply sunblock to exposed skin. During evenings, a jacket will keep out the chill. Umbrellas are not necessary, but you can bring a parasol to keep out the sun.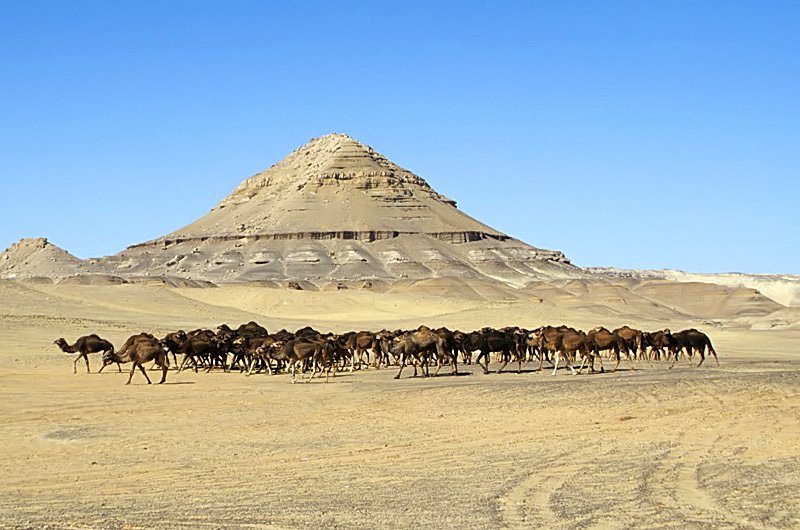 Gebel el-Dist, Egypt

https://commons.wikimedia.org/wiki/File:BahriyaAgricultureCamels.jpg


Roland Unger


Planning your trip to Egypt
All nationals require at least Tourist Visa to enter Egypt. This can be easily obtained upon arrival, and usually costs around US$15. Citizens of the following countries require a visa before arrival: Afghanistan, Algeria, Armenia, Azerbaijan, Bangladesh, Bosnia-Herzegovina, China (People's Republic of; except Hong Kong and Macau), Croatia, Georgia, India, Indonesia, Iraq, Iran, Israel, Kazakhstan, Kirghizia, Lebanon, Macedonia, Malaysia (if you intend to stay for more than 15 days), Moldova, Montenegro, Morocco, Pakistan, Palestine, the Philippines, Russia, Serbia, Sri Lanka, Tajikistan, Thailand, Tunisia, Turkmenistan, Turkey, Ukraine, Uzbekistan and all African countries (except the citizens of Guinea and Libya).
By Plane
Cairo International Airport is the main entry point for most visitors to Egypt. Upon arrival, budget travelers can take the Cairo Airport Shuttle Bus. A trip to downtown Cairo costs 35 LE.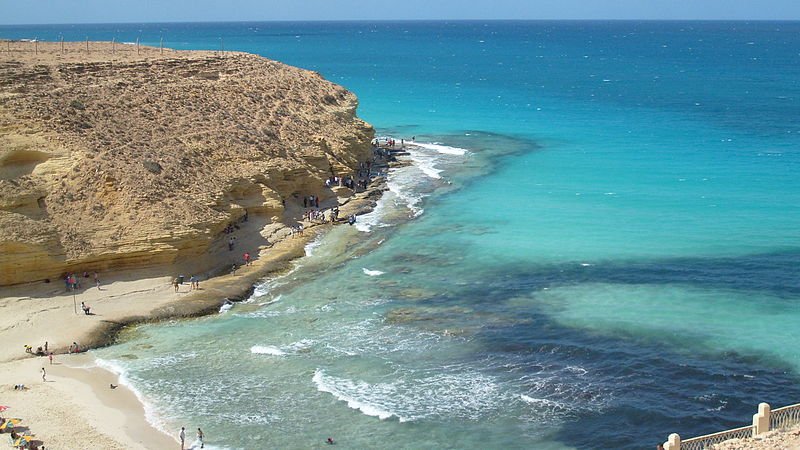 Mersa Matrouh beach, Egypt, Egypt

https://commons.wikimedia.org/wiki/File:Mersa_Matrouh_beach.jpg


المصري الأصيل


Planning your travel within Egypt
Getting around Egypt by train may be a little sticky for foreigners. Due to security measures, foreigners may encounter restrictions against buying train tickets. Even as a budget traveler, you should opt of at least a Second Class ticket on the Egyptian trains.
If you can afford it, taking domestic flight is the fastest way to cover Egypt. The national carrier Egyptair has services to most of the cities in the country. Until 2007, foreigners had to pay a fare which is as much as four times what the locals pay. The system has since been revamped, and now it is standard fare for all.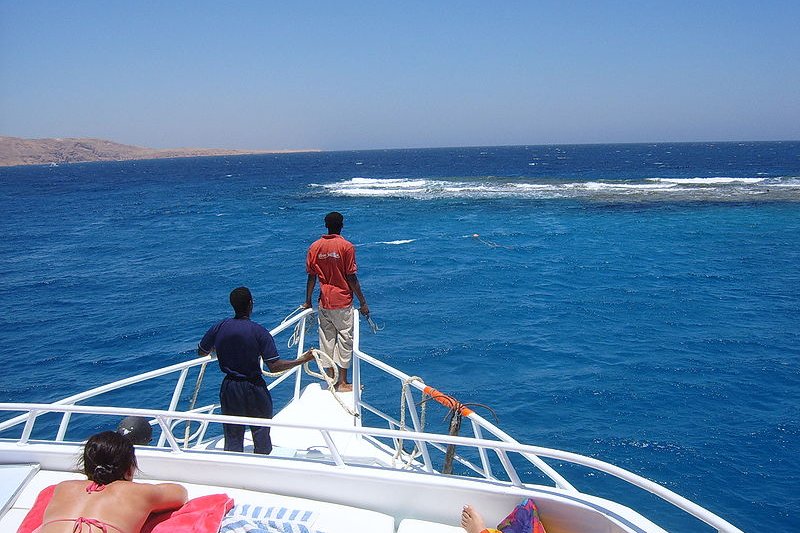 Banana Reef, Egypt

https://commons.wikimedia.org/wiki/File:Banana_reef_giftun.jpg


vberger


Major Cities of Egypt
Regions of Egypt
World Heritage Sites in Egypt
Egypt ratified the World Heritage Convention on 7 February, 1974. As of August 2010, it has 7 World Heritage Sites, all except one in the cultural category. Egypt also has another 31 sites on the World Heritage Tentative List.
Sites in Egypt on the World Heritage Tentative List
Siwa archaeological area (1994)
Temple of Serabit Khadem (#) (1994)
North Sinai archaeological Sites Zone (1994)
Temple of Hator built by Ramses III (1994)
Dahshour archaeological area (1994)
El Fayoum: Kom Aushim (Karanis), Dimai (Soknopaiounesos), Qasr Qarun (Dionysias), Batn I hrit (Theadelphia), Byahma-Medinet el Fayoum (1994)
El-Gendi Fortress (1994)
Rutho Monastery (1994)
Wadi Feiran (1994)
Pharaon Island (1994)
Dahab (1994)
Minia (#) (1994)
Newibah castle (1994)
Ras Mohammed (2002)
Gebel Qatrani Area, Lake Qaroun Nature Reserve (2003)
Southern and Smaller Oases, the Western Desert (2003)
Bird Migration Routes (2003)
Desert Wadis (2003)
Mountain Chains (2003)
Great Desert Landscapes (2003)
Alexandria, ancient remains and the new library (2003)
Abydos, city of pilgrimage of the Pharaohs (2003)
Pharaonic temples in Upper Egypt from the Ptolemaic and Roman periods (2003)
Necropolises of Middle Egypt, from the Middle Empire to the Roman period (2003)
Raoudha nilometre in Cairo (2003)
The monasteries of the Arab Desert and Wadi Natrun (2003)
Two citadels in Sinai from the Saladin period (Al-Gundi and Phataoh's island) (2003)
The An-Nakhl fortress, a stage on the pilgrimage route to Mecca (2003)
Oasis of Fayoum, hydraulic remains and ancient cultural landscapes (2003)
Historic quarters and monuments of Rosetta/Rachid (2003)
Dababiya (2008)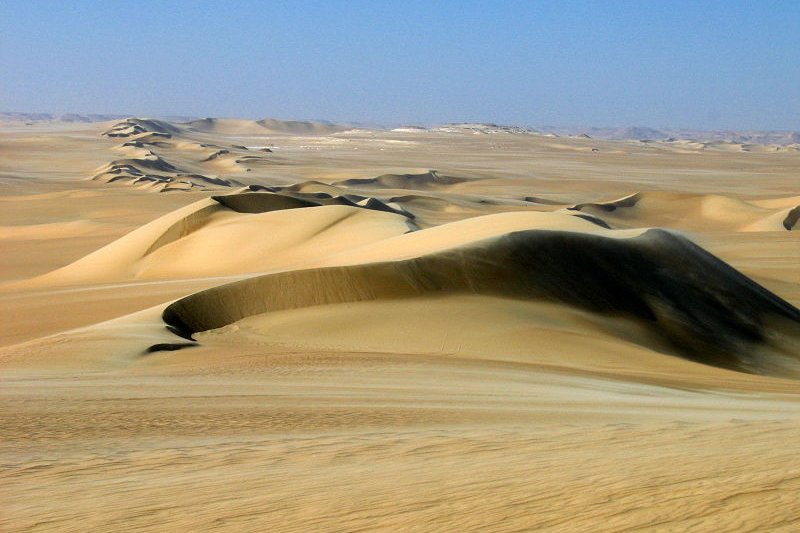 Siwa Sand Dunes, Egypt

https://commons.wikimedia.org/wiki/File:Siwa_sand_dunes2009a.jpg


tronics


Tourist Destinations and Ancient Sites in Eygpt
Giza Plateau
A suburb of Cairo which is home to the Great Pyramids, the Sphinx, and other important ancient ruins.
Saqqara
Archaeological site near Cairo, home of the Step Pyramid of Djoser.
Fayoum
Biggest oasis in Egypt with a tranquil lake and a few pyramids.
Luxor
A bustling town with numerous ancient ruins in the heart of town.
Karnak
Egypt's most important Pharaonic site.
Valley of the Kings
Barren valley housing the necropolis of the New Kingdom pharoahs.
Hatshepsut Temple
Rock-hewn mortuary temple against a mountainous backdrop.
Aswan
Egypt's southernmost city and home to a number of important ancient ruins.
Lake Nasser
Largest artificial lake in the world.
The Nile Valley
A ribbon of land on both sides of the River Nile, dotted with mudbrick villages and countless ruins.
The Nile Delta
Egypt's most fertile and densely populated region, and home to Alexandria, the second biggest city in Egypt.
Sinai Peninsula and the Red Sea Coast
A place of natural beauty combining the mountains and the sea, and dotted with resorts.
Suez
Port on the southern end of the canal.
Port Said
Port city on the coast where the Suez Canal meets the Mediterranean.
St Catherine Monastery
Greek Orthodox monastery founded in AD 527
Western Desert
Desert area that stretches from Egypt to Libya and the Sudan, with oases which were stopovers of the caravan trail.
Siwa Oasis
An oasis with more than 300 freshwater springs and streams.
Thank you for using my website!
Hello and thank you for reading this page. My name is
Tim
. I wrote this page to compile what I discover, for my own knowledge, and also to share it with people who might find it useful. It is part of three inter-connected websites:
Penang Travel Tips
,
TimothyTye.com
and
Timothy Property Mart
.
I am a real estate agent, food blogger, amateur historian and travel author. This website is an encyclopedia as well as a business directory. As a real estate agent, I help people buy, sell, rent and let properties. If you have a property to sell or rent in Penang, Kuala Lumpur, Johor Bahru, Ipoh or Malacca, my team of realtors and I can help you. If you operate a restaurant, can write about your food and promote your restaurant. I can also help you engage other food bloggers to write about your food. And finally, if you are operating a business anywhere in Malaysia, you can add your shop to this website and be found by lots of customers. All you need to do is contact me with what you need.
contact Tim
You can do many things directly from this website. If you are visiting Penang, I can
arrange for you a tour guide and/or driver
to show you around. If you are traveling by bus anywhere in Malaysia or Singapore, you can
book your bus ticket
. If you seek accommodation, you can
get hotel room rates
.
As a Christian, I hope that through this website, I am able to deliver God's message to all who need it, anywhere in the world. If you are open to hearing it, please read
God's Good News to You
.
If you wish to contact me, please use this
contact form
. And don't forget to
follow me on Facebook
. See you!
Copyright © 2003-2019
Timothy Tye
. All Rights Reserved.