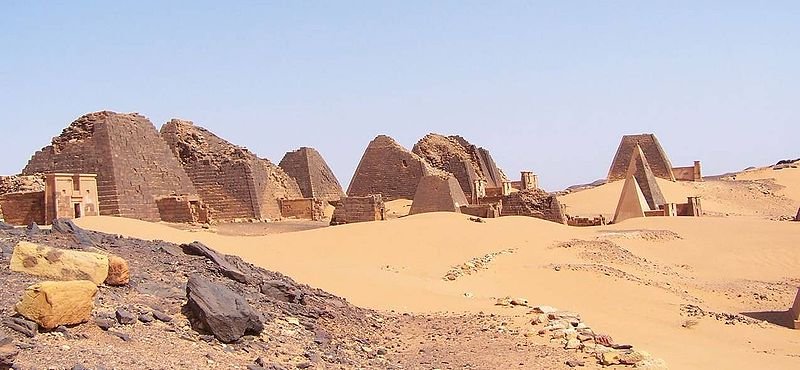 Meroe Pyramids, Sudan

https://commons.wikimedia.org/wiki/File:Sudan_Meroe_Pyramids_30sep2005_4.jpg


Fabrizio Demartis


Sudan
is one of the major countries in Africa. Officially known as the
Republic of Sudan
, it covers 2,505,813 sq km (967,500 sq mi) but is expected to be reduced to 1,886,068 sq km (728,215 sq mi) when the
Republic of Southern Sudan
secede on 9 July, 2011.
When the new state comes into being, the Republic of Sudan will be bordered by Egypt to the north, Libya to the northwest, Chad to the west, the Central African Republic to the southwest, the Republic of Southern Sudan to the south, Ethiopia to the southeast, and Eritrea to the east. The Republic of Sudan will also have a coastline on the Red Sea to the northeast. It will have a population of about 36 million (2011 estimate). The capital and largest city will be Khartoum.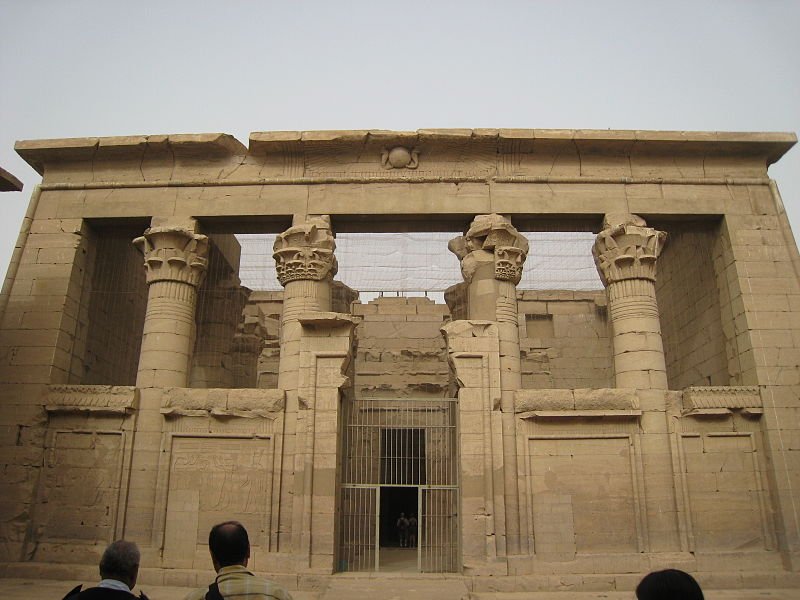 Kalabsha Temple, Sudan

https://commons.wikimedia.org/wiki/File:Flickr_-_schmuela_-_IMG_6634.jpg


Karen Green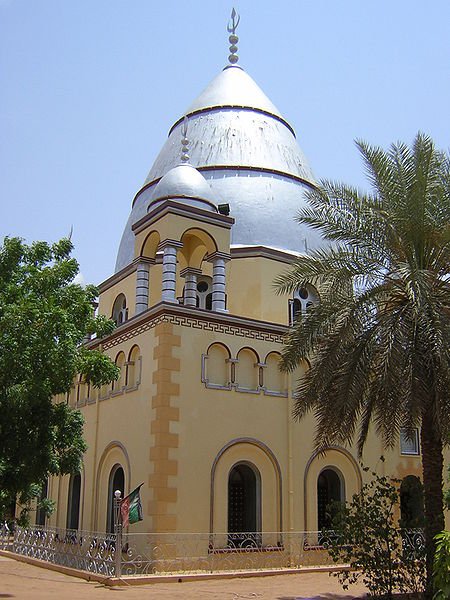 Mahdi's Tomb in Omdurman, Sudan

https://commons.wikimedia.org/wiki/File:Mahdi%27s_Tomb_in_Omdurman_001.jpg


Petr Adam Dohnálek


The Republic of Southern Sudan will be a landlocked country covering 619,745 sq km (239,285 sq mi). It will have a population of around 8.5 million people (2011 estimate). Its capital will be Juba. Southern Sudan will be bordered by the Republic of Sudan to the north, the Central African Republic to the west, the Democratic Republic of the Congo to the southwest, Uganda to the south, Kenya to the southeast and Ethiopia to the east.
Sudan and Southern Sudan observe the East Africa Time, which is three hours ahead of Coordinated Universal Time (UTC+3), without Daylight Saving Time. Their phone IDD code is presently +249. Traffic is driven on the right in both countries. The currency is presently the Sudanese pound (SDG).
Sudan, as a whole, had a 2010 estimated nominal GDP of $65.742 billion, equivalent to a per capita nominal GDP of $1,638. Its per capita GDP at purchasing power parity was $2,464. Despite its political turmoil, it is one of the faster growing countries in Africa. Observers noted that the economy of Sudan has been on the rise for the past decade. Its economy is based on the export of oil, which has enabled it to record a trade surplus since 1999. The country is also rich in natural gas, gold, silver, and other minerals.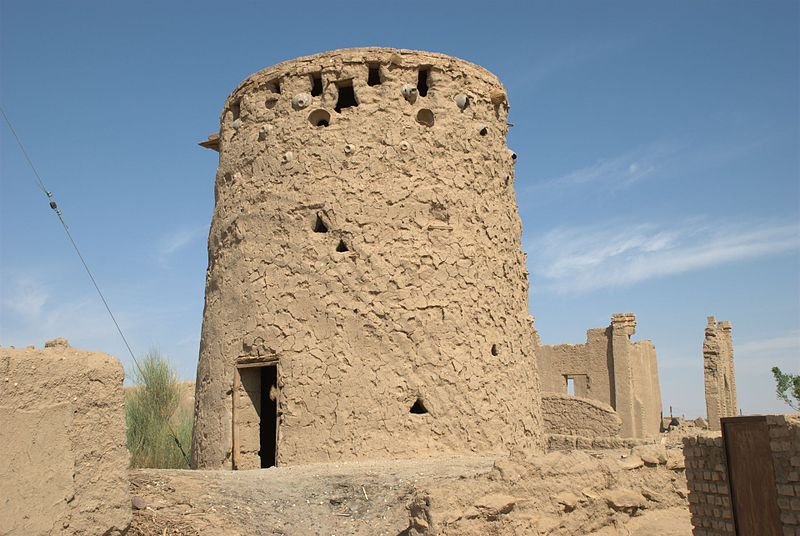 Dovecote near El Kurru, Sudan

https://commons.wikimedia.org/wiki/File:Dovecote_El_Kurru.jpg


Bertramz


Southern Sudan is expected to inherit the wealth from oil, as 85% of Sudanese oil comes from Southern Sudan. According to the Comprehensive Peace Agreement, the revenue from oil will be split equally for the duration of the agreement period.
The history of Sudan goes back thousands of years. The land has had strong cultural ties with Egypt. It was known to the ancient Egyptians as the Kush. Over centuries, various rulers of Kush and Egypt have attacked and conquered each other's territories.
In AD 540, the kings of Nubia, on the eastern part of Sudan, were converted to Christianity by a missionary sent by the Byzantine empress Theodora. About a century later, Islam was also introduced in Nubia through intermarriages and contacts with the Arabs.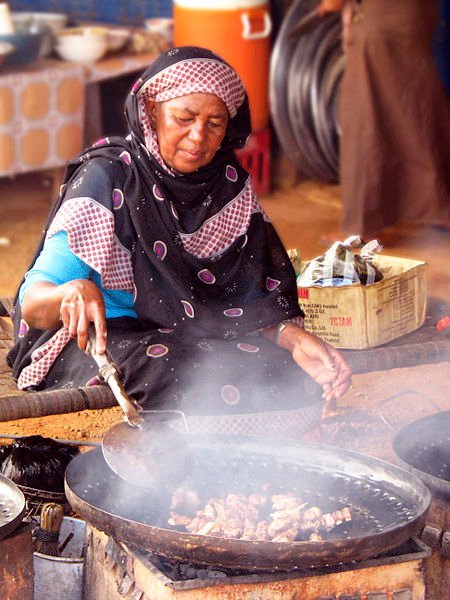 Woman preparing food, Sudan

https://commons.wikimedia.org/wiki/File:Tepeln%C3%A1_%C3%BAprava_j%C3%ADdla_(S%C3%BAd%C3%A1n)_001.jpg


Dominik HES


Sudan was conquered and ruled by Muhammad Ali Pasha, the Albanian-Ottoman ruler of Egypt, in 1820. Although technically ruling Egypt under the Ottoman Sultan, Muhammad Ali styled himself as ruler of a virtually independent Egypt. He brought Sudan under his control by sending his son Ismail to conquer it. British involvement in the affairs of Egypt and Sudan began in 1882.
In 1885, control over Sudan passed to Muhammad Ahmad ibn Abd Allah, the Mahdi, who staged a revolt against the rule of Egypt and Britain. The Mahdist ruled until 1899, when they were defeated, establishing the Anglo-Egyptian rule on Sudan. Sudan was a colony of Britain until its independence in 1956.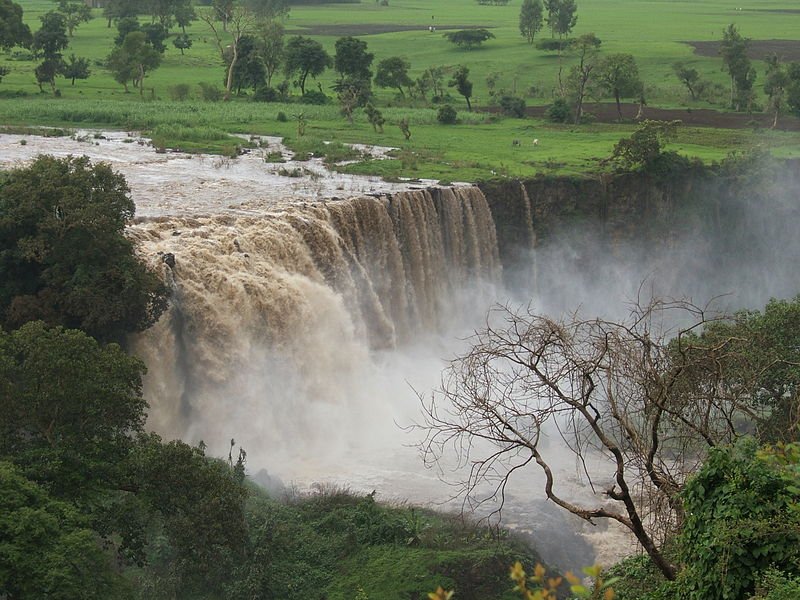 Blue Nile Falls, Sudan

https://commons.wikimedia.org/wiki/File:Blue_Nile_Falls_01.jpg


Giustino


Immediately after independence, Sudan was thrown into a long-lasting civil war from 1955 to 1972, called the First Sudanese Civil War. Conflict erupted again in 1983, in the Second Sudanese Civil War, between Northern Sudanese and Southern Sudanese. The war only ended with the signing of the Comprehensive Peace Agreement on 9 January, 2005. A referendum held in January 2011 led to the eventual secesion of Southern Sudan on 9 July 2011.
Planning your visit to Sudan
Casual travel within much of Sudan remains highly dangerous with extremist groups targetting tourists for kidnapping. Casual travelers and tourists are therefore urged to avoid going to Sudan until the situation in the country improves.
Major Cities in Sudan
Places of Interest in Sudan
Nubian Pyramids
Old Dongola
Thank you for using my website!
Hello and thank you for reading this page. My name is
Tim
. I wrote this page to compile what I discover, for my own knowledge, and also to share it with people who might find it useful. It is part of three inter-connected websites:
Penang Travel Tips
,
TimothyTye.com
and
Timothy Property Mart
.
I am a real estate agent, food blogger, amateur historian and travel author. This website is an encyclopedia as well as a business directory. As a real estate agent, I help people buy, sell, rent and let properties. If you have a property to sell or rent in Penang, Kuala Lumpur, Johor Bahru, Ipoh or Malacca, my team of realtors and I can help you. If you operate a restaurant, can write about your food and promote your restaurant. I can also help you engage other food bloggers to write about your food. And finally, if you are operating a business anywhere in Malaysia, you can add your shop to this website and be found by lots of customers. All you need to do is contact me with what you need.
contact Tim
You can do many things directly from this website. If you are visiting Penang, I can
arrange for you a tour guide and/or driver
to show you around. If you are traveling by bus anywhere in Malaysia or Singapore, you can
book your bus ticket
. If you seek accommodation, you can
get hotel room rates
.
As a Christian, I hope that through this website, I am able to deliver God's message to all who need it, anywhere in the world. If you are open to hearing it, please read
God's Good News to You
.
If you wish to contact me, please use this
contact form
. And don't forget to
follow me on Facebook
. See you!
Copyright © 2003-2019
Timothy Tye
. All Rights Reserved.