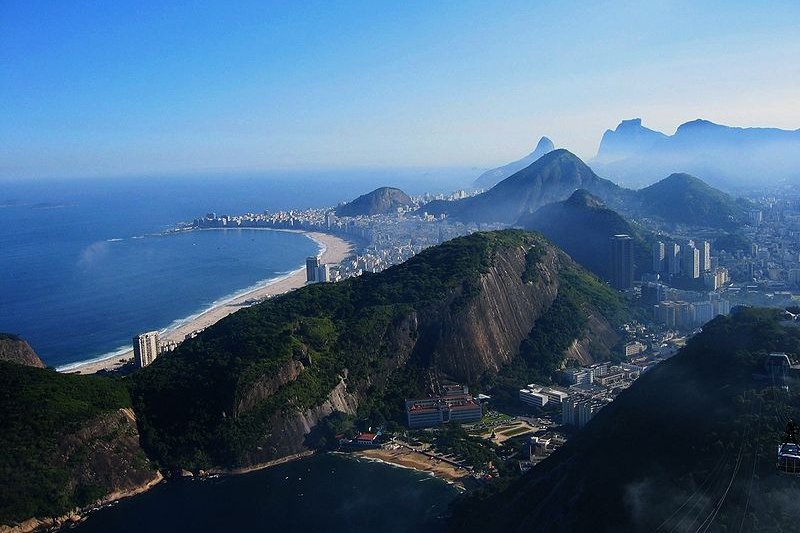 A scenic aerial view of Rio de Janeiro, Brazil

https://commons.wikimedia.org/wiki/File:Rio_de_Janeiro_from_Sugarloaf_mountain,_May_2004.jpg


Breogan67


Brazil
is the largest country in South America and the fifth largest in the world. It covers 8,514,877 sq km (3,287,597 sq mi) of the eastern part of the South American continent, and has a population of 191 million (2011 estimate). The capital of Brazil is Brasilia while the largest city is São Paulo.
Brazil is the only Portuguese-speaking country in the Americas as well as the most populous Portuguese-speaking country in the world. It shares a border with almost all the countries of South America including, in counter-clockwise direction, French Guiana, Suriname, Guyana, Venezuela, Colombia, Peru, Bolivia, Paraguay, Argentina and Uruguay. Also within Brazilian territory are numerous archipelagos in the South Atlantic Ocean. The only South American countries not having a shared border with Brazil are Ecuador and Chile.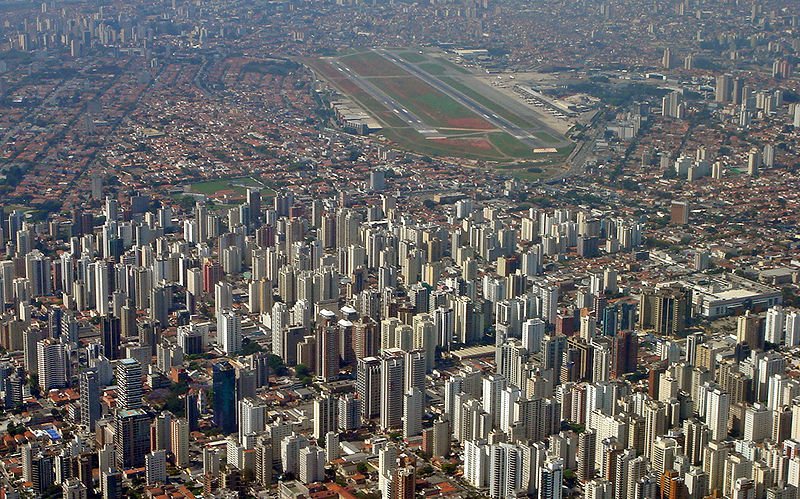 São Paulo skyscrapers

https://commons.wikimedia.org/wiki/File:Sao_Paulo_Congonhas_2.jpg


Mariordo


Due to the large expanse of the country, Brazil has three time zones namely Brasilia Official Time (3 hours behind Coordinated Universal Time) observed by Brasilia and the big cities of southeastern Brazil; Brasilia Time + 1 (UTC-02) observed by a few Atlantic islands on the east coast of Brasil; and Brasilia Tim - 1 (UTC-04) observed by states of Amazonas, Mato Grosso, Mato Grosso do Sul, Rondônia and Roraima.
In Brazil, vehicles drive on the right side. The phone IDD code is +55. The official currency is the Real (R$). Brazil in 2010 has a nominal GDP of $2.023 trillion, equivalent to a per capita nominal GDP of $10,471. The per capita GDP at purchasing power parity is $11,289.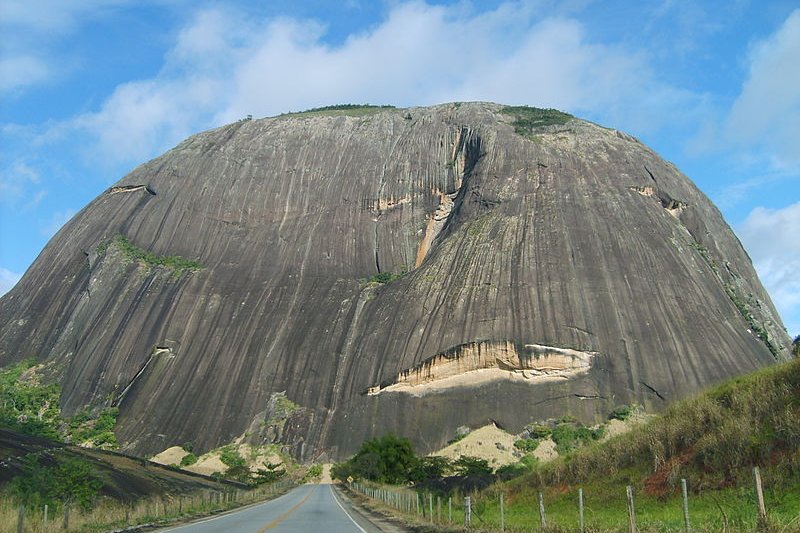 Mountain in Mato Grosso

https://commons.wikimedia.org/wiki/File:Mountains_in_MG.JPG


Jacson


History of Brazil
Brazil was claimed by Portuguese explorer Pedro Álvares Cabral for Portugal in April 1500. The land was already inhabited by a number of primitive tribes who are often at war with one another. The natives speak a tongue of the Tupi-Guarani linguistic family.
Although Brazil was a colony of Portugal since 1500, the first settlement was only established in 1532. The early years of contact with the natives brought wars, diseases, extermination and enslavement which decimated the indigenous tribes. Throughout the 16th century, the Portuguese continued to expand their territorial coverage of Brazil, ousting the French, the British and the Dutch from their respective outposts.
In 1808 the Portuguese royal family, in fleeing advancing troops of Napoleon Bonaparte, reestablished themselves in Rio de Janeiro, making it the seat of the Portuguese Empire. In 1815, the regent Dom João VI elevated Brazil to Kingdom united with Portugal.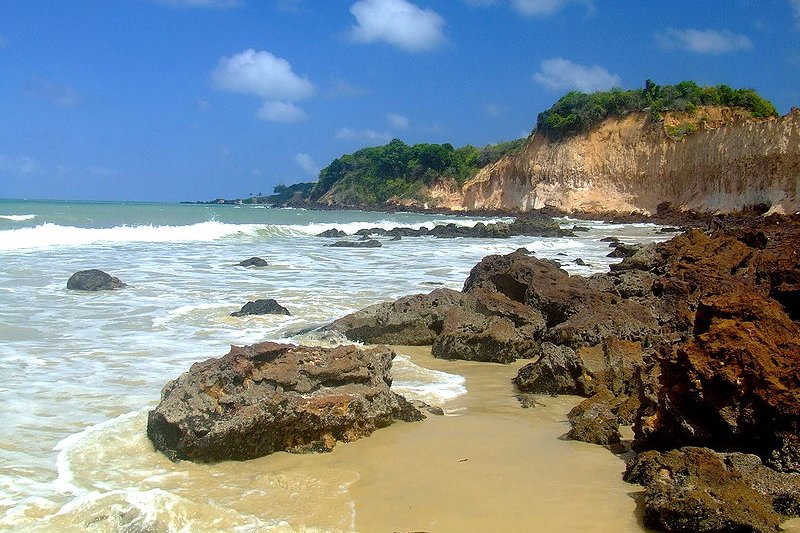 Praia de Cotovelo, Rio Grande do Norte, Brazil

https://commons.wikimedia.org/wiki/File:Praia_de_Cotovelo_-_Parnamirim_-_Rio_Grande_do_Norte.jpg


Fábio Pinheiro


When King João VI returned to Europe on 26 April, 1821, he left his eldest son Prince Pedro de Alcântara behind as regent to rule Brazil. The Portuguese attempted to return Brazil to colonial status again, but the Brazilians refused. Prince Pedro supported the movement for Brazilian independence, and was later crowned the Emperor of Brazil on 1 December, 1822.
The Brazilian monarchy was overthrown on 15 November 1889, despite the emperor being at the height of its popularity. The coup was backed by slave owners who opposed the abolition of slavery brought on in 1888. A military dictatorship took over the government, and the country was plagued by a series of rebellions, civil unrest and revolt. In 1930, the defeated presidential candidate Getúlio Vargas even successfully led a coup d'état and took over presidency.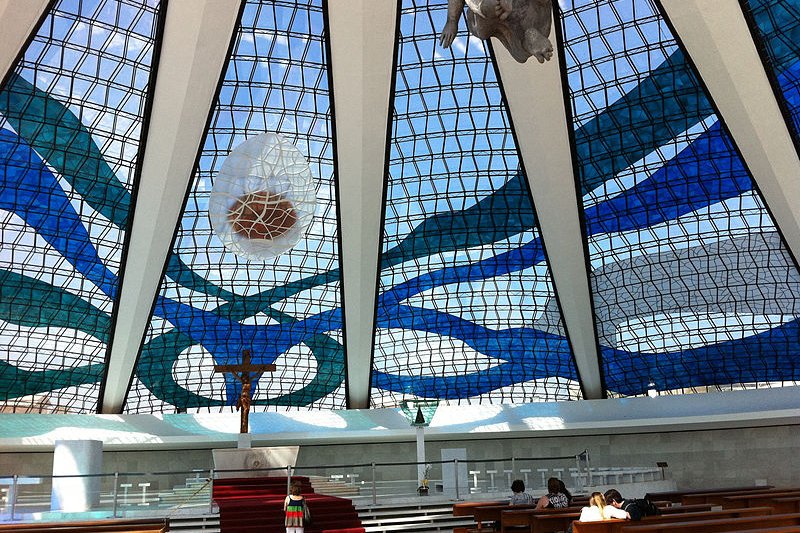 Catedral de Brasilia

https://commons.wikimedia.org/wiki/File:Inside_the_Catedral_de_Bras%C3%ADlia.jpg


anna carol


The new capital city of Brasilia was inaugurated in 1960. Through much of the 20th century, the political landscape of Brasil was tumultuous. A military dictatorship ruled the country from 1964 until 1985, when José Sarney became president. However the unsuccessful civilian government of José Sarney is remembered for unbridled inflation and severe economic crisis.
Long term stability only came about for Brazil when Fernando Henrique Cardoso was appointed Minister of Finance. As architect of the Plano Real (Royal Plan), he brought stability to the Brazilian economy. Cardoso was elected president in 1994, and again in 1998. The presidency has since transitioned peacefully to Luís Inácio Lula da Silva in 2002, re-elected in 2006, and succeeded in 2011 by current president Dilma Rousseff.
Planning your trip to Brazil
The
São Paulo-Guarulhos International Airport
(GRU) is the biggest airport in Brazil with numerous direct flights with major cities in North America and Europe. The second biggest airport is the Rio de Janeiro-Galeão International Airport (GIG). Both airports offer good connections with cities throughout Brazil.
Preparing Money for your trip to Brazil
The currency used in Brazil is the Brazilian Real (BRL).
Major Cities in Brazil
World Heritage Sites in Brazil
Brazil ratified the World Heritage Convention on 1 September, 1977. As of August 2010, it has 10 Cultural World Heritage Sites and 7 Natural World Heritage Sites. Brazil has also submitted another 17 sites for consideration, presently on the World Heritage Tentative List.
Brazil has served on the World Heritage Committee for four mandates, 1980-1987, 1987-1993, 1993-1999 and 2007-2011.
Sites in Brazil presently on the World Heritage Tentative List:
Les Couvents Franciscains du Nord-Est Brésilien (1996)
Ensemble architectonique de tourisme et loisir au bord du lac de Pampulha (1996)
Eglise et Monast`re de Sao Bento, Rio de Janeiro (1996)
Palais de la Culture, ancien siège du Ministère de l'Education et de la Santé, Rio de Janeiro (1996)
Parc national du Pico da Neblina (Amazonas) (1996)
Parc national de la Serra da Bocaina (São Paulo - Rio de Janeiro) (1996)
Réserve biologique d'Atol das Rocas (Rio Grande do Norte) (1996)
Station écologique de Taim (Rio Grande do Sul) (1996)
Station écologique du Raso da Catarina (Bahia) (1996)
Canyon du Rio Peruaçu, Minas Gerais (1998)
Anavilhanas Ecological Station (1998)
Serra do Divisor National Park (1998)
Serra da Canastra National Park (1998)
Cavernas do Peruaçu Federal Environmental Protection Area (APA) / Veredas Do Peruaçu State Park (1998)
Serra da Capivara National Park and Permanent Preservation Areas (1998)
Rio de Janeiro Cultural Landscape (2001)
Gold Route in Parati and its landscape (2004)
States of Brazil
Northern Region

Acre
Amapá
Amazonas
Pará
Rondônia
Roraima
Tocantins
Northeastern Region

Alagoas
Bahia
Ceará
Maranhão
Paraíba
Pernambuco
Piauí
Rio Grande do Norte
Sergipe
Central Western Region

Goiás
Mato Grosso
Mato Grosso do Sul
Southeastern Region

Espirito Santo
Minas Gerais
Rio de Janeiro
São Paulo
Southern Region

Rio Grande do Sul
Paraná
Santa Catarina
Major Attractions of Brazil
Chapada dos Veadeiros
Itatiaia National Park
Pantanal
Thank you for using my website!
Hello and thank you for reading this page. My name is
Tim
. I wrote this page to compile what I discover, for my own knowledge, and also to share it with people who might find it useful. It is part of three inter-connected websites:
Penang Travel Tips
,
TimothyTye.com
and
Timothy Property Mart
.
I am a real estate agent, food blogger, amateur historian and travel author. This website is an encyclopedia as well as a business directory. As a real estate agent, I help people buy, sell, rent and let properties. If you have a property to sell or rent in Penang, Kuala Lumpur, Johor Bahru, Ipoh or Malacca, my team of realtors and I can help you. If you operate a restaurant, can write about your food and promote your restaurant. I can also help you engage other food bloggers to write about your food. And finally, if you are operating a business anywhere in Malaysia, you can add your shop to this website and be found by lots of customers. All you need to do is contact me with what you need.
contact Tim
You can do many things directly from this website. If you are visiting Penang, I can
arrange for you a tour guide and/or driver
to show you around. If you are traveling by bus anywhere in Malaysia or Singapore, you can
book your bus ticket
. If you seek accommodation, you can
get hotel room rates
.
As a Christian, I hope that through this website, I am able to deliver God's message to all who need it, anywhere in the world. If you are open to hearing it, please read
God's Good News to You
.
If you wish to contact me, please use this
contact form
. And don't forget to
follow me on Facebook
. See you!
Copyright © 2003-2019
Timothy Tye
. All Rights Reserved.