Lake Woodruff National Wildlife Refuge, Florida

https://commons.wikimedia.org/wiki/File:LWNWR_View01.jpg


Gamweb

Florida
is a state on the southeastern part of the United States. It shares a border with Alabama to the northwest, and Georgia to the north. Florida covers an area of 65,758 square miles (170,306 sq km) and has the longest coastline in the contiguous United States of 1,200 miles. Also, Florida is a great travel destination port.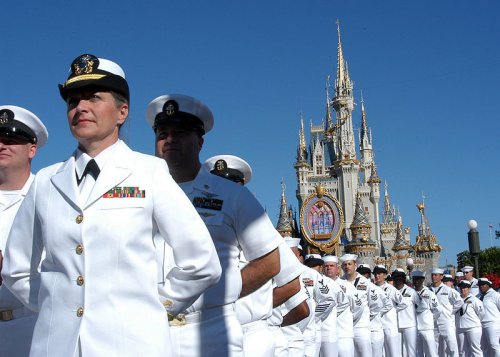 Sailors of the US Navy at the 2005 Christmas Day Parade at Disney World, Florida

https://commons.wikimedia.org/wiki/File:US_Navy_050412-N-6645H-103_Sailors_from_various_U.S._Navy_commands_throughout_Navy%27s_Southeast_Region_march_before_Cinderella%27s_Castle_before_entering_onto_Main_St._inside_Walt_Disney_World%27s_Magic_Kingdom.jpg


Adam J. Herrada, US Navy Photo

With a population of 18,500,000, Florida is the fourth most populous state in the country. The capital of Florida is Tallahassee. Jacksonville is the largest city while the Miami Metropolitan Area is the largest metropolitan area in Florida.
The Florida area has been inhabited by various Native American tribes for thousands of years before the arrival of the first Europeans. It was discovered by Juan Ponce de León, a Spanish conquistador, on 2 April, 1513, six days after Easter but still during the Pascua Florida, or "Flowery Easter" season. The land became known as "La Florida" except between 1630 and the 1700's, when it was also known as Tegesta, after the Tequesta tribe living there.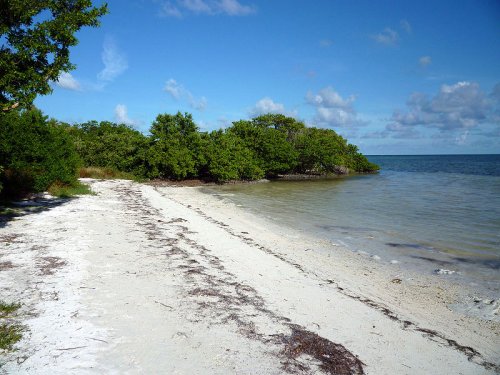 Anne's Beach, Lower Matecumbe Key, Florida

https://commons.wikimedia.org/wiki/File:Annesbeach1.jpg


Ved Ivanov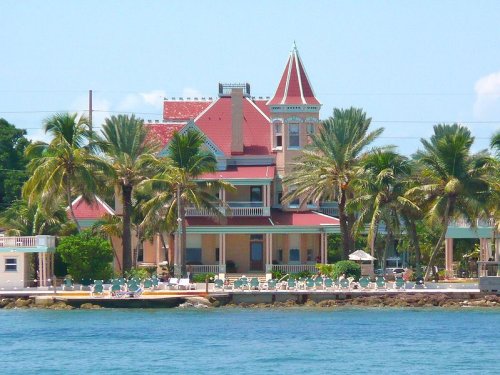 Southernmost House, Key West, Florida

https://commons.wikimedia.org/wiki/File:Southernmost_House_from_Ocean.jpg


Averette

The British gained control of Florida through the Peace of Paris treaty on 1763, but lost it back to Spain through the Treaty of Versailles in 1783. Spain ceded it to the United States through the Adams-Onís Treaty of 1819. Florida became the 27th state of the United States of America on 3 March, 1845.
Florida experiences balmy weather that makes it attractive to retirees. The summers are long and hot while the winters are mild. Summer temperature averages around 80.5°F (26.9°C) while winter temperature is around 68.5°F (20.3°C). There is a rainy season between mid June to September, when thunderstorms are a typical occurrence. There is also a hurricane season from 1 June to 30 November.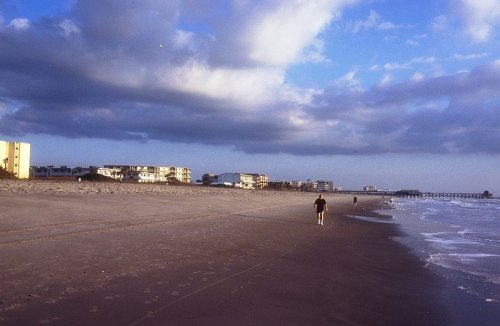 Cocoa Beach, Florida

https://commons.wikimedia.org/wiki/File:CocoaBeachFL.jpg


Dennis Adams, Federal Highways Administration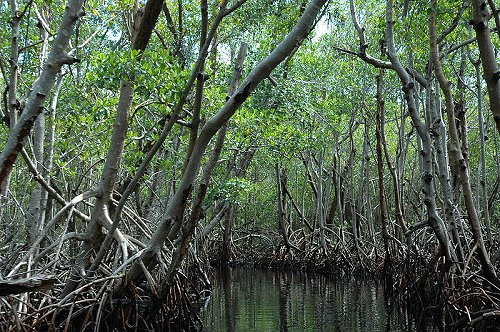 Mangrove near Everglades City, Florida

https://commons.wikimedia.org/wiki/File:Mangrove_Everglades.jpg


Riandi

Travel to Florida
The four main international airports in Florida are those in Miami, Orlando, Tampa and Fort Lauderdale-Hollywood.
Travel within Florida
To get from city to city, you can take the Greyhound buses. Within each city, it is most convenient to drive. Car rental agencies can be found at major airports.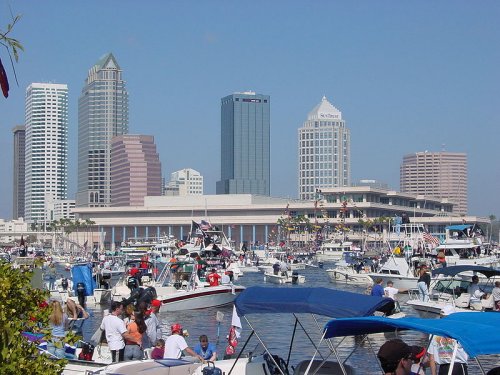 Tampa, Florida

https://commons.wikimedia.org/wiki/File:Downtown_Tampa_and_Convention_Center_During_Gasparilla_Pirate_Fest_2003.jpg


Christopher Hollis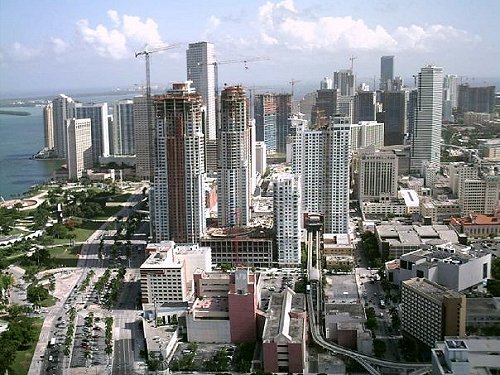 Miami skyscrapers

https://commons.wikimedia.org/wiki/File:Hugone_13.jpg


Hugone

Cruises from Florida
Florida is a major destination for cruises. There are a number of cruises from Florida that you can choose from, each with its own set of facilities and packages.
Cities in Florida
The biggest city in Florida is Jacksonville. However, the most populous metropolitan area in Florida is the South Florida Metropolitan Area centered on Miami, with 5.5 million people, followed by Tampa Bay Metropolitan Area, centered on Tampa, with 2.7 million, and Orlando Metropolitan Area, with 2 million people.
Places of Interest in Florida
National Parks of Florida
National Monuments in Florida
World Heritage Sites of Florida
Thank you for using my website!
arrange for you a tour guide and/or driver
to show you around. If you are traveling by bus anywhere in Malaysia or Singapore, you can
book your bus ticket
. If you seek accommodation, you can
get hotel room rates
.
As a Christian, I hope that through this website, I am able to deliver God's message to all who need it, anywhere in the world. If you are open to hearing it, please read
God's Good News to You
.
If you wish to contact me, please use this
contact form
. And don't forget to
follow me on Facebook
. See you!