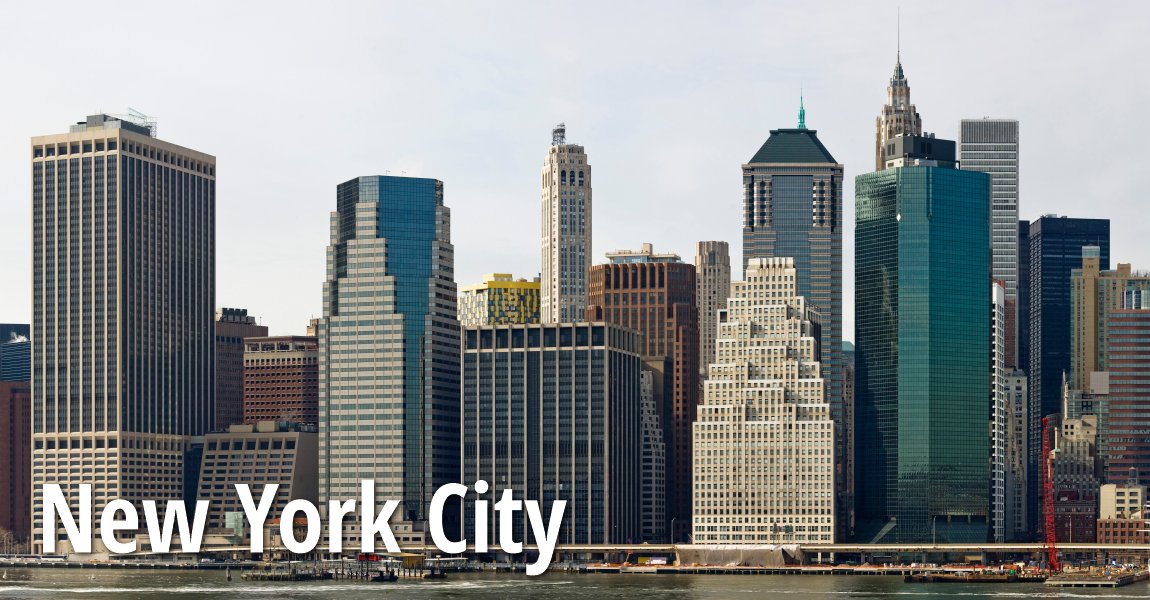 Lower Manhattan, New York City

https://en.wikipedia.org/wiki/File:Lowermanhattan_full.jpg

KennyOMG

New York City
is the biggest city in the United States. It covers 468.9 sq mi (1,214 sq km) and has a population of 8.2 million people. The city is within a New York Metropolitan Area, which spreads out into
New Jersey
and
New York State
, with a total population of 19 million people. It is the most populous metropolitan area in the country.
New York City comprises five boroughs, the boundaries of which follow that of the five counties of New York State namely
Manhattan
(New York County),
The Bronx
(Bronx County),
Brooklyn
(Kings County),
Queens
(Queens County) and
Staten Island
(Richmond County). The boroughs are more popularly referred than the counties. The most populous New York City borough is Brooklyn, with a population of 2.6 million people, while the most densely populated is Manhattan, with a population of 1.6 million people, or 71,200 per square mile.
Categories of Sights in New York City
Boroughs (Counties) of New York City
Districts of Manhattan
National Monuments in New York City
World Heritage Sites in New York City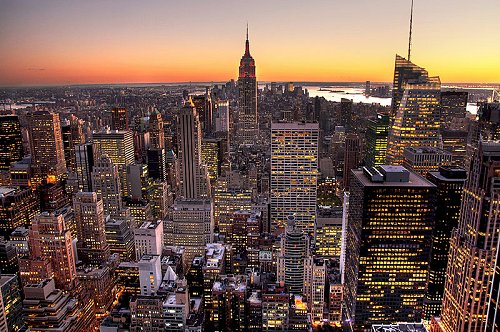 Manhattan at sunset

https://commons.wikimedia.org/wiki/File:Manhattan_from_top_of_the_rock,_hdr.jpg


Florin dr

New York City is in the Eastern Time Zone, which is five hours behind Coordinated Universal Time (UTC-5) and four hours behind during Daylight Saving Time in summer. The phone area codes for New York City are 212, 718, 917, 347 and 646.
If you view New York City from the city, the different boroughs will appear to you like fragments of ice sheets floating in water. That's because the boroughs are located at the mouth of the Hudson River, which flows into a natural harbor before emptying into the Atlantic Ocean. The main portions of New York City are located on three islands namely Manhattan, Staten Island and Long Island, on which the boroughs of Queens and Brooklyn are located.
The climate of New York City is classified as humid subtropical. The coldest month here is January, when the average low temperature drops to 26.2°F (-3.2°C). The warmest month is July, when the average temperature reaches 84.2°F (29°C). New York City receives snowfall of over 7.1 inches (18 mm) in January and February. Other than that, precipitation is quite evenly distributed throughout the year, averaging 4.14 in (105 mm) per month.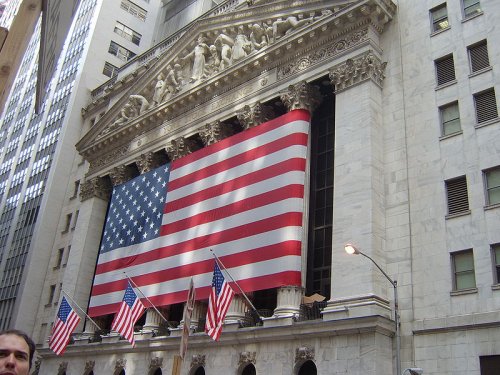 New York Stock Exchange

https://commons.wikimedia.org/wiki/File:Manhattan_New_York_City_2008_PD_a65.jpg


Kamel15

Visiting New York City, New York
By Plane
There are three international airports to choose if you are flying in. The main international airports are the John F. Kennedy International Airport (JFK) in Queens and the Newark Liberty International Airport (EWR) in New Jersey. Both provide international flights connecting New York City with every continent of the world. JFK is the busiest international airport into the United States. In addition to the two, the LaGuardia Airport (LGA), located in the northern part of Queens, is smaller than the other two, but due to its proximity to Manhattan, is the choice airport for domestic flights into New York City.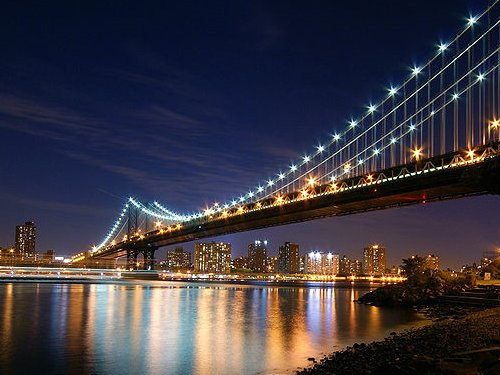 Manhattan Bridge at night

https://commons.wikimedia.org/wiki/File:Manhattan_Bridge_at_Night.jpg


Ladislav Somlyo

John F. Kennedy International Airport
The John F. Kennedy International Airport is a huge airport spanning 8 terminals. If you are leaving New York City by this airport, you need to be sure which terminal you are flying from. Air France and Lufthansa use Terminal 1, Delta Air Lines Terminals 2 and 3, Virgin Atlantic Terminal 4, JetBlue Terminal 5, British Airways Terminal 7, American Airlines Terminal 8, find out if you are flying by any other airlines. The JFK AirTrain connects all the terminals. It is free for rides between terminals, but costs $5 if you take it to stations outside the airport such as Jamaica Station, Federal Circle, Lefferts Boulevard and Howard Beach Station.
Arriving at JFK, you can take the
MTA NYC bus
to Manhattan. That's the public bus. It costs only $2.25 departing from Terminal 4. The buses are really for locals and commuters. They don't have space for big luggages. For convenience is riding the bus, get yourself the MetroCard, as it allows you free transfer to the subway. The MetroCards are sold at the newsstands at Terminals 1 and 6.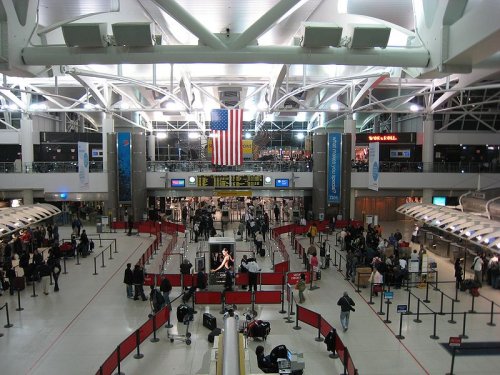 Terminal 1, John F Kennedy International Airport

https://commons.wikimedia.org/wiki/File:JFK_Terminal_1.jpg


Doug Letterman

To save a bit on the hassle, but pay more, you can take the
New York City Airporter Bus
, a shuttle that goes to the Grand Central Station and the Port Authority Bus Terminal. The fare is $12.75 one way, $22 round trip. There's also the
New York Airport Express Bus
that goes to the Grand Central Station, Penn Station and the Port Authority Bus Terminal for $15 one way and $27 round trip.
For even more convenience, the
SuperShuttle
takes you direct to selected hotels in Manhattan for $25 one way. Also available is the
Go Airlink Shuttle
, a shared van service to the Port Authority Bus Terminal, Grand Central Station, Penn Station and selection Midtown hotels, for $17-20 one way.
Taxis to Manhattan costs a flat $45 one way, which is quite a good deal if you are traveling in a small group. The fare does not include toll of at least $5.50.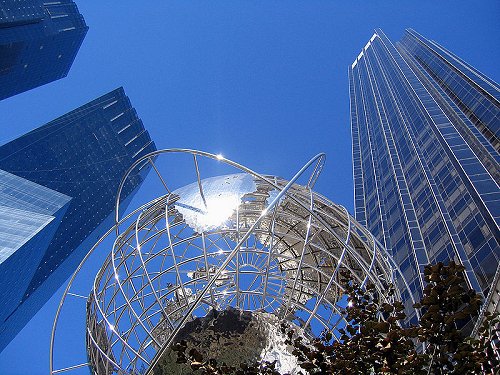 Columbus Circle, New York

https://commons.wikimedia.org/wiki/File:New_York._Columbus_Circle.jpg


Tomás Fano

Newark Liberty International Airport
This international airport is in neighboring New Jersey. It has three terminals. Terminal A is used mostly by domestic flights, Terminal B mostly by international airlines and Terminal C by Continental Airlines.
The cheapest option out of Newark Liberty airport is to take the public bus, which is the
New Jersey Transit Bus No. 62
. It takes you from the airport to the Newark Penn Station (not the Penn Station in Manhattan) for $1.25 in 25 minutes. From there, you can catch the PATH subway train to Lower Manhattan (another 25 minutes).
To cut down on the hassle, there's the Newark Airport Express Bus to 42nd Street in Manhattan. It costs $15 one way, $25 round trip, and takes 40 minutes depending on traffic. Taxis to Manhattan charge a flat rate between $50 to $70, according to your destination, excluding tips and tolls which are an additional $8.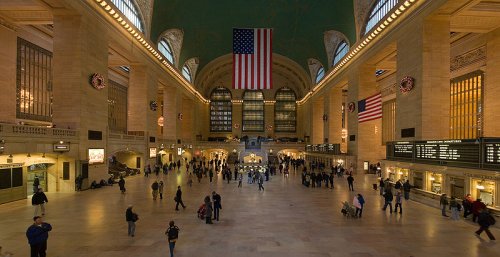 Grand Central Station Main Concourse, Manhattan

https://commons.wikimedia.org/wiki/File:Grand_Central_Station_Main_Concourse_Rectilinear_projection_Jan_2006.jpg


Diliff

Exploring New York City
New York City is vast, to say the least. Even Manhattan alone, which is laid out in an easy-to-understand grid, seems mind-boggling. Much of Manhattan has numbered streets and avenues.
Taking the New York City Subway
If you are going to explore using the subway, you need to get the MetroCard. This is the smart card issued by the Metropolitan Transit Authority (MTA) for use in riding the buses and subway trains. There are different types of MetroCards, but the one travelers should consider holding is the Pay-Per-Ride card, which has amounts from $4.50 to $80. Each ride on the regular buses and subway costs $2.25 on the card, each ride on the express buses cost $5.50. You can also use it on the PATH system for $1.75, the JFK Airtrain for $5.00.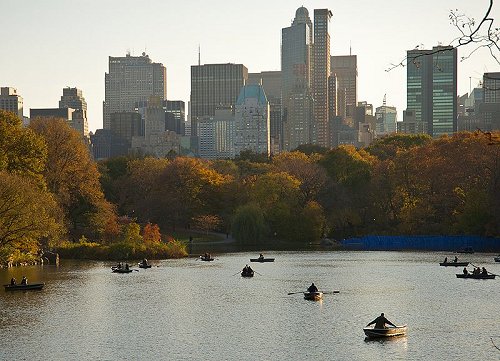 Lake in Central Park

https://commons.wikimedia.org/wiki/File:Central_Park_South_from_Rambles,_NYC.jpg


Ed Yourdon

The subway trains in New York City are identified by letters and numbers. You should get a copy of the free subway map (
available here
). Each subway station will show the trains that stop there. Do note that some trains do not stop at some stations during specific hours. "Express" trains stop at only selected stations.
Taking the New York City taxis
The taxi fare is $2.50 plus $0.50 tax, followed by $0.40 for every 1/5 mile traveled. Between 8:00 pm and 6:00 am, there's also a surcharge of $0.50. In addition, between 4:00 pm and 8:00 pm Mondays to Fridays there's a rush hour surcharge of $1.00. And above all, you need to tip the driver. All the taxis accept credit cards (Visa, Mastercard and American Express).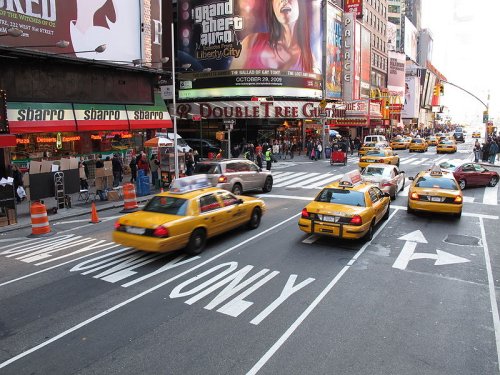 Taxis in Manhattan

https://commons.wikimedia.org/wiki/File:Manhattan_New_York_City_2009_PD_20091129_057.jpg


Sterilgutassistentin

More Travel Tips for New York City
Thank you for using my website!
arrange for you a tour guide and/or driver
to show you around. If you are traveling by bus anywhere in Malaysia or Singapore, you can
book your bus ticket
. If you seek accommodation, you can
get hotel room rates
.
As a Christian, I hope that through this website, I am able to deliver God's message to all who need it, anywhere in the world. If you are open to hearing it, please read
God's Good News to You
.
If you wish to contact me, please use this
contact form
. And don't forget to
follow me on Facebook
. See you!