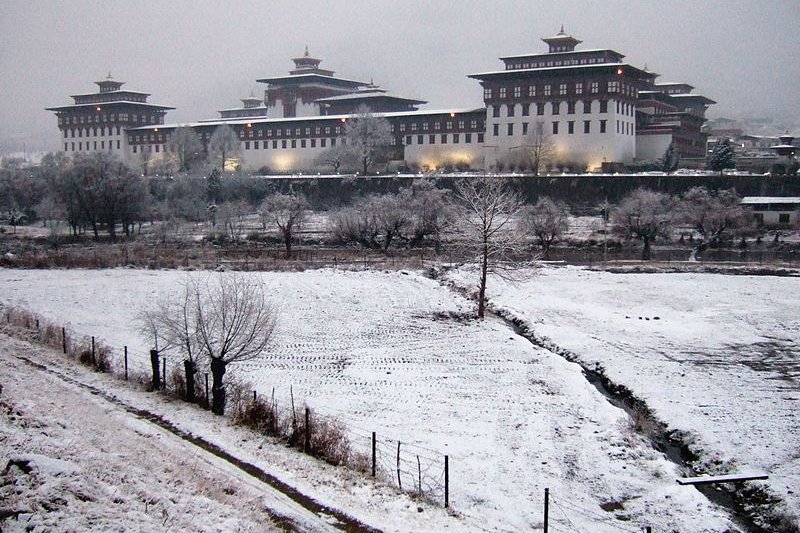 Tashichhoe Dzong, Bhutan

https://en.wikipedia.org/wiki/File:Tashich%C3%B6dzong_Thimphu-2008-01-23.jpg


Christopher J. Fynn


Bhutan
is a small, landlocked kingdom in South Asia. It is bordered by India to the south, east and west, and by Tibet, China, to the north. It is separated from Nepal by the Indian state of Sikkim and from Bangladesh by the Indian state of West Bengal. Bhutan has an area of 38,394 sq km (14,824 sq miles), slightly bigger than the state of Maryland in the United States.
The capital of Bhutan is the city of Thimphu. Bhutan is a constitutional democratic monarchy headed by a king, Jigme Khesar Nemgyel Wangchuck. The head of government is prime minister Jigme Y. Thinley. The country has a population of around 700,000 (2010 estimate) and the per capita GDP stands at 1,880 (2009 estimate).
Places in Bhutan on this website
View
Bhutan
in a larger map
Travel Tips to Major Cities in Bhutan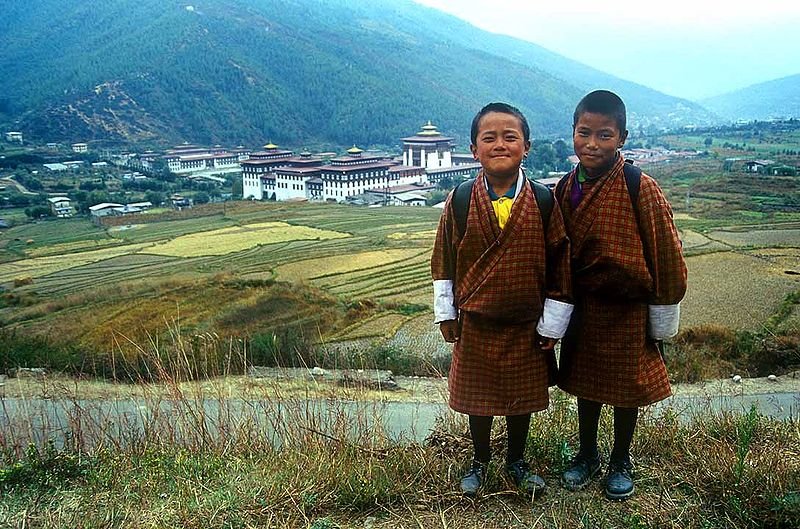 Bhutanese children

https://commons.wikimedia.org/wiki/File:Thimphu.jpg


Steve Evans


The northern part of Bhutan comprises part of the Eastern Himalayan mountains, with peaks rising to over 7,000 meters. The tallest mountain in Bhutan is either the 7,553-meter (24,780-foot) Kula Kangri or the 7,570-meter (24,840-foot) Gangkhar Puensum. The uncertainty arise from the remoteness of the mountains and unconfirmed topographic studies. The southern part of Bhutan is covered with dense Himalayan subtropical broadleaf forests with mountains of around 1,500 meters (4,900 feet).
The currency of Bhutan is called the Ngultrum. It is pegged to the Indian rupee which is also accepted in the country as legal tender. Although Bhutan has one of the smallest economy in the world, it has been growing steadily, achieving a growth of 8% in 2005 and 14% in 2006. In 2007, Bhutan's economy was the second fastest growing in the world at 22.4%, contributed in part by the commissioning of the mammoth Tala Hydroelectricity project.
In 1987, in response to a comment from a journalist from UK Financial Times that Bhutan's development was too slow, the King of Bhutan responded that the Gross National Happiness is more important than the Gross National Product. Since then, many western economic psychologists have made findings questioning the level of income and its relationship to happiness. Findings from surveys discover that 45% of Bhutanese reported being very happy and 52% being happy, with only 3% reporting not being happy. The data reveals that the level of life satisfaction in Bhutan puts it within the top 10% in the world, higher than anywhere else in Asia.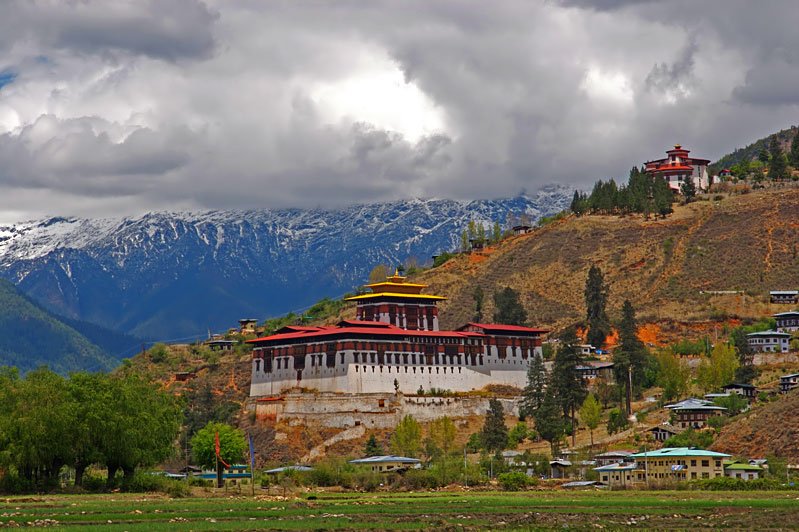 Scenery in Paro, Bhutan

https://commons.wikimedia.org/wiki/File:Cloud-hidden,_whereabouts_unknown_%28Paro,_Bhutan%29.jpg


Jean-Marie Hullot


Planning your visit to Bhutan
Bhutan is not for the penniless traveler. In this instance, the term "budget" refer to the amount you are expected to spend, and that includes a luxurious budget.
Everybody except the nationals of India and Bangladesh need a visa to enter Bhutan. This has to be applied at least 30 days before their date of arrival. The local travel operator has to process the visa on the traveler's behalf. Visas cannot be issued on arrival. Although the visa only costs US$20 for 14 days, it will only be issued with proof of pre-paid booking for a tour which costs from US$200 per person per night, for groups. There are surcharges for lone travelers, groups of two, and luxury hotels. Although the tours are provided by local operators, the prices are set by the Bhutan government. This is a deliberate policy to control the number of arrivals into the country.
To visit Bhutan, you will invariably need to go via India, Nepal or Thailand, so make sure you also meet the visa requirements of these countries. Nepal and Thailand offer visas on arrival as well as visa waiver for some nationalities while India requires visa to be completed before arrival, a procedure that can take two weeks.
The only international airport in Bhutan is
Paro Airport
, served by Druk Air, the national flag carrier. Drug Air flies to Bangkok, Kolkata, Delhi, Dhaka, Gaya, Kathmandu and Yangon. The airline will only issue you a ticket once you can provide proof of visa clearance.
Planning your travel within Bhutan
As all visitors to Bhutan are part of a tour package, your transportation will have been taken care of. Tourists are usually ferried around in minibuses and 4WD vehicles. These can be reserved through the tour operator. It is possible to hitch a ride from the locals to go from place to place: do offer to pay them for taking you on board, even though some drivers are happy just to enjoy your company.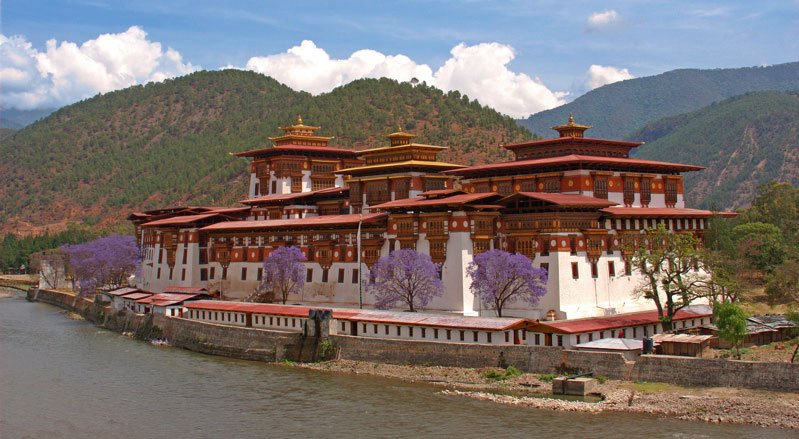 Punakha Dzong in spring

https://en.wikipedia.org/wiki/File:PunakhaDzongInSpring.jpg


Jean-Marie Hullot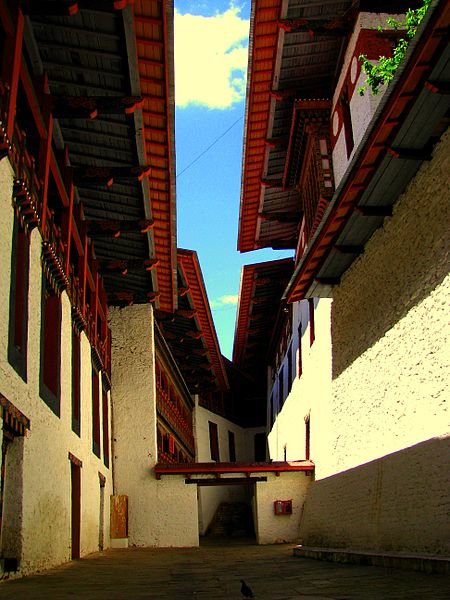 Lane at Punakha Dzong

https://commons.wikimedia.org/wiki/File:Lanes_in_Punakha_dzong.jpg


Soham Banerjee


Sights in Bhutan
Visitors come to Bhutan to admire its pristine sceneries, to view its culture, and to visit its sacred sites. The following are the places of interest in Bhutan. However, not all are open to tourists.
Thank you for using my website!
arrange for you a tour guide and/or driver
to show you around. If you are traveling by bus anywhere in Malaysia or Singapore, you can
book your bus ticket
. If you seek accommodation, you can
get hotel room rates
.
As a Christian, I hope that through this website, I am able to deliver God's message to all who need it, anywhere in the world. If you are open to hearing it, please read
God's Good News to You
.
If you wish to contact me, please use this
contact form
. And don't forget to
follow me on Facebook
. See you!