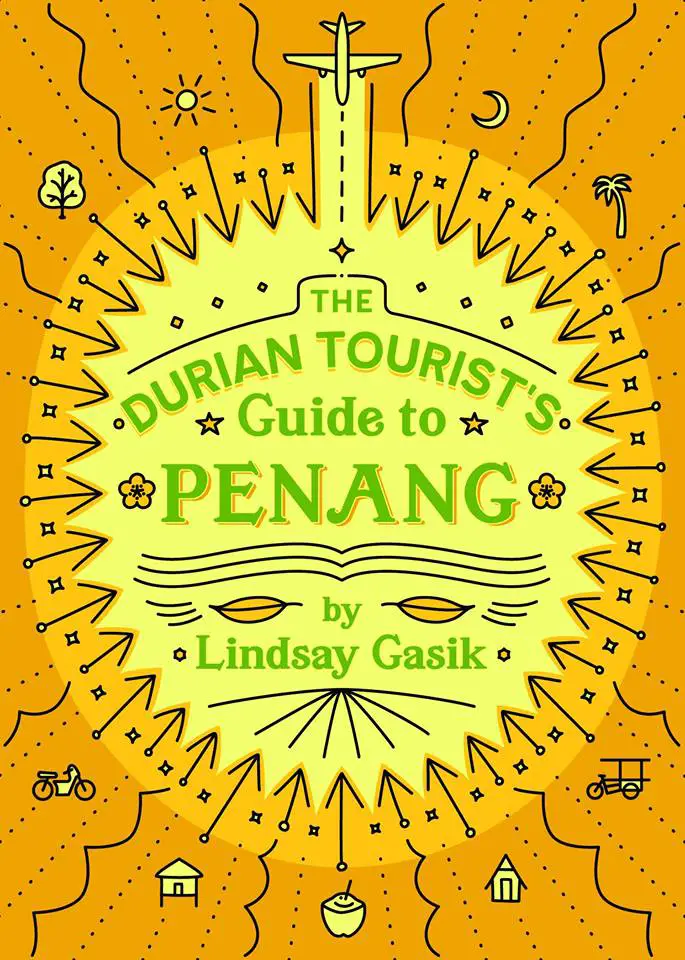 Timothy Tye
BUY HERE
The Durian Tourist's Guide to Penang
is a comprehensive guide to the durians and durian plantations in Penang. Amazingly, it is not the work of a local durian enthusiast, but a young American girl. If you had expect every Westerner to run away at the aroma of durian, well, not anymore. But
Lindsay Gasik
is no average Western. Not only has she developed an appreciation for durians, she has also travelled all over Asia to seek out durians where they grow naturally. And she's not alone. Lindsay is one among a growing throng of Westerners calling themselves durian lovers.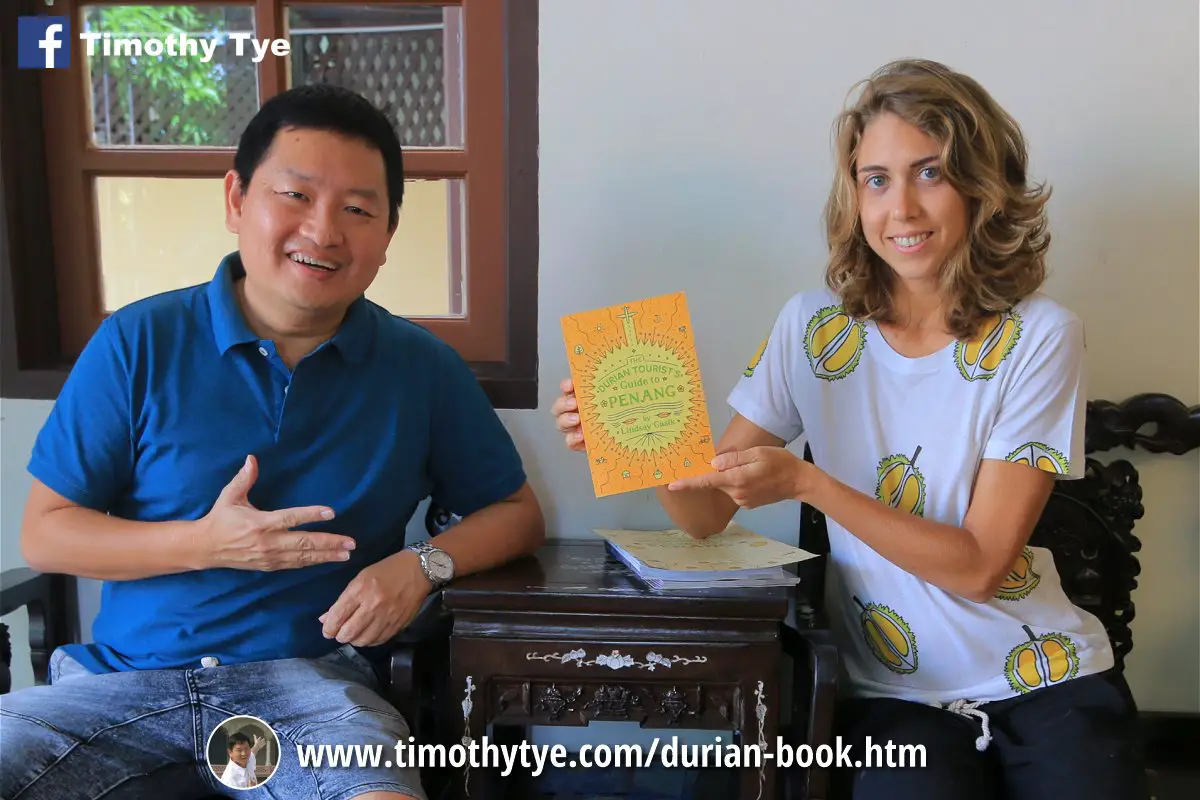 Timothy Tye and Lindsay Gasik: The Durian Tourist's Guide to Penang
(12 July, 2018)

Most Penangites love durians. Some of us may even be able to name a few types. Kun Poh, Hor Lor (Gould), Ang Hae (Red Prawn), to name some. But not many of us are able to look at a durian, identify it for what it is, and provide a definitive description of its aroma and taste. Even myself, as much as I love durians, I have not been able to develop the expertise necessary to be a true durian connoisseur. So often, I am overwhelmed with the many variables that I end up getting confused. As I see it, there has to be an investment of passion and time to develop the familiarity.
I do not know of anybody else better placed to write such a book. Among local durian farmers, the majority only knows how to sell durians. Only the exceptional - and Mr Chang Teik Seng of Bao Sheng comes to mind - is capable of providing the "durian experience". As my friend, cookbook author Miss Evonne Lyn Lee told me, "Mr Chang does not sell durians, he sells flavours." What differentiates Lindsay from everyone else is, although she doesn't own a durian farm, she has accumulated a vast knowledge about durians, not just in Penang, but across the whole of Asia, and extending even to Australia and Hawaii.
I have known Lindsay since June 2014. Seeing how diligently she is building up her body of knowledge, I have encouraged here to assemble the information in a book, so that the knowledge can be passed on to other durian lovers. So it is with great joy that Lindsay Gasik finally produces this book,
The Durian Tourist's Guide to Penang
This is a Penang guidebook with a difference. So many people - present company included - have written for the general visitors to Penang. What Lindsay has produced, is a book written specially for durian lovers.
Lindsay's first trip to Penang, in 2012, is quite an amusing read. She touched down in the dead of night, and instead of taking the bus from the airport to George Town, she took it the other way (for no clear reason), ending her bus ride in the forlorn night of Balik Pulau, with nothing in sight but a 24-hour nasi kandar. And nothing to buy but a single durian. A Kun Poh. That Kun Poh is the start of her Penang durian journey.
What can you expect from
The Durian Tourist's Guide to Penang
? Aside from the usual intro about Penang, it gives you the history of how durian arrived in Penang. It introduces the different types of durians found in Penang, describing their appearance and taste, and explains which durian farm has it. It provides an easy-to-use map of all the location for the durian farms, durian stalls, markets where durians are sold, and even homestays where you can stay and feast on durians the whole day.
People to my Penang Travel Tips website often ask me, when should they visit Penang to eat durians. Well, different durians fruit at a different season. From now on, if someone asks me such a question, I would refer him to this book. But first of all, he needs to know which type of durian he likes. All the major types are described in this book. Next, he needs to know which durian farm has those types. The book explains this, and provides the location and contacts. Finally, he is taught to identify good durians from bad ones.
If you study this book and put into practise all the tips and instructions provided, you too will become quite an expert on Penang durians.
Having said this much, I also have to mention that there are a number of areas for improvement. Due to time constraints, it was not well proofread. As a result, I do come across typos and grammar errors. But as Lindsay herself puts it, she's human.
Buying the book
The Durian Tourist's Guide to Penang is self published. So you can purchase it (printed as well as electronic copy) directly from Lindsay Gasik's website,
Year Of The Durian
.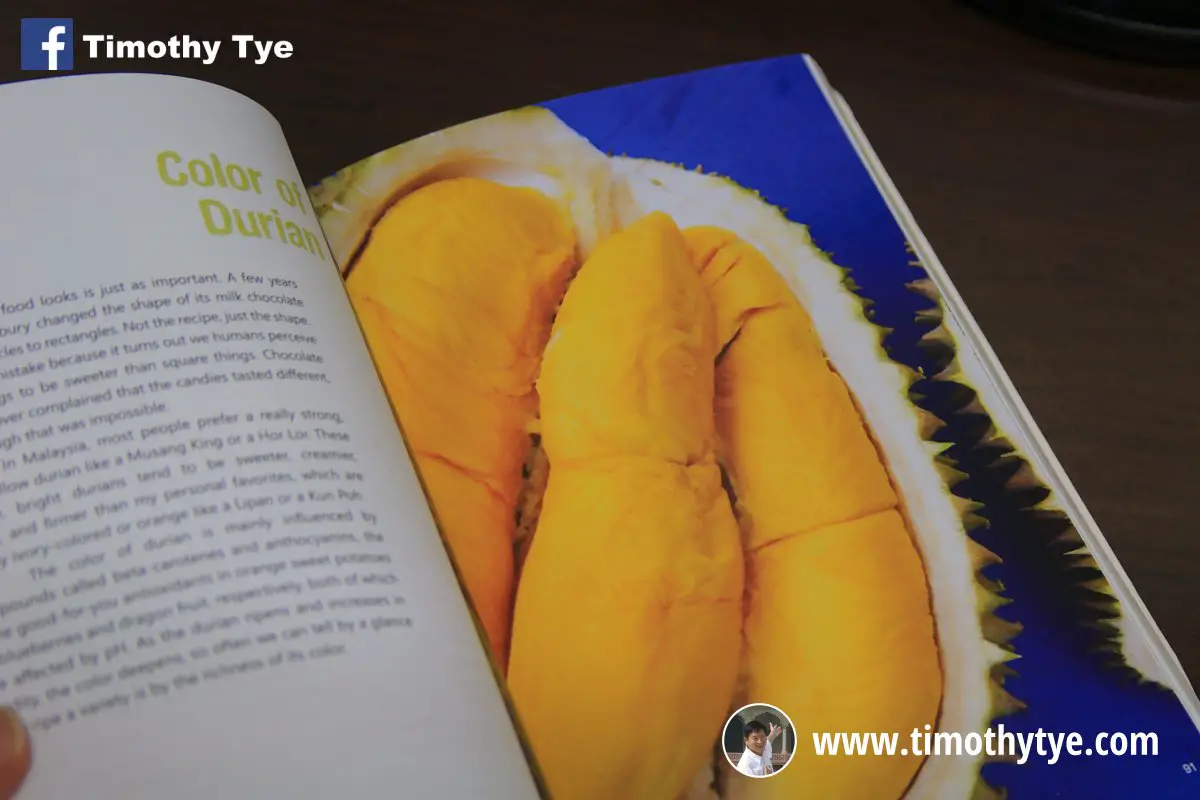 Learn to identify different types of durians by the colour
(12 July, 2018)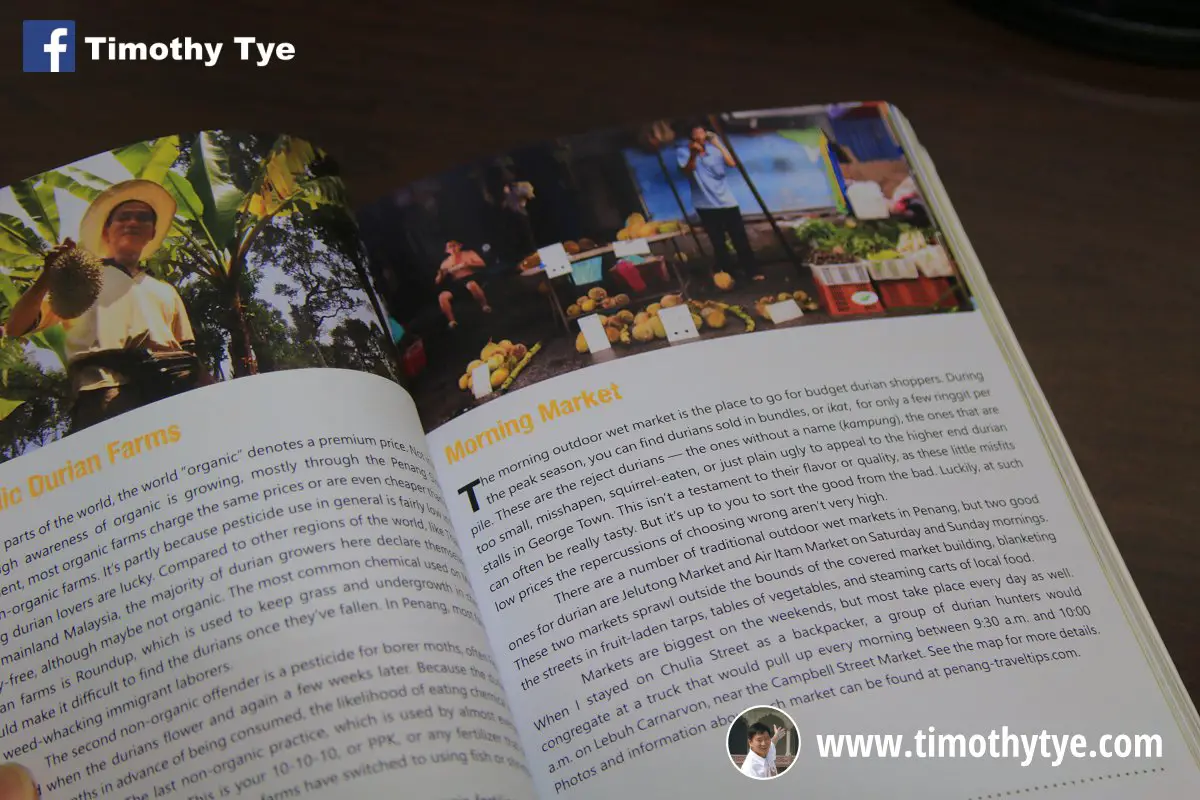 Get to know all the farms and markets where durians are sold in Penang
(12 July, 2018)

Learn why the age of durian trees make a difference to the quality of the fruits
(12 July, 2018)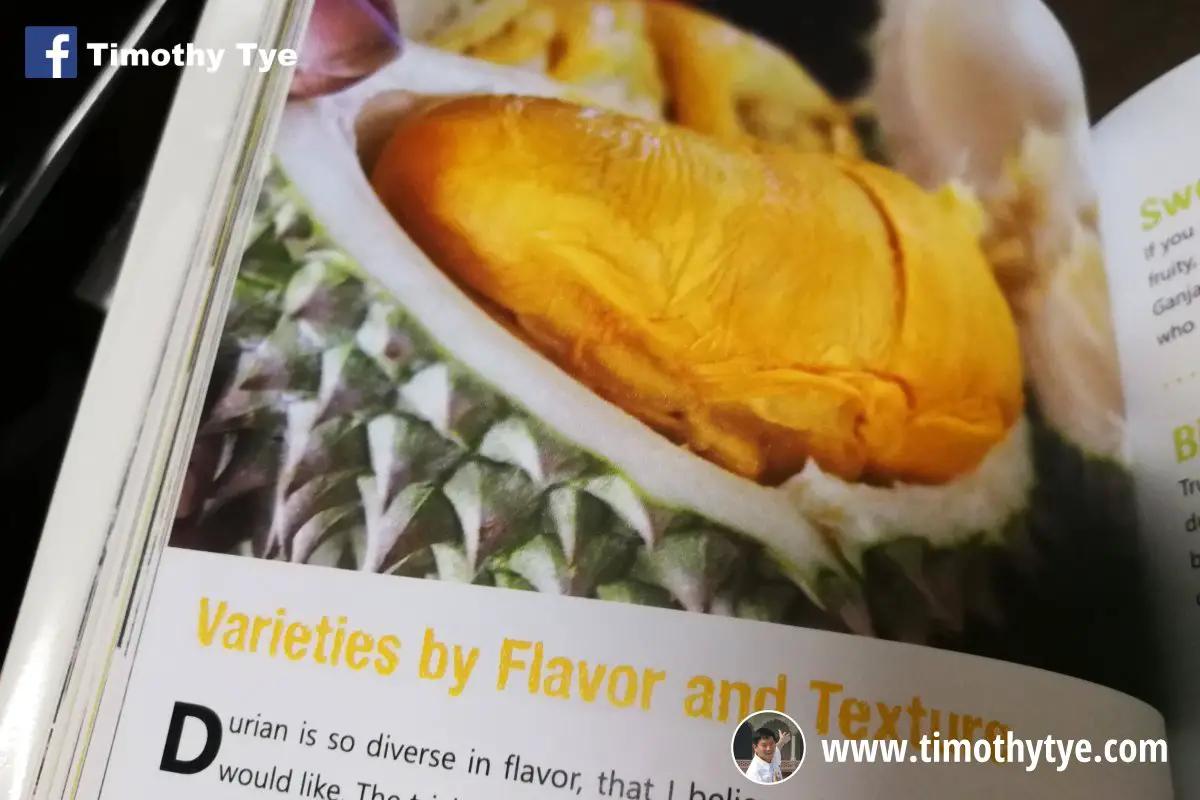 Learn to judge the durian by the flavour and texture
(12 July, 2018)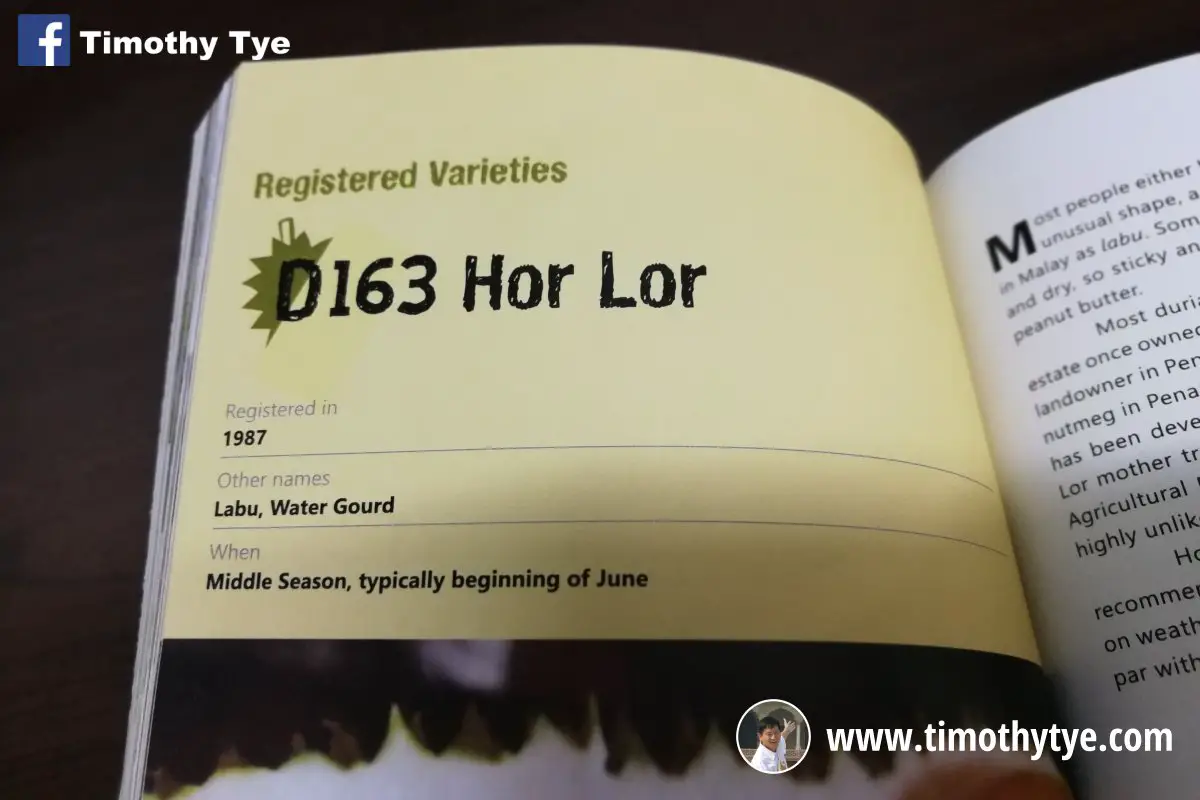 Get to know the many registered varieties of durian
(12 July, 2018)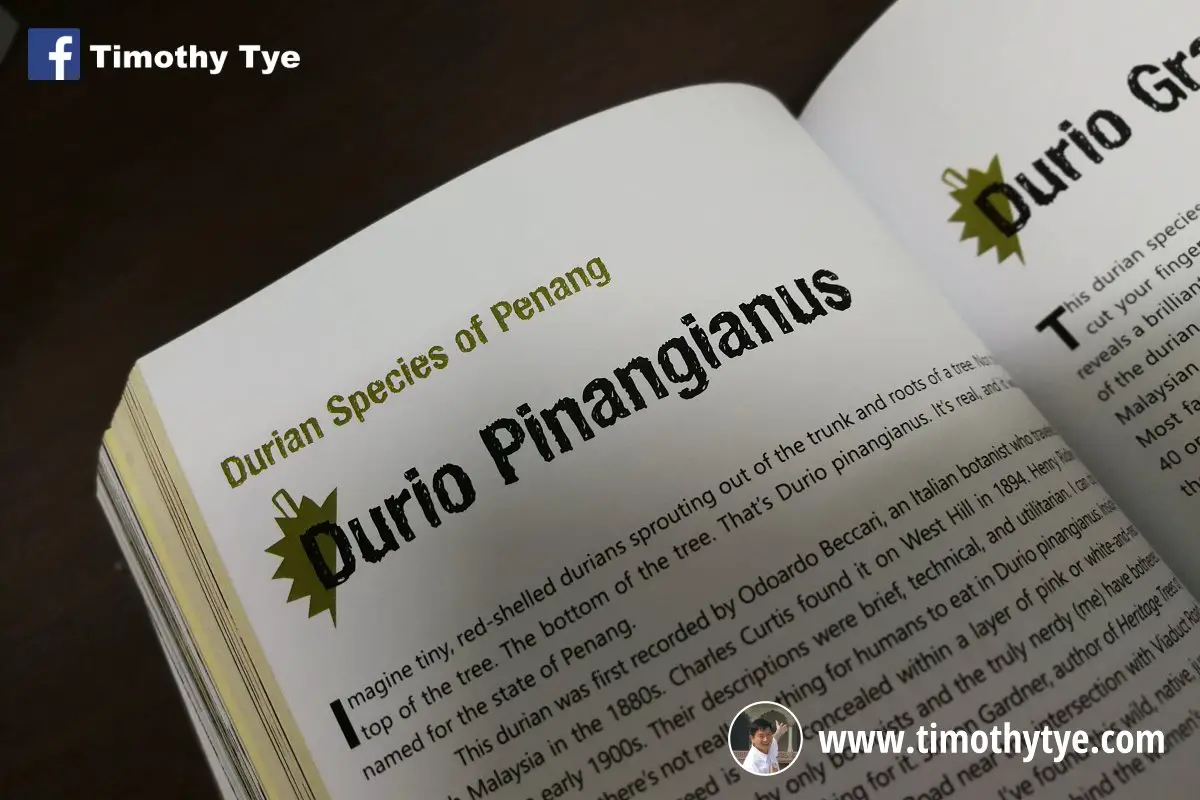 Learn about the various species of durians in Penang
(12 July, 2018)

Copyright © 2003-2019
Timothy Tye
. All Rights Reserved.