Sarajevo - unique symbol of universal multiculture - continual open city (1997)
Vjetrenica cave (2004)
The natural and architectural ensemble of Jajce (2006)
The historic urban site of Počitelj (2007)
The natural and architectural ensemble of Blagaj (2007)
The natural and architectural ensemble of Blidinje (2007)
The natural and architectural ensemble of Stolac (2007)
The natural monument Vjetrenica cave with architectural ensamble of village Zavala (2007)
Bosnia and Herzegovina
is the name of a small country in Southern Europe. Covering just 51,209 sq km (19,772 sq mi), Bosnia and Herzegovina is bordered by Croatia to the north, west and south, Serbia to the east and Montenegro to the southeast. The country is almost landlocked, except for a 26-km (16-mile) stretch of coastline on the Adriatic Sea at the town of Neum.
Bosnia and Herzegovina has a mountainous interior with some flat land in the northeast. It experiences a Mediterranean climate along the southern coast and a continental climate in the rest of the country. Bosnia and Herzegovina has a population 4.7 million people (2011 estimate). The majority are Bosniak (48%), Serbs (37%) and Croats (14.3%). The capital and largest city is Sarajevo.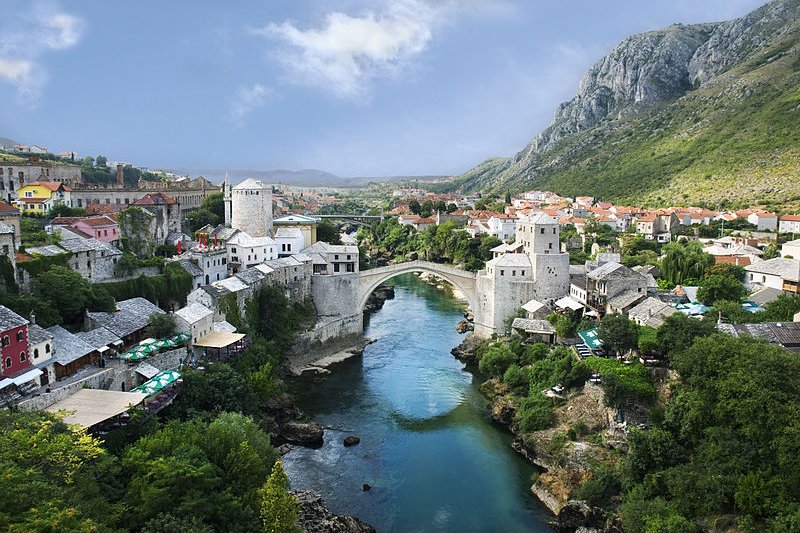 A scenic view of Mostar with its Old Bridge, a World Heritage Site

https://commons.wikimedia.org/wiki/File:Mostar_Old_Town_Panorama_2007.jpg


Ramirez


Bosnia is one hour ahead of Coordinated Universal Time, two hours in summer. Its currency is called the Convertible Mark. Traffic drives on the right side of the road. Phone IDD code is +387. The estimated nominal GDP for Bosnia and Herzegovina in 2011 is $18.3 billion, and its per capita nominal GDP is $4,575. The per capital GDP at purchasing power parity for 2011 is $8,450.
Bosnia and Herzegovina is a federal democratic republic with a rather complicated political structure comprising two separate entities. The Federation of Bosnia and Herzegovina covers 51% of the country while Republika Srpska 49%.
The land of Bosnia has been inhabited since the Neolithic age. It was completely annexed into the Roman Empire in AD 9. In the 9th and 10th century, the principalities of Serbia and Croatia split from Bosnia and Herzegovina. The Ottomans conquered Bosnia, ruling it from 1463 to 1878, when it was taken over by Austro-Hungarian rule.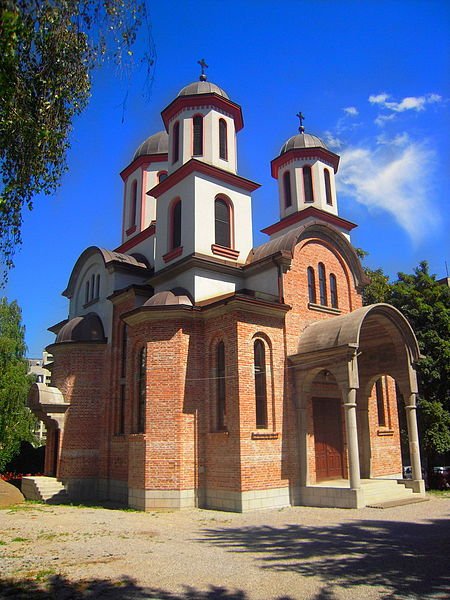 An Orthodox church in Banja Luka

https://commons.wikimedia.org/wiki/File:Hram_Uspenja_presvete_Bogorodice_u_Banjoj_Luci.jpg


Rade Nagraisalović


The assassination of Archduke Franz Ferdinand, heir to the Austro-Hungarian throne, in Sarajevo on 28 June 1914, set off World War I. Ironically, the country emerged from the war relatively unscathed. It then joined the kingdom of Serbs, Croats and Slovenes to form Yugoslavia. During World War II, Yugoslavia was conquered by the Nazis, and Bosnia was ceded to the Independent State of Croatia.
At the end of World War II, the Socialist Federal Republic of Yugoslavia was established, with Bosnia and Herzegovina being one of its six constituent republics. The death of Yugoslav leader Tito and the fall of the Soviet Union were catalysts in the disintegration of Yugoslavia. Croatia and Slovenia declared independence while Bosnia's parliament dominated by three ethnically based parties was tossed into upheaval when the Serb Democratic Party abandoned the central parliament in Sarajevo to set up the Serbian Republic of Bosnia and Herzegovina on 9 January, 1992, the precursor of today's Republika Srpska.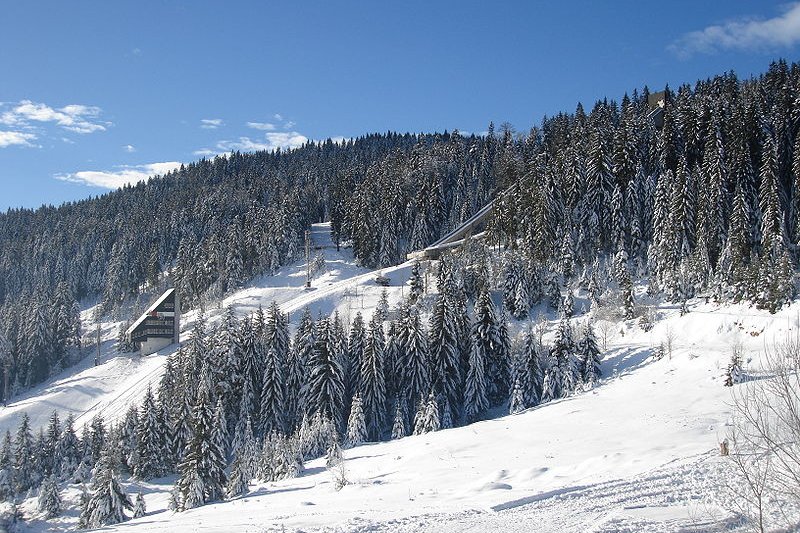 Mount Igman ski slopes, Bosnia and Herzegovina

https://commons.wikimedia.org/wiki/File:Igman.jpg


Xe0us


Bosnia and Herzegovina was plunged into civil war, called the Bosnian War, from 1992-95, characterized by civil rights violations and ethnic cleansing against non-Serbs, such as the Srebrenica massacre, where over 8,000 Bosniak men and boys were killed. NATO bombing and ground offensive by the allied forces of Croatia and Bosnia helped to push the Serbs into withdrawal and towards negotiations.
In November 1995 the Dayton Peace Accord, reached in Dayton, Ohio, and formally signed in Paris, on 14 December, 1995, by the presidents of Bosnia and Herzegovina (Alija Izetbegović), Croatia (Franjo Tuđman) and Serbia (Slobodan Milošević) brought the war, which had killed some 100,000 people, to an end. Five years later, Milošević was arrested by Yugoslav authorities and sent to The Hague to stand trial for war crimes. His five-year long trial came to an end without a verdict when he was discovered dead in his prison cell on 11 March, 2006.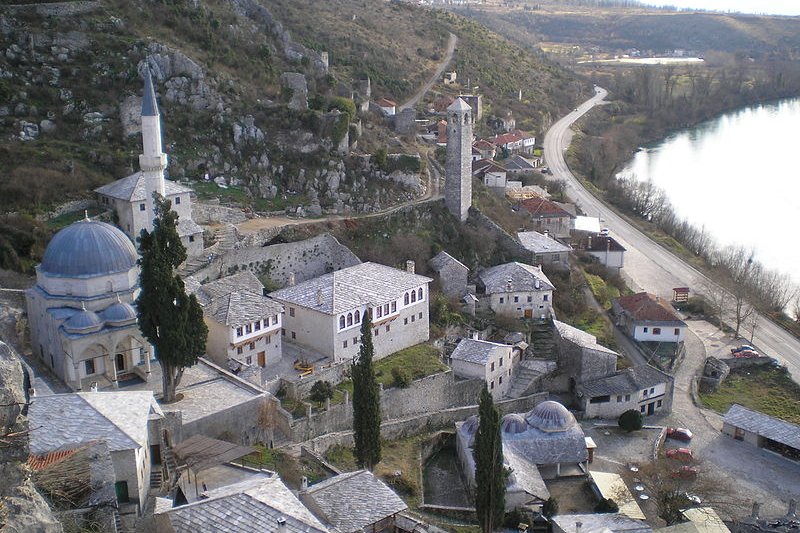 Panoramic view at Pocitelj, Bosnia and Herzegovina

https://commons.wikimedia.org/wiki/File:Pocitelj_Panorama.JPG


Mediha


Planning your visit to Bosnia and Herzegovina
No visa is required for visitors from Australia, Canada, Japan, Malaysia, New Zealand, Singapore, the United States, Balkan countries except Albania, and the European Union. Citizens of Croatia and Serbia do not need to bring a passport, an ID is sufficient.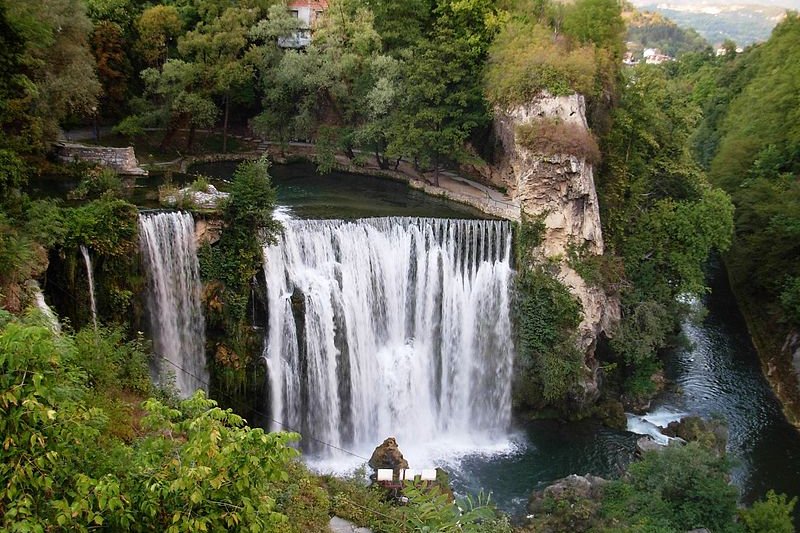 Jajce Waterfall, one of the major falls in Bosnia and Herzegovina

https://commons.wikimedia.org/wiki/File:Vodopad_na_Plivi.jpg


Micki


By Plane
The Sarajevo Airport (SJJ) is the gateway to Sarajevo, and by extension, to Bosnia and Herzegovina. The national carrier BH Airlines flies to Amsterdam, Copenhagen, Istabul, Prague and Skopje. Croatia Airlines connects Sarajevo to Zagreb, from where you can get flights to Brussels, Frankfurt, London, Munich, Paris and Zurich, among others.
Getting around in Bosnia-Herzegovina
The train is a practical mode of transport in Bosnia-Herzegovina. The national train operator is Željeznice Federacije Bosne Hercegovine (www.zfbh.ba/zfbhenx/index.php).
Thank you for using my website!
Hello and thank you for reading this page. My name is
Tim
. I wrote this page to compile what I discover, for my own knowledge, and also to share it with people who might find it useful. It is part of three inter-connected websites:
Penang Travel Tips
,
TimothyTye.com
and
Timothy Property Mart
.
I am a real estate agent, food blogger, amateur historian and travel author. This website is an encyclopedia as well as a business directory. As a real estate agent, I help people buy, sell, rent and let properties. If you have a property to sell or rent in Penang, Kuala Lumpur, Johor Bahru, Ipoh or Malacca, my team of realtors and I can help you. If you operate a restaurant, can write about your food and promote your restaurant. I can also help you engage other food bloggers to write about your food. And finally, if you are operating a business anywhere in Malaysia, you can add your shop to this website and be found by lots of customers. All you need to do is contact me with what you need.
contact Tim
You can do many things directly from this website. If you are visiting Penang, I can
arrange for you a tour guide and/or driver
to show you around. If you are traveling by bus anywhere in Malaysia or Singapore, you can
book your bus ticket
. If you seek accommodation, you can
get hotel room rates
.
As a Christian, I hope that through this website, I am able to deliver God's message to all who need it, anywhere in the world. If you are open to hearing it, please read
God's Good News to You
.
If you wish to contact me, please use this
contact form
. And don't forget to
follow me on Facebook
. See you!
Copyright © 2003-2019
Timothy Tye
. All Rights Reserved.