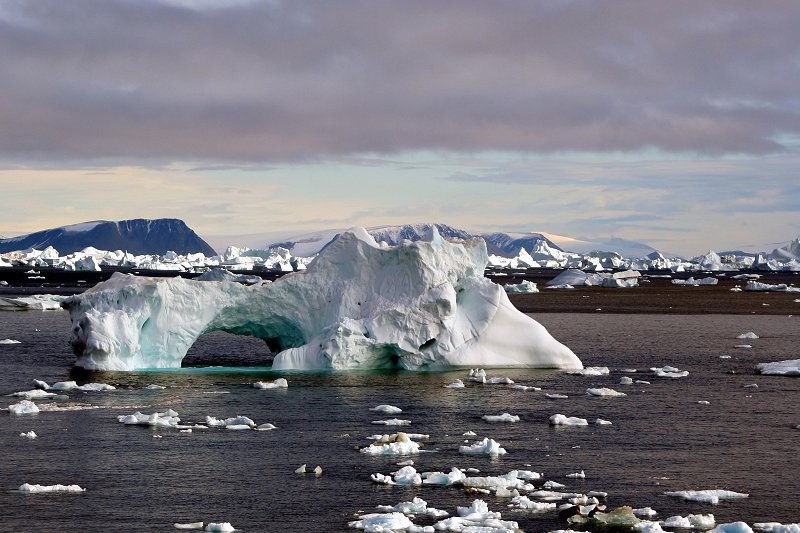 Icebergs in Cape York, Greenland

https://commons.wikimedia.org/wiki/File:Iceberg_with_hole_crop.jpg


Mila Zinkova


Greenland
is a separate, autonomous country which is within the Kingdom of Denmark. Covering 2,166,086 sq km (836,109 sq km), the country of Greenland covers the island of Greenland and the surrounding isles. The island of Greenland itself is the largest island in the world. However, due to its frigid climate, it is sparsely populated. The whole of Greenland has a population of just 57,000 (2011 estimate), 88% of whom are native Inuit while the remainder are mostly ethnic Danish. The capital and biggest city in Greenland is Nuuk, also called Godthåb in Danish.
Greenland is in four time zones, from Coordinated Universal Time to four hours behind (UTC +0 to -4). Traffic, if there be any, is driven on the right, the same as in Denmark. The phone IDD code is +299. The Danish krone is used as the official currency.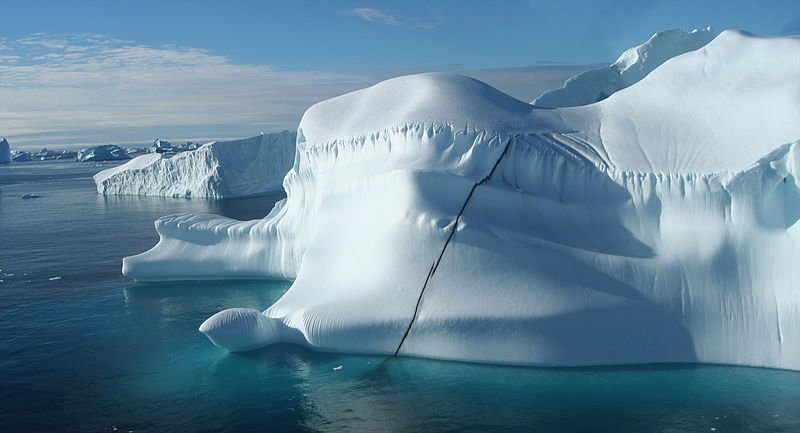 Close-up of iceberg in Cape York

https://commons.wikimedia.org/wiki/File:Close_up_of_iceberg_at_cape_York_taken_from_helicopter.jpg


Mila Zinkova


The history of Danish association with Greenland goes back to Norwegian colonization of the land. According to Icelandic sagas, the first European to settle in Greenland was the Norwegian-born Viking, Erik the Red, who was forced to exile there around AD 982 for committing several murders. When he and his men arrived in that inhospitable land, he decided to call it Greenland, hoping that the lush name will entice others to settle there as well.
Historians believe earlier Norsemen have preceded Erick the Red in reaching Greenland, crediting Gunnbjørn Ulfsson for having sighted it. The actual date is uncertained, it could be anywhere between AD 876 and 932.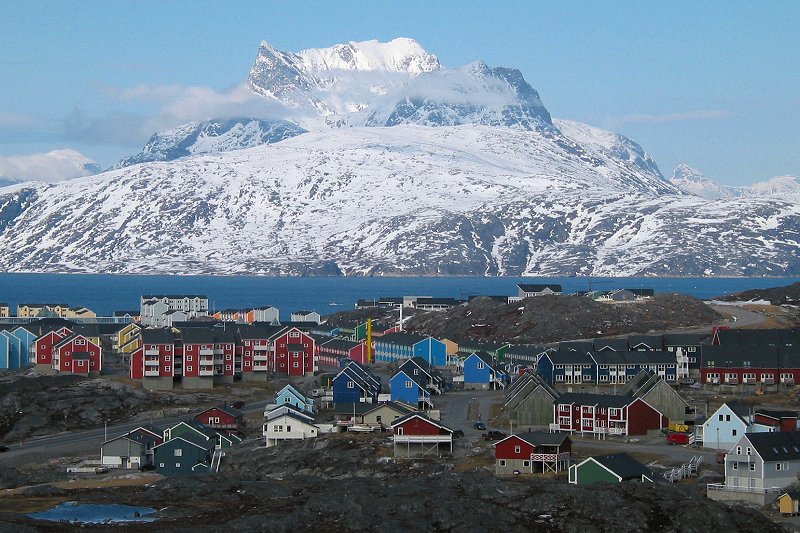 Nuuk, Greenland

https://commons.wikimedia.org/wiki/File:Nuuk_city_below_Sermitsiaq.JPG


Oliver Schauf


Greenland came under the rule of Norway in 1261. The kingdom of Norway was united with Denmark in 1380. This further evolved into the Kalmar Union, which linked the kingdoms of Norway (including Iceland, Greenland, Faroe Islands, Shetland and Orkney), Denmark and Sweden (including Finalnd) from 1397 and 1523. By the 14th century, however, the Norse settlements in Greenland have largely been abandoned. Historians believed that a Little Ice Age during that part of history made the land too inhospitable for the settlements to continue. Conflicts with the local Inuits were also not ruled out.
In 1500, King Manual I of Portugal sent an expedition to Greenland, to look for a passage to Asia. That expedition resulted in a map that accurately recorded the southern coastland of the land. By then, although there were no European settlements in Greenland, sovereignty over it has passed from Norway to Denmark, and the Danes reasserted its sovereignty over the island in the early 18th century.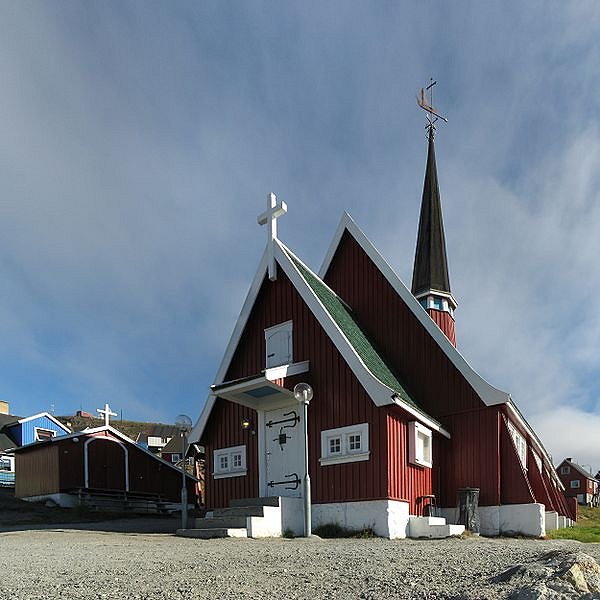 Church in Upernavik, Greenland

https://commons.wikimedia.org/wiki/File:Upernavik_church_2007-08-20_rectangular_cropped_downsampled.jpg


Kim Hansen


Greenland was officially ceded to Denmark on 14 January, 1814. It was given the status of amt - equivalent to county - on 5 June, 1953. Greenland attained home rule status on 1 May 1979, and self rule on 21 June, 2009. Denmark retains control over foreign affairs and defence, and provided an annual grant of 3.2 billion Danish kroner, which will be reduced as Greenland starts to collect revenue based on its natural resources.
All the main towns of Greenland are located on the ice-free west coast, which is where the capital is situated. Here, the temperature varies from -9°C to 7°C (16-45°F).
The economy of Greenland is supported by the fishing industry, with shrimp fishing being the largest income earner. It is also rich in several types of minerals, but these have yet to be fully exploited. Since 2007, ruby mining has been another source of income for Greenland. In 2001, it had an estimated GDP at purchasing power parity of $1.1 billion, equivalent to a per capita GDP of $20,000.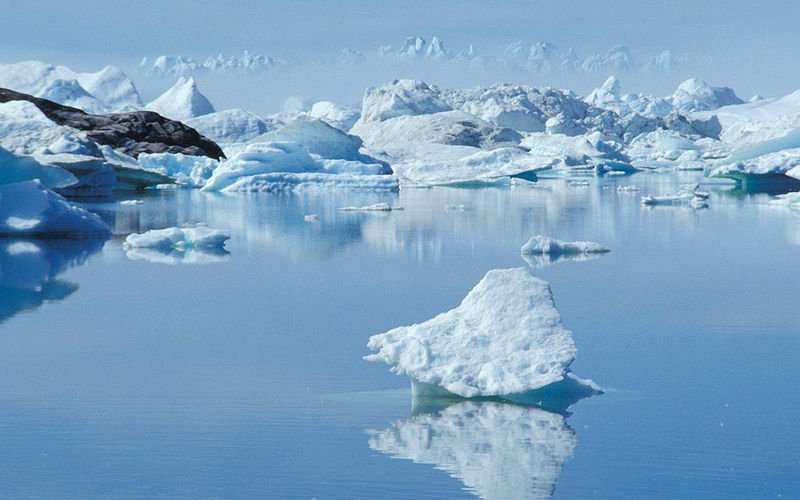 Isfjord, Ilulissat, West Greenland

https://commons.wikimedia.org/wiki/File:Greenland-Ilulissat-11.jpg


Michael Haferkamp


Planning your visit to Greenland
Visitors from Denmark and other Scandinavian countries do not need a visa, but need to bring a passport with at least six months validity. Any visits to a national park require a permit from the Danish polar center.
Kangerlussuaq Airport (SFJ), also called Søndre Strømfjord Lufthavn in Danish, receives flights from Copenhagen, Denmark. The other airport serving Greenland is Narsarsuaq Airport (UAK). Both airports are served by Air Greenland, the national flag carrier airline of the country.
Major Cities in Greenland
World Heritage Site in Greenland
There is one World Heritage Site in Greenland. It was inscribed under Denmark.
Thank you for using my website!
arrange for you a tour guide and/or driver
to show you around. If you are traveling by bus anywhere in Malaysia or Singapore, you can
book your bus ticket
. If you seek accommodation, you can
get hotel room rates
.
As a Christian, I hope that through this website, I am able to deliver God's message to all who need it, anywhere in the world. If you are open to hearing it, please read
God's Good News to You
.
If you wish to contact me, please use this
contact form
. And don't forget to
follow me on Facebook
. See you!