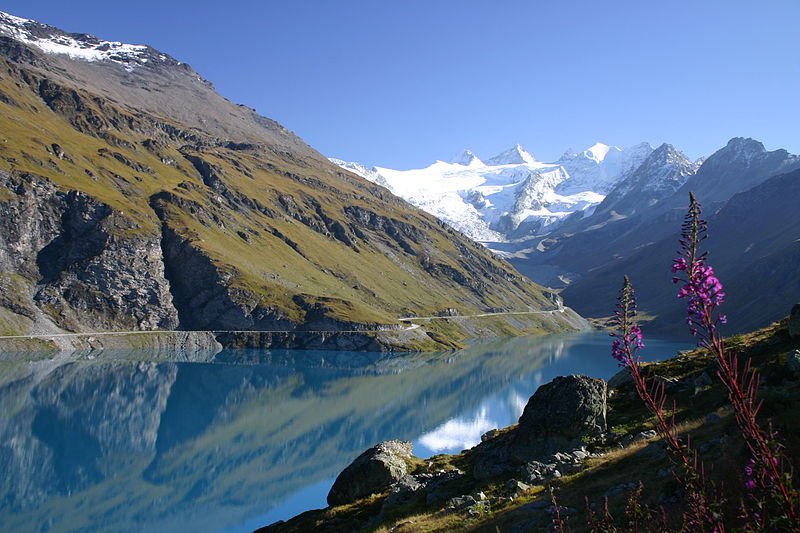 Lac de Moiry in Valais, Switzerland

https://commons.wikimedia.org/wiki/File:Moiry.jpg


Samuel Rosset


Officially called
the Swiss Confederation
,
Switzerland
is a landlocked country in Western Europe. It covers 41,285 sq km and has a population of 7.86 million people. It observes the Central European Time (UTC+1) and in summer the Central European Summer Time (UTC+2).
Switzerland is bordered by Germany to the north, Austria and Liechtenstein to the east, Italy to the south and France to the west. Its two biggest cities, Zürich and Geneva, are considered global cities. The capital of Switzerland is a small city called Bern.
Switzerland is today one of the wealthiest countries in the world. It enjoys a nominal per capital GDP of $75,835. It also has the highest wealth per adult person of any country of the world, at $372,692 per person, as of 2011.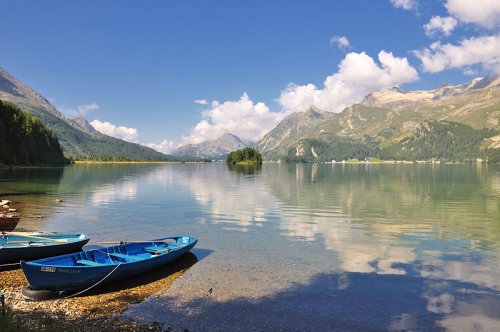 Lake Sils in Graubünden

https://commons.wikimedia.org/wiki/File:2011-08-01_10-31-42_Switzerland_Segl-Maria.jpg


Hansueli Krapf


There are four main languages spoken in Switzerland namely German, French, Italian and Romansh. Most people in Switzerland can speak English, particularly in the major cities.
Due to its location in the Alps, Switzerland is a popular destination for mountaineering, skiing and other alpine holidays. The country can be divided into three areas: the Swiss Alps in the south, the Central Plataeu in the middle, and the Jura mountains in the north. There are a hundred peaks in Switzerland higher than 4,000 meters (13,000 ft). The tallest is Monte Rosa, at 4,634 m (15,203 ft).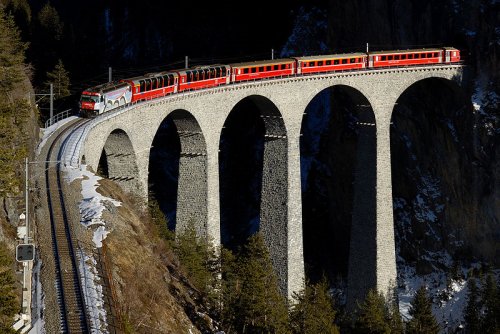 Landwasser Viaduct, Switzerland

https://commons.wikimedia.org/wiki/File:RhB_Ge_4-4_III_UNESCO_Weltkulturerbe_auf_Landwasserviadukt.jpg


David Gubler


Switzerland generally experiences a temperate climate. Depending on altitude, the mountain tops may experience glacial conditions while the southernmost lowlands of Switzerland experiences Mediterranean climate.
Switzerland comprises 26 cantons, each with a high degree of independence and equal status. Each Swiss canton has its own constitution and its own parliament. Switzerland is not a member of the European Economic Area, but works to build close relationships with the European union and other European countries through bilateral agreements. To improve its own competitiveness, Switzerland has brought its economic practised to be in close alignment with those of the European Union.
Visiting Switzerland
Switzerland is a member of the Schengen Agreement, meaning it has no border controls with other countries that have ratified and implemented the agreement. This includes all the countries of the European Union except Bulgaria, Cyprus, Ireland, Romania and the United Kingdom. A visa granted by a Schengen member country is valid in Switzerland.
Nationals of the EU and EFTA (Iceland, Liechtenstein, Norway) only need an identity card or password to enter Switzerland. Nationals of Albania, Andorra, Antigua and Barbuda, Argentina, Australia, Bahamas, Barbados, Bosnia and Herzegovina, Brazil, Brunei, Canada, Chile, Costa Rica, Croatia, El Salvador, Guatemala, Honduras, Hong Kong, Israel, Japan, Macau, Macedonia, Malaysia, Mauritius, Mexico, Monaco, Montenegro, New Zealand, Nicaragua, Panama, Paraguay, Saint Kitts and Nevis, San Marino, Seychelles, Singapore, South Korea, Taiwan, the United States, Uruguay, Vatican City and Venezuela only need a valid passport to enter Switzerland. A visa is not required.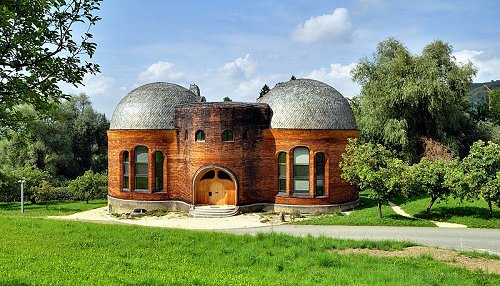 Glasshouse at Goetheanum

https://commons.wikimedia.org/wiki/File:Dornach_-_Glashaus3.jpg


Taxiarchos228

Copyleft)
The main international airports in Switzerland are in Zürich, Geneva and Basel. From any of these cities, you can connect by train to all the main cities and towns of Switzerland.
If you are traveling from a neighboring European country, you can take the high-speed TGV trains from Paris, Avignon, Dijon and Nice, or the high-speed ICE trains from Karlsruhe, Mannheim, Frankfurt am Main, Amsterdam, Hamburg and Berlin.
There is a dense network of bus services provided by Eurolines connecting all the major cities of Switzerland and its neighbours.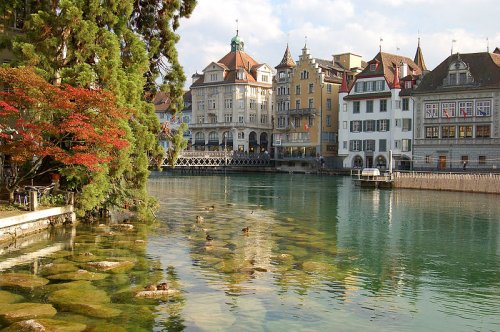 Lucerne Old Town

https://commons.wikimedia.org/wiki/File:Luzern_old_part_of_town.JPG


Simon Koopmann


Towns & Cities of Switzerland
Capital:
Bern
Biggest City:
Zürich
Other Principal Cities of Switzerland
Major Tourist Destinations in Switzerland
Thank you for using my website!
arrange for you a tour guide and/or driver
to show you around. If you are traveling by bus anywhere in Malaysia or Singapore, you can
book your bus ticket
. If you seek accommodation, you can
get hotel room rates
.
As a Christian, I hope that through this website, I am able to deliver God's message to all who need it, anywhere in the world. If you are open to hearing it, please read
God's Good News to You
.
If you wish to contact me, please use this
contact form
. And don't forget to
follow me on Facebook
. See you!