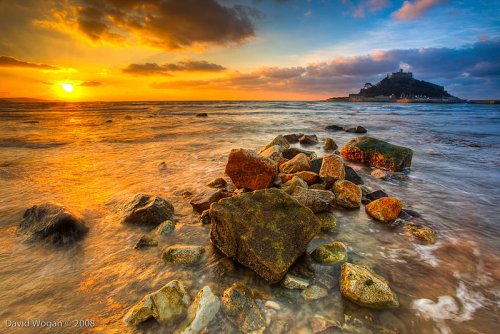 St Michael's Mount, Cornwall, England

https://commons.wikimedia.org/wiki/File:St_Michael_Mount_6692_6697.jpg


Davidwogan


The United Kingdom is a sovereign state in Europe. The term United Kingdom is the common name for the United Kingdom of Great Britain and Northern Ireland, though quite often, it is known simply as Britain.
The Acts of Union 1707 created the Kingdom of Great Britain through the union of the kingdoms of England, Scotland and Wales during the reign of Queen Anne. In 1801, the Kingdom of Ireland was merged into it, creating the United Kingdom of Great Britain and Ireland. Subsequently, following the Irish War of Independence, much of Ireland seceded from the Union, with only Northern Ireland remaining till this day.
Places in the United Kingdom on this website
Countries of the United Kingdom
Top Cities of the United Kingdom
Categories of sights in the United Kingdom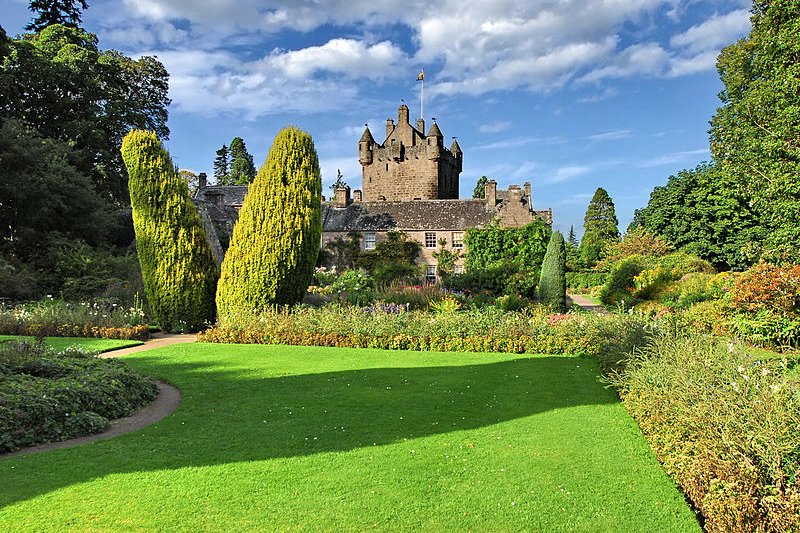 Cawdor Castle

https://commons.wikimedia.org/wiki/File:Cawdor_castle2.jpg


Mihael Grmek


The name Great Britain comes from
Britannia major
, which means "Greater Britain" in Latin. This is to distinguish it from
Britannia minor
, or Lesser Britain, which is the area approximating modern Britanny in France. Today the name Great Britain is often used to mean the major part of the United Kingdom, that is to say, the unit comprising England, Scotland and Wales, and not Northern Ireland.
United Kingdom is a constitutional monarchy, and Queen Elizabeth II is the head of state. The people of the United Kingdom are called the British, or Britons, and informally, as Brits.
England, Scotland and Wales are each regarded as countries within the union. The Kingdom of England has included Wales since 1284. The 1707 Acts of Union merges it with the Kingdom of Scotland. The last Scottish monarch to be crowned was King Charles II on 1 January, 1651, despite the English Parliament having made any such proclamations unlawful. His defeat at the Battle of Worcester forced him to go into exile for 9 years. It was only following the death of Oliver Cromwell in 1658 that Charles II returned, and was crowned King of England on 23 April, 1661.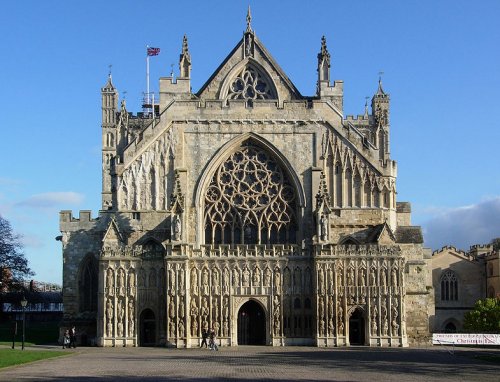 Cathedral of Exeter

https://commons.wikimedia.org/wiki/File:Cathedral_of_Exeter_edit.jpg


Markus Koljonen


Fast Facts about United Kingdom
Official Name: United Kingdom of Great Britain and Northern Ireland
Capital: London (7,592,000)
Population of United Kingdom: 60,441,500
Languages: English, Welsh, Scottish form of Gaelic
Currency: British Pound
Religions: Christian (72%), Islam, Hindu, others
Size: 244,820 sq km (90,470 sq miles)
Continent: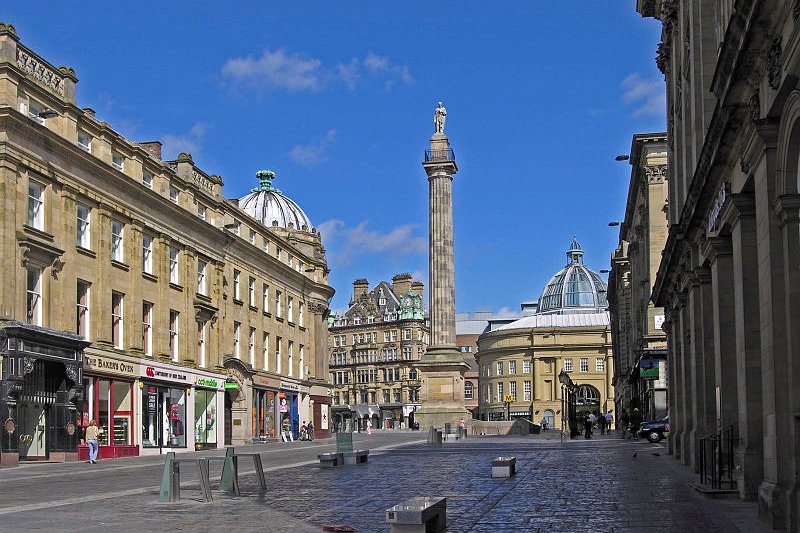 View of Grey's Monument in the city centre of Newcastle-upon-Tyne

https://commons.wikimedia.org/wiki/File:Newcastle_greys_monument.jpg


Hans Peter Schaefer


How to get into the United Kingdom
The main entry point for tourists to United Kingdom are London, Mancester, Liverpool, Birmingham, Glasgow and Edinburgh.
United Kingdom Entry Requirements
Nationals of Australia, Canada and US only need to bring their passport with over 3 months validity, visa is not necessary if staying not more than six months. Nationals of EU countries need to show proof of EU nationality. For more details, visit the government-run UK Visas website, www.ukvisas.gov.uk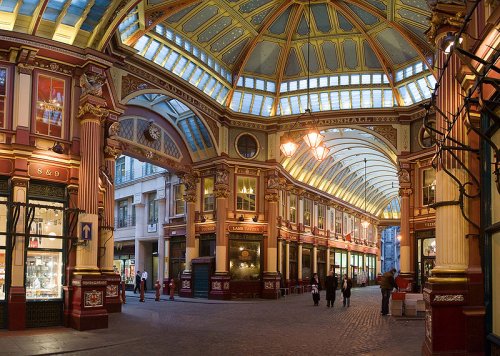 The arcades of Leadenhall Market in London

https://commons.wikimedia.org/wiki/File:Leadenhall_Market_In_London_-_Feb_2006.jpg


David Iliff


How to get around in the United Kingdom
There is numerous possibility including domestic flights, trains, rented car or even hiking.
How to travel by plane in the United Kingdom
There is a network of domestic flights linking the major cities in the United Kingdom, namely London, Birmingham, Manchester, Glasgow and Edinburgh. British Airways has flights to Aberdeen, Edinburgh, Glasgow, Inverness, Manchester and Newcastle, from both Heathrow and Gatwick, and fare starts from as low as 60 pounds. BMI or British Midlands Airways is a low cost carrier with flights from Heathrow to Aberdeen, Belfast, Durham Tees Valley, Edinburgh, Glasgow, Inverness, Leeds-Bradford and Manchester.
Flying domestic might not be the ideal option for visitors as it is often time consuming for the short distance involved, and not practical. Most British airports do not have rail connections. You only option are buses to the cities, and these are often quite expensive. To get the best fare, book as early as possible.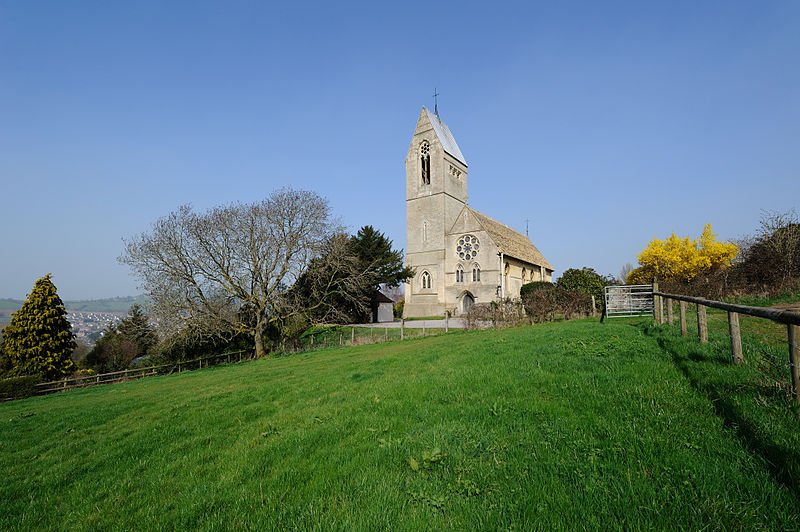 Selsley Church, Gloucestershire

https://commons.wikimedia.org/wiki/File:Selsley_Church.jpg


Saffron Blaze


How to travel by train in the United Kingdom
There is a plethora of trains connecting all the cities and countryside of the United Kingdom. You can often enjoy cheaper fare by booking as early as possible, at least 7 to 14 days earlier or more. Multi-day passes are also available to visitors from outside UK. There are no high-speed trains like the TGV of France of ICE of Germany in the United Kingdom, but still, it is often faster to take the train than to drive. For details of the trains, visit the National Rail website, www.nationalrail.co.uk.
How to drive in the United Kingdom
The United Kingdom drives on the left side of the road, the same as Australia, New Zealand and Japan. While driving gives you the freedom to explore, it is also expensive. Parking space is also hard to find, especially in big cities. Petrol is also expensive, at around 1.41 pounds per litre. There is a levy, or congestion charge, of 8 pounds for driving into central London. The M25 Motorway is notoriously congested, and is often called "London's car park", because all traffic often comes to a standstill. It should be avoided during rush hour, between 7:00-10:00am and 4:00-7:00pm.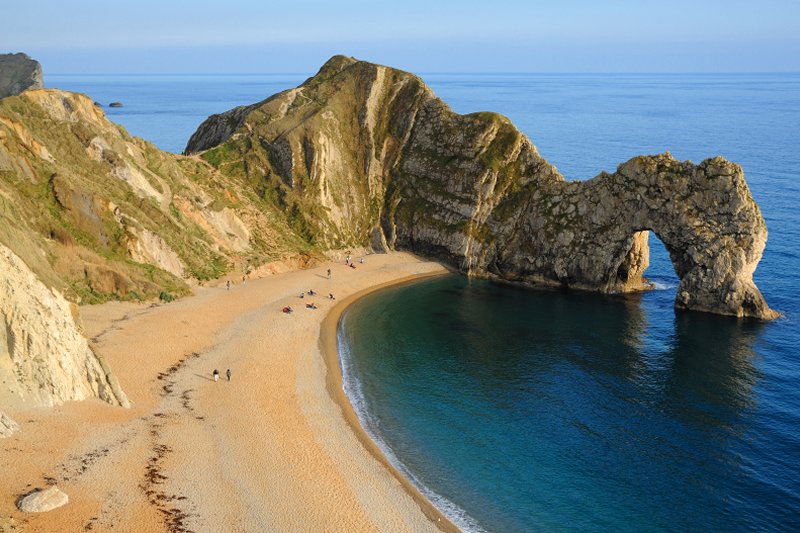 A limestone promontory known as Durdle Door on the Jurassic Coast of Dorset in England

https://commons.wikimedia.org/wiki/File:Durdle_Door_Overview.jpg


Saffron Blaze


How to travel by bus in the United Kingdom
The three main bus operators in the United Kingdom are National Express, CityLink and Megabus. National Express is the largest, and has services to all the major destinations on the UK mainland. CityLink is big in Scotland. Megabus offers super low fares - as low as £1- if booked well in advance, that is to say, a week or two ahead.
How to take the taxi in the United Kingdom
The distinctive taxis of London are called Black Cabs - though they are not always black. Officially called hackney carriage, these taxicabs are licensed by the Public Carriage Office of Greater London, or by the local authority in other parts of the UK. They are manufactured by one company, LTI or London Taxis International. Drivers must pass a tough exam on the geography of London, called "The Knowledge" before given a taxi driver's license. Other cities in UK often use similar taxis.

View of the Cuillin Mountains from the A863 highway on the Isle of Skye, Scotland

https://commons.wikimedia.org/wiki/File:Isle_Of_Skye_A863_The_Cuillins.jpg


Ritchyblack - Stefan Krause


For information about Taxis in London, the first place to go is the Transport for London website, www.tfl.gov.uk, for numbers to call for taxis in London. In addition to that, visit Connect2Taxi (www.connect2taxi.co.uk), the firm to call for minicabs in UK. In London, call 0871 750 3333. Note: calls are charged 10p per minute from BT landlines. Visit also London Taxi (www.londontaxicabs.net) to find out about pre-booking a taxi.
Renting a car in United Kingdom
If you need to rent a car any time you are in the United Kingdom, get in touch with Auto Europe for discounted car rentals.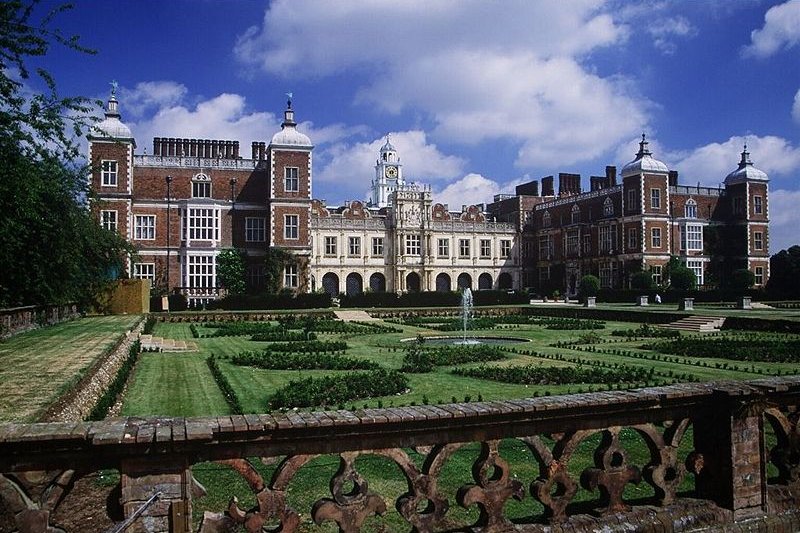 Hatfield House, Hertfordshire, England

https://commons.wikimedia.org/wiki/File:Hatfield_House.jpg


Allan Engelhardt


How to make sense of the currency of the United Kingdom
The currency used in the United Kingdom is the Pound Sterling (GBP, symbol £), which is divided into 100 pence (p). Coins are available in denominations of 1p, 2p, 5p, 10p, 20p, 50p and 1 pound, while notes come in denominations of £5, £10, £20 and £50. English banknotes show the Queen on the front and a historical figure on the reverse side. The banks of Scotland and Northern Ireland issue their own banknotes at parity value to the English banknotes. While English banknotes find acceptance throughout the UK, some shops may in England may refuse Scottish and Northern Irish notes. Avoid £50 banknotes, as its high value causes some shopkeepers to be reluctant to accept it.
United Kingdom is an expensive country to visit. Expect to spend roughly £50 per day on a budget, and more if you want to enjoy luxuries such as taxis, 3-star hotels and meals in restaurants. London and the South East of England is three times as expensive as the rest of the country.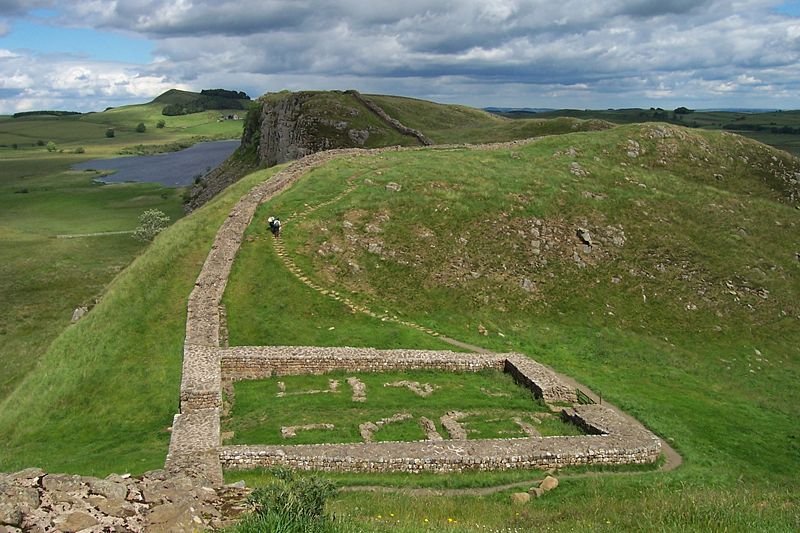 Milecastle 39 on Hadrian's Wall

https://commons.wikimedia.org/wiki/File:Milecastle_39_on_Hadrian%27s_Wall.jpg


Adam Cuerden


World Heritage Sites in the United Kingdom
The United Kingdom of Great Britain and Northern Ireland ratified the World Heritage Convention on 29 May, 1984. As of August 2010, it has 28 World Heritage Sites, of which 23 are in the cultural category, four in the natural category and one in the mixed category. the United Kingdom also has another 15 sites on the World Heritage Tentative List.
Cultural
Sites in the United Kingdom on the World Heritage Tentative List
Gibraltar defences (1996)
Lake District (1996)
Chatham Naval Dockyard (1999)
Darwin's Home and Workplace: Down House and Environs (1999)
Manchester and Salford (Ancoats, Castlefield and Worsley) (1999)
Monkwearmouth and Jarrow Monastic Sites (1999)
The New Forest (1999)
The Great Western Railway: Paddington-Bristol (selected parts) (1999)
Shakespeare's Stratford (1999)
The Cairngorm Mountains (1999)
The Flow Country (1999)
The Forth Rail Bridge (1999)
Mount Stewart Gardens (1999)
Fountain Cavern, Anguilla (1999)
The Wash and North Norfolk Coast (1999)
Thank you for using my website!
Hello and thank you for reading this page. My name is
Tim
. I wrote this page to compile what I discover, for my own knowledge, and also to share it with people who might find it useful. It is part of three inter-connected websites:
Penang Travel Tips
,
TimothyTye.com
and
Timothy Property Mart
.
I am a real estate agent, food blogger, amateur historian and travel author. This website is an encyclopedia as well as a business directory. As a real estate agent, I help people buy, sell, rent and let properties. If you have a property to sell or rent in Penang, Kuala Lumpur, Johor Bahru, Ipoh or Malacca, my team of realtors and I can help you. If you operate a restaurant, can write about your food and promote your restaurant. I can also help you engage other food bloggers to write about your food. And finally, if you are operating a business anywhere in Malaysia, you can add your shop to this website and be found by lots of customers. All you need to do is contact me with what you need.
contact Tim
You can do many things directly from this website. If you are visiting Penang, I can
arrange for you a tour guide and/or driver
to show you around. If you are traveling by bus anywhere in Malaysia or Singapore, you can
book your bus ticket
. If you seek accommodation, you can
get hotel room rates
.
As a Christian, I hope that through this website, I am able to deliver God's message to all who need it, anywhere in the world. If you are open to hearing it, please read
God's Good News to You
.
If you wish to contact me, please use this
contact form
. And don't forget to
follow me on Facebook
. See you!
Copyright © 2003-2019
Timothy Tye
. All Rights Reserved.