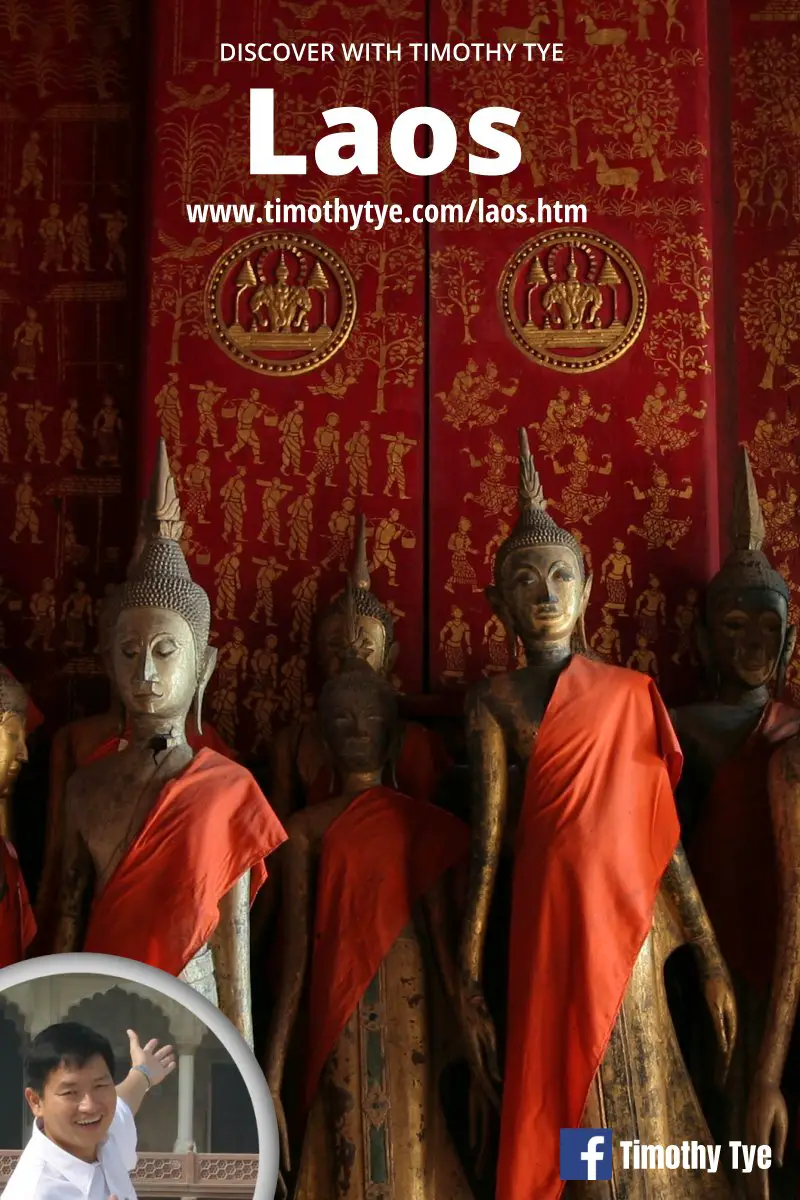 Discover Laos with Timothy Tye
(29 December, 2005)

Discover Laos
(ສປປລາວ), or in full, the
Lao People's Democratic Republic
(ສາທາລະນະລັດ ປະຊາທິປະໄຕ ປະຊາຊົນລາວ), is a landlocked nation in mainland Southeast Asia with me, Timothy Tye. Covering 236,800 sq km (91,428 sq mi), Laos is sparsely populated compared to its neighbours. The population of Laos is 6.8 million (2011 estimate). The capital and biggest city is Vientiane.
Laos is bordered by Vietnam to the east, Cambodia to the south, Thailand to the west, Myanmar to the northwest and China to the north. The country is seven hours ahead of Coordinated Universal Time (UTC+7). Traffic is driven on the right here, just as in the United States. The phone IDD code is +856. The electricity is 220V/50Hz. The official language of Laos is called Lao, the same name given to its people. The majority of the population are Theravada Buddhist, similar with Thailand and Myanmar.
Major Towns in Laos
Minor Towns in Laos
Travel Tips of Major Tourist Attractions of Laos
Sights near Vientiane
Ang Nam Ngum
Ban Keun
Houei Nyang Forest Reserve
Lao Pako
Nam Tok Tat Son
National Ethnic Cultural Park
Phu Khao Khuai
Tha Ngon Village
Vang Sang
Sights in Northeastern Laos
Sights in Northwestern Laos
Ban Don
Huay Xai
Luang Nam Tha
Muang Khua
Muang Sing
Nam Ou River
Nong Khiaw
Pakbeng
Phongsali
Udomxai
Sights on the Mekong Valley
Heung Hin
Lak Sao
Tha Kaek
That Ing Hang
Sights in Southern Laos
Attapeu
Champasak
Don Khong
Li Phi Falls
Paksong
Phapheng Falls
Salavan
Sekong
Taat Hua Khon
Taat Lo Falls
Wat Phu
The economy of Laos was traditionally based on subsistence agriculture. Some 80% of the population live in rural areas and are involved in farming. Laos is attempting to diversify into tourism and manufacturing. It is dependent investment from neighbouring countries. The country is rich in minerals such as coal, gold, bauxite, tin and copper, but has to import petroleum and gas. In 2010, Laos had an estimated nominal GDP of $6.341 billion, equivalent to a per capita nominal GDP of $984. Its per capita GDP at purchasing power parity stood at $2,435. It is the second poorest country (in terms of nominal per capita GDP) in Southeast Asia after Myanmar.
Modern Laos traces its history to the Kingdom of Lan Xang or Land of A Million Elephants, which existed from the 14th to the 18th century, and has much in common with the Kingdom of Lanna, which today forms modern Chiang Mai. The flag of the Kingdom of Laos features the Erawan, or mythical white three headed elephant. The current Laos flag was first used by the Lao nationalist government of 1945, and was adopted by the Lao communist government in 1975.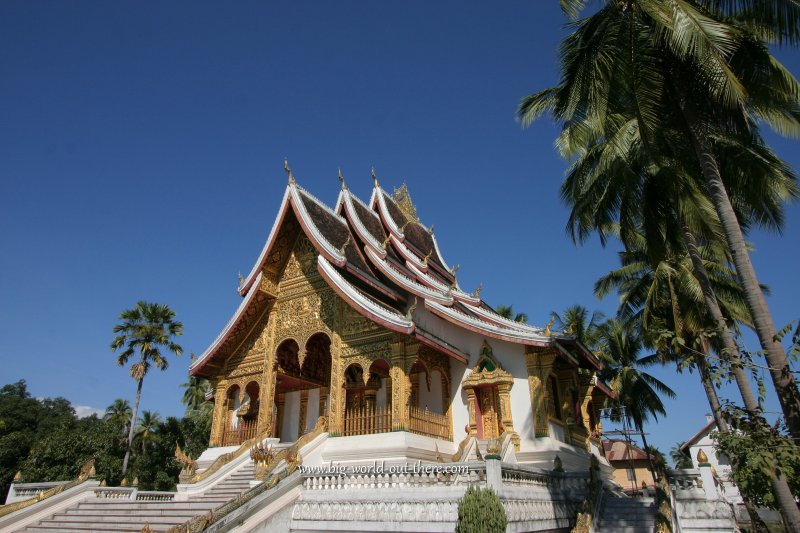 Haw Pha Bang, Luang Prabang
(30 December, 2005)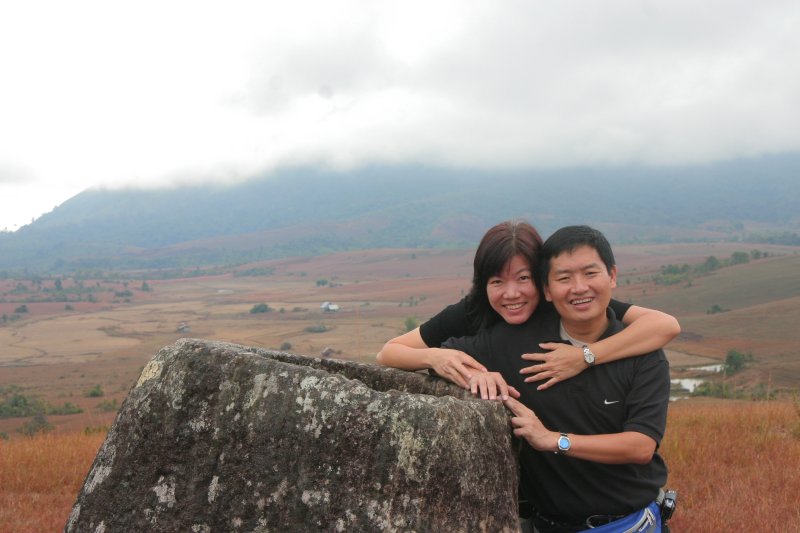 Tim and wife Chooi Yoke at the Plain of Jars, Laos
(27 December, 2005)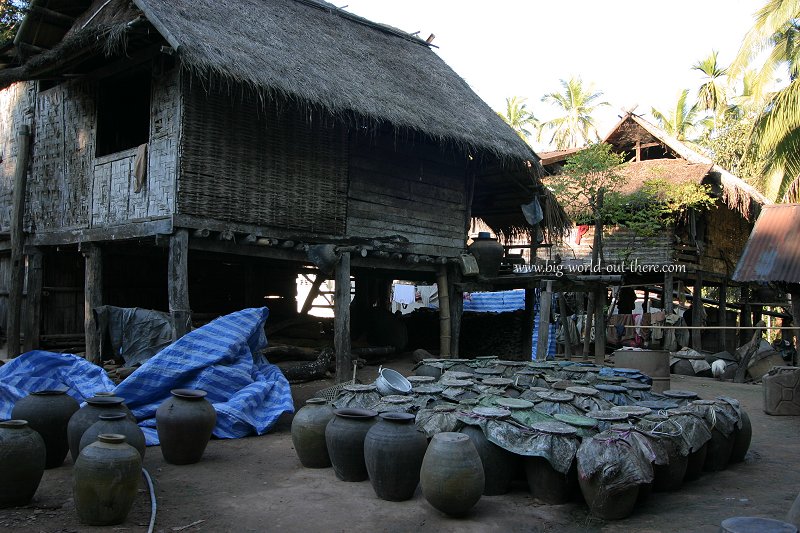 Brewing Lao whisky, in a village near Luang Prabang, Laos
(28 December, 2005)
Laos is known as 'Muang Lao' in the Laos language. It got to be known as Laos in English because the French, who colonized it since 1893, spelled Laos with an s at the end. This as resulted in Laos spelled with s in English as well. Nevertheless, adjectives pertaining to Laos is always spelled without the s, ie Lao beer, Lao economy, etc. The people of Laos is called Laotian in English. This is the collective term for Laos people, inclusive of the minorities living in Laos, to avoid confusion with the Lao ethnic group, which is also called Lao.
Basic Information
Time Zone: 7 hours ahead of Greenwich Mean Time.
Currency: kip
Language: Lao
International Dialing Code: 856
Population: 5.2 million
Religion: Theravada Buddhism
Electricity: 220V 50Hz
Electrical Outlet: two-prong flat or round sockets
Driving: On the right side of the road.
Laos Geography
As mentioned above, Laos is a landlocked country. It consists mostly of thickly forested mountains. The highest mountain in Laos is Phou Bia at 9,242 feet (2,817 m). The Mekong River forms a natural boundary between Laos and Thailand, while on the eastern side, the Annamite mountain chain form the with Vietnam. The capital and largest city in Laos is Vientiane. Other major townships include Luang Prabang, Savannakhet and Pakse.
Entering Laos By Air
The two international airports in Laos are Wattay International Airport in Vientiane, and Luang Prabang International Airport, in Luang Prabang.
Wattay Airport is served by Bangkok Airways (Bangkok), China Eastern Airlines (Kunming), Lao Airlines (Bangkok, Chiang Mai, Hanoi, Houei Sai, Kunming, Luang Namtha, Luang Prabang, Oudomxay, Pakse, Phongsaly, Sam Neua, Sayaboury, Siem Reap, Xieng Khuang), Thai Airways International (Bangkok) and Vietnam Airlines (Hanoi, Ho Chi Minh City, Phnom Penh). Luang Prabang International Airport is served by Bangkok Airways (Bangkok), Lao Airlines (Chiang Mai), Siem Reap Airways (Siem Reap) and Vietnam Airlines (Hanoi).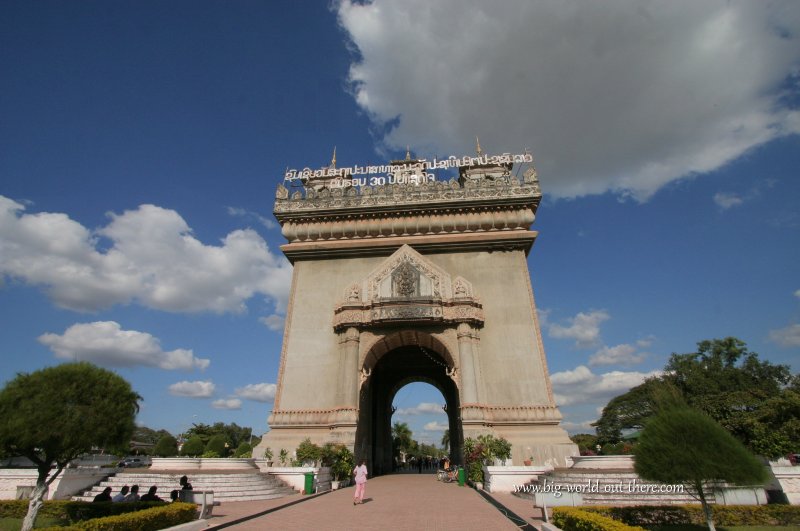 Patuxai Monument in Vientiane
(1 January, 2006)
Laos Airport Tax:
International departures: US$10
Domestic departure: 5,000 kip
Entering Laos By Road
Most overland visitors enter Laos from Thailand, where the Mekong River forms a natural boundary. Border crossings are at Chiang Khong in Thailand and Huay Xai in Laos, Nakhon Phanom / Tha Kaek, Mukdahan / Savannakhet (by river ferry), Chong Mek / Champasak, and by the Mittaphep (Friendship) Bridge at Nong Kai / Vientiane. From Vietnam, you can enter Laos from Vinh in Vietnam, to Kaew Neua in Laos, and at Dansavanh / Lao Bao.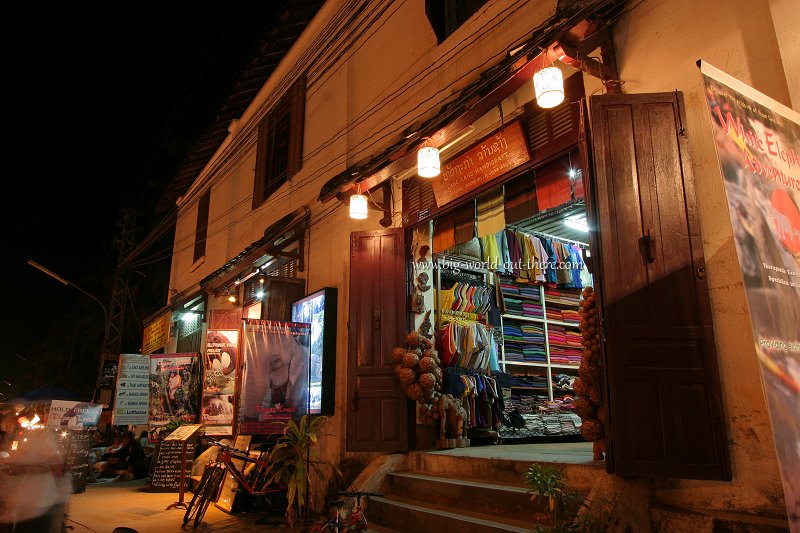 Store in Luang Prabang
(28 December, 2005)
Laos Entry Requirements
Laos Visa
Apart from some Asean nationalities, everyone else require a tourist visa to enter Laos. 30-day entry permit is available if you apply for your visa in advance. Visa fee is around US$20, and processing time is around 2-3 days. You can also apply for your visa upon arrival, in which case, you are given only a 15-day entry permit. These visa-on-arrival are available at the airports in Vientiane and Luang Prabang, and some border crossings, but not all of them. The visa fee is US$30 for those applying upon arrival.
Laos Customs
There is no restriction or limit on the amount of Lao and foreign currency that you can bring into Laos. Duty-free allowance includes 1 litre of spirits and 500 cigarettes.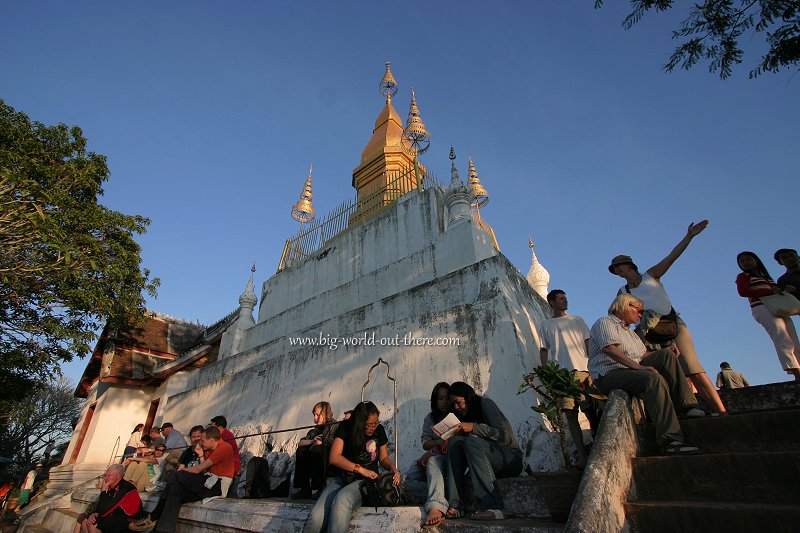 Tourists awaiting the sunset on Mount Phousi, Luang Prabang
(28 December, 2005)
Laos Public Holidays
Most of the public holidays in Laos have a connection with agricultural seasons or Buddhist festivals. The dates may change from year to year, but will follow the season which is somewhat predictable.
Bun Pha Wet: January. This is a temple-centred festival, and one of the times when Lao males are ordained into the monkhood.
Magha Puja: February. This festival commemorates the speech given by Buddha to 1,250 enlightened monks. Devotees circumambulate the main shrine of wats. This celebration is most fervently observed in the wats in Vientiane and at the Khmer ruins of Wat Phu near Champasak.
Tet/Chinese New Year: January/February. Celebrated mostly by the Vietnamese and Chinese communities, this is accompanied by the deafening release of fireworks.
Boun Khoun Khao: March. Harvest festival celebrated at the local wats.
Boun Pimai: April. Lao New Year, celebrated over three days. This festival is most fervently observed in Luang Prabang. Statues of Buddha are given a ceremonial dousing of water. Water is thrown at people in the streets, similar to Songkran in Thailand.
Labour Day: 1 May.
Visakha Puja: Full moon in May. This festival commemorates the birth, enlightenment and death of Buddha.
Boun Bang Fai (Rocket Festival): May. This is a Buddhist rain-making festival, and celebrated by blasting large bamboo rockets into the sky. The festival lasts for 2 days.
Children's Day: 1 June.
Khao Phansaa (@ Khao Watsa): Full moon in June. This is the Buddhist Lent and a time of retreat and fasting for monks. This is the most usual time for male Lao to be ordained into monkhood.
Haw Khao Padap Din: Full moon in August. This is a sombre festival to pay respect to the dead.
Boun Ok Phansaa: September. This marks the end of the Buddhist Lent, when devotees bring offerings to the wats. It also marks the end of the rainy season. Boat races take place on the Mekong river.
Awk Phansaa: Full moon in October. This festival marks the end of the 3-month rain retreat. Monks are given new robes, alms bowl and other items. People float banana-leaf boats called Lai Hua Fai, with candles down the river and lakes, similar to Loy Krathong in Thailand.
Boun Nam (Water Festival): October. Held in association with Awk Phansaa, Boun Nam is a festival held in waterways, characterised by boat races in major towns such as Vientiane, Luang Prabang and Savannakhet.
Boun That Luang: November. This is celebrated most fervently in Vientiane, but also at smaller scale at stupas across Laos. As well as the religious aspect, this festival also include local fairs, processions and beauty pagents.
Hmong New Year: December.
Lao National Day: 2 December. This public holiday commemorates the 1975 abolishment of the monarchy.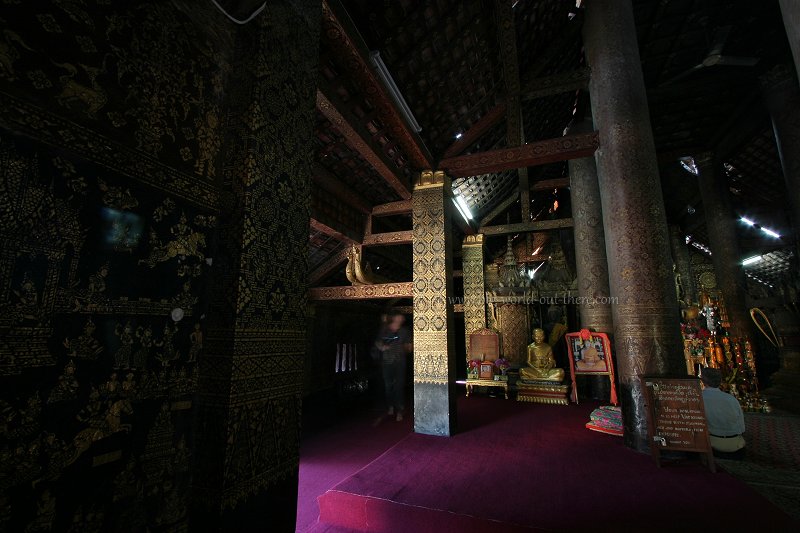 The dark, serene, ornate interior of Wat Xieng Thong, Luang Prabang (29 December, 2005)

Flora and Fauna of Laos
A number of animal species have been discovered or re-discovered in Laos. These include the striped or Annamite rabbit, the saola, and most recently the Laotian rock rat or kha-nyou.
Laos Economy
Although it remains one of the few officially communist countries, Laos began decentralising control and encouraging private enterprise in 1986. The results has been very encouraging. National growth has averaged 6% from 1988-2004 except for a hiccup during the Asian financial crisis of 1997. As in most cases, the major urban centers are the ones enjoying the most growth. Vientiane, Luang Prabang, Savannakhet and to a certain extend Pakxe, have all experienced significant booms in recent years.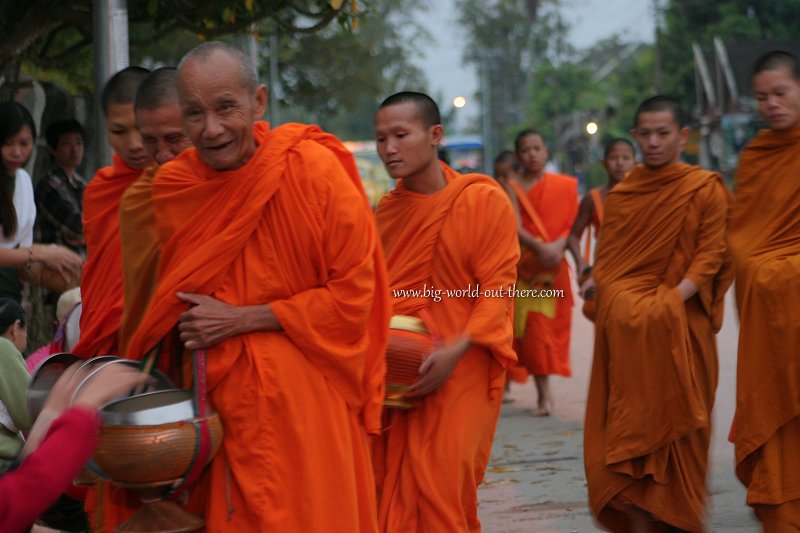 Laotian monks receiving alms (29 December, 2005)



Much of Laos still lack adequate infrastructure. There are no railways in Laos, although a short link is planned to connect Vientiane with Thailand over the Thai-Lao Friendship Bridge. Route 13 connects the major urban centres, forming the main artery for the country. Villages away from the major roads are accessible only through unpaved roads that may not be accessible year-round. There is also limited external and internal telecommunication, particularly land lines, although cell phone penetration has become widespread recently, especially in urban centres. In the rural areas, electricity is either not available at all, or only available during scheduled periods.

80% of Laotians are still farmers, with subsistence farming accounting for half of the GDP. IMF and other international aid organisation provide aid to Laos.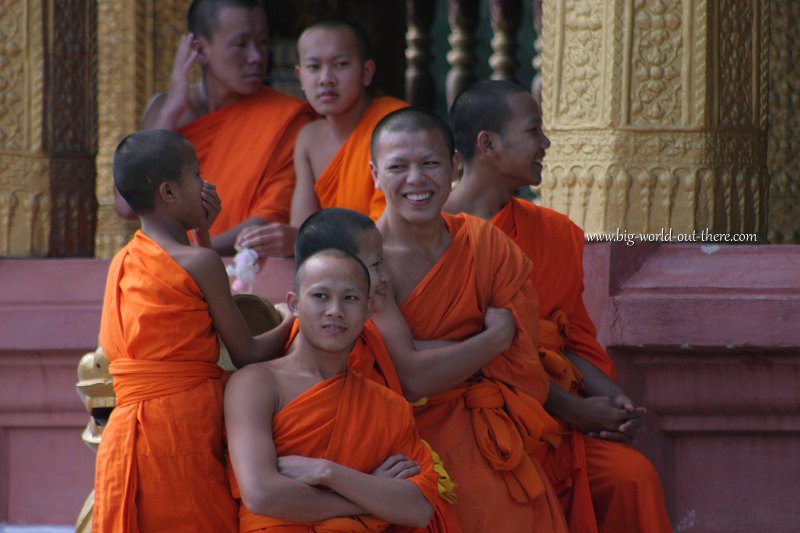 Monks and novices in Luang Prabang (30 December, 2005)

Laos Tourism
Tourism is the fastest growing industry in Laos with Luang Prabang and Vientiane being the two major tourist destinations of the country. AsiaExplorers will take you to explore all these major tourist destinations, and provide you detailed explanation on the sights in each destination.

Since China began allowing its citizens to travel freely to Laos, there has been a surge in Chinese tourists. Chinese nationals are expected to account for 25% of the total number of visitors to Laos for 2006. Pressures to modernize tourist infrastructure, particularly to cater to package tourism, are expected to significantly impact the culturally significant Lao cities such as Luang Prabang, whether positively or otherwise.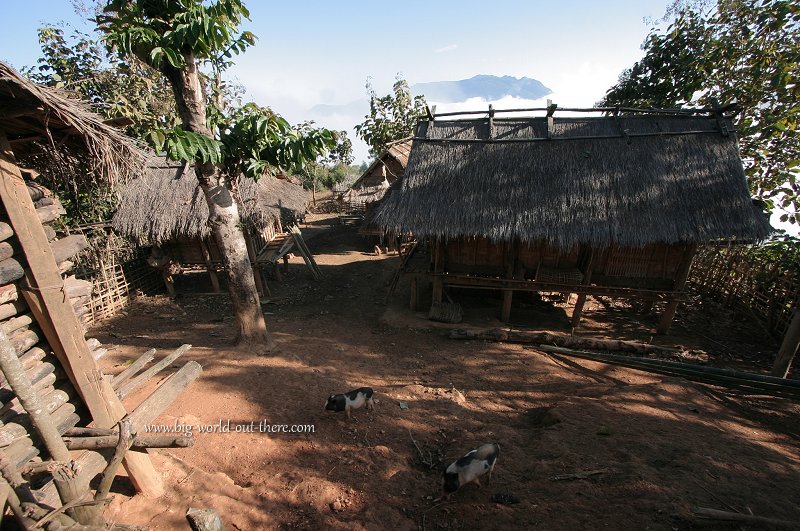 Tribal huts in the Laotian highlands (31 December, 2005)

Laos Demographics
60% of Laos' people are ethnic Lao. The Lao are the principal lowland inhabitants and the politically and culturally dominant group. The Lao belong to the Tai linguistic group, similar to the Thais. They are believed to have migrated from China in the first millennium AD.

8% of Laotians are other "lowland" groups, which are collectively known as Lao Loum. And then, there is the other group of Laotians regarded as the hill people. These include the the Hmong (also known as the Miao), Yao (Mien), Black Thai, Dao, Shan, and several Tibeto-Burman speaking peoples that live in isolated pockets of Laos. Mountain tribes inhabit mostly northern Laos. Collectively, they are known as Lao Sung or highland Laotians. In between the lowland and highland groups are those living in the central and southern mountains. They are Mon-Khmer tribes, known as Lao Theung or mid-slope Laotians. To complete the mix, there are some Vietnamese and Chinese minorities particularly in the towns, but many of these of left, a wave after independence in the late 1940s and another after 1975.

The term Laotian refers not only to the ethnic Lao language, people, language or customs, but also to the non-ethnic Lao groups within Laos. Similarly, the word "Lao" (and not Laotian) can be used to describe the people, cuisine, language and culture of the people of Northeast Thailand (Isan) who are ethnic Lao.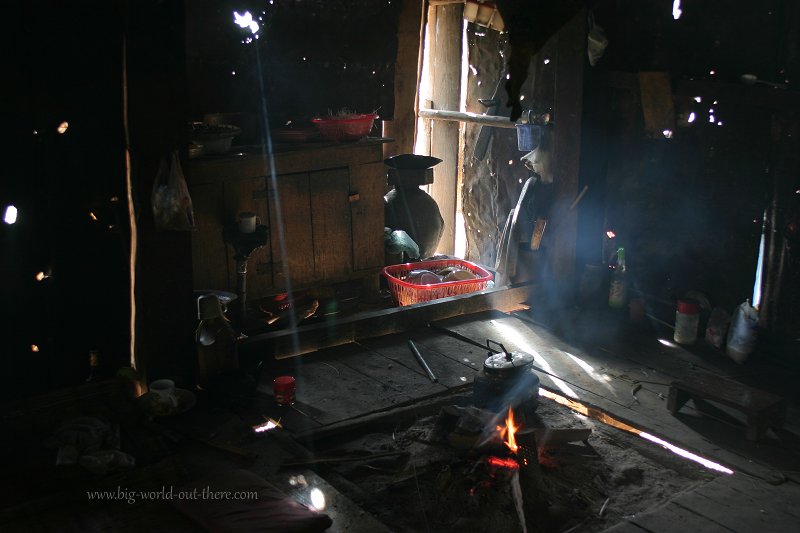 The inside of a kitchen in rural Laos (27 December, 2005)

Religion in Laos
Most Laotians are Theravada Buddhist. Amont the hill tribes, animism is still practiced and coexists peacefully with spirit worship. Within the towns, particularly Vientiane, there are also a small number of Christians. There are also some Muslims, mostly inhabiting the areas close to the Myanmar border. The government of Laos keep a watchful eye on any Christian missionary activity in the country.
Languages of Laos
The official and dominant language is Lao. Like Thai, it is a tonal language from the Tai linguistic group. French, which was once common in government and commerce, has declined in usage, although some signboards can still be seen in French, particularly those liked to the government. English, however, has made a strong appearance in all things Laos, and as the international language for tourism, has made very visible appearance in recent years.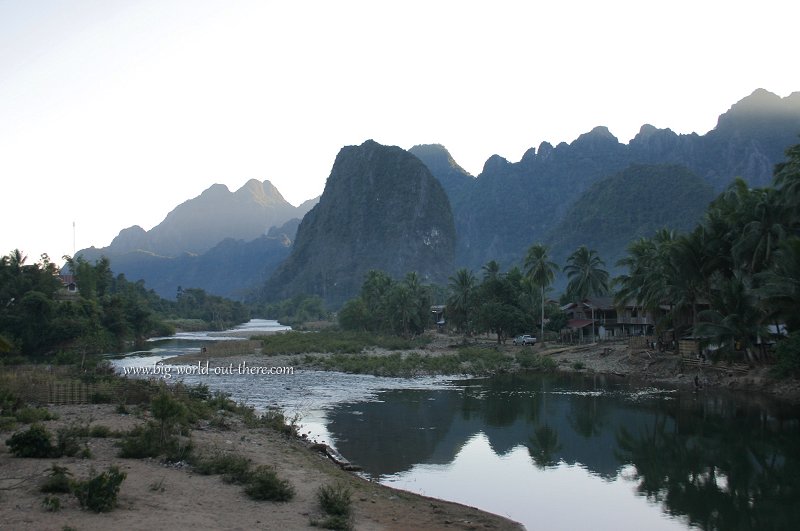 Sunset in rural Laos (31 December, 2005)

Lao Culture
Theravadan Buddhism, as the dominant influence in Lao culture, is visible throughout the country from the Lao language to temple architecture, the art, literature, performing arts, etc. Nevertheless, form portion of Lao culture predates Buddhism. One example is found in Lao music, where the national instrument, the khaen, is a type of bamboo pipe that has prehistoric origins. The khaen is played to accompany the singer in lam, the dominant style of folk music.

The country has two World Heritage sites namely Luang Prabang and Wat Phou. Meanwhile the government is seeking a listing for the Plain of Jars.
Laos Politics
Lao People's Revolutionary Party (LPRP) is the only political party allowed in Laos. The head of state is the President, who is elected for five-year terms. The head of government is the prime minister, appointed by the president with parliamentary approval. Government policies are determined by the party through the nine-member Politburo and 49-member Central Committee. Important government decisions are vetted by the Council of Ministers.

Laos adopted a new constitution in 1991. Following that, elections were held for a new 85-seat National Assembly with members elected by secret ballot to 5-year terms. This unicameral parliament is expanded in the 1997 elections to 99 members. The most recent elections took place in February 2002 when the assembly was expanded to 109 members.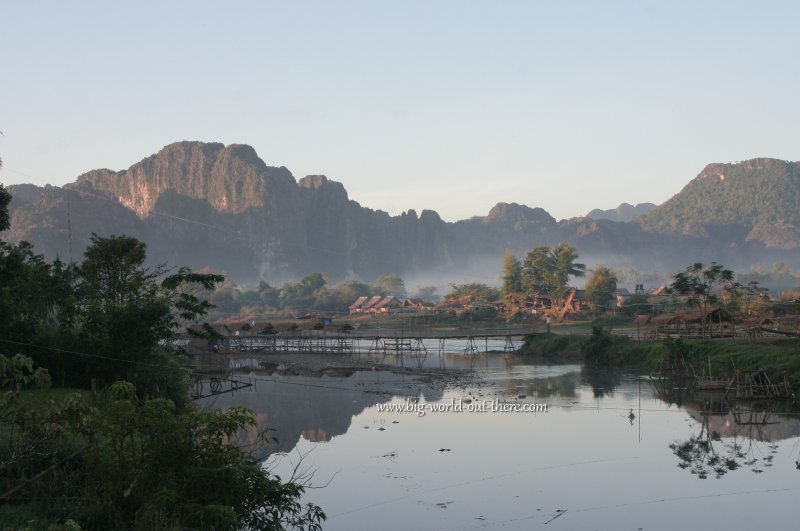 The view of Nam Song River in Vieng Vang in the morning (31 December, 2005)



The Hmong ethnic group allied with the United States during the Vietnam War have been in armed conflict with the communist regime since 1975. With recent surrenders, this conflict appears to be on the wane. The Lao government is putting an effort to integrate the Hmong into or at least have them be at peace with the general society. Some Hmong are already occupying high-ranking positions in the state system. Nevertheless sporadic attacks still take place once in a while, and as dissent is suppressed, information on their movement is not clear.
Thank you for using my website!
Hello and thank you for reading this page. My name is

Tim

. I wrote this page to compile what I discover, for my own knowledge, and also to share it with people who might find it useful. It is part of three inter-connected websites:

Penang Travel Tips

,

TimothyTye.com

and

Timothy Property Mart

.

I am a real estate agent, food blogger, amateur historian and travel author. This website is an encyclopedia as well as a business directory. As a real estate agent, I help people buy, sell, rent and let properties. If you have a property to sell or rent in Penang, Kuala Lumpur, Johor Bahru, Ipoh or Malacca, my team of realtors and I can help you. If you operate a restaurant, can write about your food and promote your restaurant. I can also help you engage other food bloggers to write about your food. And finally, if you are operating a business anywhere in Malaysia, you can add your shop to this website and be found by lots of customers. All you need to do is contact me with what you need.

contact Tim

You can do many things directly from this website. If you are visiting Penang, I can arrange for you a tour guide and/or driver to show you around. If you are traveling by bus anywhere in Malaysia or Singapore, you can book your bus ticket. If you seek accommodation, you can get hotel room rates.

As a Christian, I hope that through this website, I am able to deliver God's message to all who need it, anywhere in the world. If you are open to hearing it, please read God's Good News to You.

If you wish to contact me, please use this contact form. And don't forget to follow me on Facebook. See you!



Copyright © 2003-2019

Timothy Tye

. All Rights Reserved.