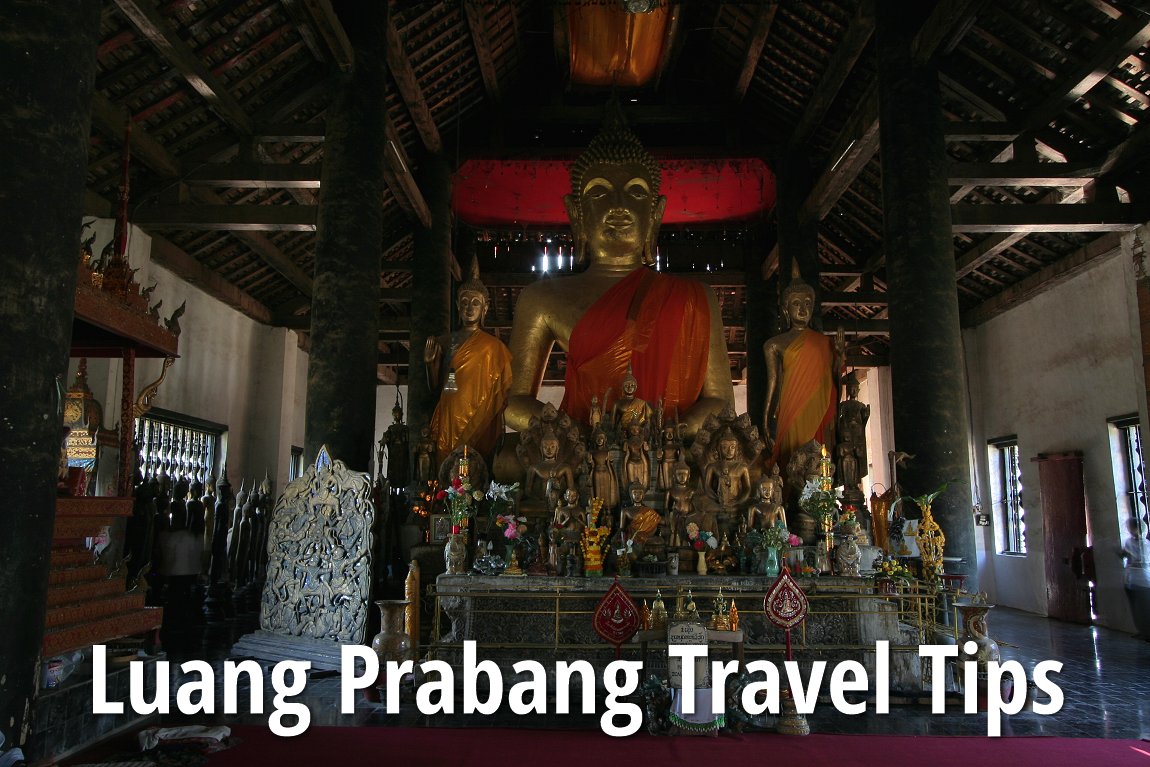 Luang Prabang Travel Tips
(29 December, 2005)
Luang Prabang
is a
World Heritage Site
in Laos. Also written
Louangphrabang
, it is the former capital of Laos, or rather, of the Kingdom of Luang Prabang. In recent years, it has become one of the major tourist destinations for Laos, resulting in greater interest in restoring and preserving its many Buddhist temples, as well as the sprouting of accommodation in Laos, ranging from the backpacker to the boutique.
World Heritage Site Inscription Details
Luang Prabang was inscribed as a World Heritage Site during the 19th session of the World Heritage Committee which met in Berlin, Germany, on 4-9 December, 1995.
Location:
N19 53 20 E102 08 00
Inscription Year:
1995
Type of Site:
Cultural
Inscription Criteria: II, IV, V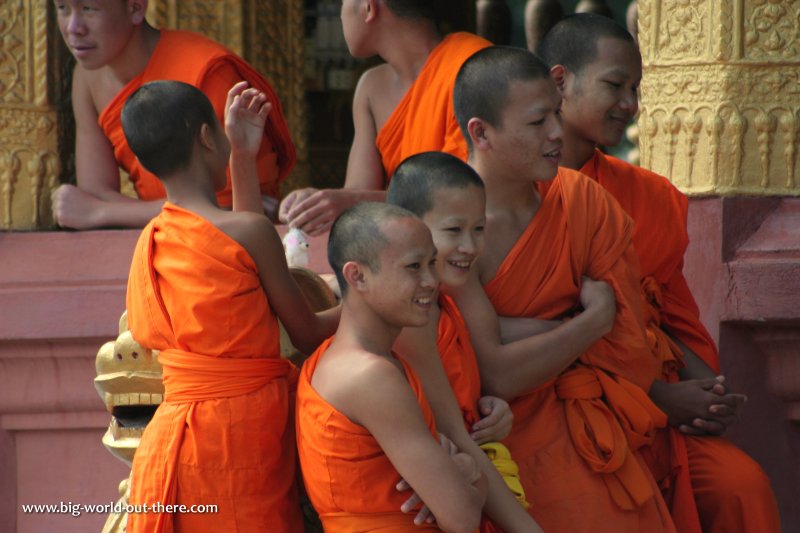 Monks in Luang Prabang
(30 December, 2005)
Sights in and around Luang Prabang
Buddhist Monasteries in Luang Prabang
Cottage Industries in Luang Prabang
Luang Prabang is a centre for various
Laotian cottage industries
.
Geography of Luang Prabang
Luang Prabang is located on the banks of the Mekong River, 425 km north of Vientiane. Until the communist takeover in 1975, Luang Prabang was the royal capital of the Kingdom of Laos. It is a city with a long history, and several different names. Today, in recognition of its impressive history and level of restoration, Unesco accorded Luang Prabang World Heritage Site status in December of 1995.
The Unesco report listed 33 temples and 111 historic Lao-French buildings for specific restoration. It cited Luang Prabang as the best-preserved traditional town in Southeast Asia. Luang Prabang has its isolation to thank for enabling it to be so well-preserved. Although it was once a trading outpost among the peoples of upper Laos, Thailand, Vietnam, southern China and Burma, there was little contact with non-Asian countries until the French arrived in the mid-19th century.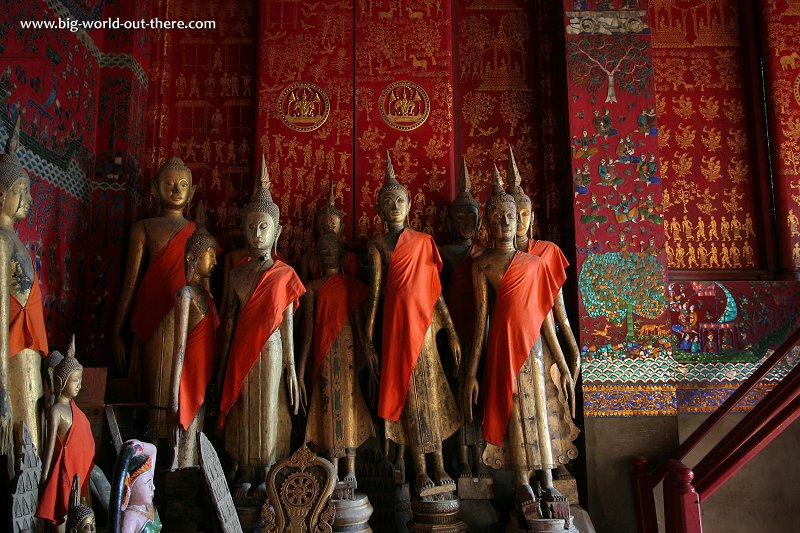 Buddha statues in Wat Xieng Thong (29 December, 2005)
Luang Prabang History
For centuries before Luang Prabang was founded, several Thai-Lao principalities flourished in the area around Luang Prabang, in the valleys of the Mekong. In 698AD, there was a city called Muang Sua in the area where Luang Prabang is located. From the 11th to the 14th Centuries, there was a city called Xieng Dong Xieng Thong in this area. From 1185 to 1191, Xieng Dong Xieng Thong came under a brief period of suzerainty under Khmer ruler Jayavarman VII of
Angkor Thom
.
In 1353, King Fa Ngum created the first Lao Kingdom, called Lan Xang, or Kingdom of One Million Elephants. At this time, the city was known as Xaxa. Later, it was renamed Meuang Xieng Thong, or Gold City District, in 1357. After that, King Fa Ngum received from the Khmer sovereign a gift of a Sinhalese Buddha image called Pha Bang, and from this image is derived the present name, Luang Prabang.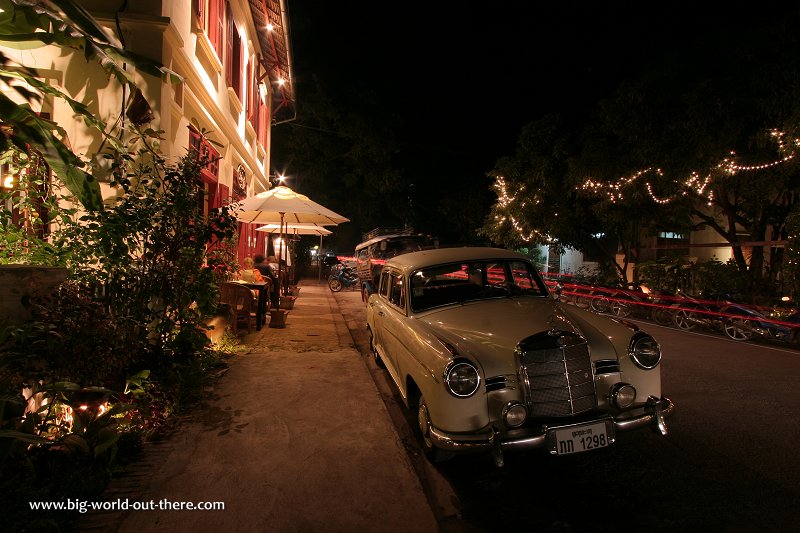 Vintage car on the street of Luang Prabang at night (29 December, 2005)
Luang Prabang is located along the banks of the Mekong where it meets the Nam Khan river. A distinctive feature of the town is the 100 meter (330 ft) Mount Phu Si (also spelled Phousy), a rocky outcrop that offers all round splended views. The old quarters can be easily covered on foot or by tuk tuk.
Getting there
By Bus
You can reach Luang Prabang from Vientiane by bus. The air-conditioned VIP bus, which is a lot more comfortable than the non-air-conditioned public bus, will cost you roughly 120,000 kip though on the return, the bus fare is just around 70,000 kip. If you're in Vientiane, just hail down a tuk tuk and ask the driver to take you to the bus station. That's the easiest way to locate the station. You can buy the bus tickets on the spot. You can expect some scenic views along the way, but the journey is going to take a good whole day and some - find out how long it takes at the bus station. If you are prone to motion sickness, then I'd advise you to fly.
By Plane
The airport (or should I call it airstrip) in Luang Prabang is served by scheduled flights from Bangkok Airways, which connects Luang Prabang with Bangkok and Siem Reap.
By Boat
You can catch a boat down the Mekong River between Huay Xai on the Thai border, and Luang Prabang, with a stop at Pakbeng. The slow boat is 2 days slow, while the fast one is a 6-hour teeth-rattling ear-splitting journey. Slow boats usually depart Huay Xai around 8:00 am in the morning. The fare is about 100,000 kip. If you buy through a travel agent, be prepared for a higher fare. Otherwise, buy your tickets directly at the boat pier, the advantage being you can see the boat you will be taking. Often you may have to change boats at Pakbeng. There is no way of knowing whether the second boat will be better or not.
Speedboat on the Mekong near Luang Prabang (28 December, 2005)
Taking the speedboat is like taking the rocket to Luang Prabang - it includes crash helmet and life jacket (if it doesn't, think twice then decline). Expect to be sprayed with some water all the way, so it may not be the most appropriate ride if you go with plenty of luggage. As for the noise of the deafening engine, bring along ear-plugs. Having said all that, the speedboat is not a good idea during the dry season, as the water depth makes the journey even less safe, and the level of pollutants spit by the engine makes this a less than environmentally friendly option.
Exploring Luang Prabang
Much of the interesting places in Luang Prabang are located along the strip of land - or peninsula - bordered by the Mekong River on one side and the Khan River on the other. The main road has different names: Sisavangvong Road and Thanon Phothisalat. Most of the temples, restaurants, cafes, guesthouses, are on either sides of this road, or along its side roads. Hail a tuk tuk if you need to reach either end of this road in a hurry. Otherwise, take your time, walk, and admire the scenery.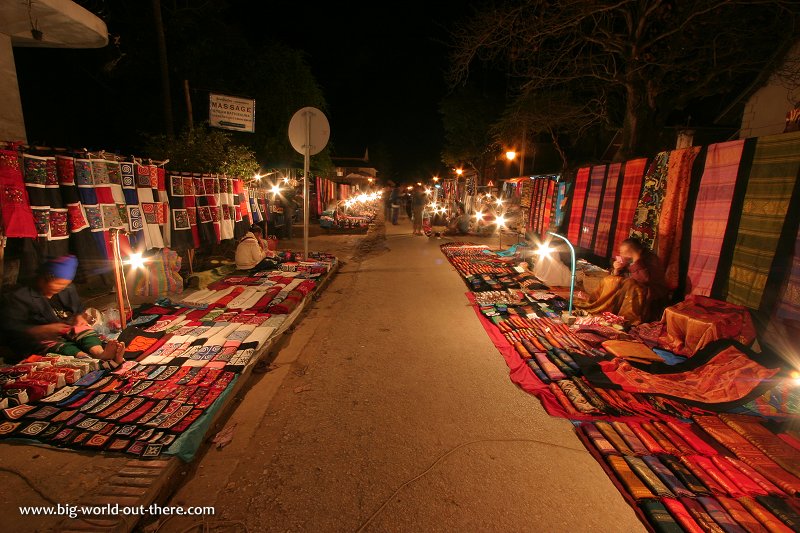 Luang Prabang night bazaar (28 December, 2005)
Shopping in Luang Prabang
There's a morning market in Luang Prabang, but it caters mostly to the locals. Foreigners should wait for the sun to set, and then a daily (or should I say nightly) night market comes to town all along Thanon Photisalat. Not everything on sale is from Luang Prabang. I would say a great majority of the goods - even the authentic-looking handicrafts and souvenirs - are from either Thailand or China. On the other hand, if the goods tempt you, plunge in and support the Luang Prabang economy. But be prepared to bargain, the sellers are seasoned to commercialism.
Discover the Ancient Sites of Asia with me
If you love learning about Asian civilization, here are other ancient sites in Asia that I have explored and written about.
Thank you for using my website!
arrange for you a tour guide and/or driver
to show you around. If you are traveling by bus anywhere in Malaysia or Singapore, you can
book your bus ticket
. If you seek accommodation, you can
get hotel room rates
.
As a Christian, I hope that through this website, I am able to deliver God's message to all who need it, anywhere in the world. If you are open to hearing it, please read
God's Good News to You
.
If you wish to contact me, please use this
contact form
. And don't forget to
follow me on Facebook
. See you!